This is the Best Caramel Corn Recipe on the planet! No exaggeration. Baked to keep it extra crunchy, this sweet treat is easy to make and even easier to shovel in your mouth. You haven't lived until you've had this caramel popcorn.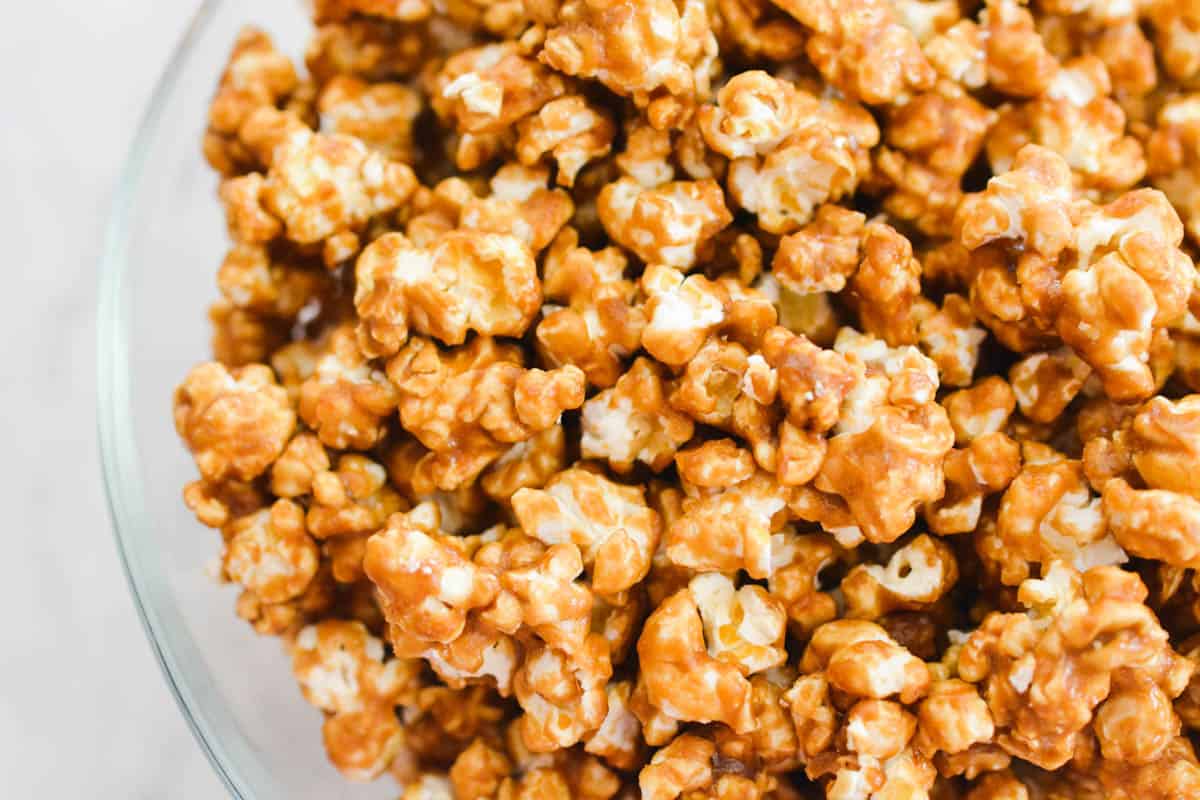 This easy Caramel Popcorn recipe is one my grandma used to make when we were kids. And now I get to carry on the tradition. You will crave this flavor and you won't want to share.
Like Candy Trains and everyone's favorite pink dessert (Strawberry, Jello, Angel Food Cake Dessert) this recipe feels nostalgic to me. And I know your family will love it too!
Jump to:
Why This is the Best Caramel Corn Recipe
Homemade caramel popcorn is simple to make and a real show-stopper. I have given this as teacher's gifts, eaten it in place of birthday cake and have been accused of hoarding it for myself. If that is wrong, I don't want to be right.
Popcorn makes a great snack especially when it's sweet. *Also try my favorite Cherry Jello Candied Popcorn and my White Chocolate Cake Mix Popcorn.*
A huge part that makes this recipe so easy is there is no fooling with a candy thermometer or any of that nonsense. I will never make anything that uses one.
Needing a candy thermometer instantly makes everything seem way more complicated, doesn't it?
Related post: Caramel Popcorn Cupcakes
Aside from making sure the caramel doesn't burn, it's almost foolproof.
The ingredients are pretty standard. And I know there is a lot of negativity surrounding corn syrup and the like. If there is one place in the world they should be, it is dessert. Embrace it, people! Then eat some carrots to balance it out.
This caramel popcorn recipe is super crunchy thanks to being baked in the oven. And trust me, the extra time is worth it!
And it works as a dessert or a snack. So versatile.
Ingredients
Scroll down to the end of the post for a printable recipe card with full measurements and more detailed instructions.
You can't skip the baking soda! That might be a new-to-you ingredient in a basic caramel recipe but it's worth it. It helps to create a chemical reaction that makes the caramel bake up nice and crunchy.
I don't have a roasting pan large enough to make this recipe. And also, baked-on caramel is hard to clean up. Using a disposable roasting pan keeps things super easy.
Not only does it make it easier to stir, but you can just throw it out when you are done. You're welcome.
How to Make Caramel Popcorn
There are only a few steps to making this easy caramel corn recipe. And they are so simple.
1. Pop the popcorn
This microwave popper is awesome. To get to the 6 quarts of popcorn, you'll need to do this in a few batches. But it makes it so easy. And it's much easier to store than the big air popper like my mom used to use.
You could also use plain microwave popcorn (no butter or salt added). You'll need several bags.
2. Make the caramel
Add the brown sugar, salt, corn syrup and butter to a saucepan.
The only thing hard about this recipe is remembering to watch the caramel so it doesn't burn. I often try to do something else at the same time in the kitchen, thinking I can multi-task.
And sometimes I can. But it never works out when I am making caramel. I'm fine with burnt toast. I'm okay with burnt pizza.
But there is no place in this world for burnt caramel. Super grody.
The corn syrup helps to make a nice candy coating on the outside of the popcorn. And a candy coating is never bad.
Stir the ingredients over medium heat until melted. Stir often. Allow to boil for about 5 minutes.
3. Add the baking soda
After the 5 minutes of boiling, remove the pan from the heat and add the baking soda to it and stir it until it thickens.
If your kids are old enough to be around hot molten caramel, have them help you with this. There is a fun chemical reaction when you add baking soda to the caramel.
It foams up and grows. So cool.
4. Pour it over the popcorn
When the caramel is fully made, pour it over the popcorn. Stir well but carefully to try to coat as much of the popcorn as you can.
Use a heat-proof spatula to fold the caramel into the popcorn without breaking it. Some of the caramel will end up at the bottom of the pan so be sure to scrape that up and mix in.
5. Bake the caramel corn
The key to this caramel popcorn is baking it. It helps to give it the perfect crunchy texture that you will LOVE.
It bakes at 250 degrees for an hour and you stir it every 15 minutes.
This helps to keep the popcorn crispy and to dry out the caramel.
It also ensures that you can coat all of the popcorn. For the first half an hour of baking, the caramel is pliable enough to continue to coat any pieces that need it.
You guys! This homemade caramel popcorn is crisp and buttery and perfect.
*Tip: Continue to stir the caramel corn once you've taken it out of the oven for the last time. This will ensure that it doesn't get clumpy as it cools.
There you have it. Literally the Best Caramel Corn Recipe Ever! SO easy.
I know that some of you may have your own caramel corn recipe that you swear by. But yours is wrong. Mine is better.
How to keep caramel corn fresh
Let the caramel popcorn cool completely before storing in an air-tight container. For best results, don't use a plastic zip-top bag. You want a jar with a lid if possible. My mom likes to use an empty Costco-sized peanut butter pretzels container with a screw on lid.
The popcorn will keep nice and crunchy for 3 days before it starts to get a little bit chewy.
The flavor is all still there, but the texture is different.
For real, if you make some, and decide to give it out to friends, they will hound you for the recipe. Which you should give them because otherwise, they'll keep asking you to make it for them.
And you are far too lazy for that. I often give this as holiday gifts to the teachers and staff at our school. I ALWAYS include the recipe card and they are always so grateful. And it's fun when they make it throughout the year and tell you about it.
It doesn't even matter how you package it. I've handed it to friends in a ziplock bag before and their eyes light up just like if I had given it to them in a pretty little jar. Because yum.
Frequently Asked Questions
Why is my caramel corn not crunchy?
Your caramel corn may not be crunchy if you didn't get the caramel to the right temperature. While this recipe is pretty forgiving, you will want to make sure to follow the directions for best results. Baking it once you've mixed the popcorn together with the caramel will help!
Why is caramel corn grainy?
Your caramel popcorn might be grainy from the sugar that sometimes crystalizes in cooking. The addition of the baking soda, like in this recipe, should help keep everything super smooth.
Why is my caramel corn bitter?
Your caramel corn could be bitter from overcooking the caramel. When you heat caramel too long, it goes from tasty and amazing to bitter and bad! Don't multi-task when you make this recipe. Focus on following the directions and you'll be fine.
This sweet popcorn recipe a great recipe to make for parties too. It makes so much and it's a great way to fill out a dessert table.
More easy popcorn recipes
More easy dessert recipes
The Best Caramel Corn Recipe
This is the Best Caramel Corn Recipe on the planet! No exaggeration. Baked to keep it extra crunchy, this sweet treat is easy to make and even easier to shovel in your mouth. It's an easy recipe with the most delicious results!
Print
Pin
Rate
Save
Saved!
Instructions
Pop all your popcorn (6 quarts) and place in a large disposable baking pan and set aside.

Preheat oven to 250 degrees.

To a saucepan, add the brown sugar, butter, salt and corn syrup.

Melt together over medium heat, stirring almost constantly to keep it from burning.

Heat to boiling and let boil for 5 minutes, stirring almost constantly.

Remove from heat and add baking soda.

Stir well.

Pour over popped popcorn and stir well, taking care not to break the popcorn.

Bake at 250 degrees for one hour, stirring every 15 minutes.

Stir the caramel corn as it cools to prevent it from sticking together in big clumps (approximately 10 minutes).

Store in an air tight container.
Notes
You can use an air popper or plain microwave popcorn.
To make sure you don't have clumps, continue to stir the popcorn once you've removed it from the oven for the last time for about 10 minutes as it cools.
Nutrition
Serving:
1
cup
|
Calories:
190
kcal
|
Carbohydrates:
25
g
|
Protein:
1
g
|
Fat:
10
g
|
Saturated Fat:
5
g
|
Polyunsaturated Fat:
4
g
|
Trans Fat:
1
g
|
Cholesterol:
20
mg
|
Sodium:
279
mg
|
Fiber:
1
g
|
Sugar:
20
g
Originally posted in 2014 and updated in 2016. I updated the images and added more details for making this recipe perfect every time.