Need a delicious snack recipe to share with friends and family? Make this delicious homemade snack mix.
It's the Best Chex Mix Recipe. Ever. and it's seasoned with Old Bay.
With a variety of crunchy snacks and a unique twist on the standard flavor, this easy recipe is great for a crowd and is one of my favorite easy appetizers to serve at a casual gathering.
Some links in this post may be affiliate links. As an Amazon Associate in the Amazon Services LLC Associates Program, I earn from qualifying purchases by linking to Amazon.com and affiliated sites. I also participate in affiliate programs for other retailers.
Ahhhhhh. Fall is in the air. It's time to start thinking about those favorite holiday snacks.
For years, I waited on my best friend's mother-in-law to start sending out her coveted Chex Mix. It's true, not all Chex Mix is created equal.
And since I could never bribe the recipe out of her, I decided to create my own.
This homemade Chex Mix recipe is crazy good and super savory, which I'm totally looking for in my snack mix.
I used Old Bay to give it a unique flavor that levels up the taste. I think it's the celery salt that makes it stand out.
That, and like, every crunchy snack item ever made.
Make sure to pin this for all your holiday snacking needs!
First off, why are all the Fritos snack mixes on Pinterest sweet? I mean, I totally get it, and normally that would be right up my alley.
But Fritos are SO salty and bold. They are crying out to be used in a savory mix.
So I mixed them with two kinds of Chex Mix, oyster crackers, pretzels and bagel chips. Of course, you can use anything you like, but this mix was SUPER tasty.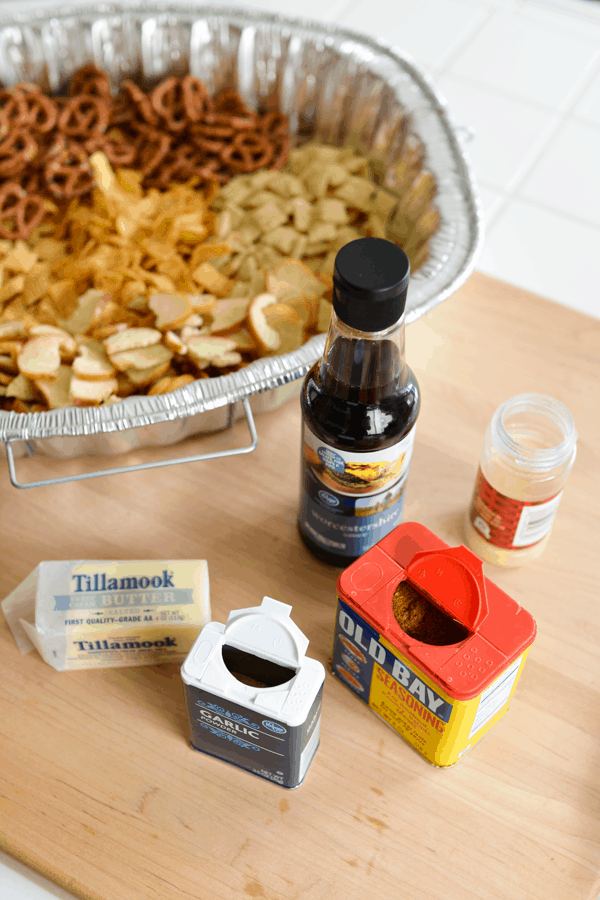 How to make Old Bay Chex Mix
I always start with a big, disposable pan because it makes everything so much easier for stirring without sending pieces flying all over the kitchen.
The thing that MAKES the Chex Mix is the baking. It really helps to keep everything crispy and make it super crunchy. Ain't no one got time for a soggy snack.
With the oven at 250 degrees, it's a low heat that won't burn the butter and seasoning but will help dry everything out.
I mixed the butter and spices in a saucepan, to melt it all together and then poured it on the crunchy snacks that were already in the big pan.
I tossed it really well to make sure the seasoning got all over each piece.
The best Chex Mix is buttery and perfectly coated.
But here is the star of this show. The Kim to the Kardashians if you will. Old Bay seasoning.
Man, I can't get enough of this stuff lately. I also used it my favorite Chip Dip the other day. You should make that for your next party too.
It really adds a depth of flavor to the mix that you can't get from just seasoned salt. It was not a spice my mom used so I had never even tried it until last year! I feel like I may need therapy because of that!
This Chex Mix snack mix is totally versatile. You can use it for all kinds of parties. It's inexpensive to make and makes large batches.
It's a staple for holiday get-togethers but it's equally fantastic for a tailgate party.
And if you like to give edible gifts, this is a great idea. People LOVE homemade Chex Mix.
Looking for more snack recipes? Try these:
Yield: 12
Best Ever Chex Mix
This is the Best Chex Mix Recipe with Old Bay that is perfect for casual snacking. It's great for a crowd and will make any football party or holiday gathering super tasty.
Total Time
1 hour
10 minutes
Ingredients
Snack Mix
2 cups Fritos chips
2 cups Mini Pretzels
2 cups Corn Chex
2 cups Rice Chex
2 cups Bagel Chips
2 cups Oyster Crackers
Old Bay Seasoning
8 TBSP butter, you can use margarine if dietary reasons call for it!
2 TBSP Worcestershire Sauce
2 tsp Old Bay Seasoning
1 tsp garlic powder
3/4 tsp onion powder
Instructions
Preheat the oven to 250 degrees.
In a large disposable pan, add all of the crunchy snack items.
In a small saucepan, add all the butter, Old Bay, Worcestershire sauce, garlic powder and onion powder and stir until butter is melted and everything is well mixed.
Evenly pour the butter and spice mixture over the snack mix and carefully toss to make sure the seasoning gets to each piece.
Bake the Chex Mix in a 250-degree oven for one hour, stirring every 15 minutes.
Let cool and store in an airtight container.
Notes
Make this recipe your own! Is there something else you think would be delicious in this mix? Add it! Want to take something out, do it!
Nutrition Information
Yield
12
Serving Size
12 Servings
Amount Per Serving
Calories

533
Total Fat

28g
Saturated Fat

9g
Trans Fat

1g
Unsaturated Fat

17g
Cholesterol

20mg
Sodium

663mg
Carbohydrates

63g
Fiber

4g
Sugar

4g
Protein

9g
Nutrition information isn't always accurate.
Seriously, the Old Bay makes this the Best Chex Mix Recipe. Make sure to pin this recipe for later.