Gather friends and family to celebrate the biggest game of the year with a football party! The best parties always have a great spread of food, a little fun decor, and best of all, these ideas are super easy.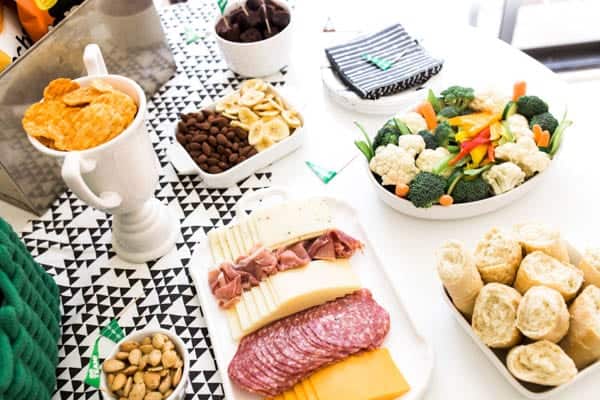 Everyone is excited to cheer on the best two teams in the league. And watching with other people is half the fun! It's a festive day full of food and friends.
So if you're just starting to put a plan together, this post will help. Let me show you how to throw a football party! Because homegating is the best!
Jump to:
How to Throw a Football Party
Food is usually the center of a great party, but I have some other game-day ideas to make hosting easy.
I think the best parties are the ones where you have fun pulling together the ideas, have help hosting and don't go crazy so you feel too overwhelmed to have any fun!
Get Organized
You probably have a million ideas swirling through your head. So once you start to narrow them down, I find it's best to write everything down.
Then I can turn my notes into to-do lists to make sure everything is ready by the time the first guest arrives.
There's no need to do everything yourself! Enlist your friends to be involved in the planning.
Football Party Decorations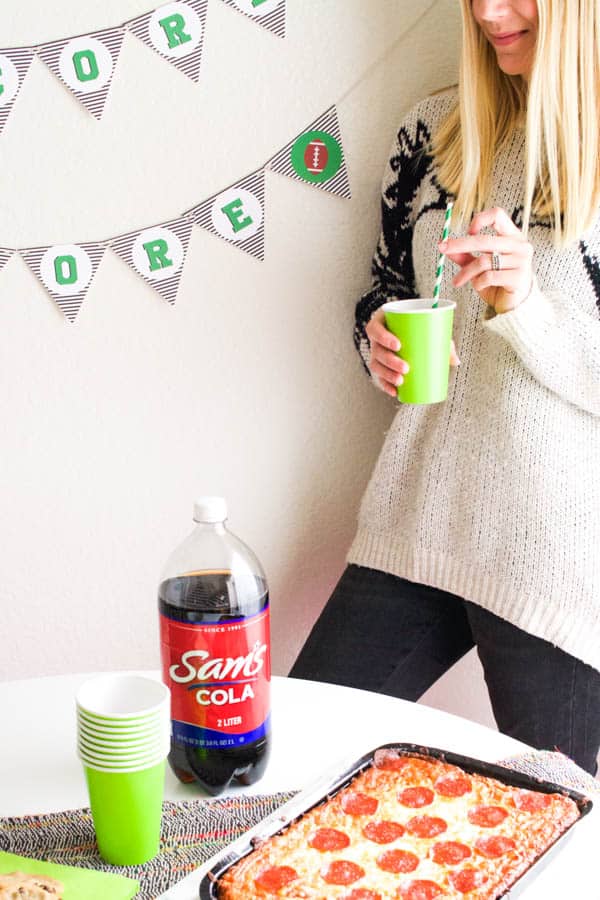 Football party decorations are a must! You don't need to go crazy, but putting up some football decor helps bring the party to life.
Balloons
Balloons are a great cheap football party decoration and who doesn't love balloons! Plus if there are going to be kids there, balloons can keep kids busy for hours!
You can buy a helium tank and put them around the room or even let them float up to the ceiling. Or you can make a simple balloon arch (use this pump!). They make a big impact without a ton of effort.
Football Printable Banner
A cute wall banner is a perfect thing to hang behind a food table. This free printable football banner is super easy to make and takes just a few minutes to put together.
Grab my Football Printable Banner! It'll make your party look awesome!
Football Party Supplies
When it comes to throwing a football party, you'll need the right party supplies! Football themed party supplies like cups and plates cross over into decoration territory.
While your supplies don't need to be fancy, they do need to be fun! Everything I pick for my parties is based on fun. You want your guests to have a good time after all.
And while I typically don't like to go too theme-y on my supplies, a game day party is the perfect time to go all out.
Football Party Bags
One of the party supplies that you don't want to forget is the football party bags. You can fill these bags with lots of themed goodies. Or you can keep them empty and send leftover chips, candy and toys home with your guests.
What Food to Serve at a Football Party
Food makes a football party, amIright? A lot of people spend the whole year looking forward to this event and the food that will be served at it. So, you've got to make it good!
Game Day Recipes
You don't have to serve a full-on meal but having a hearty spread will keep everyone happy. I always have my guests pitch in with the food but I try to make a "main dish" to kick things off.
You can make things the day of but I always try to find things I can make ahead of time too. Easy recipes are always the best!
Football Appetizers
Hosting a Game Day party at home means you'll probably have a nice spread of appetizers out. Appetizers are great because they are usually super easy to make, aren't fussy, and can feed a crowd.
Football Party Dessert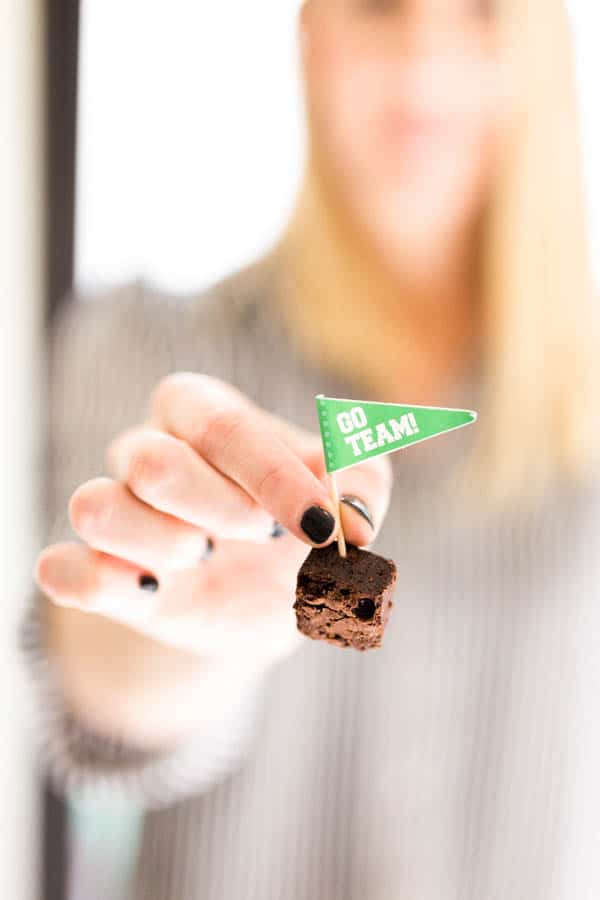 You cannot (I repeat) cannot have a football party without some delicious desserts. While you don't have to go overboard, you do need to at least think about having cake, brownies, muffins, or cookies.
Football Party Cupcakes
Let's be honest. A party isn't a party without cupcakes! Football cupcakes are easy to make by using the same method as decorating my football cookies, or finding a decorative pick!
You can even use store-bought cupcakes and dress them up to keep things extra easy. Or serve boozy cupcakes (to the adults).
Game Day Drinks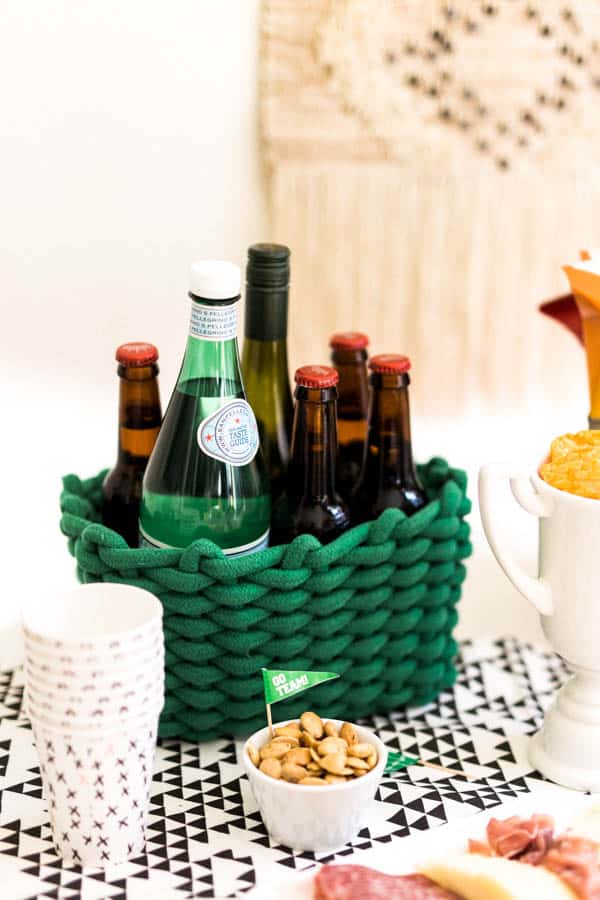 While you're eating all of this delicious food and enjoying the appetizers, you need to have something tasty to wash it down with. There are so many Game Day drink options to choose from.
Go with what you enjoy most. After all, Game Day only rolls around once a year.
As you can see, throwing a football party is meant to be fun! With these tips and game day ideas, you can easily throw a party and have an amazing time doing it.
Host a football party with ease using these fun game day ideas.
More posts about entertaining at home