These Baked Salami Chips are probably the easiest party appetizer ever. Just one ingredient, baked in the oven, will make your guests happy in the mouth.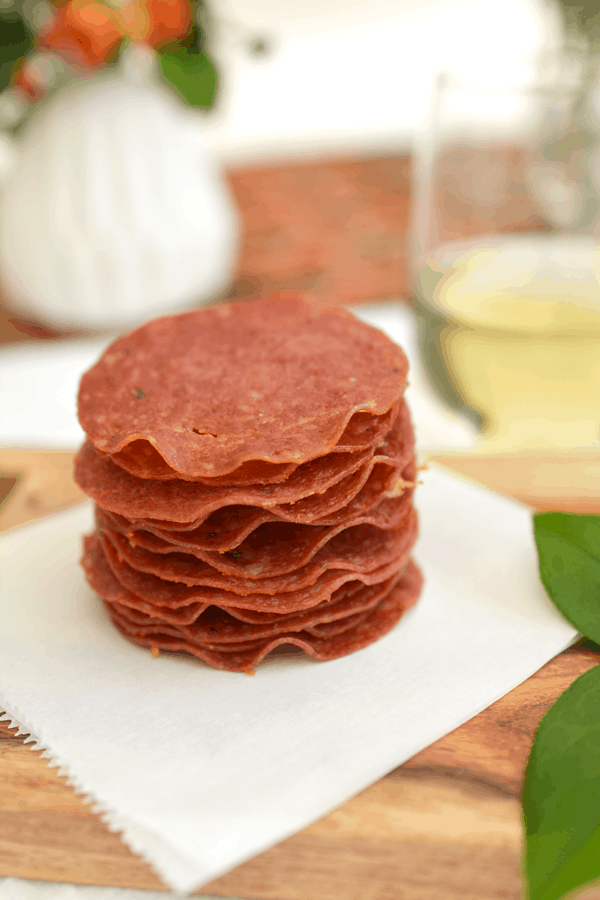 Some links in this post may be affiliate links. As an Amazon Associate in the Amazon Services LLC Associates Program, I earn from qualifying purchases by linking to Amazon.com and affiliated sites. I also participate in affiliate programs for other retailers.
Salami Chips are DELICIOUS!
When I was pregnant with my first son, there were a few foods that I craved. One of them was salami. Just about every day for lunch I would eat a salami sandwich with pepperoncini and provolone cheese.
Looking back, I'm certain this contributed to my cankles as I had tons of swelling leading up to his birth. Thanks, sodium. I still love salami.
My grandma used to make salami and pepperoncini sandwiches for us and that is, I'm sure, where I got the idea for my pregnancy sandwiches from. And it's DEFINITELY where I got the idea for this salami pizza.
She used to bake the sandwiches making the salami warm and delicious. They didn't get crispy, though, because she would wrap the sandwiches in aluminum foil before baking them to not dry them out.
So what happens to salami when it does dry out? It gets super crisp, like a chip and they become addicting.
Sign up for my newsletter and get a 5 recipe mini-cookbook full of quick and easy snack and appetizer recipes!
How to Make Baked Salami Chips
Ingredients:
Tools:
Baking Sheet
Parchment Paper
I picked up a package of salami at the store and didn't have to worry about slicing it myself.
I am not a salami expert, so there might be another type of salami that might be best suited to be turned in to a chip.
This time I grabbed Genoa but I think this idea might also be super tasty with black pepper salami.
This package had 12 slices in it so if you were going to make crispy salami for a party, you may want to pick up another 1-2 packages.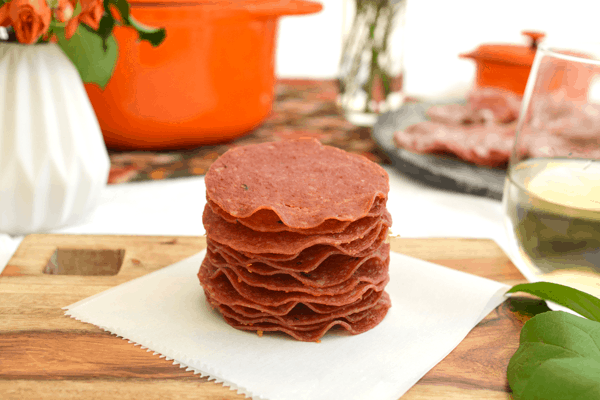 All I did was lay the salami flat on a baking sheet on top of a layer of parchment paper. I made sure to cook them until really crispy.
If they don't crisp up enough they get kind of chewy, which isn't terrible, but then they aren't really salami chips.
Baking them long enough will depend on the heat of your oven. You want edges to start to curl and they will get browned.
You'll want to test them out after the initial timer goes off and see if they need more time.
These baked salami slices were crunchy and salty. But they weren't so salty that I stopped eating this whole batch…
I've also seen recipes that call for making baked salami with some preserves for a sweet and salty take.
Because the genoa salami crisps up, you basically turn them into meat chips that are perfect for dipping into things.
You can serve these on their own or pair them with a creamy dip. Different types of mustard are also a great idea! Except that I don't like mustard so, ew.
These Baked Salami Chips would be a fun addition to a charcuterie board when you are entertaining. They are totally unexpected and would be AMAZING with cheese!
These meat chips make a great football party appetizer idea. But truly they are great for any kind of party!
More Easy Appetizers
Pistachio and Apricot Cheese Ball
Printable Salami Chips Recipe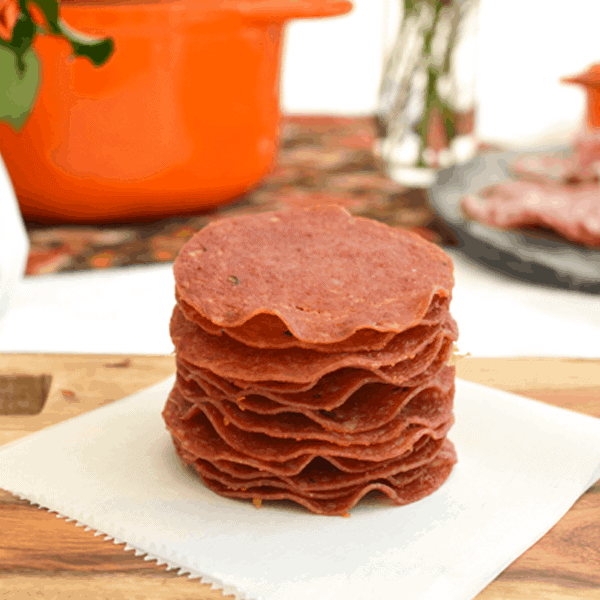 Crispy Salami Chips
These are a delicious party appetizer idea!! Crispy Salami Chips are a snack you won't stop eating!
Print
Pin
Rate
Ingredients
1

package 12 slices Genoa salami
Instructions
Place parchment paper on two baking sheets.

Separate the salami slices between the two sheets.

Bake in a 325 degree oven for about 10 minutes.

Edges should be crispy and starting to curl.

Move salami to a rack to cool.
Notes
If you want to make enough for a party just grab more packages and bake your heart out!
Nutrition
Serving:
1
Servings
|
Calories:
60
kcal
|
Protein:
3
g
|
Fat:
5
g
|
Saturated Fat:
2
g
|
Polyunsaturated Fat:
3
g
|
Cholesterol:
11
mg
|
Sodium:
265
mg
Pin This For Later
You're going to love these easy salami chips!!!