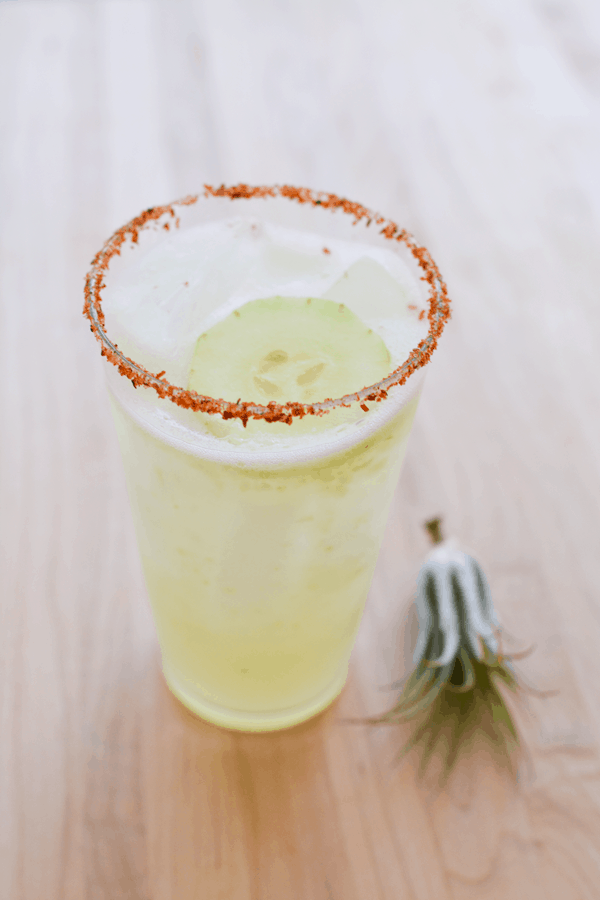 You HAVE to make this drink! Aside from being crazy delicious, it is also a drink that was made for us on my recent trip to Villa del Palmar in Loreto, Mexico. Don't worry.  I'll have a full post soon on why I love it there so much but in the mean time, I thought I would share this Cucumber Margarita recipe. After all, today is National #TequilaDay. I was really inspired by a lot of different things on our trip. And when I got home I found that I was missing the food and drinks and have been trying to recreate them.  This drink has tons of memories tied to it from the trip. One of my favorite things about it is that it was made by a bartender who grew up about 15 minutes from where I did! Every single staff member was amazing and Jorge was no exception. I really enjoyed hearing his story and finding out how he ended up in Baja California. And he made a mean cucumber margarita.
To make your own cucumber margarita, you will need a gorgeous tequila, like this one from Casa Noble, Triple Sec, a fresh cucumber, fresh squeezed lime juice, a lime wedge and some Tajin. What is Tajin, you ask? It's a seasoning. All I know is Jorge rimmed my glass with it for the cucumber margarita and I'm addicted. I am not a salt on my margarita glass gal but THIS is delicious!  This is totally not sponsored it is just a new product that I found and love and you need to know about. (Damn, this disclosure stuff is the pits). On my first grocery store trip after I got home, I walked in to the market and there was a table set up with tons of Tajin and a rep. Of course I made a beeline for the table. I took that as a sign that I was supposed to buy some. It is easy to find in the Mexican section of most grocery stores. Or maybe it is just easy for me since I'm in So Cal. I'm certain you can buy it online if you have to.  And you HAVE to.
Is there anything quite as refreshing as cucumber? I think not. And fresh lime is my jam. I have limes around my house at all times. Just in case. Right now I've been using a half of fresh squeezed lime juice and a drizzle of good olive oil as my salad dressing of choice. So good.
When Jorge brought out the blender for our cucumber margaritas, Dinah and I just about jumped over the counter at him.  We do not like a blended margarita. He assured us that we would like the final product.  And he was right. You simply blend the cucumber, lime juice and liquors together.  The cucumbers do not get totally pureed so it leaves little bits of the fresh cucumber throughout your drink which I loved. You could probably get a similar flavor if you muddled the cucumber and lime instead of blending, but I think this method is best. If you don't have a Ninja yet, just get up, get your keys and purse and go get one. Best thing to ever happen to me (I was sent one to review for another site so I will disclose to you that I didn't buy it but they are not sponsoring this post. It's seriously a life changer and I use it for EVERYTHING.  But I digress…)
You can't drink this cucumber margarita without rimming the glass with Tajin. I mean, I guess you can. But it won't be the full experience. But do what you want to do. I can't force you…But if you are a rule follower, like me, then you will do it. To rim a glass, in case you are living under a rock (I'm not judging, but really you should get out more), just take a wedge of lime and rub it on the rim of the glass.  Then pour out some Tajin on a plate and run the rim of the glass in it.  The lime helps the seasoning adhere to the glass.
See, like this.
Oh hey.  There's my son.  Like a moth to a flame, when I'm shooting cocktail posts this one shows up.  He demands I take a photo and he'll finally move on.  He's 5 1/2 years old and in a full on baby phase right now. It's probably why more cocktail posts have been showing up on the blog lately…
Now back to the world's best cucumber margarita.  Absolute perfection.  I have to say, the Casa Noble tequila was clean and smooth with a silky quality. I don't know much about the different types of tequila but I can tell you that I am a BIG fan of the Crystal variety.
Float a cucumber right on top for an added dose of cucumber.
And then drink it up. Responsibly, of course.  Thank you for introducing this fine cocktail to us Jorge!
Do you celebrate National #TequilaDay? I never have before but I think I will be adding it to my calendar for the future. I don't drink a lot in the week, but it just feels wrong not to when it is a National "day."
Maybe you aren't going to make a cucumber margarita but I encourage you to at least take some tequila shots today. FYI, no one licks salt off anything in Mexico when doing a shot. I didn't think about that until I was putting this post together and was like what kind of salt do I use, on account of the fact that I am that much of a tequila shot novice. A good tequila, some fresh lime. Done.
Happy  National #TequilaDay!  Need more drink ideas? Check out this great pin from Casa Noble! And be sure to follow them on Facebook, Twitter, Google + and Instagram!
Cucumber Margarita for National #TequilaDay
Ingredients
4 slices fresh cucumber, skin removed (3 for the drink, one for floating on top to make it look pretty)
1 oz. fresh lime juice
1 oz Triple Sec
1 1/2 oz. Tequila
Ice
Lime Wedge
Tajin to rim the glass
Instructions
Add cucumber slices, lime juice, Triple Sec and Tequila to a blender and blend well.
Rim cocktail glass with Tajin by rubbing first with lime.
Add ice to the glass.
Pour mixture from blender over ice.
Top with cucumber slice.
Makes one drink.
To make 4 servings (or 2 very large cucumber margaritas - party time!):
http://www.cupcakesandcutlery.com/cucumber-margarita-national-tequila-day/
Copyright © Cupcakes and Cutlery All Rights Reserved www.cupcakesandcutlery.com
*I was sent Casa Noble tequila. I am very grateful for liquor companies that send me product so that I can share the cocktail posts that I would share with you anyway.  Do you know how much it costs to buy a bottle of liquor just for one post?  BTW, Casa Noble is delicious. But as always, all opinions are my own.