This Aperol Margarita recipe is the perfect cocktail to sip when you want to branch out from the standard Aperol Spritz. The color is vibrant and the taste is one you'll love and crave!
I didn't start out as a fan of tequila cocktails, but over the years I've learned they are my favorite!
I like to keep my home bar small and make sure I'm getting the most use out of each ingredient. I love that this easy recipe gives us another idea for how to use Aperol that isn't an Aperol Spritz.
Jump to:
Why This Recipe Works
The bitter orange flavor of the Aperol (an Italian aperitif), pairs perfectly with tequila.
If you're a fan of a classic Margarita cocktail, this one kicks it up in the flavor department and has the most brilliant orange color that looks fantastic in a glass.
Aside from a cocktail shaker, you don't need any special tools to make this margarita with Aperol. It's perfect to serve to company because it's unique and seems more "craft" than it really is!
These are perfect to serve any time of year! So grab that bottle of Aperol and shake one up!
Ingredients
To make this easy Aperol Tequila Margarita, you need a bottle of Aperol, Triple Sec and your favorite tequila.
I picked up Trader Joe's Tequila to try last time I was at the store. I love to try new tequila. But this one is not my favorite. It is not a tequila I would want to sip on its own. And while I don't often sip tequila straight, you should choose one for your cocktails that you like the flavor of.
I used Blanco tequila but you could also use a reposado if you prefer. Or even a Joven like I did in my Ginger Tequila Lemonade.
I also used fresh orange juice and lime juice (lime not pictured) to brighten the flavor. Anytime I can add fresh ingredients to a drink recipe, I will. It makes all the difference.
I also rimmed my cocktail with spiced sugar (not pictured) but you can use salt, Tajin or something else. Or skip it. Up to you.
Scroll to the recipe card for full quantities (or you can always use the "jump to recipe" button under the title of my blog posts).
Instructions
To the cocktail shaker, add the Aperol.
Add the Triple Sec.
Add the tequila.
Add the orange juice and lime juice.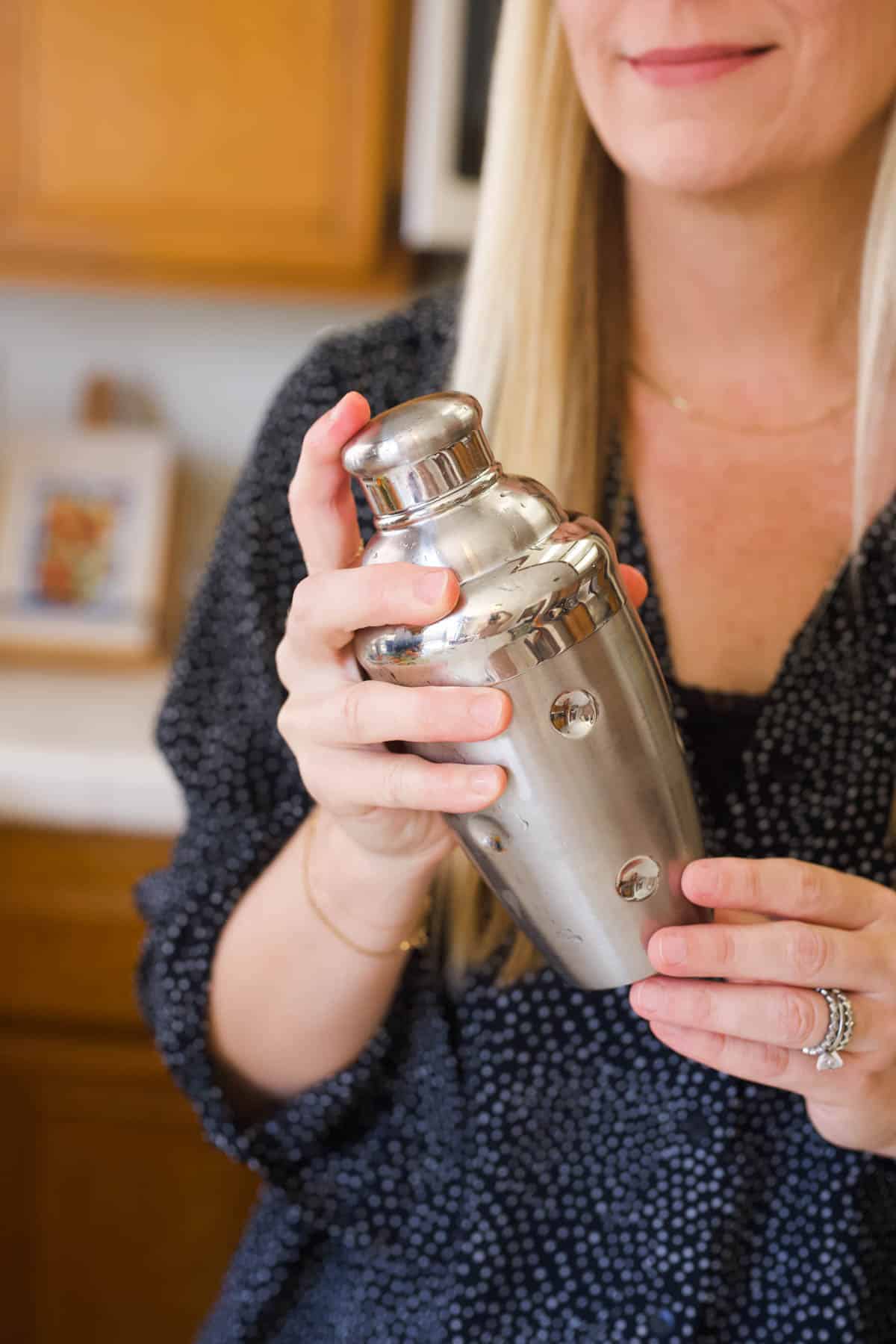 Hint: Add the ice after all the ingredients right before shaking to cause the least amount of dilution.
NOTE: If you want to rim your glass, you would need to do it before you strain in the finished drink.
Related: How to Rim a Glass
Strain the Aperol Margarita over fresh ice in a margarita glass. These glasses shown are my FAVORITE (plus, I use them for other types of drinks too).
With a rimmed glass, I don't usually add any other garnish. But if you don't rim the glass, a small wedge of orange or a lime wheel would be nice.
Variations
There are so many ways to customize a margarita and this Aperol Margarita is no different.
Top tip
If you are just starting out with making cocktails at home, you can shake the drink and take a straw full straight from the shaker before straining it into a glass.
Just insert the straw into the liquid then put your finger over the top of it to cause suction, then put the drink side into your mouth before taking your finger off. That way, you can add more of this or that, if needed.
Frequently Asked Questions
Can you put Aperol in a Margarita?
You betcha! Aperol in a margarita is a delicious treat. The bitter orange flavor pairs perfectly with lime and tequila. It's a great variation to try if you're looking for another way to use that bottle of Aperol sitting in your cupboard.
Can you use Aperol instead of Triple Sec?
I think it could be interesting to use Aperol in place of Triple Sec in cocktail recipes. In this Aperol Margarita, though, I use both! Triple Sec is lightly sweet with an orange flavor. Aperol has a more bitter flavor that also has hints of barks and spices like you might find in bitters. In most cases, I think you could use either, for a slightly different flavor profile.
Can I drink just Aperol?
Yes! You can drink Aperol on its own. It's sweet enough that the bitter notes aren't too overpowering. But I like to drink Aperol and Soda to make it a little bit more refreshing!
If you have a bottle of Aperol on your bar and you haven't made an Aperol Margarita yet, what are you waiting for?
Pin to save this recipe for later!
Make sure you don't lose this recipe by saving it for later! Also, for more recipes make sure you're following me on Pinterest, Instagram and like my page on Facebook. If you make this recipe, be sure to leave a star rating and tag me in your pictures!
Related Recipes
Aperol Margarita Recipe
This bitter orange twist on a classic margarita is one you'll love! Make an Aperol Margarita as soon now. With tequila and fresh lime and orange juices, this easy recipe comes together fast and is a great way to use that bottle of Aperol on your bar that isn't a spritz.
Print
Pin
Rate
Save
Saved!
Instructions
In a cocktail shaker add Aperol, Triple Sec, Tequila, orange and lime juices.

Strain into a cocktail glass with fresh ice.

Can garnish with a lime wheel or orange wedge or rim the glass with salt or spiced sugar.
Notes
If you are just starting out with mixed drinks you can always pour a small taste from the cocktail shaker after you've shaken it with ice to test the flavors. Then add anything you think you need to, to balance the flavors to your liking before straining into the glass.
Easy variations to the recipe:
Nutrition
Serving:
1
drink
|
Calories:
374
kcal
|
Carbohydrates:
29
g
|
Protein:
0.5
g
|
Fat:
0.3
g
|
Saturated Fat:
0.1
g
|
Polyunsaturated Fat:
0.1
g
|
Monounsaturated Fat:
0.04
g
|
Sodium:
7
mg
|
Potassium:
132
mg
|
Fiber:
0.2
g
|
Sugar:
27
g
|
Vitamin A:
96
IU
|
Vitamin C:
28
mg
|
Calcium:
8
mg
|
Iron:
0.2
mg