Hold on to your hats and glasses because this year's Thanksgiving pie has a boozy kick! You NEED to make this Fireball Pumpkin Pie!
Your classic pumpkin pie flavors are infused with spicy cinnamon whiskey to create a fun twist on the popular fall dessert.
If you're looking for a new dessert to take to your family get together or Friendsgiving, this one is for you!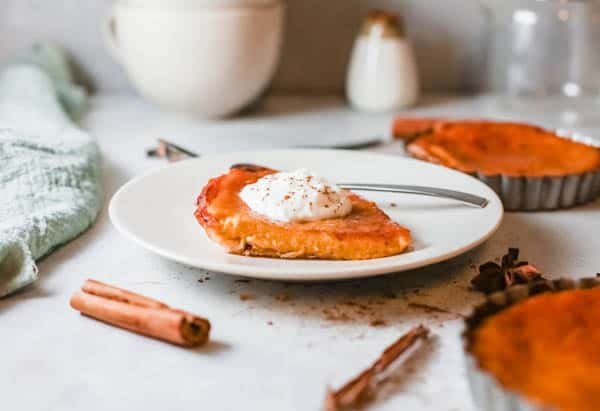 Some links in this post may be affiliate links. As an Amazon Associate in the Amazon Services LLC Associates Program, I earn from qualifying purchases by linking to Amazon.com and affiliated sites. I also participate in affiliate programs for other retailers.
Pumpkin Pie with Fireball
I'm not a big Pumpkin Pie fan. I'll eat a piece once a year. I find it just kind of blah.
I like pumpkin flavor. I like the warm fall pumpkin pie spices like cinnamon, cloves and nutmeg. The texture is fine.
But overall, it's kind of boring. So I decided infusing it with a little Fireball Cinnamon Whiskey would add something special to it.
I mean it worked for these delicious Fireball Cupcakes. I knew it would take a standard pie up a few notches too.
Also, mini pies are just darling. But this batter will work to create one regular pie instead.
Can kids eat Fireball Pumpkin Pie
Probably? Just like with my boozy cupcakes, there isn't a ton of whiskey added.
The 4 TBSP = 2 oz. which is basically a shot of whiskey. That shot is mixed with the rest of the batter so is diluted.
Since a standard pie has about 8 slices, that is about 1/2 TBSP in each slice if everything mixes evenly.
And with the baking, some of the alcohol might be cooked off.
I would let my kids have some. Especially because I've never seen them finish a whole piece of pie. But you are the final judge over your family.
What is the best pumpkin to use for pie
The best pumpkin for me to use to make pumpkin pie is canned.
I like to look for short-cuts, especially for baking. Canned pie is convenient, consistent and a great base to add more flavors to.
If you want to make your own, look for pie pumpkins. They are usually smaller than traditional pumpkins and are sweeter and more dense.
You'll need to cook it and then make it into a puree before using it in the pumpkin.
That adds on several more steps to making a pie. And will you make pie crust from scratch? The end result is not that good to put in so much effort.
In my humble opinion.
Canned pumpkin also makes a delicious Pumpkin Dump Cake. Or a Pumpkin Margarita.
How to make Fireball Pumpkin Pie
If you love Fireball Cinnamon Whiskey and pumpkin, this yummy pie recipe is for you!
Scroll down to the printable recipe card for full measurements and instructions.
Ingredients
store-bought pie crust
eggs
canned pumpkin puree
heavy cream
milk
sugar
brown sugar
pumpkin pie spice
Fireball Cinnamon Whiskey
whipped cream for garnish
If you're up for it, you can make your own pie crust. As I mentioned above, I'm far too lazy for that.
And since I don't bake often, there is a lot of room for error. Starting with a store-bought crust gives you a nice base for your pie.
There are a lot of varieties of ready-made pie crusts. Here's a great article on the types of crusts available.
Most of the other ingredients are pretty straight forward and can be found at the grocery store. Even the Fireball.
If you don't want to buy a whole bottle, check to see if you have a BevMo or Total Wine near you and if they have the mini bar sized bottles.
It will save you a little bit of money. You will probably need to buy 2.
But if you buy the bottle you can also make a delicious Cinnamon Mule. There are a lot more uses for Fireball than just shots.
But shots are also delicious…
Instructions
Preheat your oven to 400 degrees. Take a shot of Fireball.
Ok. You don't really have to but why not. A chef has to know what they're working with, right?
Prepare your pie crust per the package directions. You may need to grease and flour a pie dish and line with the pie crust pastry. Set the crust aside.
Again, I chose to make mini pies on account of cuteness. But you can make one big pie. That is easier! Here's my fave pie plate with lid!
In a bowl beat the eggs with the pumpkin puree until incorporated. You can do this in a stand mixer or with a batter bowl and hand mixer.
Add the rest of the ingredients and mix until creamy.
Pour the filling into the crust and bake for 50 to 55 minutes or until just set.
Remove from the oven and let the pie cool down completely.
Garnish with whipped cream which you can make your own or buy it!
You can also get fancy by adding a dusting of cinnamon, crushed up ginger snap cookies a caramel drizzle. Anything you want.
You can even make little shapes out of pie crust and cookie cutters.
That's next level. I would literally only do this if Martha Stewart were coming for pie.
So luckily. I won't ever have to do this.
Is pumpkin pie better warm or cold
This a personal prefrence. Most people serve it at room temperature. But it's also delicious cold or warm.
Cold Pumpkin Pie with Fireball is delicious with whipped cream. The texture is a little more firm.
Warm Fireball Pumpkin Pie is awesome with ice cream. it will be a little bit soft and goes perfectly with the melty ice cream.
How long can pumpkin pie sit out
I'm a stickler for food safety, especially at the holidays. A pumpkin pie, and I would assume Fireball Pumpkin Pie, can sit out for about 2 hours.
After 2 hours, bacteria can start to grow. I don't want to be taken out by a pie.
So it's fine to let the pie cool a bit and then serve. But you'll definitely want to have a plan for the pie amidst all the other things you'll probably be cooking.
How to store Cinnamon Whiskey Fireball Pumpkin Pie
Store a cooled pie or leftover pie, covered in the refrigerator, for 2-4 days. But I'm guessing you may not have leftovers…
Supplies to make this recipe
More pie recipes to try
Frozen Peanut Butter pie is a recipe my grandma used to make. It's no bake and so tasty! It's a great one to make ahead of time!
It's the perfect time of year for a pie cake! Pie Cake is a fun and easy recipe to make that will blow minds! If you've never made one, you must!
A Sweet Potato Dump Cake is a sweet side dish that you need to have on your holiday menu.
Printable recipe
Fireball Pumpkin Pie
This flavorful Fireball Pumpkin Pie is infused with cinnamon whiskey to give it an extra kick! With a store-bought crust, it's easy to take a classic fall dessert and make it extra special.
Print
Pin
Rate
Instructions
Preheat the oven to 400 degrees.

Grease and flour a pie dish and line with the pie crust pastry. Set aside.

In a bowl beat the eggs with the pumpkin puree until incorporated.

Add the rest of the ingredients and mix until creamy.

Pour the filling into the crust and bake for 50 to 55 minutes or until just
set.

Remove from the oven and let it cool down completely.


Notes
Depending on what type of store-bought crust you buy you may need to bake that on its own first. Follow the directions for whatever pie you buy.
I made mini pies but this recipe works for 1 large pie also.
Top with whipped cream, a sprinkle of cinnamon, caramel sauce, crushed ginger snaps, anything goes!
Nutrition
Serving:
1
g
|
Calories:
336
kcal
|
Carbohydrates:
42
g
|
Protein:
4
g
|
Fat:
15
g
|
Saturated Fat:
8
g
|
Polyunsaturated Fat:
7
g
|
Cholesterol:
73
mg
|
Sodium:
124
mg
|
Fiber:
2
g
|
Sugar:
29
g
Pin to save this pie for later
Try this Fireball Pumpkin Pie recipe next time you are craving a comforting dessert with a little kick!