If you follow me on Instagram (especially stories) and Facebook, then you know I LOVE the Hallmark Channel, especially, their holiday movies! I turned to Hallmark after we had gotten into a car accident (we were all unharmed just shaken!) and it spun me into a crazy bout of insomnia and high anxiety. I stayed up all night and worried about preparing my family for emergencies whether it was a natural disaster or some sort of terrorist attack. Hallmark Channel was my place to find respite from that noise. It was soothing and helped me to find peace during the day. And I'm totally addicted to their Hallmark Christmas Movies!
My insomnia is now gone but I still love watching the Hallmark Channel. My favorite time of year is when they kick off their festive movies and debut a new Hallmark holiday movie each Saturday and Sunday night. Yes, they are predictable. Yes, they are cheesy. I know all this (but, thank you, to my husband for constantly reminding me…). But sometimes they are the perfect thing to help you relax and really turn off the world around you.
Don't even get me started on their Thanksgiving bonanza where you get 5 new movies in a row! I'm almost caught up on those. And as we head further into the busiest of seasons, I wanted to find a way to remind moms to take time for themselves. You KNOW I am a huge "me time" encourager.
Last year, my friend Nicole and I bonded over our love of the Hallmark Holiday movies. And our son's are best friends. So I thought it would be fun to come up with a family play date idea that incorporated the Hallmark holiday movies. And the Hallmark Movie Drinking Game was born! While I do love a good cocktail, that's not what Hallmark or family play dates are all about. So we decided to do the drinking game with a delicious and super easy crockpot mulled cider. But you do you and drink whatever you want.
This is more about spending time with good friends, enjoying the season by taking a timeout and relaxing with a cup of warm cheer. I was considering a mulled wine recipe. But, call me crazy, I try not to be hammered around my kids. My family has a delicious hot apple cider recipe, already, so I decided instead to try to change it up a little bit. And because you make it in the crockpot, it's virtually no work at all!
Crockpot Mulled Cider Recipe
As always, take this recipe and make it your own. If you want to add other spices (and I might switch it up next time – because I was out of whole nutmeg and cardamom), do it. If you want more or less juice, do it. If you want to lose most of the juice and use wine instead, do it. Because in another circumstance, you KNOW I'd go for that option.
There is nothing more holiday than a clove studded orange, amIright? We used to make these as kids and they are the perfect way to infuse the cider flavor. And fresh ginger really helps to bring the bottled juices alive.
If I could use the crockpot for everything, I totally would.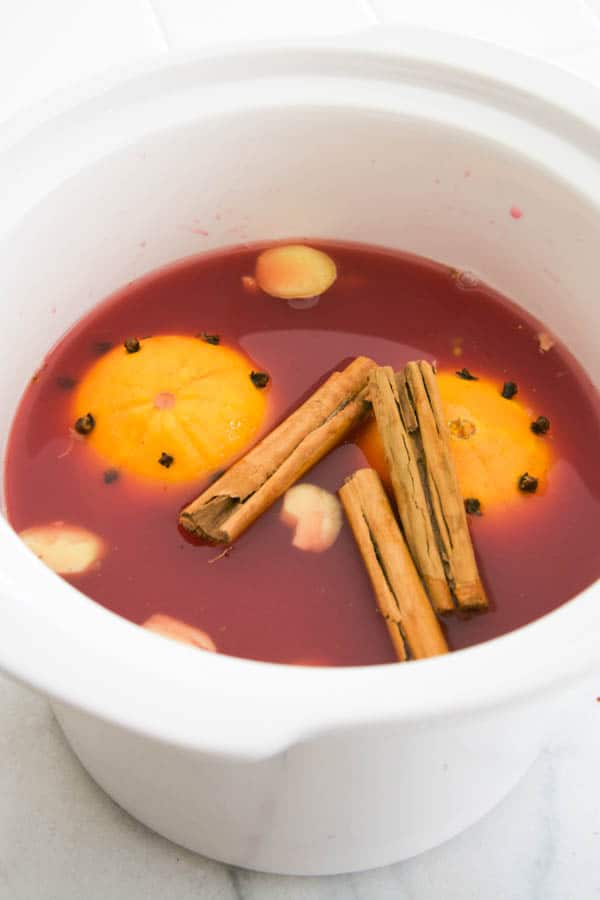 The cranberry juice gives this such an amazing color! And the clove oranges look so pretty. I decided to leave the spices large because I was out of cheesecloth but you could absolutely put them in a little bundle so they can easily be removed.
This delicious warm mulled cider recipe is sweet, the tiniest bit spicy from the spices (but not so much your kids won't like it) and the perfect thing to drink while watching someone find their true love by Christmas.
These movies are G rated so they are fine to have on with the kids around. And the mulled cider can be enjoyed by everyone. It's the perfect afternoon playdate idea.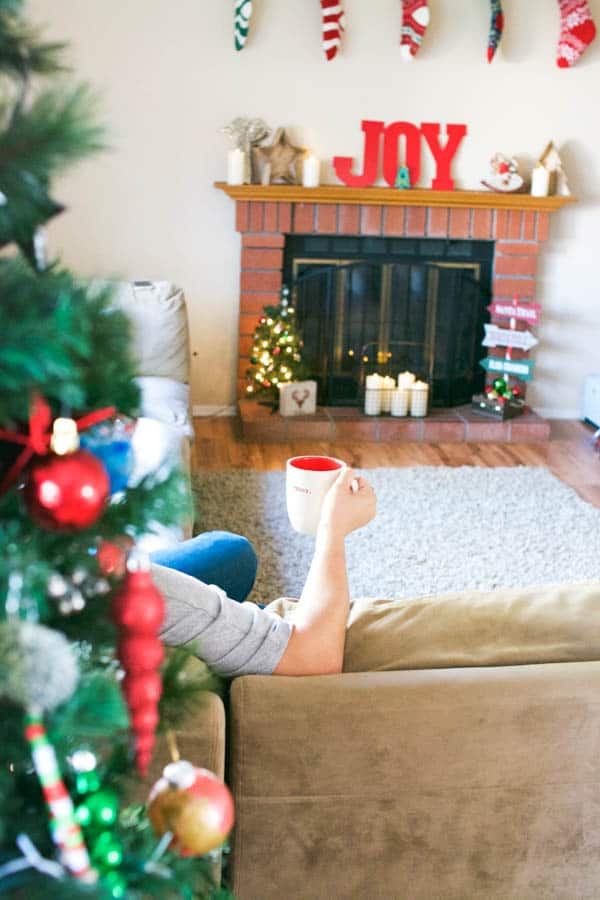 I will never not love these movies. And coming up with the Hallmark Christmas Movies Drinking Game was so fun. There is no way I could possibly cover all the things that happen in these movies. I kept it mainly to the larger plot points meaning it's a fairly boring drinking game. You could absolutely come up with things to make it so you drink more often. But in my opinion, hangovers, even sugar ones, with kids is the worst!
Play This Hallmark Christmas Movies Drinking Game
It is my dream to be in one of these movies (although I'm doing absolutely nothing about that.) I don't need a staring role. Any role Nelson Wong plays would work. He is my favorite part of Hallmark movies. He's been a barista, a hair and makeup guy, a vintage ornament collector and SO many more things!
Hallmark Christmas Movies List 2018
Hosting this playdate idea is really easy. Just invite your friends, put together some mulled cider and let the kids play! Don't want to host a whole playdate? Fine. Just make sure you find ways to take a little time for yourself this hectic holiday season! And maybe wear one of these cute Hallmark shirts my friend Audrey rounded up!
You might also like these great Christmas activities:
Host a Wine and Essential Oils Party to Prep for the Holidays
Best Non Traditional Christmas Music to Trim Your Tree To