My family loves outdoor movie nights! There is something so fun about watching a movie under the stars. When the weather starts to cool down, though, the rules change. Everything needs to be a little bit cozier including the food and drinks. You'll love these easy Outdoor Movie Night ideas for fall!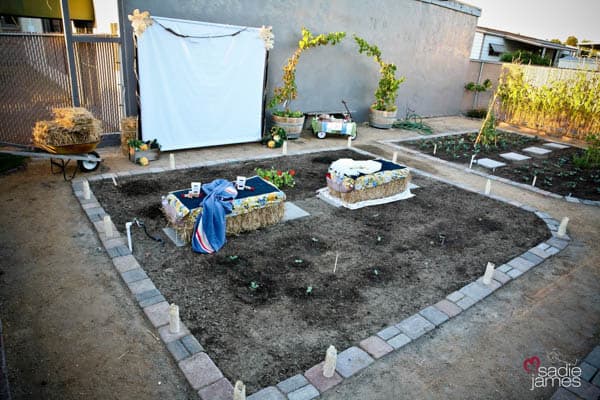 I always write about stuff I love and think you'll like too. This post contains affiliate partnerships, so I am compensated when you purchase something using the links I've provided.
How to Plan an Outdoor Movie Night
Table of Contents
• Location
• Decorations
• Corn Husk Flower DIY
• Screen and Projector
• Seating
• Snacks
• Hot Toddy
• Shop the Post
Find a place to hold your party that has a lot of room. You'll need to make sure that the area is deep so that your guests aren't too close to the screen. We found a local vegetable garden to use for these outdoor movie night ideas and it worked perfectly!
As you can see from the image above, we kept seating to certain parts of the veggie plots so we didn't hurt the plants but you get the idea.
Make it a Dinner Party
Outdoor movie parties are fun for the whole family. Kids love to sit out on blankets and watch movies on a big screen. But you can easily make it an adults-only affair. A dinner party held in a barn or garage could be super fun before settling into a favorite movie.
Easy Decorations
Veggies are a great way to decorate for any fall party. They are usually less expensive than flowers and come in so many amazing colors. Don't let them go to waste and be sure to send them home with your guests as a party favor! You can easily purchase burlap bags to make carrying your bounty home a breeze.
We also used them to create the centerpiece for the dinner table above. Boom. Done.
I added some super easy DIY corn husk flowers around the party. I love using corn husks when entertaining. They are inexpensive and totally durable. They cut and bend easily and are crazy versatile!
• Buy a package of dried Corn Husks from the store.
• For each flower, you will need 5 each of 3 different sizes.
• Cut one side of each corn husk into a point. Make 5 all one size, then make another 5 about an inch shorter and another set of 5 an inch shorter than that.
• I used a large barrel curling iron to create the bend in each piece. (genius, I know)
• Take one piece of each size, layer them (lining them up at the bottom) and use hot glue to attach them together at the base.
• Do the same to all remaining sets.
• Glue each set to each other, making sure that they fan out and look like the example in the photo above.
Corn husk flowers and a little rope garland are all you need to add rustic elements throughout the party.
You can use just about anything to create a movie screen for your outside movie party. We used a banner stand that we already had. I love these banner stands for throwing parties because they are really easy to use and can hold just about any kind of backdrop.
You can also tape or tack up a sheet on a large wall or project the movie right on the side of a building (works best with a white building that doesn't have too much texture). Or purchase an outdoor movie screen so you can host even more of these movie night parties!
A small projector will make it seem like you are in your very own movie theater! You can use this projector inside too. I remember watching home movies on a wall in our house and it was SO MUCH FUN!
For seating, we used hay bales. To make sure that they weren't scratchy or dirty for the guests, we sewed cute denim covers with fabric side pockets. The side pockets held flashlights (in case you need to move around or find something during the party) and also water and snacks. We also set out blankets to make sure nobody got too cold during the movie.
For the outdoor movie party food, we served movie night favorites along with other fun snacks. We served potato chips in cute waxed paper bags, popcorn in paper containers, red licorice bundles, Boston Baked Beans candies and more. To tie it all into the rest of the party, I used coordinating bits of the fabric from the hay bale covers to decorate the candy and snack packaging. We served everything out of a wagon to make it easy for party guests to grab and wheel around during the show.
Get even more movie snack ideas including how to make cupcakes that look they are topped with popcorn!
We also made sure to have a hot beverage to offer as the sun went down. A hot whiskey and honey drink was the perfect thing! We used an insulated beverage container that would keep everything warm and used corrugated cardboard cups for serving. But a carafe would also work. We also served this yummy Apple Spice Fall Sangria and it was a great addition to our backyard movie night! 
These easy outdoor movie night ideas are all you need to put together this fun fall party! What movie would you watch? Need help deciding? Here is a great list of 50 of the best movies to watch with your family! A Dirty Dancing viewing party is always a good idea for your girlfriends!
Images by Sadie James Photography
Shot on location at Park Ave. Restaurant
You may also like these great posts:
Make a Moscow Mule with Bourbon
Fall Sweaters to Keep You Cozy!
How to Make Candy Bar Trains (Because Gingerbread Houses are SO Hard!)