With a variety of seasonal scents, this Homemade Room Spray will make your home smell like the holidays.
In just a few minutes you can create a DIY essential oil Christmas room spray that will make your home smell amazing and bring in some festive cheer. Gift it or spritz it!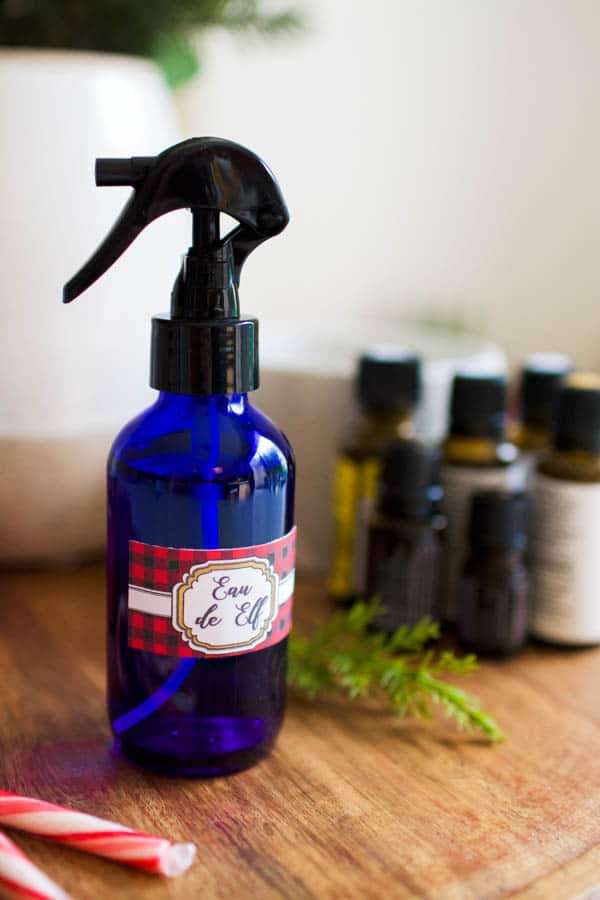 This post was originally published on December 10, 2018, and has now been updated with new images and tips.
Jump to:
I can't quit the room sprays! My friend walked into my house the other day and told me it smelled like a spa. And I felt like I had won at life. I loved that she felt welcomed into my home with a relaxing scent.
But now for the holidays, I'm all about making my home feel more Christmas-y.
Why This Project Works
This make-your-own homemade room spray is easy to make and will make your friends and family feel like Santa could pop into the room at any minute.
I don't complain about my California winters. I love the warmer weather and our total lack of snow. But, if you aren't careful your Christmas tree can dry out and die (making it highly flammable) before Christmas.
And since I already have night anxiety (self-diagnosed), I don't need another disaster to worry about in the middle of the night. Until we get our tree up and can smell the gorgeous fresh pine scent, I like to use a room spray to make the house smell more festive.
Room sprays are super easy to make. You probably already have essential oils at home that you can use.
I bought these larger bottles last year when I hosted a holiday wine and essential oils party. But I still have a bunch leftover. You can follow my recipe or make your own with your preferred smells.
The process is the same and once you know how to do it, you can make this DIY essential oil room sprays all year long.
Supplies
Scroll down to the end of the post for a printable instruction card with full measurements.
• Witch Hazel
• Orange
• Siberian Fir
• Juniper Berry (I LOVE juniper! It's such a fresh, herbal smell.)
• Cinnamon or Cassia (Cinnamon bark has that real deep cinnamon scent but can be very expensive. Cassia is a great substitute).
• Clove
• Peppermint
• Blue Glass Spray Bottle (this one has a mist top sprayer instead of the kind that I used. I've had mine for years)
• Paper cutter or scissors, double stick tape, etc. to use the printable labels.
While this is the blend of holiday essential oils I enjoy, feel free to change it up to your liking!
How to Make an Essential Oil Room Spray for the Holidays
Add about an ounce of Witch Hazel to your glass bottle. If you don't have Witch Hazel, you can use vodka. (You KNOW I have vodka around since I can't quit making vodka recipes).
This helps to suspend the essential oils in the holiday spray. Since oil and water don't mix, this part is essential (pun intended).
I bought this bottle of Witch Hazel for my Good Vibes room spray and I have so much leftover!
And, if I need to, I can tone my face with it. Hey-yo!
Add the essential oils to the Witch Hazel in the bottle.
Put the lid on and shake well.
Add about 3 ounces of water to the bottle. Put the lid on again and shake well.
I decided that my homemade room spray needed a name. So I asked my family, which consists of my husband and two sons.
I said I wanted it to have the word "elf" in it. You would not believe how many names, that were versions of "Elf Farts," they came up with. It was rather impressive.
But I decided to go with Eau de Elf instead. Because, class.
Download the Printable Labels
There are a few designs of the Holiday Homemade Room Spray Labels to choose from. I love plaid in the winter so I thought it would make for a cute label.
Just download the labels, print them, and cut them out!
Click here to get the DIY Essential Oil Christmas Room Spray Labels.
Or you can use these printable labels I made a few years ago for this holiday spray.
Keep in mind you will need to shake your essential oil Christmas room spray well each time you use it since the oils will separate.
This essential oil Christmas room spray has a hint of pine, a bit of citrus, a touch of cinnamon, and is exactly what I think elves smell like...
Tips and Tricks
Since I make so many room sprays, I don't worry about making an heirloom quality label.
I used double-stick tape so I can reuse the bottles easily.
If you are giving these as a gift and want to do something a little more permanent you totally can. These are waterproof labels that you can use, but I did not format the design to these so you'll have to play around with it.
A quick spritz of your homemade room spray before having guests over will make them think that you are ready for Christmas when, in fact, you are probably way behind on your present buying and you haven't started wrapping anything yet. What they don't know won't hurt them!
Related Oil Posts
Looking for another way to get delicious scents into your home? Make your own Reed Diffuser.
These Lava Rock diffusers are great for when you can't plug in a regular diffuser.
Want your shower to smell great too? You need this Shower Diffuser.
More Holiday Posts
DIY Essential Oil Christmas Room Spray
With a variety of seasonal scents, this Holiday Homemade Room Spray will make your home smell like the Christmas. Add some festive cheer with just one spray.
Print
Pin
Rate
Save
Saved!
Equipment
Paper cutter

Double Stick Tape
Ingredients
1

ounce

of Witch Hazel

3

ounces

of water

4

drops Orange

3

drops Siberian Fir

2

drops Juniper Berry

1

drop Cinnamon Bark or Cassia

this smell is strong and will take over if you use too much!

1

drop Clove

again – very powerful!

1

drop Peppermint

4

ounce

glass spray bottle
Instructions
To a small glass bottle add one ounce of witch hazel.

Add the orange, Siberian fir, juniper berry, cinnamon bark, and peppermint oils to the bottle.

Add the lid and shake well.

Add 3 ounces of water and shake well.

Download and print labels.

Use a paper cutter to cut out the label.

Stick to the bottle with double-stick tape.
Notes
Shake the holiday room spray well before each use.