Need a show-stopping dessert that will put a smile on your kid's faces? Make a Donut Hole Tower!
This easy donut hole tower is great for breakfast, brunch and dessert tables and is perfect for the holidays! It's a super sweet DIY!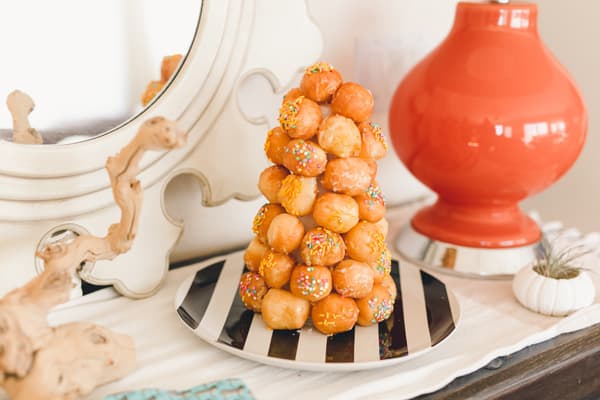 Some links in this post may be affiliate links. As an Amazon Associate in the Amazon Services LLC Associates Program, I earn from qualifying purchases by linking to Amazon.com and affiliated sites. I also participate in affiliate programs for other retailers.
Do you guys love croquembouche too? It's a fancy dessert that I love seeing in wedding magazines and on the food channel.
Traditionally it's made with stacked homemade cream puffs and draped in spun sugar. They are gorgeous.
But I'm lazy. And to make a croquembouche by scratch seems like it would take way too much work.
One of my super powers is figuring out how to make things in an easier way. By starting with donut holes, you get to focus on creating the donut tree instead of baking all day.
And colorful sprinkles take the place of hot, molten sugar that would, no doubt, cause 3rd degree burns…
A faux croquembouche with donut holes is something that looks totally fun and different (which is how you can set your parties apart). But it's also super easy to make. What what?!
I mean, who wouldn't want a donut tree? You could even use holiday colors to make this look more like a Christmas tree.
How to make a donut tower
Sure, you can make your own donut holes, but that would take so much time! And to me, there is nothing better than a donut store donut hole.
I bought 4 dozen glazed donut holes because I knew I would need a lot for the tower. I also knew some were going to fall up into my mouth.
You could also buy a box of donut holes from the grocery store.
Add sprinkles
Get your sprinkles out and ready to go. How fun are those lightning bolts?!
Any sprinkles will work but the ones that are shiny and candy-coated, like those tiny colored balls, ended up having the color run a bit.
The sugar sprinkles seemed to work way better. You can also use holiday-themed sprinkles and make this for Christmas morning.
Or use lots of gold and make one on New Year's Eve with the kids to eat the next morning.
And how cute to surprise your kids with on their birthday morning?! A donut tower is the perfect way to start the day.
Since the donut hole glaze is already dried when you buy them, you need to get a way for the sprinkles to stick. Of course you don't have to use sprinkles but it sure does make it more fun.
I used just a little bit of light corn syrup and a paintbrush to make the donut surface tacky. A paintbrush works really well because it helps you to spread a really thin layer so it doesn't run.
I tried dipping the donut and it was too much.
Sprinkle your heart out. I did this over a small bowl to catch the run off which keeps things tidy.
I did a mixture of plain and sprinkled donut holes for the tree.
This donut croquembouche can be made ahead of time which is awesome for party planning.
This is especially great if you are trying to surprise someone with it in the morning. You won't have to get up much earlier.
I pre-sprinkled the donut holes the day before I put it together. It saveed a bunch of time when it was time to put the tree together.
Keep the donuts with sprinkles in an air-tight container on top of the refrigerator.
It's probably the safest place to keep them so people won't get snacky and try to eat them before you can put your tree together. Myself included.
Create the tower
To build your tree, use a styrofoam tree form from the craft store.
Insert a toothpick and then stick the donut hole on the toothpick. I started at the bottom, now we're here. Sorry. There are moments when a Drake lyric just makes sense.
Anyway, start at the bottom and work your way around the foam.
Try to get the donuts as close together as you can so you don't see too much of the white showing through.
As you can see, I staggered the donut placement by offsetting the second row of donuts.
I am not the world's best crafter. So if you can figure out a better way to make this DIY donut tree, do it! I'm an ideas girl. I have my strengths, but I also know my limits.
This easy dessert idea is great for people that are unskilled in the kitchen (raising my hand!).
Display the donut tree
Keep going until you have gotten the whole form covered and you have a full donut tree.
Put it on any cute platter and it's party ready.
If you want to make it look even more like a Christmas tree, you can add in small gummy candies to make it look like ornaments. Those sour cherry balls would look super cute.
My kids pretty much attacked this donut croquembouche when I took it home. I'm certain your kids would do the same. It would be perfect at a kid's birthday party.
It took some time to put it all together but I did it by myself.
This is totally an activity the kids can help you with and will help you get it done way quicker.
It's perfect for baby showers, bridal showers, or any other special occasion.
Looking for more fun dessert ideas? Check out these posts:
Pin to save this Donut Hole Tower for later.