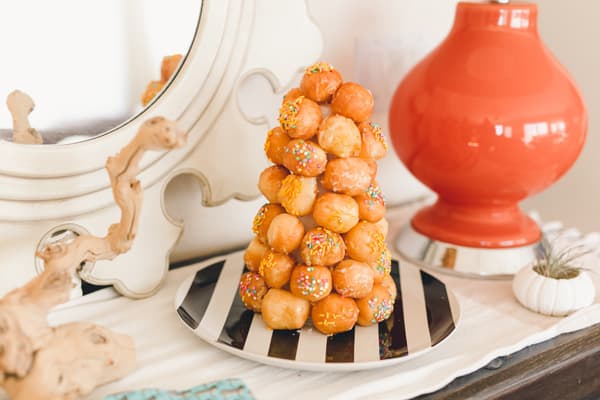 Do you guys love croquembouche too? Traditionally they are made with stacked homemade cream puffs and spun sugar. They are gorgeous. But that seems like it would take way too much work, especially if there are kids involved. They aren't going to fully appreciate just how much work went in to making that showstopper treat. So I figured out how to make a faux croquembouche with donut holes. Because who wouldn't want a donut tree?
Sure, you can make your own donut holes, but that would take so much time! And to me, there is nothing better than a donut store donut hole. Go pick up a few dozen (I bought 4 dozen – because you know some are going to fall in your mouth).
Get your sprinkles out and ready to go. How fun are those lightning bolts?! Any sprinkles will work but the ones that are shiney and candy coated, like those tiny colored balls, ended up having the color run a bit. The sugar sprinkles seemed to work way better. You could use holiday themed sprinkles and make this for Christmas morning. I used colorful sprinkles and figured this would be a great thing to make on New Year's Eve with the kids and eat the next morning. But this would also be super fun to surprise your kids with on their birthday. When isn't it a good time for a donut tree??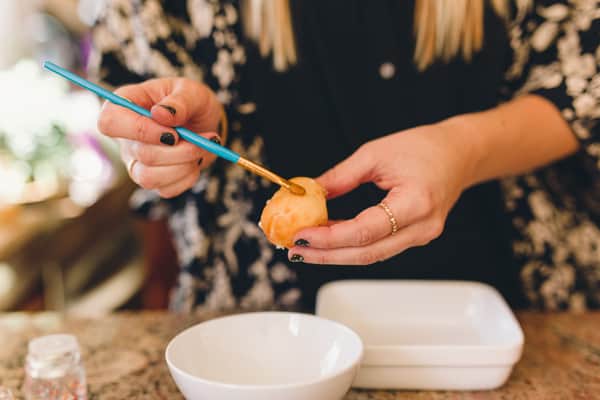 Since the donut hole glaze is already dried when you buy them, you need to get a way for the sprinkles to stick. Of course you don't have to use sprinkles but it sure does make it more fun. I used just a little bit of corn syrup and a paint brush to make the donut surface tacky. A paintbrush works really well because it helps you to spread a really thin layer so it doesn't run. I tried dipping the donut and it was too much.
Sprinkle your heart out. I decided I would do a mixture of plain and sprinkled donut holes for the tree. I also pre-sprinkled the donut holes the day before I put the tree together which is awesome because it will save you a bunch of time when it's time to put the tree together. Especially if you are trying to surprise someone with it. Just keep them in an air-tight container on top of the refrigerator. It's probably the safest place to keep them so people won't get snacky and try to eat them before you can put your tree together. Myself included.
To build your tree, use a styrofoam tree form from the craft store. Insert a toothpick and then stick the donut hole on the toothpick. I started at the bottom, now we're here. Sorry. There are moments when a Drake lyric just makes sense. Anyway, start at the bottom and work your way around the foam.
Try to get the donuts as close together as you can so you don't see too much of the white showing through. As you can see, I staggered the donut placement by offsetting the second row of donuts.
Keep going until you have gotten the whole form covered and you have a full donut tree.
My kids pretty much attacked this when I took it home. It took some time to make but I did it by myself. This is totally an activity the kids can help you with and will help you get it done way quicker. If you had this on the table for a birthday party, the kids would go crazy! It's perfect for baby showers, bridal showers, or any other special occasion.
Store-bought donut holes are crazy good and are so versatile. Check out these pretzel dipped donut holes I made.