This Sherry Wine Cake recipe is full of flavor and super easy to make. It tastes like Christmas and can be served at breakfast or for dessert.
It's one of my favorite holiday traditions but it's so tasty I make it all year long.
This post was first published on December 8, 2014. I've updated it to include better instructions and more helpful information.
I'm a white wine lover (Here are my 5 tasty bottles of New Zealand Sauvignon Blanc that are under $20 that I drink ALL the time). So when I first heard of Sherry Wine Cake, I was all, "Hell yes!"
But I didn't know much about sherry wine. Since the first time I made this straight out of the 70's dessert, I've grown to love fortified wine.
And it's complex flavor is really the best for this recipe.
It's the perfect wine cake recipe for Christmas and has become a holiday tradition and one of my all-time favorite easy desserts (close behind is my Brown Sugar Pie! YOU GUYS! It's a must!)
Because who doesn't want to eat a wine bundt cake?!
My Go-To Wine Cake Recipe for Christmas
Wine cake seems like the perfect girl's night dessert idea (and it is). But when you taste it, you realize it's the perfect Christmas breakfast idea.
The nutmeg makes this cake recipe a perfect holiday cake. (Want even more nutmeg? Make my Nutmeg Cake!)
Of course, you can eat it other times of day too, (it would be fantastic after dinner with a cup of coffee).
Don't worry if you have kids, most of the alcohol cooks out during baking and you are left with a super flavorful, moist bundt cake.
I don't let my kids try all of my alcohol infused cupcakes, but this cake is fine.
This wine cake recipe with sherry doesn't have frosting. A simple dusting of powdered sugar is all you need to finish this dessert.
It reminds me of snow. Sadly, its the only snow we see in this part of Southern California.
Do you love dump cakes? Sign up for my newsletter and get an exclusive dump cake recipe not posted on my site!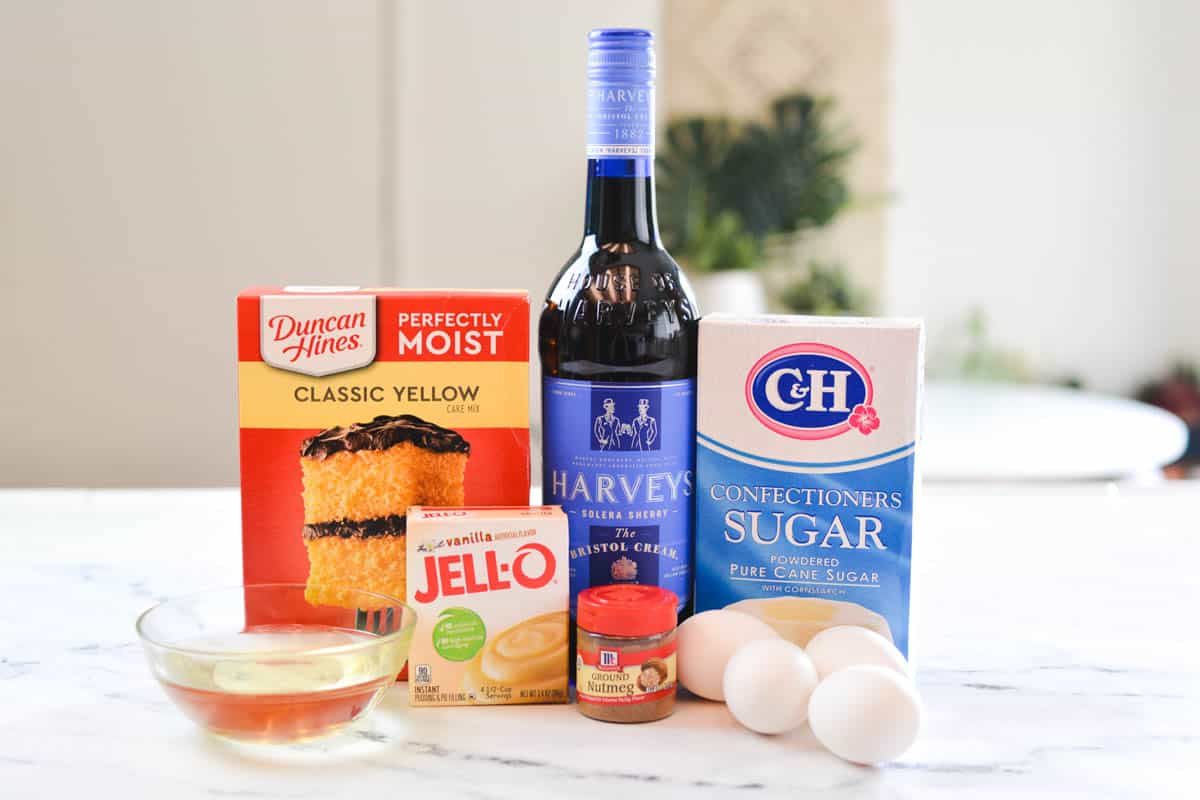 How to Make Sherry Wine Cake
This sherry cake recipe couldn't be easier! While it's great at the holidays, it is also a great dessert to serve year-round.
Scroll down to the end of the post for a printable recipe card with full measurements and more detailed instructions.
Ingredients
I love recipes that start with a boxed cake mix as the base. It keeps things super quick and easy. And this recipe uses a cake mix.
The vanilla pudding gives it richness and helps boost the vanilla flavor of the cake. Then you add fresh nutmeg and sherry wine and magic happens.
There is nothing better than nutmeg in baked goods. Especially at the holidays.
What is Sherry Wine?
Sherry is a fortified wine which means it has added flavors and typically brandy. It adds a depth of flavor to the cake that is really lovely.
Most are darker in color, similar to a maple syrup. There is sometimes a warm almond-like note in the smell.
And unlike using other types of alcohol in baking (check out my Rum Cake recipe), there isn't a harsh alcohol flavor.
Could you use regular white wine? Sure. But it wouldn't give it as much flavor as sherry. Sherry is great for cooking so grab a bottle! You can find it at any grocery store.
You do NOT want to use sherry cooking wine. It's not going to be drinkable on it's own. It's not going to be the same quality and it isn't going to create a delicious cake that you'll want to cram in your face hole.
Between this type of wine and the pudding, the cake is moist and flavorful!
Best Sherry Wine for Christmas Cake
There are tons of different varieties of sherry wine to use for your Christmas cake. I grabbed cream sherry, but I've also used sherry that had some orange flavoring in it.
I don't think you could go wrong with any of them.
It comes in a variety of price points so choose what you feel comfortable with. And you can drink it over ice so it won't just sit around in your cupboard. Add a splash to some bourbon, yum!
Directions
In a mixing bowl, add the cake mix (not made, just the dry powder), vanilla pudding (again, not made, just the powder), oil and sherry wine.
Mix to combine.
With a hand mixer on medium, beat the batter. Add 4 eggs, one at a time, mixing well between each.
Then continue to beat for another 5 minutes after the last egg.
You could use a stand mixer but mine is hard to get to and I'm lazy.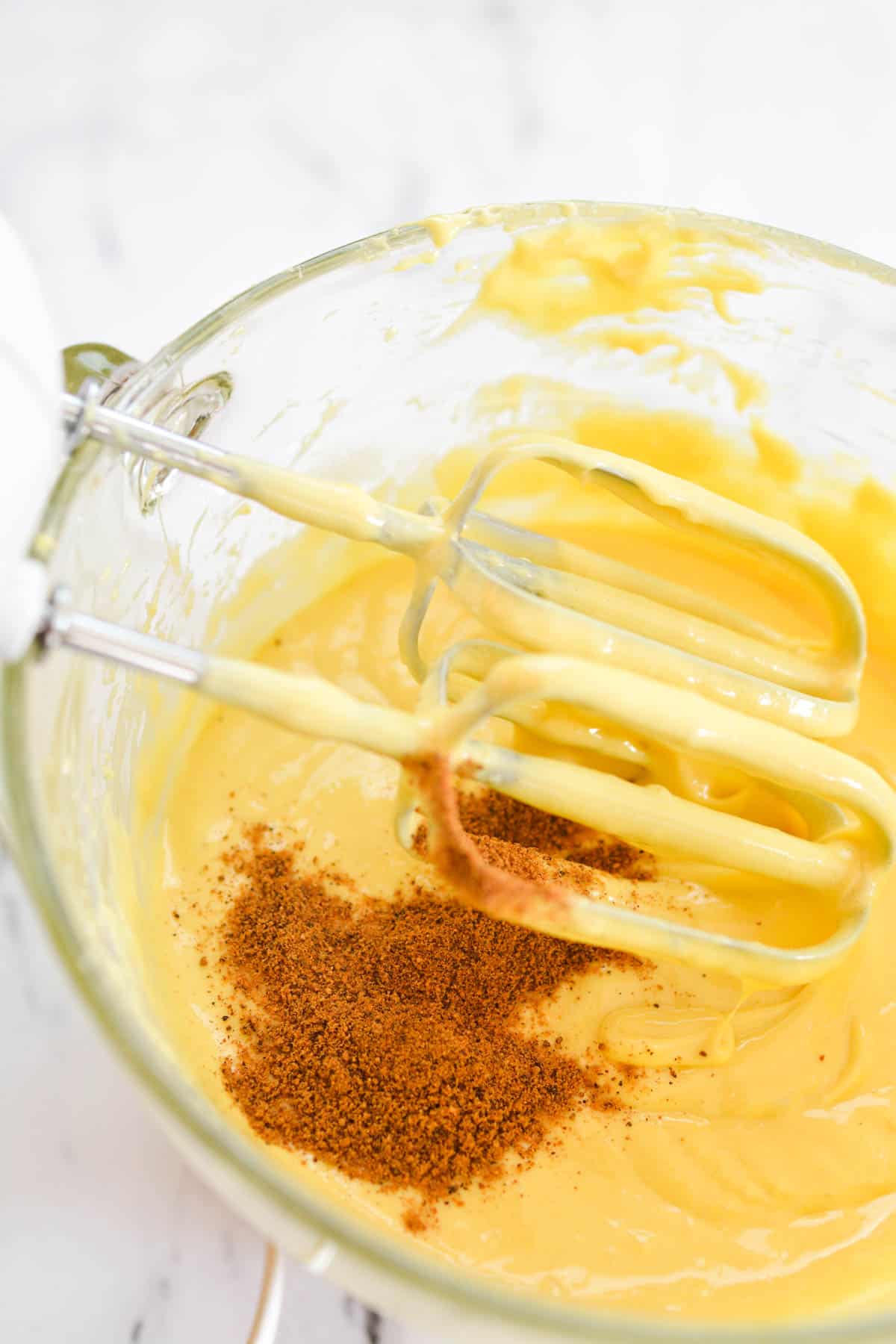 Add the nutmeg and beat to combine.
Pour the batter into a prepared bundt pan.
A prepared pan typically means to butter and flour a pan so the cake won't stick. Again, I'm pretty lazy and I prefer to use the baking spray.
It hasn't failed me yet!
Bake in a 350 degree oven for about 45 minutes. Try not to over bake, but it should be cooked all the way through.
It will be a dark color, usually just past golden. It looks a bit like gingerbread to me.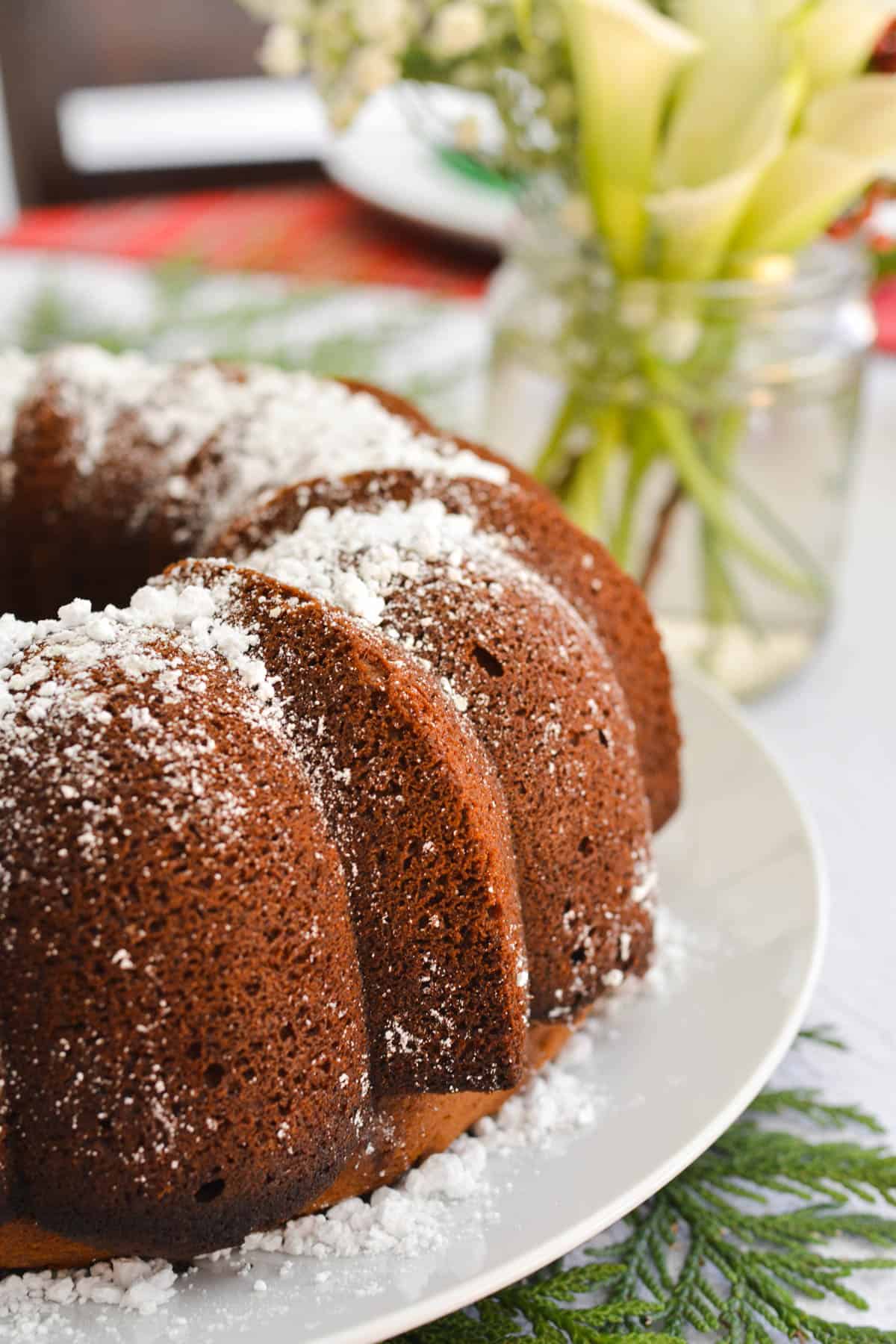 Turn it out of the pan immediately and let cool completely.
I bought this bundt pan specifically for this sherry bundt cake recipe. I can't believe I didn't have one before!
I love that it basically decorates the cake for you. I'm not that great with making pretty baked goods so this pan does all the heavy lifting which is awesome.
Sprinkle it with powdered sugar then eat your face off.
This delicious Christmas cake makes your house will smell AMAZING! It's all nutmeg and vanilla.
This is a great cake to bring to a holiday party because it is totally unexpected. It's straight out of the 70's and people LOVE anything nostalgic!
(This pink strawberry angel food cake dessert is my most pinned recipe because it reminds everyone of when their grandma used to make it!)
A wine bundt cake is also my go-to hostess gift during the holidays.
More nostalgic dessert ideas
This Cherry Pineapple Dump Cake is so quick and easy to make! You won't believe the ridiculous flavor the butter and cake mix makes together!
Old-fashioned Peppermint Chocolate Egg Creams are more refreshing than milkshakes and your kids will love them.
Small Batch Cookie Bars are great to make when you have several children because they can make these however they want. Let them add their favorite toppings and leave off what they don't love.
Sherry Wine Cake
This Sherry Wine Cake tastes like Christmas and I'm here for it. With tons of nutmeg and flavorful sherry wine, this bundt cake is easy and delicious to serve during the holidays or any time of year.
Print
Pin
Rate
Ingredients
1

small box instant vanilla pudding

3 oz

3/4

cup

oil

3/4

cup

Sherry wine

I used a Cream Sherry

1

tsp

nutmeg

freshly grated, if possible

4

eggs

powdered sugar for dusting
Instructions
In a mixing bowl, add dry cake mix and dry pudding. (not made, just the powder)

Add oil and sherry wine.

With a hand mixer beat on medium to mix well.

Add in one egg at a time, beating in between each egg.

Beat for about 5 more minutes after the last egg.

Add nutmeg and mix well.

Oil and flour a Bundt pan (or use spray like I do).

Bake at 350 degrees for 40 minutes and test.

Watch carefully – do not over bake.

Turn out of bundt pan immediately.

Let cool completely.

Sprinkle with powdered sugar.

Then eat your face off.
Notes
I mean, I put 12 servings. But I like REALLY large pieces so…You can feed a lot of people with it. But you won't want to.
Nutrition
Serving:
12
Servings
|
Calories:
377
kcal
|
Carbohydrates:
49
g
|
Protein:
4
g
|
Fat:
18
g
|
Saturated Fat:
3
g
|
Polyunsaturated Fat:
14
g
|
Cholesterol:
65
mg
|
Sodium:
459
mg
|
Fiber:
1
g
|
Sugar:
30
g
This Sherry Wine Cake is such a fun dessert idea! It's easy to make and even easier to eat! And it's the perfect thing to serve your guests at Christmas.