If you're looking for the perfect Mexican vacation spot you need to check out Loreto, Mexico!
*I recently was invited to go on a press trip to a wonderful town in Baja, California called Loreto to learn all about the amazing resort called Villa Del Palmar Loreto.
The trip was paid for by the resort but all opinions are my own. In my opinion, Loreto, Mexico is the best town for a family vacation and I can't wait to tell you all about my visit.
Loreto is a quiet beach town that is perfect for families. Whether you want to stay in a boutique hotel or a big resort, this is THE destination for some fun in the sun.
It would even make a great weekend getaway idea! If you love to travel, this may be your new favorite vacation spot.
Jump to:
Make Memories for a Lifetime
Loreto is just a 2-hour plane ride from Los Angeles on Alaska Airlines and you seriously need to vacation here. This cute little town is on the Eastern coast of the Baja Peninsula and is known for it's gorgeous waters and great fishing.
And the coolest part ever is that my family and I used to vacation in Loreto when I was a kid.
Almost 30 years ago. Not to date myself...
Loreto is and has always been a fishing town. The reason we ended up vacationing there was because my dad and grandpa loved to deep-sea fish.
This is the perfect place for it.
The men would spend their days out on fishing charters and the women would venture in to town to shop or spend all day in and around the pool.
Each day when the boats would come back in the ladies would all rush down to the beach to see the haul for the day.
We would bring tons of fresh fish home with us to enjoy for months following the vacation.
Sometimes we were also talked into fishing. But like now, I much preferred the pool.
We always stayed at the same resort and looked forward to going every summer. We were definitely out of our comfort zone and that was part of the fun.
We experienced so many crazy, cool things. Like the wild pigs that would walk around the property.
Hanging out in the bar with our parents and grandparents in the evening where we would try to teach the bartender English and he would try to teach my sister and I Spanish.
That time they wouldn't tell me what kind of meat I was eating at lunch...
It turned out to be tongue. And I liked it.
Watching the far-off lightning storms over the ocean at night. The night sky in Loreto is absolutely magical.
Those are some of the things I will never forget.
An Eclectic Town
These visits were a very long time ago and I was sure I wouldn't remember the town itself. And I was right.
But looking at an old picture (above)...
And one I just took on my trip earlier this summer (above), you can see that things have changed but a lot has stayed the same.
Over the years, whenever I brought up Loreto, Mexico no one had ever heard of it. So I was super excited when Triple A magazine had an article about the town.
I also found out that cruise ships were going to begin docking there (in fact I'm super excited because my mom will stop there on her cruise this October!).
I worried that the town would grow up and turn in to just another party town in Mexico. But several times on my trip, the term "magical town" was used.
The town is slow, quiet and that is just how they like it. There will never be a Costco. There will never be huge high rises.
While they improve the town and surrounding areas including the road to and from the resort, this town is what they want it to be. It is comfortable and perfect.
If you are looking for a wild, rocking time. Go to Cabo.
If you are looking for an awesome Mexican vacation, with great people, great food, great experiences and some relaxation, Loreto is for you.
Villa del Palmar Loreto
The resort I was privledged to stay at, Villa del Palmar Loreto is about 40 minutes outside of the town. They have a shuttle that will take you to and from the airport or drop you in town at a sister property.
We spent about half a day exploring the town. From the drop off point, we set off walking in the direction of the sea.
The walk took about an hour and it was blazing hot. You will get sweaty but after about 5 minutes you realize that everyone else feels the same as you and you don't even acknowledge it any more.
But definitely bring sunscreen!
A Word on Safety
I know that the words Mexico and safety are not always used in a positive way together. I asked our guide about having my camera out and they assured me there were no worries.
And they were right.
We were told that many people leave their cars unlocked in town. Never once did I feel unsafe.
We were only met with friendly waves and I really felt at home. I would't hesitate to travel here with my family.
A Colorful, Eclectic Town
We found bright colors and great graphic design around town.
We did some souvenir shopping and found great folk art and other touristy goodness.
And being that Loreto is a fishing town, there were these.
There is a small, gorgeous mission in town that should not be missed. It was founded in 1697 and although it has been updated since then, you still can feel the history there.
Loreto is one of the oldest settlements in Mexico. The town is a fantastic mix of old and new with several well-designed hotels mixed in with the mission and other older buildings.
There are interesting shops at every turn and you can find cool spices, vanilla liquor and textiles. And so much more.
My bags were overfilled to begin with but I picked up a few things for myself and my kids that I couldn't pass up.
Loreto Has Gorgeous Sights
Our first glimpse of the Sea of Cortez on our walk through town.
Loreto is made up of a handful of islands and smaller inlets making it an amazing area to explore by boat.
This area is known for its vivid underwater sea life making it the perfect place for diving and snorkeling. There are glass bottom boat tours as well as kayaking and stand up paddle boarding.
But there are also several great options for grabbing a margarita and just hanging out and taking it all in. I really enjoy places that offer you a chance to have the vacation exactly as you want it. In Loreto, there is as much or as little to do as you want.
Tour the Islands Around Loreto
The resort arranged for us to take a boat tour of the islands back to the hotel. I highly recommend this! The boat was super comfortable and it was the most amazing way to experience all that is Loreto, Mexico.
I was really lucky to have a few friends on the press trip as well. This is my pal Dinah and it was really cool to experience all of this with her.
Twice during the boat tour, we dropped anchor and had a chance to snorkel in the Sea of Cortez.
Well, they snorkeled. I had to pretend like I was in a pool or else I would have freaked out.
I can't know there is fish by me or I'll lose it. But I knew I had to get in the water. It was warm and salty and an amazing adventure.
Those are Lauren's legs. She was on the trip as well.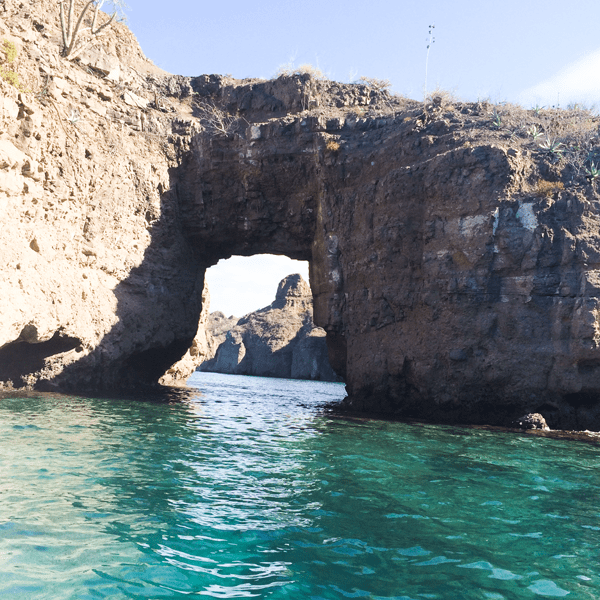 The land is very desert-like and parts of it look like Radiator Springs from Cars. You would be doing yourself a disservice if you didn't do a boat tour of the islands.
I have treasured memories from that day that I will always remember. And I can't wait to take my own family back to experience it with me.
A Laid Back Vacation
It was said that the people who have money and want people to know it, go to Cabo. The people who have money and don't care if people know it, go to Loreto.
My husband and I were in Cabo last year and it was fun. I think part of that was because we never left the resort.
But it wasn't that the resort was so amazing, I think we just didn't want to deal with the haggling, and the deals being offered to you or any of that uncomfortable stuff where you feel like you could be taken advantage of.
There was none of that in Loreto. I would happily bring my family back to explore the town and I'm crossing my fingers that we can make that trip next summer.
If you love the idea of Mexico, I encourage you to check out this wonderful little town.
My post tomorrow is all about Villa del Palmar Loreto and I can't wait for you to see why I fell in love with it.
Related Posts
Food and Fun in Loreto, Mexico
Villa del Palmar Loreto – Best Resort in Mexico
Best All-Inclusive Family Resort in Riviera Nayarit, Mexico
10 Year Anniversary Trip to Los Cabos, Mexico
This post was originally published on August 25, 2014, and has now been updated.