Ah, cellulite. Just about every gal has it. It's super common but that doesn't mean I'm interested in just accepting it. For the last few years I've really started to notice that, as you age, you've got to change things up. What worked before doesn't work any more. This 3 ingredient coffee scrub is something that you can make at home and show that cellulite who's boss.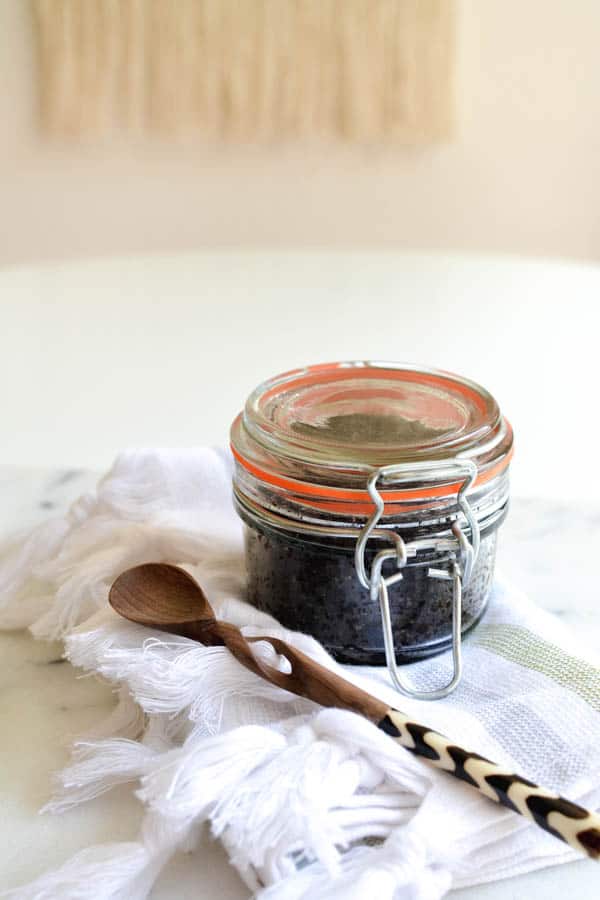 This post contains affiliate links. What that means is if you purchase something through one of these links, I may get a little monetary reward. It's usually only enough to pay for part of a Starbucks coffee (which I won't be rubbing on my legs), but hey! I'll take it!
Coffee totally isn't just for drinking in the morning. Caffeine is one of the main ingredients in cellulite creams because it helps increase your circulation. That, along with some manhandling, in the form of your hands or a roller (I just got that one), help to break up the part of the cellulite that makes your legs look cottage cheesey. Which means, you'll look better naked.
This post is in partnership with Netflix. As a part of their #StreamTeam, I share what shows I'm watching and the programs I'm inspired by. 
I got a little time to watch Netflix this past weekend. I landed on a movie, Naked, about a guy who ends up in a time loop, a la Groundhog's Day, on his wedding day. He's got to figure out how to change his actions so that he can actually get to his wedding and marry his bride. The twist is, he's naked. THE WHOLE TIME. I mean, I hate to leave the house without lotion on if I'm wearing something short. I don't even know what I would do if I had to walk around naked. Earlier this summer, I used the last of my favorite coffee scrub. I always use it when I have to be in a bathing suit. I hope that if I ever end up in a naked time loop I will be freshly coffee scrubbed. 
This DIY coffee scrub for cellulite needs just 3 ingredients: coffee grounds, sugar and coconut oil. While a coffee scrub provides a temporary help, it's better than nothing! But truly, I notice a difference when I use this! My skin seems smoother and less bumpy. Which is AWESOME!

All you do is mix the 3 ingredients together. It can't get any easier. Really the only thing you need to pay attention to is if the coconut oil is solid or liquid. If your oil is solid, you need to melt it, but then let it come to room temperature. If it's hotter than that, it will dissolve your ingredients! 
Store it in an air tight container. To use it, you just rub it on your cellulite riddled areas, in a circular motion. I like to do it while I'm in the shower (usually on a weekend because it does add time on to your routine). Once you rub on the coffee scrub, you leave it on the skin for 5-10 minutes. Then rinse off. It is very messy. You will want to have a cup in the shower with you to help you wash it down once your done. And you will also want to be extra careful since the coconut oil might make it extra slippery. Once you rub on the coffee scrub, you leave it on the skin for 5-10 minutes. Then rinse off. You can use it a few times a week but I generally do it a few times a month. Or if I am extra lazy, the day before I'm wearing a bathing suit. 
This Coffee Scrub for cellulite would also make a great gift idea! Pair it with a cute little spoon and a towel and gift to your best gals. But make sure they like coffee first. It smells delicious except to people, like my sister, who is revolted by the smell of coffee.
DIY Coffee Scrub
Ingredients:
1/2 cup coffee grounds
1/2 cup sugar (brown or white sugar will work)
1/4 cup of coconut oil
Steps:
• Make sure your coconut oil is in a liquid state, and at room temperature or a little bit cooler
• Mix your coffee and sugar in to the coconut oil
• Store in air tight container
To Use:
Rub a large amount, in circular motions, on to your cellulite areas (mostly legs, thighs and bottom). Massage the coffee scrub in to the skin. Let sit on the skin for 5 to 10 minutes. Rinse and wash with a gentle soap to remove the coconut oil. Or leave it for extra skin hydration!
Don't forget to clean up the shower!
The Netflix movie, Naked, has some great actors in it. Whenever I see a Wayans brother, I always add it to my list. Marlon is the perfect person to play this part and he plays it with heart and humor. Plus Regina Hall, Scott Foley and Eliza Coup are faves. The title of this movie and lead actor could make you think that is movie is going to be too raunchy. But it's not. It's like a sweet little Hallmark movie made a little edgier. It was the perfect Saturday afternoon watcher while I browsed around on Pinterest. Lately we've been really deep in to dramatic shows, so this was the perfect, light-hearted break.
Can you even imagine going through your day, in this case, trying to get to your wedding, buck naked!? Have you ever used a coffee scrub before? I'm not saying it will make you want to run around naked, but it will help with your confidence a little.
Thank you for supporting brands, like Netflix, who enable me to create fun content, for you and your family, through partnerships and/or compensation!
In to beauty? You might also like these great posts:
How to Apply Concealer to Hide Your Dark Circles
Holliegirl Cosmetics and the Lipstick that I got to Name!
Pin it!