This dump cake recipe is one of my all-time favorite easy desserts! It's ridiculously simple to make and tastes crazy good. If you've never tried this Cherry Pineapple Dump Cake recipe, you need to put it on your to-do list. Immediately. I consider this a classic dessert that should be in everyone's recipe book!
You literally just dump things in a baking dish and pop it in the oven. It's perfect for when you have company over and such a great potluck idea. Delicious Dump Cake recipes are such a great thing to serve no matter what the occasion. And these flavors together are like a party in your mouth.

I only share things I love and think you'll like too. This post contains affiliate links which means if you purchase through one of these links, I am compensated.
This is called a dump cake.
Yeah. You read that right. Dump recipes are my favorite because they require hardly any work on your part but taste like pure magic. It's a classic open and pour situation. So simple.
This Cherry Pineapple Dump Cake recipe is insanely good. It's one of those things that when you try to explain it to someone they are like, "yeah, none of that sounds amazing." But I know my desserts. And this one is SO GOOD.
Watch Cherry Pineapple Dump Cake video again over on YouTube!
Full disclosure, I ate this whole batch in two days. Pretty much by myself. It's awesome warm and, in my opinion, even better cold. And although it is technically a dessert, it also works well for breakfast. And lunch. And snack time…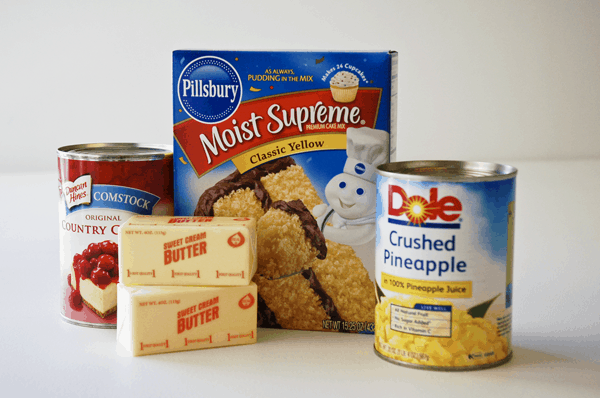 It only takes a few ingredients to make a Cherry Pineapple Dump Cake.
Ingredients
1 can Crushed Pineapple (not the tiny can, and do not drain it)
1 can Cherry Pie Filling (Comstock is a great brand to use)
1 box Yellow Cake Mix
1 cup butter (or margarine if you have to use it for food restrictions)
My son had a whole bunch of food allergies when he was younger so in order to make this so he could have it, we had to swap out the butter and use margarine. But it is NOT as good. Like, not even close. But it can be done.
I choose to use salted butter because I love salty and sweet together. And I don't add salt to anything else I eat (aside from normal seasoning in the pan like real chefs) except for avocados and cherry tomatoes. So I figure my sodium levels can take it.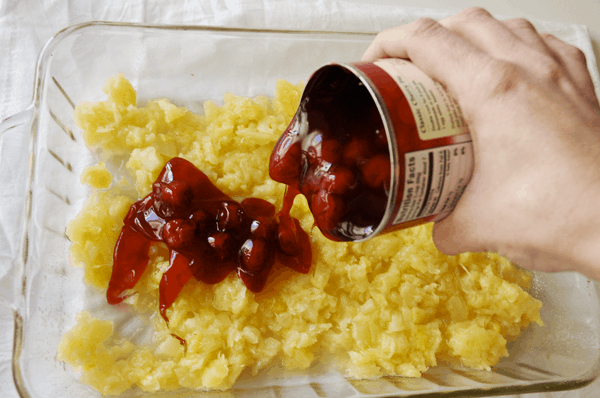 Are you ready for the amazing dump cake recipe? Hold on to your hats and glasses…
How to make a Pineapple Cherry Dump Cake
Pour a can of crushed pineapple in your baking dish. Spread it out so it covers most of the pan (seriously there is no wrong way to do this and you should not spend much time on it. Just dump it.) Then pour a can of cherry pie filling over the top.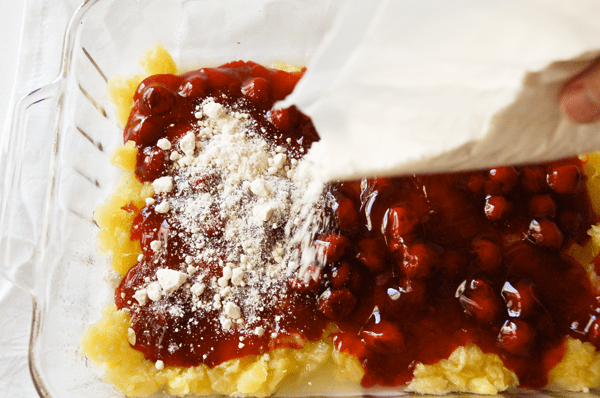 Sprinkle the dry cake mix over the whole thing. Yes, the DRY cake mix. Try to cover the fruit fillings as evenly as you can.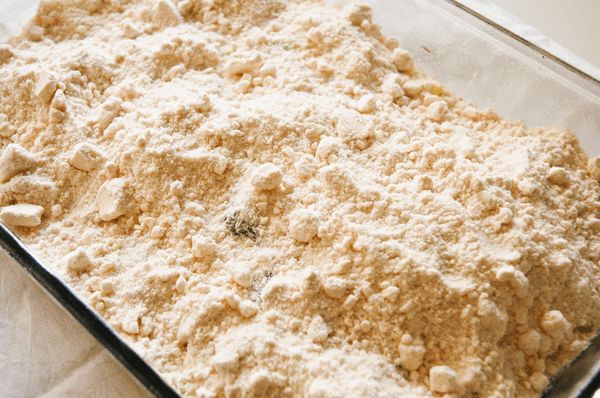 It will look like this when you are done. And even at this stage, it will smell SO yummy.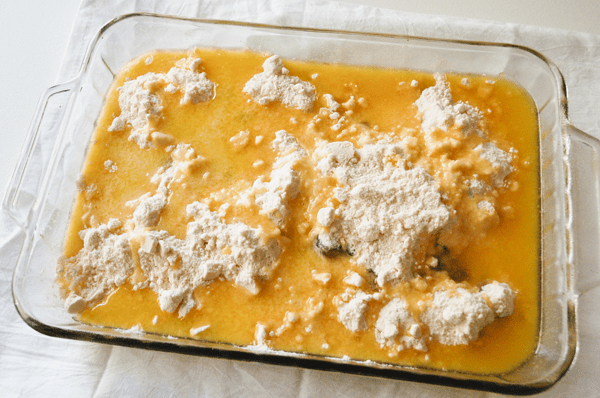 The hardest part of this recipe is melting the butter. Why can't I get it to melt all nice and mellow? It always pops and blows up all over my microwave. Melting butter is super aggressive. But I still love it.
A reader shared that she grates the butter over the top and that helps it spread a little evenly as it melts once it's in the oven!
Once melted, all you do is pour it over the top of the dry cake mix. And that will smell even better than it did a minute ago.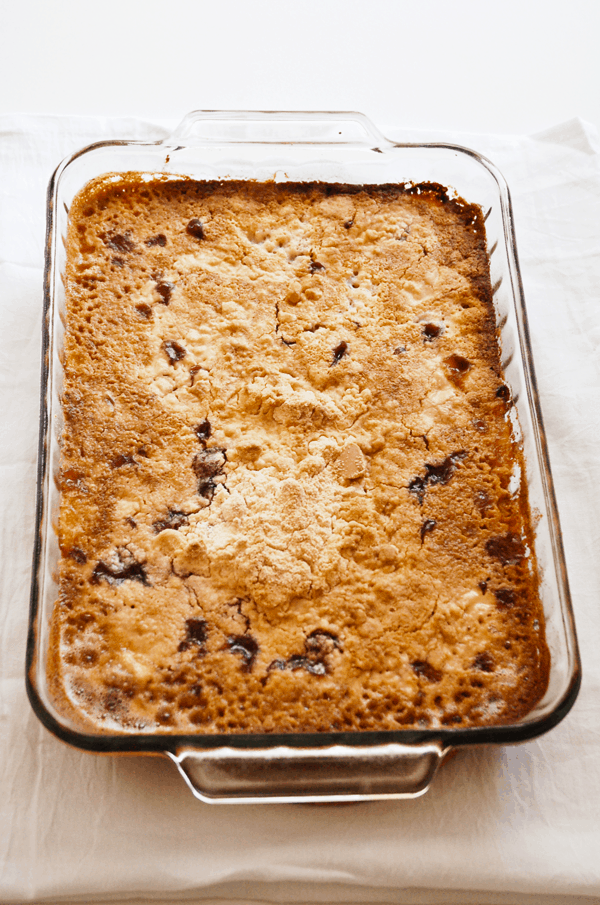 You bake it for an hour and it gets all goldeny brown and bubbly. And smells EVEN BETTER! The edges get all crusty and the butter soaks into the dry cake batter…yum.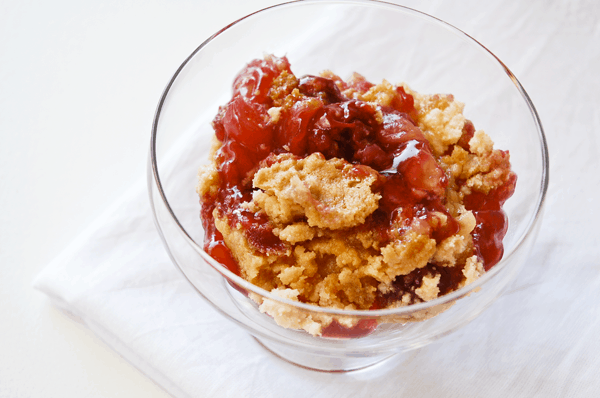 To serve, spoon a heaping portion into a bowl. It is mostly made up of fruit after all…While it doesn't immediately look like something you would make when having guests over due to it's somewhat sloppy demeanor, the taste is a total crowd pleaser.
And your kids and male guests will get a good laugh when you call it a dump cake. So there's that.
More easy desserts to try:
Printable Dump Cake Recipe with Cherry and Pineapple
Cherry Pineapple Dump Cake
This is a great recipe for a potluck! It's so easy to make and always a crowd pleaser!
Ingredients
1

can Crushed Pineapple

normal sized can, not a small one - do not drain

1

can Cherry Pie Filling

Comstock brand is always a good choice. I went with an alternative last time and was disappointed

1

box Cake Mix

Yellow or White

1

cup

butter

margarine only if you have to for allergy reasons - otherwise only use butter!
Instructions
Spray a 9 x 13 baking dish with Pam or other spray oil.

Pour in the crushed pineapple and juice and spread out on the bottom of the pan.

Pour the cherry pie filling on top (it will not spread out evenly).

Sprinkle cake mix over the cherries.

Melt butter and spoon over mixture.

Bake at 350 degrees for 1 hour.
Pin This Pineapple Cherry Dump Cake Recipe for Later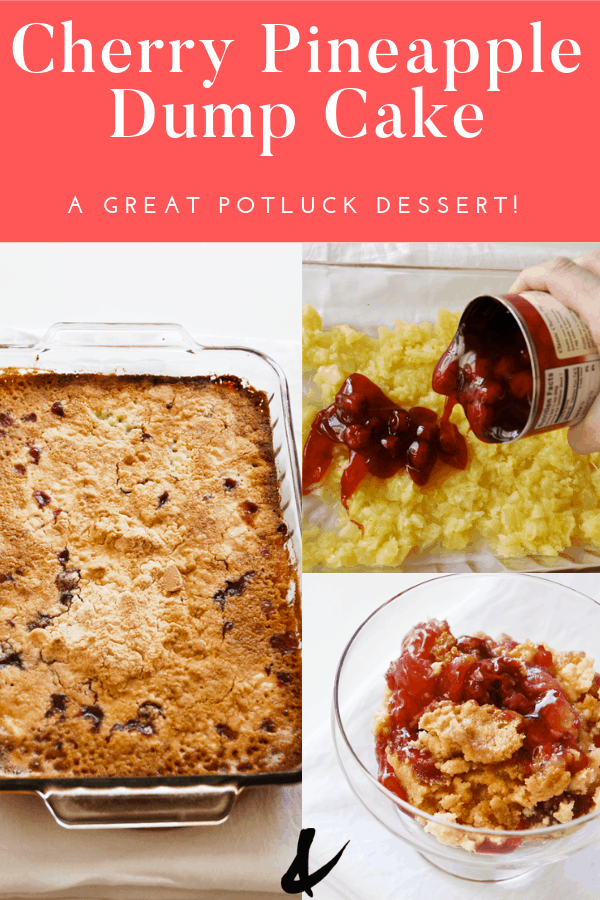 Are you a fan of dump cakes? I love how easy this is to make and eat at home or take with you to a party you've been invited to. A Cherry Pineapple Dump Cake is a great dessert idea for just about any occasion! Do you make dump cake? Leave a comment and let me know how you make yours!