Sip in style with these easy pink cocktails! This collection of easy, yet stunning, pink party drinks will add a burst of color and flavor to your pre-Barbie Movie experience. Whether you're heading to the theaters or throwing a Barbie-themed shindig at home, these foolproof and fabulously pink cocktail recipes are sure to bring the party vibes right to your glass.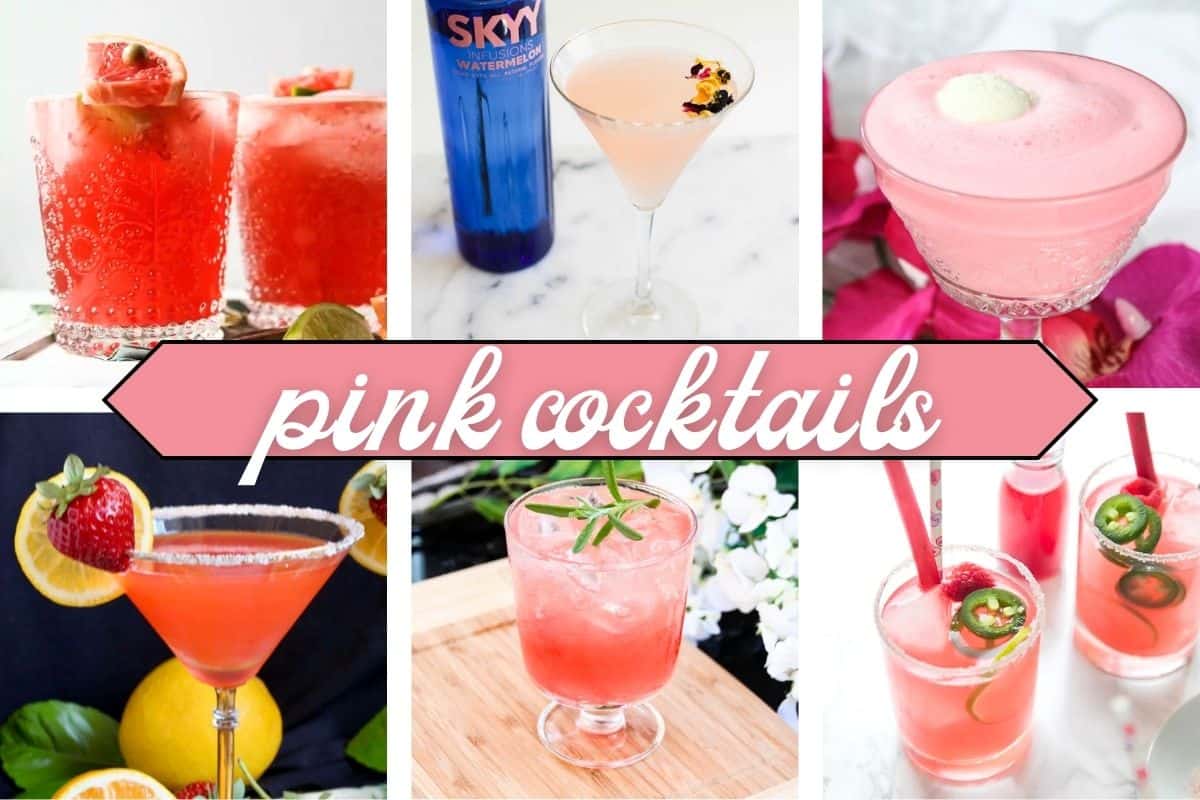 Jump to:
Easy pink party drinks to make at home
These drinks that are pink offer a yummy fusion of flavors that will leave you craving more! From refreshing fruity blends to creamy concoctions, these cocktails are a delicious idea for the Barbie lovers in your life.
Making these pink alcoholic drinks couldn't be easier, even for those without bartending experience. With simple instructions, you can whip up these pink drinks in no time. Whether you're a novice cocktail enthusiast or a seasoned sipper, these recipes will make you look like a pro.
Related: Malibu Rum Cocktail
The versatility of these pink drinks makes them a hit for various occasions. Whether it's a girls' night in, a birthday celebration, bridal shower or a themed party to honor the iconic Barbie, these drinks add a splash of pink color and fun to any event.
So grab your shaker and get ready to impress your guests with these fabulous pink elixirs. I'm sure you'll find your perfect Barbie drink on this list!
Barbie-Worthy Pink Cocktail Drinks
Ready to add a splash of pink perfection to your Barbie movie night and themed parties? Browse this collection of easy-to-make pink cocktails that will transport you into the whimsical world of Barbie. Whether you're planning a cozy night in or a pre-gaming extravaganza before heading to the theater, these vibrant drinks are here to make your Barbie experience even more unforgettable. Let's get mixing!
Tips for making pink drinks
Raise your pink cocktail game with these handy tips and tricks to ensure your drinks are consistently fantastic.
Don't want to worry about making a pink drink? Choose some pretty pink glassware to serve it in! Choose a cocktail without much color and let the glass shine!
Elevate the visual appeal of your pink cocktails with creative and eye-catching garnishes. Think colorful fruit slices, edible flowers, or even a glamorous pink sugar rim. Or add some flair with a fun Barbie cocktail pick or a heart straw.
Skip the plain ice cubes. Freeze fruit slices, edible petals, or even pink lemonade (or even pink water) into ice cubes to add an extra burst of flavor and visual appeal to your drink.
Frequently Asked Questions
Gather your friends, put on your pink attire, and get ready for a fabulous pre-Barbie Movie celebration. Cheers to the pink-filled adventures that await, and may your glass always be overflowing with joy, laughter, and delicious pink party drinks!
Save and pin this recipe for later!
Save this recipe for later by pinning it or clicking the teal heart at the bottom right of the page. For more recipes make sure you're following me on Pinterest, Instagram and like my page on Facebook. If you make this recipe, be sure to leave a star rating and tag me in your pictures!
More easy cocktail ideas