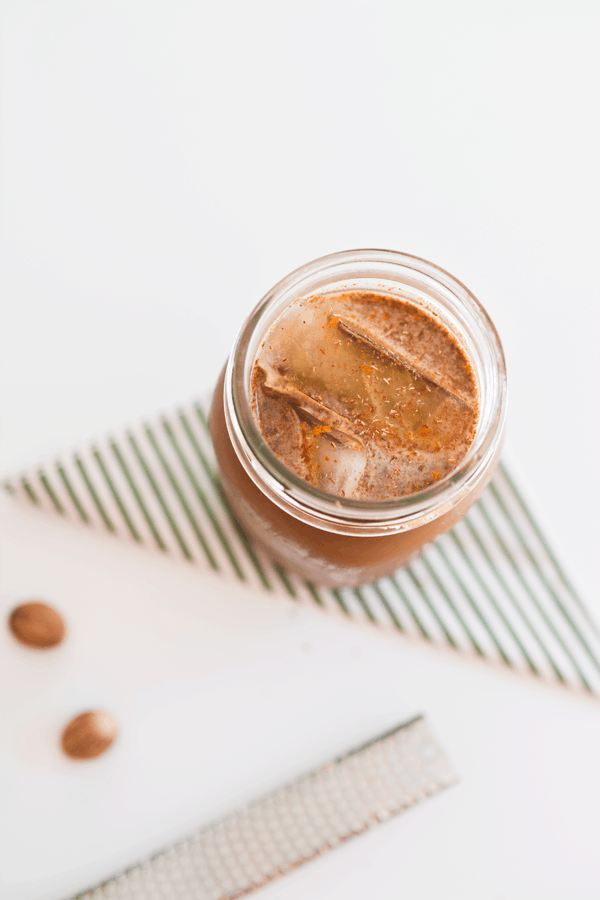 I'm addicted to coffee. I can't quit it. I tried once. And I realized I really liked the flavor. And I was pretty much at the mercy of the headaches. And as someone who has had a history with severe headaches since I was 4 years old, ain't nothing like a caffeine headache. My love of coffee is actually getting worse. It used to just be my one cup in the morning. And now I'm up to two. And it doesn't stop there. It moves in to iced coffee in the afternoons. Before I got my Keurig, I had a delicious coffee recipe that I used to make. And for some reason I used to always make it at the holidays. So for me, this is a holiday tradition that I wanted to share with you. My iced coffee recipe is based on this recipe by Anne Thornton (although they don't have that recipe on the site for some reason…)
I mentioned Whole Foods iced coffee bar but they also sell their cold brew by the bottle. So I picked one up, because I knew it would be bold and flavorful. I ain't got time for weak, wussy coffee. Then all you need is an orange for the zest and some warm, holiday-like spices.
There is something about the smell of fresh orange zest and nutmeg that makes me want to wrap some presents.
And then when you add in these other spices, well, it's all over. I might as well stop what I'm doing and deck some halls.
With the pre-made coffee, this is super easy to make. You just add the coffee, spices and orange zest in a cocktail shaker and shake it off, shake it off . Heart breakers gonna break break break break break…Sorry, Taylor Swift gets me.  As you may know, sometimes when you add spices to beverages they don't mix in well. So I used a cocktail shaker to really incorporate them. And it chills it nicely. And it reminds me of cocktails. And it looks cool.
Then you grate a little more fresh nutmeg right on the top. It looks pretty and the fragrance is like,whoa.
So simple, so delicious and so flavorful. I added a touch of agave for sweetness but this is by no means a sweet drink. Feel free to add more for your liking.
You know how orange goes really well with chocolate? Well it goes equally well with coffee.
The flavors are bold. Like my shirt.
This is the perfect afternoon pick me up for this holiday season. Oh and I forgot to mention I added a little half and half to cut the bitterness and make it a little creamy. Have I mentioned how weird I am about my coffee? I don't like to put sugar in it to save calories and I only use a little half and half to not make it too fattening, but I will eat 6 donuts while drinking my coffee. Crazy town.
Orange Spiced Iced Coffee Recipe
Ingredients
1 cup of strong, cooled coffee
1 tsp ground cinnamon
1/2 tsp nutmeg (I prefer fresh grated)
1/8 tsp ground clove
1/4 tsp orange zest
3 TBSP half and half
1 TBSP agave syrup
Instructions
Add all ingredients to a cocktail shaker.
Add ice.
Mix well until shaker is frosty on the outside.
Pour over ice in glass.
Top with a little extra fresh grated nutmeg.
http://www.cupcakesandcutlery.com/orange-spiced-iced-coffee-recipe/
Copyright © Cupcakes and Cutlery All Rights Reserved www.cupcakesandcutlery.com