This Eggnog Dump Cake tastes like Christmas. And you're going to love it!
If you're a fan of easy dump cake recipes, this is sure to be your new holiday favorite.
It needs just a few ingredients and very little effort. It's a great idea for when you need a party dessert but don't have a lot of time!
It's SO good! I love it and I don't even like eggnog.
This post was originally published on December 5, 2019 and has been updated with more information so you can make this Christmas dump cake perfectly every time.
Why you'll love this Christmas Dump Cake
So, I invented this dump cake. You know that I love to make all different flavors of dump cakes for an easy dessert.
So I decided I needed to make one that would be perfect for the holidays.
Eggnog Dump Cake just sounds right, doesn't it?
As I always do, I google search what I want to make. I found this Eggnog Dump Cake Recipe. So turns out I didn't invent it after all. It actually came out of this cookbook.
I decided to give it a try to see how it would turn out. Especially because, in this case, you're using liquid instead of canned fruit.
And while the recipe I found uses a pie plate, I wanted to keep this in the spirit of my other dump cakes and make it in a larger pan.
Interested in other holiday dump cake ideas? Check out my Pumpkin Dump Cake, Sweet Potato Dump Cake, and Chocolate Peppermint Dump Cake.
Ingredient Notes
I don't like eggnog (unless its Fireball Eggnog). But I adore nutmeg. And the way the eggnog and the cake mix to get all custard-y is pretty special. Yuuuuum.
Because the eggnog has so much flavor, the white cake mix is the best for this dump cake recipe.
The ratio for this recipe is basically a cup of eggnog to a cup of cake mix.
The boxed cake mix that I used came to 3 cups. And the quart of eggnog had about 4 cups in it.
I typically like to use melted butter for my dump cakes.
But in this case, because the eggnog kind of sinks, even though you pour it on top, you want to ensure that the butter is spread evenly.
And I loved how adding a sprinkle of nutmeg finished it off before I popped it into the oven.
Note: I don't know how a non-dairy version of eggnog would work in this Dump Cake with Eggnog.
How to Make Eggnog Dump Cake
Spray a 9 x 13 baking dish with baking spray.
Pour a cup of eggnog in the bottom of the dish.
Pour on cake mix.
Top with remaining eggnog.
Evenly spread out the butter pats.
Sprinkle with nutmeg.
Bake at 350 degrees for 50-60 minutes until set and golden brown.
By set, I mean doesn't jiggle. Do you know how custard can be super jiggly? You want this to firm up and turn golden brown on top.
Let this cool for at least half an hour before digging into it.
How to Serve This Holiday Dump Cake
This is best served warm (not hot - and not cold).
Just warmer than room temperature is perfect.
I didn't love this dump cake cold. I put a serving in the microwave for 20 seconds and it was so tasty again.
It does lose a little of that crustiness but it can certainly be eaten leftover.
How to Store This Dump Cake
I would definitely keep this in the fridge. It is full of dairy after all.
I will say that this eggnog may have been a little bit past its prime when I made this.
But if it's my time to leave this earth, I want to go by tainted dump cake. Just saying.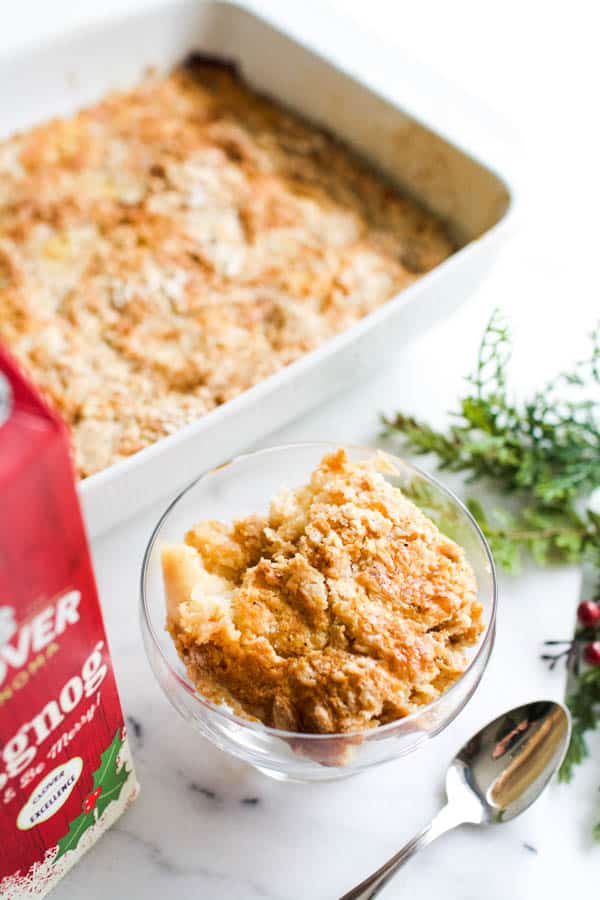 I LOVED how this Christmas Dump Cake turned out. It kind of reminds me of a bread pudding a little bit.
The cake mix and eggnog turn custard-like and so delish!
I loved how some of the bites had a salty flavor from the butter. It went so well with the sweet cake mix.
I also made the original recipe in a pie pan to test it out. They are the same.
So the original would be good to make if you just want to make a half batch.
You've got to try this amazing Eggnog Dump Cake for Christmas. It's stupid easy and your friends and family will love it!
More Christmas Dump Cake Recipes
More Holiday Desserts
Eggnog Dump Cake for Christmas
This is the Christmas Dump Cake you've been looking for. Eggnog Dump Cake is so easy to make and creates a magical dessert that is perfect for the holidays. With just 4 ingredients, this can be made quickly!
Print
Pin
Rate
Save
Saved!
Ingredients
1

Box White Cake Mix

3

cups

Eggnog

1

stick butter

cut into ¼" pats

nutmeg to garnish
Instructions
Spray a 9 x 13 baking dish with baking spray.


Pour a cup of eggnog in the bottom of the dish.


Pour on cake mix.


Top with remaining eggnog.


Evenly spread out the butter pats.


Sprinkle with nutmeg.


Bake at 350 degrees for 50-60 minutes until set and golden brown.
Notes
Best served warm (not hot - and not cold)
Nutrition
Serving:
1
g
|
Calories:
146
kcal
|
Carbohydrates:
9
g
|
Protein:
3
g
|
Fat:
11
g
|
Saturated Fat:
7
g
|
Polyunsaturated Fat:
4
g
|
Cholesterol:
58
mg
|
Sodium:
115
mg
|
Sugar:
7
g