There is something so refreshing about watermelon. From eating the fruit to using it in salads, it's one of my favorite summer ingredients.
Watermelon is also a delicious flavor to include in cocktails.
It pairs perfectly with vodka (and you know I love vodka recipes) and has the best bright pink color and a tantalizing aroma.
Whether you use store-bought juice or make your own, these 20 easy Vodka Recipes with Watermelon will be just what the bartender ordered.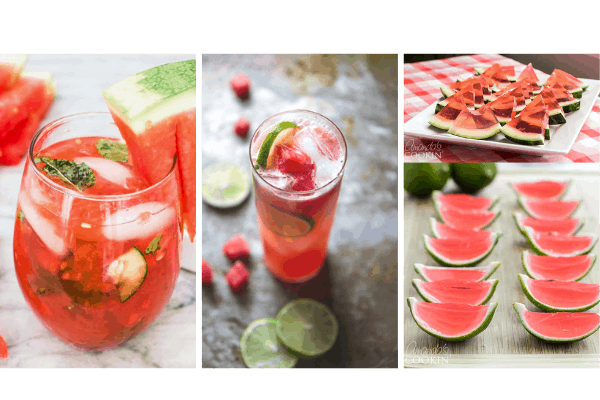 Some links in this post may be affiliate links. As an Amazon Associate in the Amazon Services LLC Associates Program, I earn from qualifying purchases by linking to Amazon.com and affiliated sites. I also participate in other affiliate programs for other retailers.
Make These Vodka Recipes with Watermelon
Sure, watermelon is THE fruit of summer. But it is pretty easy to find all year round. Which makes watermelon drinks the perfect libation for any occasion.
Also, I don't think people use the word "libation" enough. Deep thoughts.
Watermelon season varies from state to state but is typically the summer months.
What is so great about using this yummy fruit in cocktails is that it truly doesn't matter if it is in season.
You'll likely add some sweetness with other ingredients so it's ok to use fruit that might not be at its prime.
Watermelon Drinks That You're Going to Love
Sure you can eat it. But I think a better use of watermelon is definitely in a cocktail. These are thirst-quenching and refreshing and could they be any cuter with that bright pink color?!
Watermelon with vodka
is such a delicious flavor! And whether it's slushy or jello shot, it's such a versatile juice to work with!
Because vodka doesn't have much flavor on its own, the watermelon can be the star of the show.
Whichever drink you decide to serve, you should definitely serve it out of a watermelon.


More Refreshing Cocktails to Try
Pin These Delicious Watermelon Mixed Drinks for Later
These 20 vodka recipes with watermelon are perfectly refreshing and delicious. They're great for a Friday night in or a party with friends. Which one sounds tasty to you?