Halloween Vodka Punch is a black cocktail that is just right for fright night and perfect for a crowd.
This black punch recipe is mysterious and the perfect thing to put your friends on edge. But not too much, because it's super tasty.
If they're into vodka recipes, they'll love this spiked punch!
Whether you are having people over for a legit Halloween party or just having some moms over before trick-or-treating, you need to make this fun and easy black alcoholic Halloween punch.
Jump to:
Why This Recipe Works
This Halloween cocktail recipe couldn't be easier so you can even just make a large batch for yourself (the night is long…).
Halloween doesn't have to be gory, but I do like to have a little bit of a creep factor.
Vodka punch recipes are always a good idea since you can find inexpensive vodka that isn't of terrible quality.
But you will need to plan ahead! There is one special ingredient that you will need to order or pick up to ensure that you can take this drink to that spooky level that Halloween requires.
Don't want to make a Halloween punch? Make a Halloween Moscow Mule instead or browse this list of themed Halloween Cocktails.
Ingredient Notes
This Halloween alcoholic punch recipe is flavorful, refreshing and one that you'll want to drink when Halloween is over.
Scroll down for a printable recipe card with full measurements and detailed instructions.
You'll need a small amount of water for this punch, but don't worry, it doesn't water down the flavor!
Apple juice (I prefer Honeycrisp, but you can substitute your favorite) is a classic Fall flavor that pairs well with both lemon and ginger flavors. (And you can also use it to make Vodka and Apple Juice).
I use whichever vodka I have on hand. Whichever one you prefer will work. (Or you can read which I think is the best vodka…)
Lemon juice adds some acid and tartness. If you don't want to squeeze lemons, you can buy bottled at your local grocery store as a time saver.
Ginger beer is a versatile cocktail ingredient and it works so well here with the apple juice.
The Coconut activated charcoal powder is what gives this punch recipe that fun, festive black color but it costs about $20. And you only need a little bit of it. There are a few cheaper brands, but I trust the quality of the Nature's Way brand. Read all about this product here.
I'm sure you've seen activated charcoal lemonade at your local cold-pressed juice places.
It is safe to drink (although not daily). Wellness Mama has even more info on using this product.
Other things to use activated charcoal for:
How to Make Vodka Halloween Punch
Make sure that all your ingredients for this Halloween vodka punch recipe are chilled well before you start! You can serve the punch over ice but melting ice will dilute the flavor and color.
To a pitcher, add water, apple juice, lemon juice, and vodka.
The charcoal powder doesn't really change the flavor of the punch (or anything else you add it to). It's pretty cool.
It's a super fine powder and just a cool thing to add to your vodka punch recipe to make it Halloween-ready.
Creepy.
Mix well. We noticed that there were some clumps and that using a whisk would have helped to break them up quicker.
I would not use anything to stir this with that you wouldn't mind having turned gray…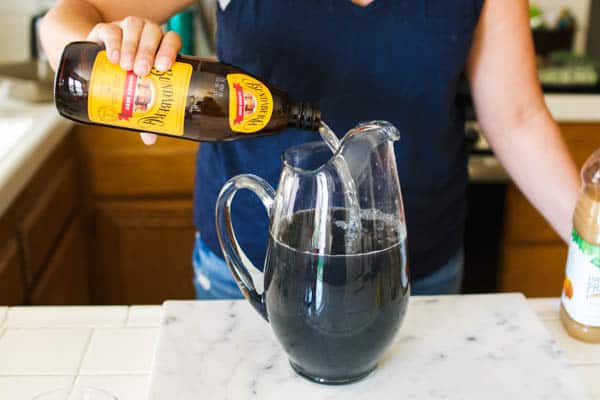 Top with ginger beer and stir gently.
Sometimes you can find larger bottles of ginger beer at the grocery store. But if you can't find it, just use a few bottles or cans of whatever they have.
Pour into a punch bowl or serve in a pitcher.
The color will separate so plan on stirring regularly, especially right before serving.
It's the perfect Halloween Punch. And it goes perfectly with my Halloween Dump Cake, Halloween Rice Krispy Treats or Halloween Cupcakes.
I know it doesn't look delicious but it is! The lemon keeps it nice and bright. The Honeycrisp apple juice gives it the perfect fruity sweetness and the ginger beer adds some bite!
Tips and Tricks
Frequently Asked Questions
I just want one cocktail and not a pitcher. What do you suggest?
Make this Halloween Moscow Mule! It also uses activated charcoal! Or you can play around with math and make only a single serving of this apple juice, ginger beer and vodka cocktail.
Can you make this without the alcohol for something kid-friendly?
Yes! Just leave out the vodka and you've got a spooky mocktail.
Is activated charcoal safe to consume?
The short answer is yes, but it can interfere with some medications (like birth control). If you're concerned, please consult your doctor before making this recipe.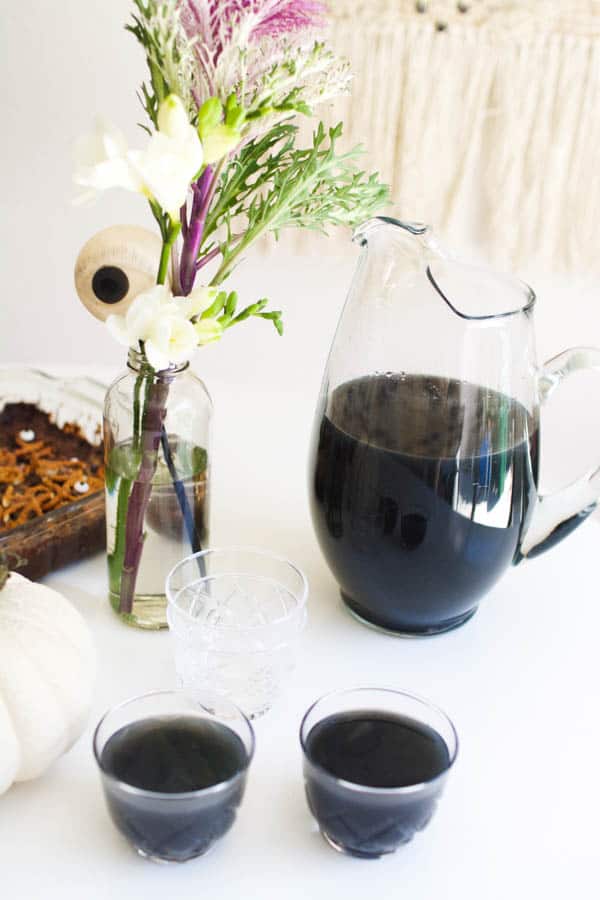 Grab a serving bowl or pitcher and serve up this spooky Halloween boozy punch recipe.
Your friends will love this Halloween Vodka Punch! The tart flavor is refreshing and the black color keeps things weird.
More Punch Recipes
Halloween punch recipes can include lots of specialty ingredients but if you don't want to buy anything to add to your bar, check out a few of my other punch recipes.
Related Halloween Recipes
Black Halloween Vodka Punch
This creepy black Halloween Vodka Punch is perfect for parties and is terrifyingly delicious. With fresh lemon juice, honeycrisp apple juice and ginger beer, this is a quick and easy vodka cocktail that is great for a crowd!
Print
Pin
Rate
Save
Saved!
Instructions
Make sure that all your ingredients are chilled well before you start!

To a pitcher, add water, apple juice, lemon juice and vodka.

Add charcoal powder and mix well (use a whisk to ensure no clumps).

Top with ginger beer and stir gently.

Pour into a punch bowl or serve in a pitcher.

The color will separate so plan on stirring regularly, especially right before stirring.
Notes
If you don't want to take the time to squeeze 1 ½ cups of fresh lemon juice, you can use bottled. The flavor will change a bit.
You'll need to taste and adjust based on the finished product. You may need to add a little simple syrup if it's too bitter.
Activated charcoal gets all over the place so take care when using it. It does wash off your hands pretty easily (and did not stain my grout either, but did stain my spatula).
You can make this punch ahead but wait to add the ginger beer until ready to serve.
Nutrition
Serving:
6
Servings
|
Calories:
221
kcal
|
Carbohydrates:
22
g
|
Protein:
1
g
|
Fat:
1
g
|
Saturated Fat:
1
g
|
Polyunsaturated Fat:
1
g
|
Monounsaturated Fat:
1
g
|
Sodium:
15
mg
|
Potassium:
127
mg
|
Fiber:
1
g
|
Sugar:
18
g
|
Vitamin A:
4
IU
|
Vitamin C:
24
mg
|
Calcium:
14
mg
|
Iron:
1
mg
This post was originally published on September 20, 2019 and has now been updated with better instructions so you can make this black punch perfectly every time.