So fun! This Vodka Halloween Punch is a black cocktail that is just right for fright night.
This black punch recipe is mysterious and the perfect thing to put your friend's on edge.
But not too much, because it's super tasty. If they're into vodka recipes, they'll love this spiked punch!
Some links in this post may be affiliate links. As an Amazon Associate in the Amazon Services LLC Associates Program, I earn from qualifying purchases by linking to Amazon.com and affiliated sites. I also participate in other affiliate programs for other retailers.
You'll Love this Vodka Halloween Punch!
Whether you are having people over for a legit Halloween party or just having some moms over before trick-or-treating, you need to make this fun and easy black alcoholic Halloween punch.
This recipe couldn't be easier so you can even just make a large batch for yourself (the night is long…).
Halloween doesn't have to be gory, but I do like to have a little bit of a creep factor.
But you will need to plan ahead! There is one special ingredient that you will need to order or pick up to ensure that you can take this drink to that spooky level that Halloween requires.
How to Make This Vodka Punch Recipe for Halloween
This Halloween alcoholic punch is flavorful, refreshing and one that you'll want to drink when Halloween is over.
Scroll down for a printable recipe card with full measurements and detailed instructions.
Ingredients
water
apple juice (I prefer Honeycrisp)
vodka
lemon juice
ginger beer
If you don't want to take the time to squeeze 1 1/2 cups of fresh lemon juice, you can use bottled. The flavor will change a bit.
You'll need to taste and adjust based on the finished product. You may need to add a little simple syrup if it's too bitter.
The activated charcoal is what gives this punch recipe that fun, festive black color but it costs about $20. And you only need a little bit of it.
There are a few cheaper brands, but I trust the quality of the Nature's Way brand. Read all about this product here.
It also gets all over the place so take care when using. It does wash off your hands pretty easily (and did not stain my grout either, but did stain my spatula).
Other things to use activated charcoal for:
I take capsules to help with hangovers
It can be used to help remove stains from your teeth
It's good for digestion
You can use it in masks for the skin and hair
I'm sure you've seen activated charcoal lemonade at your local cold-pressed juice places.
It is safe to drink (although not daily). Wellness Mama has even more info on using this product.
Instructions
Make sure that all your ingredients for this Halloween punch recipe are chilled well before you start! You can serve the punch over ice but melting ice will dilute the flavor and color.
To a pitcher, add water, apple juice, lemon juice and vodka.
The charcoal powder doesn't really change the flavor of the punch (or anything else you add it to). It's pretty cool.
It's a super fine powder and just a cool thing to add to your vodka punch recipe to make it Halloween ready.
Creepy.
Mix well. We noticed that there were some clumps and that using a whisk would have helped to break them up quicker.
I would not use anything to stir this with that you wouldn't mind having turned gray…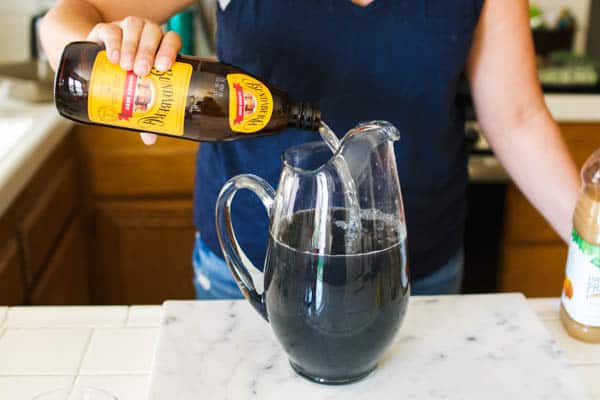 Top with ginger beer and stir gently.
Sometimes you can find larger bottles of ginger beer at the grocery store. But if you can't find it, just use a few bottles or cans of whatever they have.
Pour into a punch bowl or serve in a pitcher.
The color will separate so plan on stirring regularly, especially right before serving.
It's the perfect Halloween Punch. And it goes perfectly with my Halloween Dump Cake.
I know it doesn't look delicious but it is! The lemon keeps it nice and bright. The honeycrisp apple juice gives it the perfect fruity sweetness and the ginger beer adds some bite!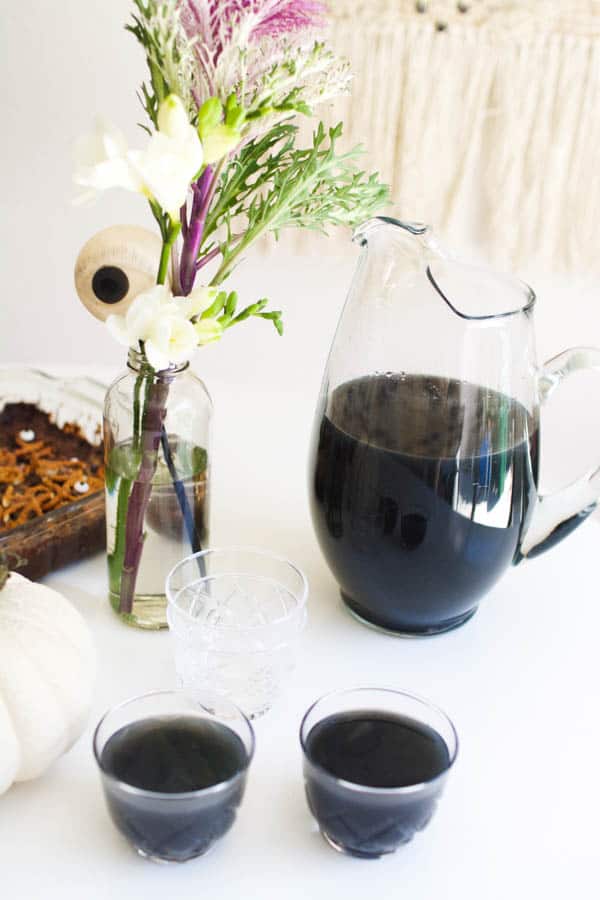 You could even just leave out the vodka and turn this into a kid's mocktail!
Just want to create one cocktail at a time? Make this Halloween Moscow Mule! It also uses activated charcoal!
More Halloween Ideas to Try
Shop for Halloween
Grab a Halloween punch bowl or pitcher and serve up this spooky punch recipe.
Printable Halloween Punch Recipe
Yield: 6 servings
Black Vodka Halloween Punch
This creepy black Vodka Halloween Punch is perfect for parties and is terrifyingly delicious. With fresh lemon juice, honeycrisp apple juice and ginger beer, this is a quick and easy vodka cocktail that is great for a crowd!
Ingredients
1 1/2 cups water
1 1/2 cups apple juice, I prefer Honeycrisp
1 1/2 cups vodka
1 1/2 cups lemon juice
1 25.3 fl oz. bottle of Bundaberg Ginger Beer (approximately 3 cups if you can't find a larger bottle)
1/2 TBSP coconut activated charcoal powder
Instructions
Make sure that all your ingredients are chilled well before you start!
To a pitcher, add water, apple juice, lemon juice and vodka.
Add charcoal powder and mix well (use a whisk to ensure no clumps).
Top with ginger beer and stir gently.
Pour into a punch bowl or serve in a pitcher.
The color will separate so plan on stirring regularly, especially right before stirring.
Nutrition Information
Yield
6
Serving Size
6 Servings
Amount Per Serving
Calories

188
Total Fat

0g
Saturated Fat

0g
Trans Fat

0g
Unsaturated Fat

0g
Cholesterol

0mg
Sodium

22mg
Carbohydrates

16g
Fiber

1g
Sugar

11g
Protein

0g
Nutrition information isn't always accurate.
Pin this alcoholic punch for Halloween for later
Your friends will love this Vodka Halloween Punch! The tart flavor is refreshing and the black color keeps things weird.