Do you need an easy dessert that will blow people's minds?! Then you need to bake pie inside a cake! It's easier than you think.
The flavorful vanilla cakes hide tangy cherry pies that are revealed as you cut into it. If you love quick and easy desserts with cake mix as I do, you have to give this pie cake recipe a try!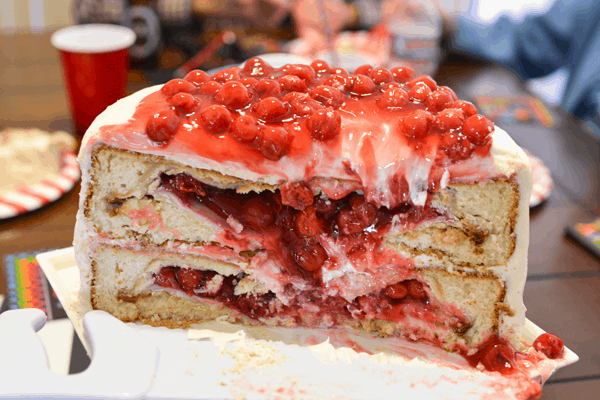 Sometimes called Piecaken and sometimes called Cherpumple, I call this Pie Cake because it legit has cherry pie baked into a vanilla cake! My recipe is just two flavors so nowhere near as elaborate as some of these other layered dessert mash ups.
Jump to:
I made this pie cake for my one of son's birthday parties and had to share it. It was between this cake or Brown Sugar Pie and the pie cake recipe won out!
I thought about making another one so I could take pretty, styled photos of the steps and make a gorgeous, Pinterest-worthy post.
But I can't! I'm too excited to share it. So let's consider this pie within a cake to be in the wild, in a raw landscape, its natural habitat.
What is a Pie Cake
YOU GUYS! IT'S A PIE INSIDE A CAKE!
It's legit a cake with pie inside. Like a whole fricking pie baked inside a whole cake. And this pie stuffed cake is much easier than you'd think it would be. Especially the way I make it.
Why This Recipe Works
This is a very doable dessert. I don't feel like I have baking skills. But trust me, this is super easy. (Not quite as easy as dump cakes, but still).
There are much harder versions of this pie cake on the internet. You can find recipes that are perfect for Thanksgiving/Friendsgiving and include all the best seasonal flavors.
Some of them include a variety of cake flavors and a variety of pie flavors. With 4 layers. It's a lot.
This recipe is the easier way to go that is just as delicious! And while I used simple white cakes with cherry pie, you can mix and match other flavors.
This tutorial for how to bake a cake inside a pie will work no matter what flavors you choose.
This is such a fun dessert to serve at a kid's party! My Pinata Cake is a fun surprise cake idea but so is this! And of course, it would be awesome for a Halloween party.
Related: Chocolate Truffle Cake is also super easy and looks harder than it is.
Ingredients
You can make as many layers of pie cake as you want. I did 2. So you would need one boxed cake mix (I used white cake) and one ready-made or frozen pies (I used cherry pies) for each layer.
You'll also need the ingredients to make the cake per the directions on the box.
I used store-bought vanilla frosting, but you can use your favorite flavor or make your own frosting.
This vanilla buttercream is my favorite. But Russian Buttercream and Cool Whip Frosting are great too!
Don't skip the extra cherry pie filling. It makes a delicious topping. Or you can decorate it any way you want to.
How to Bake Pie Inside a Cake
Bake the pies the night before you plan to bake them into the cake layers. Or make them earlier in the day. They just need to be cooled.
Or use store-bought, already baked pies, that are the size of normal pies.
2. Follow the directions on the back of the boxed cake mix and make in a stand mixer.
Mix it a lot. Over beating makes the batter stronger.
3. Prepare your springform pan by spraying it with baking spray or using butter and flour.
Or use a regular cake pan and put parchment in the bottom and spray the sides).
4. Pour in half the batter.
5. Plop your first cherry pie in the center.
6. Cover with the rest of the batter.
7. Bake.
8. And repeat for the second layer.
Let the pie cake cool to room temperature before decorating.
I suck at frosting cakes so I had my neighbor decorate it for me. But I'm sharing my decorating hacks below in case you don't have a skilled neighbor.
To Serve
Top with a can of cherry pie filling. This is optional but if you're doing anything spooky it's a must.
My in-laws always serve cake with ice cream. So you can do what you prefer. Because there is so much going on with this cake, it's perfectly fine to serve on its own.
THE. CROWD. GOES. WILD. People thought I was a marvel for having come up with such an incredible idea of baking pie inside cake.
And sometimes, when there are older people involved, it is easier to just take the credit and not try to explain proper sourcing and Internet and etiquette, blah blah blah.
Everyone's reactions were so awesome. I really feel like all cakes should have pie in them. It's one of my New Year's resolutions.
It's a bit hard to get small slices of cake when there are two pies inside.
So do your best. The pie cake is on the sweet side. So keep that in mind when choosing what kind of frosting to use.
Pie Cake (again, feel free to call it a piecaken - but that usually has more layers) is the most perfect dessert for Halloween. Especially this version with the goopy cherry pie filling. It really does look like guts. Ew.
You've got to try this delicious pie inside a cake! It's super easy, tastes delicious and is always a crowd-pleaser!
Variations
When you make some of these more elaborate variations, they become the perfect dessert for Thanksgiving and other holiday get-togethers.
Cherpumple
A cherpumple includes a layer of cherry pie, pumpkin and apple.
The traditional piecaken includes a layer with pecan pie, a layer of pumpkin pie and a layer of spice cake. It's all the hits in one!
Pie Cake Inspiration
I want to be very clear. This pie in a cake was not an original idea that I came up with. I had a standing date with Home and Family every day from 10 am - 2 pm.
Around Halloween, they had the most amazing, creative human ever assembled on to talk about his fantastic Blood and Guts cake.
If you don't know Charles Phoenix, you need to go spend hours on his site. He's crazy inspiring to me.
Long story short, I had to throw my son a Five Nights at Freddy's party (which is scary and has a bit of gore) for his birthday and it was my chance to try my hand at making a cake and pie baked together.
Tips and Tricks
I wouldn't go above 3 layers of pie cake. It seems like it wouldn't be very stable.
I used frozen pies so I made them the night before and let them sit overnight so they were at room temperature.
I would choose a pie that doesn't have a crumble top on it as I'm not sure how that would taste inside the cake batter. I'm guessing it might just be mushy.
I'm not going to lie, it was a little tricky to cut through and I should have gotten out the electric carver like Charles suggests. But this cake saw is our favorite cutter and it seemed really fitting for this cake especially.
Frequently Asked Questions
Doesn't baking the pie twice make it dry?
Oddly, a pie baked in a cake doesn't get too dry. The crust is protected by the cake mix so it doesn't dry out.
How do you get the whole pie out of the pan and into the batter in one piece?
If you're using a store-bought or frozen pie, it's more simple than you might think. They should just slide out in one piece. If you're hesitant, you can try long, offset spatulas or grab an extra pair of hands.
Can you make pie cake ahead of time?
If you're planning to eat the pie cake within a day or so, it should be fine, but it's better when baked and eaten within a day or two.
Related Recipes
How to Bake Pie Inside a Cake
You NEED to bake a pie inside cake! When you cut into the cake there is a yummy surprise inside! Plus if you use cherry pie filling, it works perfectly for Halloween because it looks like gory guts! You'll love this layered cake with whole pies baked right in!
Print
Pin
Rate
Save
Saved!
Equipment
Springform pan

Measuring spoons

measuring cup
Instructions
If you purchase a frozen pie, bake them off the night before you want to bake the cake. They should be cool enough that you can touch them.

If you used store-bought pie you don't have to cook it first.

Use a stand mixer to make your boxed cake mix.

I make each box individually to ensure that the layers are even (I'm a terrible estimator).

Over mix the cake batter by a few minutes which help to make the batter stronger to support the pie in the layer.

Once batter is ready, prepare your springform pan (spray with cooking spray and a light dusting of flour) and add half of the cake batter from one boxed mix.

Add one of the pies then top with the other half of the cake mix.

Repeat with the other cake mix and pie.

Bake as directed on the cake mix box.

Let cool completely.

Remove from pans.

Stack one layer on a cake stand.

Top with a layer of frosting then add the second layer of pie baked into cake.

Frost as usual.

If adding, top with extra cherry pie filling.
Notes
Personally, I wouldn't go above 3 layers of pie cake. It seems like it wouldn't be very stable.
I used frozen pies so I made them the night before and let them sit overnight so they were at room temperature.
An electric carver would cut this pie cake perfectly. But this cake saw is our favorite cutter and it worked pretty well too.
You can substitute whatever flavors you want in this dessert! Chocolate cake would be delish with cherry pie filling!
The ounces called out in the recipe do not have to be exact. Cake mixes come in a variety of ounces but all are relatively similar in size. And the pie should be able to fit in the springform pan with a little extra space around the sides. The ounces don't totally matter.
The nutrition is off on this recipe as the software could only find cherry pie filling and not the information for a cherry pie.
Nutrition
Serving:
1
slice
|
Calories:
1051
kcal
|
Carbohydrates:
227
g
|
Protein:
6
g
|
Fat:
13
g
|
Saturated Fat:
4
g
|
Polyunsaturated Fat:
5
g
|
Monounsaturated Fat:
4
g
|
Trans Fat:
1
g
|
Sodium:
918
mg
|
Potassium:
462
mg
|
Fiber:
3
g
|
Sugar:
81
g
|
Vitamin A:
734
IU
|
Vitamin C:
13
mg
|
Calcium:
278
mg
|
Iron:
3
mg
This post was originally shared on January 18, 2016. I have updated it to include more detailed instructions.