Do you need an easy dessert that will blow people's minds?! Then you need to bake pie inside a cake!
It's easier than you think. Plus you can mix and match tons of different flavors.
The flavorful vanilla cakes hide tangy cherry pies that are revealed as you cut into it.
If you love quick and easy desserts with cake mix as I do, you have to give this recipe a try!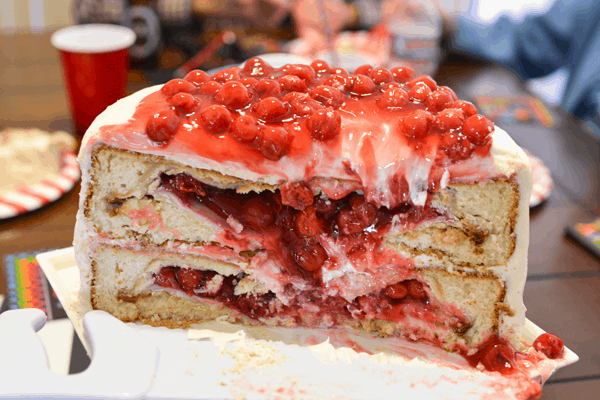 Some links in this post may be affiliate links. As an Amazon Associate in the Amazon Services LLC Associates Program, I earn from qualifying purchases by linking to Amazon.com and affiliated sites. I also participate in affiliate programs for other retailers.
This post was originally shared on January 18, 2016. I have updated it to include a complete recipe and more detailed instructions.
You can bake pie inside a cake
There is pie. Inside that cake. Isn't that crazy fun!
I made this for my son's birthday party last week and had to share it.
I thought about making another one so I could take pretty, styled photos of the steps and make a gorgeous, Pinterest worthy post.
But I can't! I'm too excited to share it. So let's consider this pie cake to be in the wild, in a raw landscape, its natural habitat.
YOU GUYS! PIE INSIDE CAKE!
I want to be very clear. This was not an original idea that I came up with. I have a standing date with Home and Family every day from 10 am – 2 pm.
Around Halloween, they had the most amazing, creative human ever assembled on to talk about his fantastic Blood and Guts cake.
If you don't know Charles Phoenix, you need to go spend hours on his site. He's crazy inspiring to me.
Long story short, I had to throw my son a *Five Nights at Freddy's party for his birthday and it was my chance to try my hand at making a pie cake.
Easiest ever pie inside a cake recipe
This is a very doable dessert. I don't feel like I have much baking skill. But trust me, this is super easy.
There are much harder versions on the internet. You can find recipes that are perfect for Thanksgiving and include all the best seasonal flavors.
some of them include a variety of cake flavors and a variety of pie flavors. It's a lot.
This is the easier way to go that is just as delicious! and while I used simple white cakes with cherry pie, you can mix and match other flavors.
But this tutorial for how to bake a cake inside a pie will still work.
How to bake pie inside cake
Trust me, this is such a fun dessert to serve at a kid's party!
My Pinata Cake is a fun surprise cake idea but so is this!
Scroll down to the printable recipe card with full measurements and detailed instructions.
Ingredients
boxed cake mixes (I used white cake) + ingredients to make the cake per directions on the box
ready-made or frozen pies (I used cherry pies)
vanilla frosting
extra cherry pie filling
You can make this as many layers as you want. I did 2. So you would need a boxed cake mix and and pie for each layer.
And I wouldn't go above 3 layers of pie cake. It seems like it wouldn't be very stable.
I used frozen pies so I made them the night before and let them sit overnight so they were at room temperature.
Oddly, baking pie twice really doesn't do anything bad too it. The crust is protected by the cake mix so it doesn't dry out.
Directions
Bake the pies the night before you plan to bake them into the cake layers. Or use store-bought, already baked pies, that are the size of normal pies.
Follow the directions on the back of the boxed cake mix in a stand mixer.
Mix it a lot. Over beating makes the batter stronger.
Prepare your springform pan by spraying it with baking spray or using butter and flour.
Pour in half the batter.
Plop your first cherry pie in the center.
Cover with the rest of the batter.
Bake.
And repeat with the second layer.
Make sure to bake them all the way. Let them cool then remove them from the pans.
Watch a video of how to bake a pie in a cake
Once it's cooled, have your neighbor frost it for you because you suck at frosting cakes.
Then speed through the rest of the party so you can get to the cake cutting part faster!
In case you don't know, Five Nights at Freddy's or FNAF as it's sometimes referred to, is a video game. It's alarming and horrific.
And my kid can't get enough of it. The heart wants what it wants so I let him use it as the theme for his birthday party.
It's ok though, I removed the digital blood splatters (!!!!!!) from the printable party suite I bought on Etsy to make it more acceptable.
I kept the inside a surprise to most of the party guests. I knew they would all love it.
Just like Charles did with his Blood and Guts cake, I added a can of cherry pie filling to the top to add more drama.
I'm not going to lie, it was a little tricky to cut through and I should have gotten out the electric carver like Charles suggests.
But this cake saw is our favorite cutter and it seemed really fitting for this cake especially.
This is SO easy to make! And it makes such a statement! You have to try this.
THE. CROWD. GOES. WILD. People thought I was a marvel for having come up with such the incredible idea of baking pie inside cake.
And sometimes, when there are older people involved, it is easier to just take the credit and not try to explain proper sourcing and internets and etiquette, blah blah blah.
Everyone's reactions were so awesome. I really feel like all cakes should have pie in them. It's one of my New Year's resolutions.
It's a bit hard to get small slices of cake when there are two pies inside.
So do your best. The cake was really sweet but that can probably be fixed by making everything from scratch.
But who wants to do that.
But then a dessert like this isn't really about the flavor now, is it? SO fun!
This pie cake would be perfect for Halloween, too. Especially this version with the goopy cherry pie filling. It really does look like guts. Ew.
Make your own cake with pie inside!
More fun party ideas
More pie ideas
Printable Recipe
How to Bake Pie Inside a Cake
You NEED to bake a pie inside cake! When you cut into the cake there is a yummy surprise inside! Plus if you use cherry pie filling, it works perfectly for Halloween because it looks like gory guts! You'll love this layered cake with whole pies baked right in!
Print
Pin
Rate
Equipment
Springform pan

Measuring spoons

measuring cup
Ingredients
2

boxed cake mixes

I used white cake plus all ingredients to make the cakes.

2

store-bought cherry pies

Canned frosting

or homemade

Extra cherry pie filling

optional
Instructions
If you purchase a frozen pie, bake them off the night before you want to bake the cake.

If you used store-bought pie you don't have to cook it first.

Use a stand mixer to make your boxed cake mix.

I make each box individually to ensure that the layers are even (I'm a terrible estimator).

Over mix the cake batter by a few minutes which help to make the batter stronger to support the pie in the layer.

Once batter is ready, prepare your springform pan and add half of the cake batter from one boxed mix.

Add one of the pies then top with the other half of the cake mix.

Repeat with the other cake mix and pie.

Bake as directed on the cake mix box.

Let cool completely.

Remove from pans.

Stack one layer on a cake stand.

Top with a layer of frosting then add the second layer of pie baked into cake.

Frost as usual.

If adding, top with extra cherry pie filling.
Notes
You can substitute whatever flavors you want in this dessert!
Nutrition
Serving:
1
g
|
Calories:
217
kcal
|
Carbohydrates:
46
g
|
Protein:
4
g
|
Fat:
2
g
|
Saturated Fat:
1
g
|
Polyunsaturated Fat:
1
g
|
Monounsaturated Fat:
1
g
|
Cholesterol:
77
mg
|
Sodium:
402
mg
|
Potassium:
75
mg
|
Fiber:
1
g
|
Sugar:
27
g
|
Vitamin A:
116
IU
|
Vitamin C:
1
mg
|
Calcium:
53
mg
|
Iron:
2
mg
Pin to save this Cake Pie for later
You've got to try this delicious pie inside a cake! It's super easy, tastes delicious and is always a crowd pleaser!