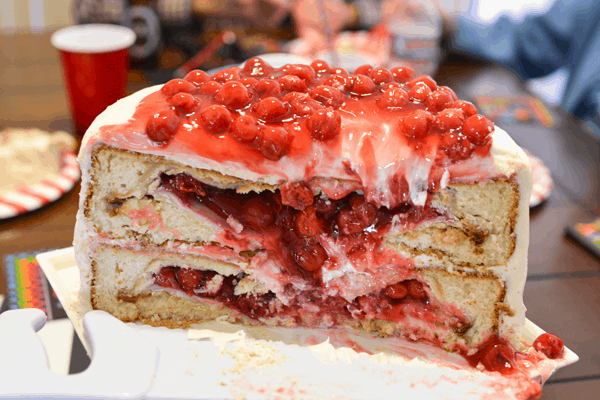 PIE CAKE! OH MY GOSH YOU GUYS! YOU HAVE TO STOP WHAT YOU'RE DOING AND GO BAKE A PIE CAKE RIGHT NOW! Like, right this minute. And yes, you read that right. There is pie. Inside that cake. I made this for my son's birthday party last week and had to share it. I though about making another one so I could take pretty, styled photos of the steps and make a gorgeous, Pinterest worthy post. But I can't! I'm too excited to share it. So let's consider this pie cake to be in the wild, in a raw landscape, its natural habitat. YOU GUYS! PIE INSIDE CAKE!
I want to be very clear. This was not an original idea that I came up with. I have a standing date with Home and Family every day from 10 am – 2 pm. Around Halloween they had the most amazing, creative human ever assembled on to talk about his fantastic Blood and Guts cake. If you don't know Charles Phoenix, you need to go spend hours on his site. He's crazy inspiring to me. Long story short, I had to throw my son a *Five Nights at Freddy's party for his birthday and it was my chance to try my hand at making a pie cake.
*Five Nights at Freddy's or FNAF as it's known is a video game. It's alarming and horrific. And my kid can't get enough of it. The heart wants what it wants so I let him use it as the theme for his birthday party. It's ok though, I removed the digital blood splatters (!!!!!!) from the printable party suite I bought on Etsy to make it more acceptable.
I'm not going to write out the steps for the pie cake here. There is a great video on Charles' site with all the tips and tricks. But here's the thing. This is SO easy to make! And it makes such a statement! You have to try this. In a nutshell – Buy a frozen pie for each layer of cake you want to make. Bake pies. Let sit out at room temperature overnight. Mix boxed cake mix. Mix it some more (over beating makes the batter stronger). Prepare your springform pan.
Pour in half the batter. Plop your cherry pie in the center. Cover with the rest of the batter. Bake. Make sure to bake it all the way.
Have your neighbor frost it for you because you suck at frosting cakes. Thank you, Lori!!! Then speed through the rest of the party so you can get to the cake part faster! I kept the inside a surprise to most of the party guests. I knew they would all love it.
Just like Charles did with his Blood and Guts cake, I added a can of cherry pie filling to the top to add more drama.
I'm not going to lie, it was a little tricky to cut through and should have gotten out the electric carver like Charles suggests. But this cake saw is our favorite cutter and it seemed really fitting for this cake especially. Live and learn, you know.
THE. CROWD. GOES. WILD. People thought I was a marvel for having come up with such an incredible idea. And sometimes, when there are older people involved, it is easier to just take the credit and not try to explain proper sourcing and internets and etiquette, blah blah blah.

Everyone's reactions were so awesome. I really feel like all cakes should have pie in them. It's one of my New Year's resolutions.

It's a bit hard to get small slices of cake when there are two pies inside. Do your best. The cake was really sweet but that can probably be fixed with using better quality ingredients. I used store-bought cake mix and canned frosting so…PLUS THERE'S TWO PIES IN THERE! This isn't really about the flavor now, is it?
SO fun! You may have heard of the Cherpumple, which is the OG pie cake. Three pies inside a cake? That's taking it a little over the top for me (she said fooling no one).
Head to the Charles Phoenix site for the full directions! Then go make yourself a pie cake!
Looking for more fun party ideas?
You're going to want to make these DIY Balloon signs.
Make this easy ruffled streamers out of plastic tablecloths!
A carved watermelon makes a great party sign!
Make these cute party hat headbands.
A birthday banner will make your child smile!