Alcoholic Punch Recipes are a great way to celebrate the holidays! The following spiked punch recipes are perfect for gatherings all year long but a few are specific to the holidays (from Thanksgiving to Christmas and New Year).
It's nice to have a cocktail that is festive and easy to make. But if you're throwing a party, you need an alcoholic party punch that will serve a crowd.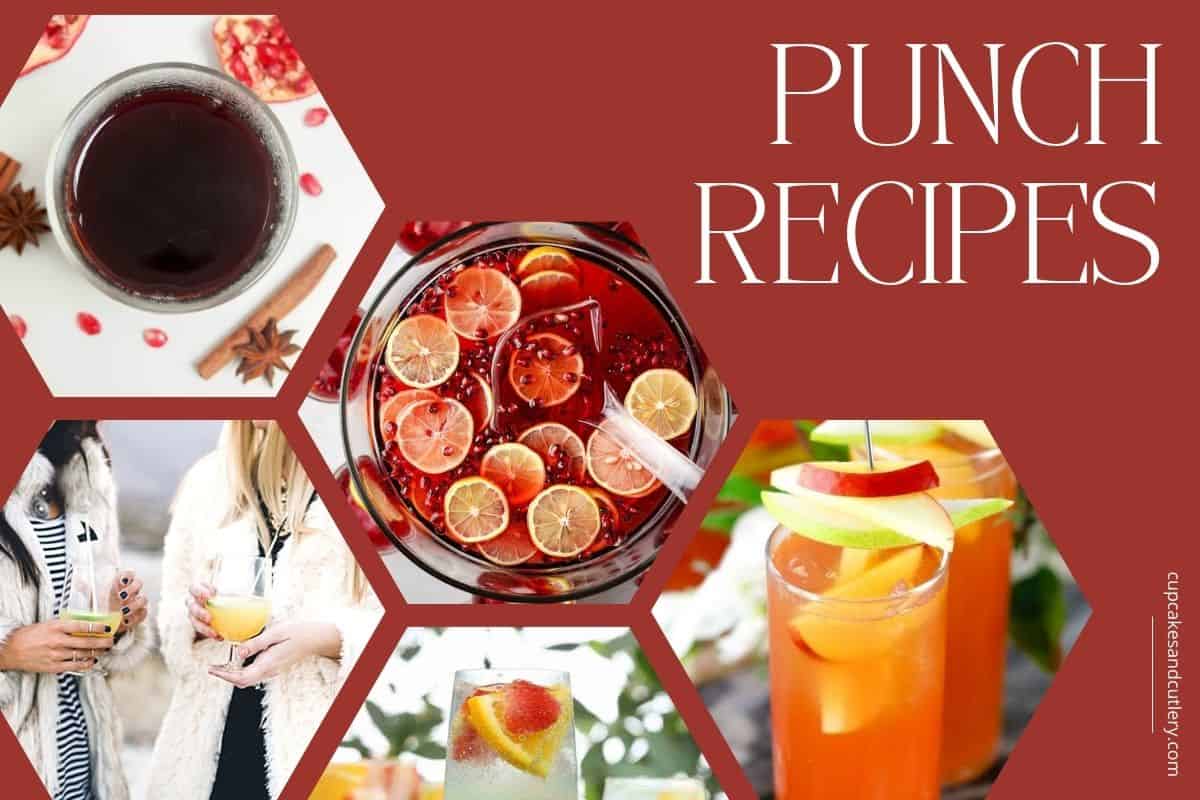 Jump to:
Why Punch is Great for a Party
These easy alcoholic punch recipes make serving a crowd simple and make any gathering feel celebratory.
If you are hosting a party and need an easy drink recipe that will wow your guests this list is for you!
These festive and fun drinks usually need to be made ahead of time and are easy for guests to serve themselves. Which means you can enjoy the night too.
My favorite Champagne Punch is an easy one to serve when celebrating anything. And while a Moscow Mule bar is a fun drink idea, nothing says party quite like punch!
Some of the boozy punch recipes on this list feature a mix of traditional cocktail ingredients while the holiday punch features more seasonal flavors (with options for Thanksgiving, other fall gatherings and festive Christmas punch).
Related post: Thanksgiving Punch Recipes
More traditional spiked party punches, like rum punch and sangria, are also included on this list. Browse all the alcoholic punch recipes to see what catches your attention!
And if you leave out the activated charcoal, my Black Vodka Punch that I made for Halloween can be served any time of year. YUM. Plus you can check out the easiest way to make a White Russian for a Crowd.
These delicious punch drink recipes make large batches so it's easy to share with friends and family over the holidays.
It's easy to double or triple recipes so you'll never run out. Serving a punch can often be cheaper than providing a full bar for a party.
You're bound to be drawn to at least one recipe on this list and I know it would make a great signature drink to serve your guests.
Easy Spiked Punch Recipes
Are you hosting a party? This list of alcoholic punch recipes are festive and delicious! Whether you need a Christmas punch, a holiday punch for Thanksgiving or a spiked party punch recipe, these are great for a crowd.
Hint: You can also turn your favorite cocktail into a larger batch pretty easily. This works best for recipes that feature more non-alcoholic ingredients than liquor.
Skip the martinis and instead look for drink recipes that are heavy on juices and sodas.
Equipment
As long as you have a large bowl or pitcher, you can make an alcoholic party punch for a crowd. And aside from a spoon to stir it with, punches are super easy to make and serve.
For Serving Punch
Top tips
Set out garnishes so guests can customize their final drink.
Think about the ice and make a plan before the party. Will you serve the punch chilled but without ice to help with dilution? Or will you make one large ice block to keep it cool?
If you are serving a warm punch, keep it in the crockpot so it stays at the perfect temperature.
If the punch has any fizzy ingredients in them, make sure you add them right before or as your guests arrive so they don't fall flat.
Consider keeping a backup batch ready in the fridge to refresh the punch bowl as needed.
When serving a crowd, use cups that are on the smaller side. It will stretch out the recipe and keep people from getting too rowdy.
More holiday cocktail recipes
More cocktail collections