This list of easy Halloween Rice Crispy Treat Ideas will show you how to dress up your favorite cereal and marshmallow dessert and make them perfect for any party or playdate!
From mummies to pumpkins, these simple twists to the classic treat are a fun way to celebrate the spookiest of seasons.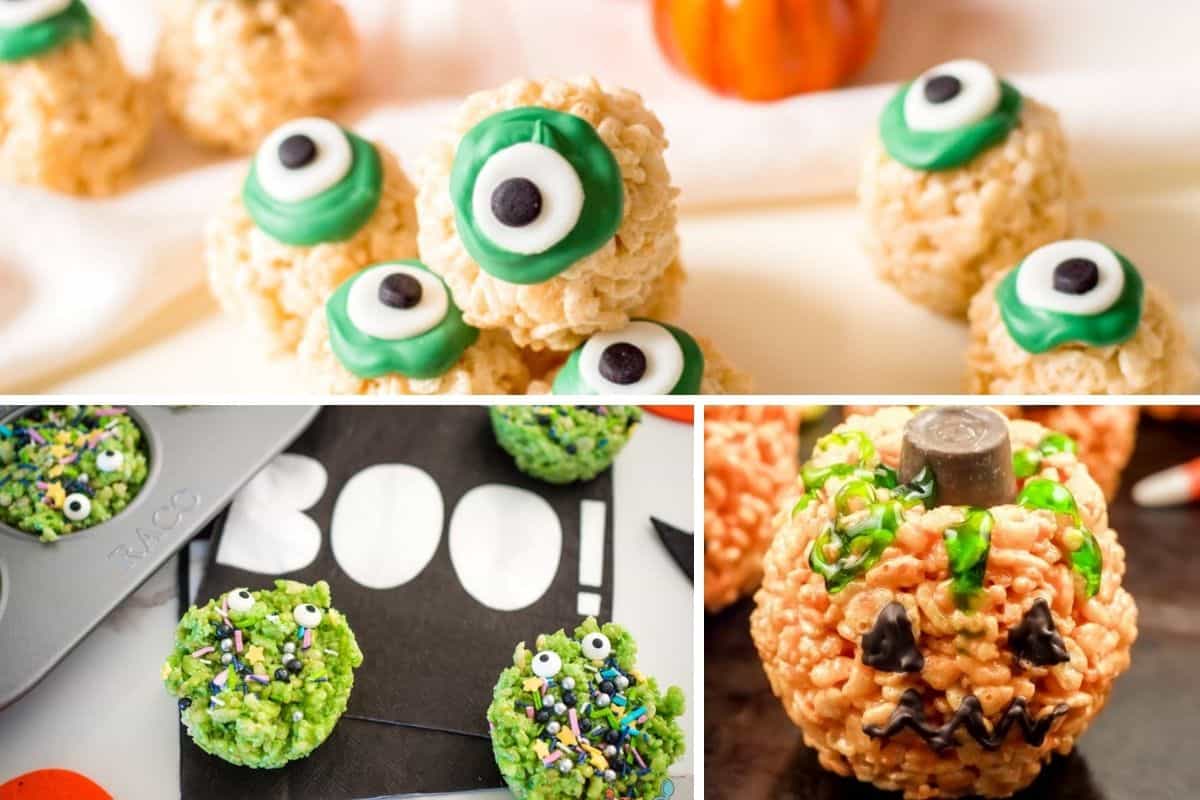 Why Serve Rice Crispy Treats
Classic Rice Crispy Treats are a quick and easy dessert recipe that are great for just about any holiday. With just a few ingredients plus some spooktacular decorative touches, these ideas are just right for any Halloween party.
All of these ideas are simple meaning you don't need any special skills to recreate these Rice Crispy Treat Ideas at home. Just use your favorite recipe and follow the step-by-step tutorials to make your own.
Don't be afraid to make some mummy treats! All you need to be able to do is drizzle melted white chocolate from a piping bag!
Pair these holiday treats with some Halloween Cocktails and you have everything you need for a Halloween Happy Hour.
Add them to a dessert table with some Halloween Cupcakes and your class parties or kid's after-school Halloween party are all set!
With just a simple Wire Wall Sign, some Halloween Candles, and a Halloween Creepy Indie Music Playlist, your home is ready to host neighbors and friends for Halloween parties.
Ingredient Notes
For most of these cereal treats, all you need is mini marshmallows (or large, whichever you prefer), Rice Krispies Cereal, and butter which you can find in the baking aisle at your local grocery store.
The decoration ideas include candy eyes (these are very popular in this list of fun Halloween treats), some Halloween candy, a few chocolate chips and mini peanut butter cups.
Some food coloring or colored Wilton candy melts can help you instantly transform your cereal treats into Monster Rice Crispy treats.
Parchment paper and wax paper will help you keep your work area clean and are also great for storing the finished crispy treats.
Make these on the stove or in a microwave safe bowl. These easy Halloween treats will be a huge hit!
Halloween Rice Crispy Treat Ideas
No one can resist delicious rice crispy treats, especially at Halloween. From mummy treats to Jack O'Lanterns, these quick and easy dessert ideas are perfect for your Halloween party.
Tips and Tricks
For most of these Halloween Rice Crispy Treat Ideas you can use a cookie cutter or cut them into other shapes to make them even more fun.
While these are fun to serve the kids, you can also have the kids help you decorate them and turn it into an activity as well. Have the parent press them into a pan, as the melted marsmmallows are HOT. Once cooled, the kids can do most of the decorating.
To keep the sticky cereal from sticking to your hands, rub them with butter before pressing them into the pan.
Line your baking pan with parchment paper to make the rice crispy treats to make them easier to remove. Or use a silicon pan to keep things easy.
Need even more ideas for a special treat for the holiday? Brainstorm other Halloween words and see if you can create another cereal treat. For example, candy corn rice crispy treats would be cute! And how about some Frankenstein rice crispy treats?
Fequently Asked Questions
Do rice crispy treats need to be refrigerated?
No. Rice Crispy Treats can be kept at room temperature. But you may put them in the refrigerator to help them firm up after you've pressed them into a pan.
How do you keep Rice Crispy Treats fresh?
Rice Crispy Treats are best kept in an airtight container. They'll stay fresh for about 2 days (although my kids eat them after that and they still taste fine but start to lose their crisp texture.
How do you keep Rice Crispy Treats from being too hard?
If you think your cereal treats are too firm, it could be from a few different things. You may have overcooked the marshmallow, or you might have pressed the mixture into the pan too much.
Give Rice Crispy Pumpkins a try this year! Your kids will love all of these Halloween Rice Crispy Treat Ideas! They're a fun way to celebrate the holiday.
Related Recipes