When I host a party, I want to always try to make sure that I have healthy, but still delicious options for any guest who may want them (myself included). I've partnered with popchips to share healthier snack ideas for game day.
Jump to:
This post is sponsored by BabbleBoxx.com on behalf of popchips®.
I think I've established that I'm not in to sports. But I do love a good game day party. Although not really a New Year's resolution, I am trying to be more intentional about my food choices and live an overall healthier lifestyle.
Don't get me wrong. Just because I'm offering healthy snacks to my guests, doesn't mean you can't find other types snacks on my party table as well. I'm all about moderation.
I always want to make sure, though, that I have crave-worthy snacks, that aren't going to undo all my hard work at healthy eating. And I've noticed that every time there are fresh vegetables out at a party, my kids constantly eat them!
And I know a lot of my friends are trying to make better choices too. I like to put out a few types of meat and cheeses also, which are easy to grab and are more filling in case anyone has come over expecting a meal.
Quick and Easy Snack Ideas for your Football Party
One thing that every game day has to have, though, is chips! The salty crunch is a must for any football party! Popchips are a great healthier snack option! Made from potatoes, popchips are never fried but have that perfect crunch you want when you're snacking. They contain only real ingredients (certain flavors are non-GMO), they are kosher and gluten-free! It can be so hard to find gluten-free snacks when you aren't gluten-free yourself. I love that I know I can grab a bag of popchips and my friends with that dietary need are covered (deliciously)! They come in a bunch of yummy flavors so your guests will be well taken care of in the chip department! I like to set them out, right in the bag, so everyone knows what the flavor options are and make it easy to sample all of them.
I had this really cute trophy and thought it would be perfect to fill with popchips. I used the new popchips Buffalo Ranch Ridges. My kids are super in to wings right now and I knew they would love these! I love you can still get that tang of buffalo sauce without the mess or work of having to make wings!
While I'm looking for healthier snack ideas, there are others who expect fattening favorites at their homegating parties. I like to put out some basic snacks, including the healthy options and then let my guests bring whatever football party food they want to. It's a great way to not have to prepare all of the food yourself, make sure your guests get the type of food there are craving and have healthy options too.
For party beverages, I like to display a few of the types of the drinks we have on hand and let the guests know that they can serve themselves from the fridge. This keeps me from having to refill an ice bucket or worry about condensation on my party table. I like my football parties to feel relaxed and by having the guests grab their own drinks, I am able to enjoy the party too instead of only being on hostess duty.
I've always loved the Cheddar and Sour Cream popchips but I may have a new favorite with the Zesty Jalapeno Cheddar! They are full of the cheddar cheesy flavor that I love but with a slow heat that sneaks up on you. These are the perfect snack food! The more you eat, the more you love them. And I don't feel bad about it because popchips don't have anything artificial in them, including no preservatives, trans fats or cholesterol and meet the USDA Smart Snack guidelines. Your party guests (and you) will LOVE these!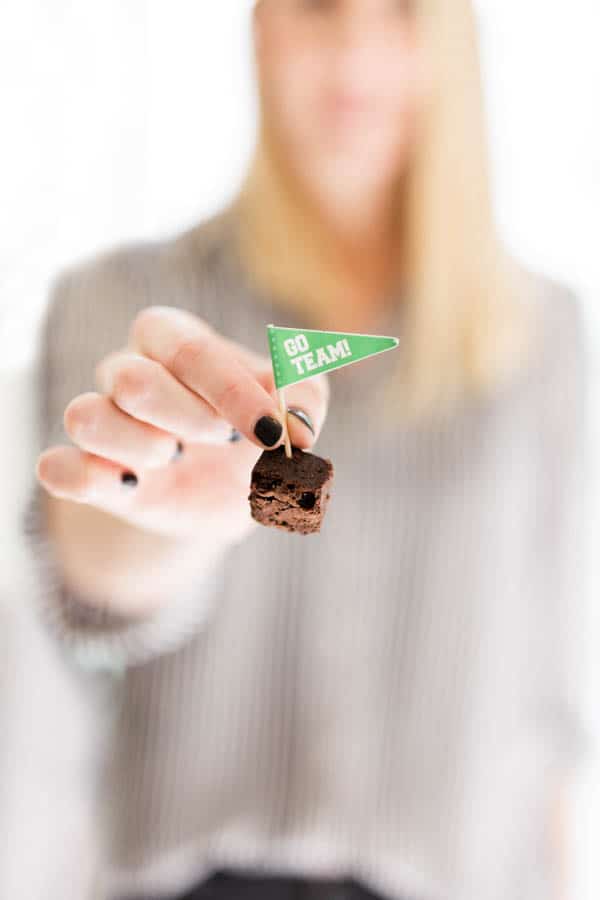 I always make sure that I have a sweet option for my guests too. I love to set out cocoa covered almonds and crunchy banana chips (which are also super kid friendly). And if you serve pre cut brownie bites, it makes it easy to have just a taste and not go overboard. They are also a great way to work in some football food picks and dress up your party table. I never like to go overboard with themed decorations so this is a nice, low-key way to promote the big game.
So if you're looking for healthier snack ideas that won't make you miss your game day favorites, make sure that popchips are on your grocery list! They are such a satisfying snack and full of the flavor and crunch that a game day party has to have!
Grab some popchips, call your friends and plan your game day party now! These snack ideas will help you throw an awesome football party with ease!
Images by Dez and Tam Photography
You may also like these posts:
A Great Gift Idea for the Football Fan in Your Life!
Dried Beef Roll Ups Party Appetizer