If you're a fan of the classic Moscow Mule cocktail, you'll love this south-of-the-border twist!
With ginger beer and tequila, this Tequila Mule is quick and easy, super refreshing, and might end up being your new favorite cocktail.
As a big fan of Moscow Mule recipes, I decided that swapping out the vodka for a tequila version made perfect, delicious, sense.
Originally posted September 25, 2013. Updated all the images and gave more detailed info on the recipe.
A Tequila Mule is my fave summer cocktail
I didn't realize that I loved tequila until well into my 30's. Then I needed to use it in ALL my cocktails.
The college years really do everyone a disservice by making you think all tequila is gross and will wreck you.
Once I figured out that there are different brands, some that actually taste really good, it opened up a whole new world of cocktails for me.
I'm a huge fan of the original Moscow Mule which is traditionally made with vodka (vodka recipes are the best!).
But lately, I've been on a total margarita kick and I'm finding that I really enjoy tequila. Not like I'm out doing shots or anything.
So I decided to try out a Tequila Mule. I quite like it and I think you will too. Add this to your list of favorite warm-weather cocktails!
How to make a Tequila Mule
To make a Moscow Mule with Tequila, you need just three ingredients.
Scroll down to the end of the post for a printable recipe card with full measurements and more detailed instructions.
Ingredients
What type of tequila should I use
Now I know there are different types of tequila and everyone probably has a personal preference.
If you don't know a lot about tequila the two I love are Casamigos Blanco and Deleon Platinum.
I prefer to use clear tequilas as opposed to something that is golden (which means it was aged). But that is a personal preference.
What type of ginger beer should I use
Reed's is one of my favorite brands of ginger beer and is available just about everywhere. Reed's is strong. It's like ginger ale, but not as sweet and with more bite.
Think of ginger ale like that singing group Nelson from the early 90's.
Whereas Ginger Beer is like Def Leppard.
There are many brands of ginger beer on the market and I'm slowly trying to taste them all.
This was my first time trying Q Ginger Beer. It's nice. A little bit sweeter than I typically like but really tasty.
But if there is a brand you like better, use that! I recently found one at my local Albertsons store that I really like too. It's their Signature SELECT brand.
If you would like it sweeter you can certainly add in a little simple syrup or agave.
Instructions
I like to use copper mugs to serve these, but they also work fine in a pint glass or low ball.
But a copper mug really does help to keep your cocktail nice and frosty. Literally, your hand will freeze if you don't hold it by the handle.
To a copper mug, add ice. Then add fresh lime juice.
Add tequila.
I really love using this small glass measuring cup. I can never remember how much my jiggers hold so this measuring cup keeps things super simple.
I use it to make pretty much all my cocktails.
Top with ginger beer.
Copper mugs can hold a lot of liquid but when making any kind of mule, including a mule with tequila, you don't want to use more than 3 oz. of ginger beer.
The flavor can be overpowering. Don't be tempted to fill the cup to the brim.
A quick garnish with a lime slice and you're good to go.
It's a really unfussy cocktail I promise. It's nice and refreshing. The way a cocktail should be.
While I love this refreshing cocktail in summer, it really is great all year long. It's a little more of a drink than my standard tequila and soda. But still super easy.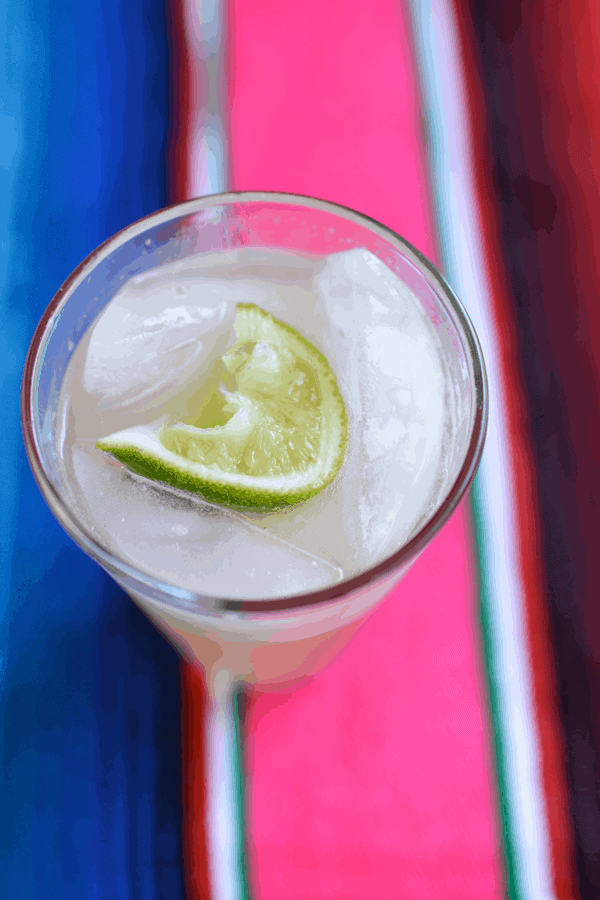 A Tequila Mule is the perfect cocktail to go along with any Mexican-themed menu. If you found this recipe on Pinterest, you may have seen this image. This was from my original post all the way back in 2013!
This delicious Mule (sometimes referred to as a Mexican Mule) is easy to make and a great summer cocktail idea!
I served them for a fun girl's night party I called Chicks and Salsa.
I served Chicken Enchilada casserole and Churro Cream Cheese Fruit Dip which went really great with a Mexican Mule!
Looking for something with an extra kick? Check out my recipe for a legit spicy Tequila Mule with Jalapeno.
Need more tequila drink ideas? Delish.com has 20+ tequila drink recipes for you to browse. Cheers!
Related Recipes
Or see my collections of Easy Cocktails, Moscow Mule Variations, Vodka Cocktails, and Wine Cocktails.
Tequila Mule
If you love tequila, you'll love this Tequila Mule recipe. This refreshing cocktail is a south of the border twist on the classic Moscow Mule. With fresh lime and crisp ginger beer, this yummy drink is a great one to sip any time of year.
Print
Pin
Rate
Instructions
Over a glass of ice, add the fresh lime juice.

Add your favorite tequila and top with ginger beer.

Garnish with a lime slice.
Nutrition
Serving:
1
Servings
|
Calories:
158
kcal
|
Carbohydrates:
17
g
|
Sodium:
8
mg
|
Sugar:
14
g