This apple juice Braised Brussels Sprouts recipe with Bacon recipe is a perfect side dish for any dinner! Or all of them. Who am I to judge? The apple juice gives the sprouts a subtle sweetness, while the bacon adds a touch of salt. I mean, it's bacon. It makes everything better!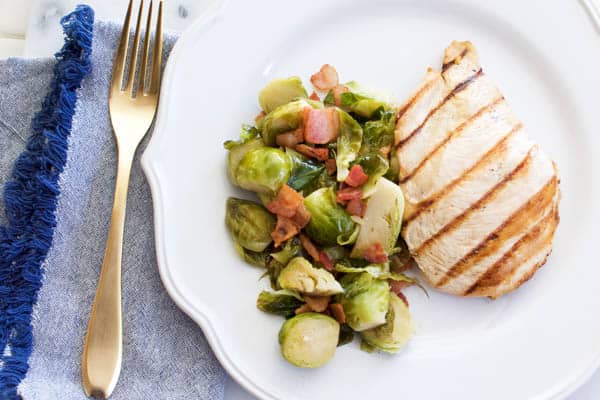 This is the recipe I like to serve people who've never tried Brussels Sprouts before and/or seem afraid of them. I totally get it. Growing up, my mom didn't make them. So as an adult, I took a chance ordering them at a restaurant and instantly fell in love. And I think most people will if they just start with these deliciously easy braised Brussels Sprouts!
These Brussels Sprouts with Bacon are Life-Affirming!
My immediate family LOVES Brussels Sprouts. But at a recent dinner with our extended family, I found out that my in-laws had never tried them! Some people just thought they would be gross, others just hadn't had an opportunity to try them. As a lover of delicious food, I knew that they were missing out on one of my favorite veggies.
Brussels Sprouts (which some people call Brussel Sprouts) are versatile and can be made so many different ways. We eat them about once a week! I eat them raw, sliced in salads (I buy them pre-sliced. Ain't no one got time to do all that tiny slicing themselves!). Most often, I roast them in the oven. Sometimes, I'll do a quick saute in some olive oil and mix them with eggs for a scramble. But the braised Brussels Sprouts are a favorite of the family.
I will be honest with you. I got this recipe from my parents who had been telling me how good this recipe was for months. As any good parent, they finally wore me down and I made them for myself. And now I want them all the time. They got the recipe from here, but I changed it a bit.
What is Braising?
Braising is a cooking method that uses wet and dry heat. Generally, you start out searing something and finish it covered, and cooking in liquid. I'm no Top Chef, I'm a home cook who looks for the easiest way to cook things. Usually, two steps are one too many for me. But braising is really simple. The second part pretty much happens on it's own once you put the liquid in and you can ignore it for a few minutes. At least in this case!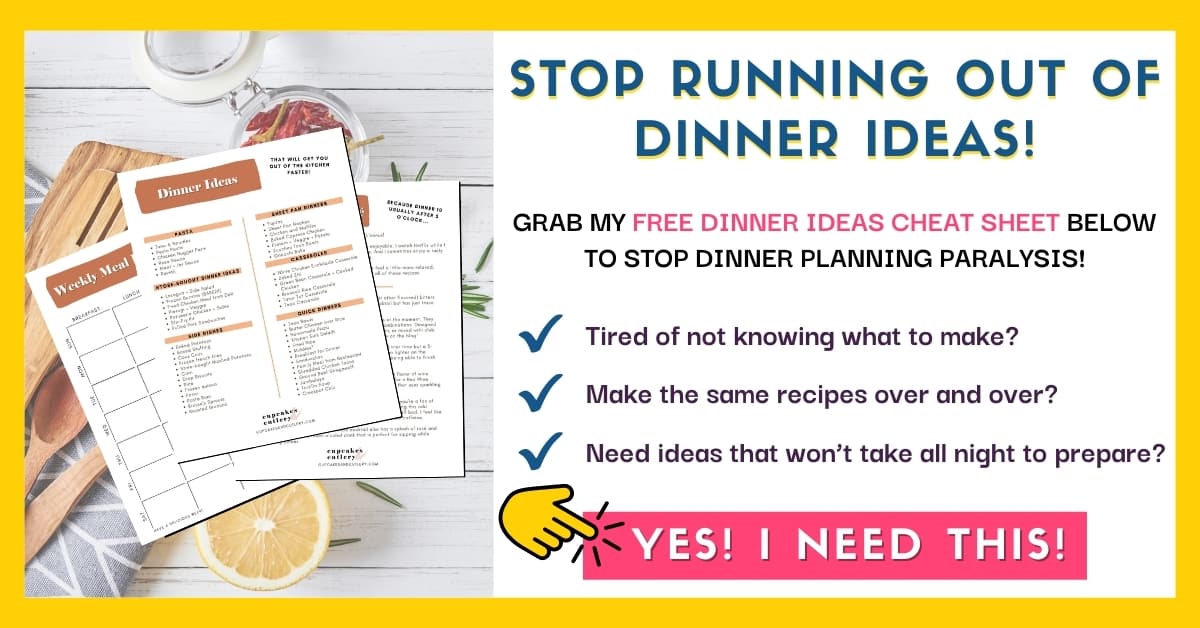 Ingredients
6 slices bacon
2 cups fresh Brussels Sprouts, halved
¼ cup apple juice
½ teaspoon salt
Don't laugh, but the day that I wanted to take photos of this recipe, I had forgotten to buy the apple juice. As it was a race against the light in my kitchen I used the only thing I could find. An apple juice Capri Sun. I think a regular apple juice may have a little bit more flavor. But hey, it didn't ruin it!
Use precooked bacon and chop it into the pan with kitchen shears. (You may lose a little bit of flavor since you won't have the drippings in the pan)
I try to always buy pre-cut or shredded Brussels Sprouts unless I'm really in the mood to cook - which usually I am not. Shredded sprouts will take less time to cook.
Yeah! But that means it won't spend as much time in the apple juice getting all delicious and concentrated and stuff. Boo!
How to Make Apple Juice Braised Brussels Sprouts with Bacon
Did I mention they are super easy?
Brown the bacon in a pan and then transfer to a plate to drain.
Reserve a tablespoon of the bacon grease and add the halved Brussels sprouts.
Be sure to keep your eye on the bacon. It starts to disappear. My youngest will tell me he doesn't like bacon, but without fail, I'll see him eating it.
Saute the Brussels sprouts to give them a little color.
Add the apple juice to the pan.
Cover and let the sprouts steam until tender.
Remove the lid and let the rest of the apple juice cook down to almost gone.
Add the bacon back to the pan.
And then proceed to eat the entire batch. Or share it. Up to you.
If by chance you happen to have some leftover, it tastes delicious the next day. Even cold. Even for breakfast.
The first time I made these braised Brussels Sprouts with bacon, it took a few minutes of coaxing to get my boys to try them. Now they really like them.
These are SO good!
Here is a reminder of what this post used to look like! I originally posted it in 2012! Same great flavor! Fresh new look!
Put these Apple Juice Braised Brussels Sprouts with Bacon in a plate, bowl or trough and cram as many in your mouth as you can.
More delicious side dishes to try!
Apple Juice Braised Brussels Sprouts with Bacon
If you have been wanting to try Brussels Sprouts, this recipe is a great gateway recipe! You'll fall in love and want to eat this easy yummy side dish ALL the time!
Print
Pin
Rate
Save
Saved!
Instructions
In a large skillet cook bacon until crisp, approximately 5 minutes.

Remove bacon to paper towels to drain but reserve a tablespoon of bacon grease in the pan.

Add brussels sprouts and saute for a few minutes, to get a little color on them.

Stir in apple juice.

Cover and bring to a boil over high heat.

Reduce heat and simmer 10 - 12 minutes until tender.

Let the apple juice cook almost all the way off.

Add bacon, salt and pepper.

Serve Immediately.
Nutrition
Serving:
4
Servings
|
Calories:
117
kcal
|
Carbohydrates:
8
g
|
Protein:
8
g
|
Fat:
6
g
|
Saturated Fat:
2
g
|
Polyunsaturated Fat:
4
g
|
Cholesterol:
17
mg
|
Sodium:
598
mg
|
Fiber:
2
g
|
Sugar:
3
g