Perfect for fall, but delicious any time, this list of Cocktails with Apple Juice will give you tons of ideas for tasty drinks to make at home.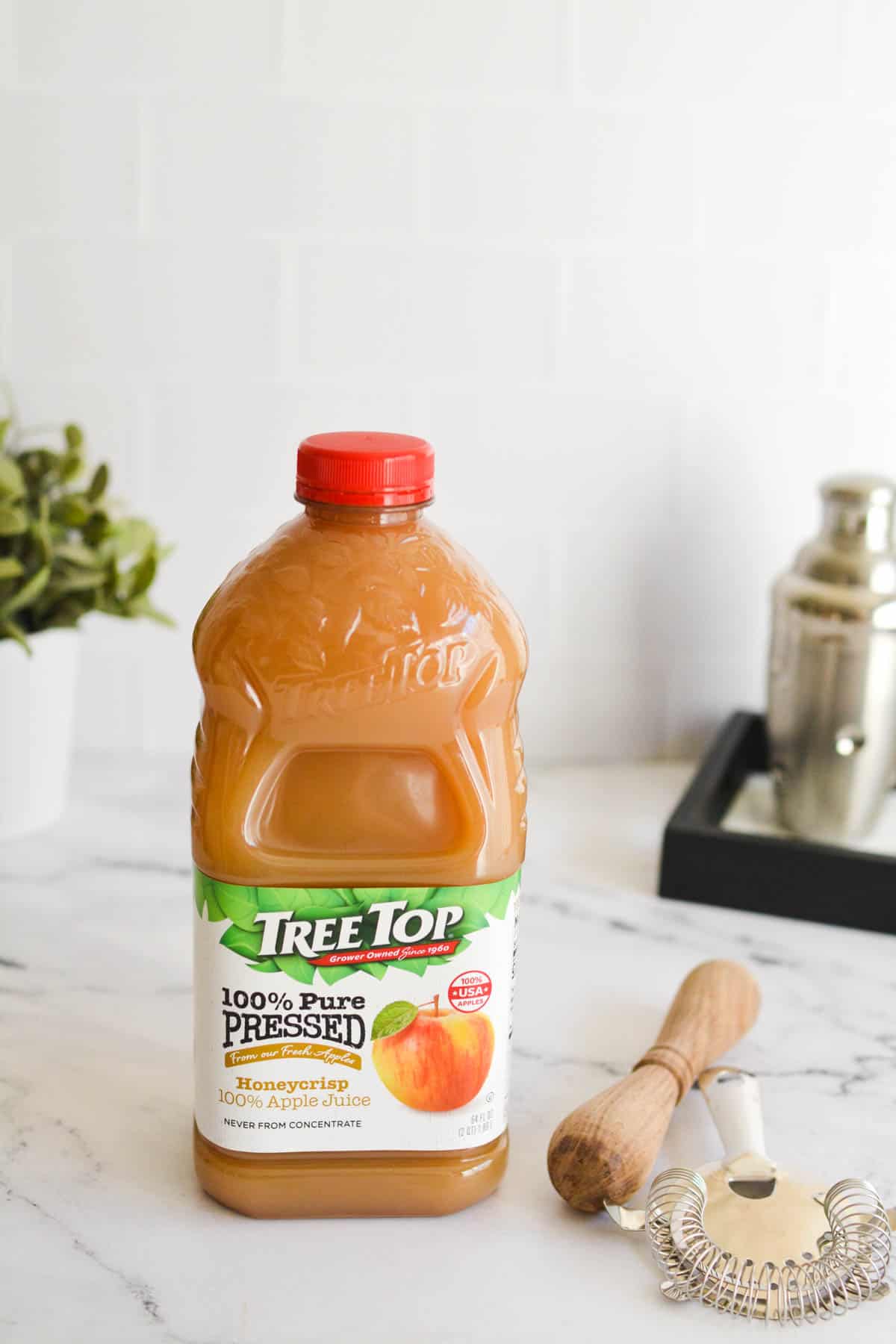 Some links in this post may be affiliate links. As an Amazon Associate in the Amazon Services LLC Associates Program, I earn from qualifying purchases by linking to Amazon.com and affiliated sites. I also participate in affiliate programs for other retailers.
Mixed drinks with apple juice for any time of year
Apple juice (and all the varieties) makes a great mixer for cocktails!
From a super simple Vodka and Apple Juice cocktail to more elaborate recipes, apple juice is delicious when used in mixed drinks.
In many of the cocktails in this list, the apple flavor is subtle. Like, pineapple juice, it is a versatile flavor that lends to a general fruitiness without hitting you in the face with a bold apple flavor.
Dark spirits sometimes lend to a more fall-like flavor when making alcoholic drinks. Whereas, light liquor, like vodka, can make the drink more refreshing and perfect for summer.
As with most recipes, feel free to modify the ingredients to suit your preferences. If you want to make a cocktail with cranberry and apple juice, but don't want it to taste like Christmas, leave out the extra seasonal spices.
Typically I like to make a recipe as written for the first time, so I can see the intended flavors, and then modify from there.
What type of apple juice should I use for cocktails
Apple juice cocktails use a variety of types of apple juice. From the kind basic kind you used to enjoy as a kid, to a fresh-pressed apple juice, you can mix and match based on your preference. Apple juice and apple cider sometimes have minimal differences. You'll just want to be aware of if there are any added spices or flavorings. My favorite apple juice to use in cocktails is Honeycrisp Apple Juice. It has a little more flavor and body and I find has a more flavorful taste!

Cocktails with Apple Juice
Refreshing and full of flavor, this list of Apple Juice cocktail recipes will help you find the perfect drink for your next happy hour.
Shop my bar
More apple recipes
This easy Hot Apple Cider recipe has the best flavor and your kids will love it!
Not a drink, but this side dish recipe braises Brussels Sprouts with apple juice making it sweet and SO drool-worthy! P.S. there's bacon.
This non-alcoholic Crock Pot Mulled Cider recipe uses apple juice to make it sweet and delicious!
More easy cocktail recipes
Or see my collections of: Easy Cocktails, Moscow Mule Variations, Vodka Cocktails, and Wine Cocktails.
Pin to save these cocktails with apple juice for later.