I'm fairly certain you've never heard of a Long Vodka before. I randomly came across it and it sounded delicious! It's lemonade based, with a touch of lime. And vodka. How can that be bad!
To me, this sounds like the perfect cocktail to sip on when the weather warms up! You know I love easy vodka recipes and this Long Vodka is super simple!
Some links in this post may be affiliate links. As an Amazon Associate in the Amazon Services LLC Associates Program, I earn from qualifying purchases by linking to Amazon.com and affiliated sites. I also participate in affiliate programs for other retailers.
What the heck is a Long Vodka?
I had to do a little research on this cocktail. From what I can tell, there are a few recipes floating around but not a whole lot of history. It appears to be a vodka cocktail that is popular in Scotland.
And pretty much nowhere else. When I first heard the name, I definitely thought it was like a Long Island Iced Tea. But it isn't even close!
How to Make A Long Vodka Cocktail
What's in a Long Vodka?
In most of the recipes that I came across, a true Long Vodka needs lemonade and lime cordial. I had to look up what a lime cordial was and it's just Rose's Lime Juice.
I have actually started to use Rose's a little bit in my cocktails because I love the touch of sweetness it adds to drinks without it being over the top.
I'm a fan of easy mixed drinks and I really think most drinks need a touch of fresh citrus so I swapped the lime cordial for fresh. You do what feels right to you!
Beluga Noble Russian Vodka Review
I think someone gave this bottle of Beluga Noble Russian vodka to my husband for some reason. I just grabbed it to use when creating my vodka cocktails.
But I recently did a little taste test of 5 of the vodkas I had in my cupboard so I thought I'd share my thoughts on this one.
Let me preface this by saying I am not a vodka or spirits expert. This is just me, as a regular gal, sharing my thoughts. I noticed that it didn't have a lot of aroma. But it did have a lot of flavor.
It wasn't a bad flavor, but when you are mixing cocktails, you want something that is pretty neutral.
There is a little bit of a burn when you swallow which makes you think it is stronger, even though it might be the same proof as another vodka.
I would use this in a cocktail that requires only an ounce of vodka. Any more than that might overpower the other flavors.
I'm terrible about making sure that I have the ingredients on hand before I start a recipe. I fell in love with Drizly for this reason!
You can buy almost everything you need to make cocktails and have it delivered to your home in about an hour! It's genius.
Steps:
To a tall skinny glass (or whatever you have because I am not the cocktail police) add your vodka.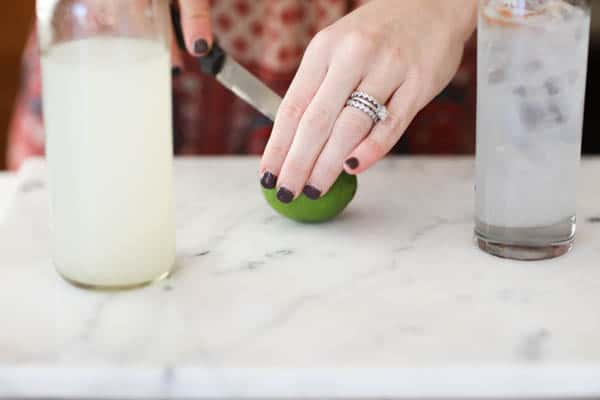 Add your fresh lime (fresh lime is just one of my favorite flavors ever but you can keep things more traditional by using the Rose's lime.)
Give it a little stir (and in your head hum "Stir it Up" by Bob Marley – it happens anytime I hear or write, "stir it up".)
Add a few drops of bitters (don't skip this! Bitters make everything better!)
For real. Bitters are the best! It adds so much depth of flavor and is the perfect finisher to so many cocktails!
Plus bitters are a really fun way to play around with a recipe and change the flavor profile a little bit. I'm dying to try lavender bitters in my favorite bitters and soda drink.
Garnish your drink. A simple lemon slice will work fine.
I'm going to be straight with you. There are very few times I garnish my drink if I don't have company over.
BUT! I will always add a fresh herb to my Moscow Mule Recipes and fresh citrus to my wine spritzers.
Doesn't this Long Vodka sound refreshing?? I think this is the perfect drink to take on vacation.
I like that you can buy one big jug of lemonade (or make your own because how good would this be with Lavender Lemonade?!) that the kids can use too.
I am an over-packer so I try to look for ways to get multiple uses out of what I bring. And I'm also a little cheap when it comes to buying drinks at a hotel because they charge you SO much!
If you need it to be a little bit sweeter you can always add in some simple syrup (I buy the pre-made kind by Stirrings because making your own can sometimes be a huge process-the only exception I'll make is this vanilla cinnamon syrup for my favorite punch recipe.)
Have you ever heard of a Long Vodka?? You could totally also make this with flavored vodka (I prefer to make my own DIY flavored vodka but I also like the Skinny Girl Cucumber vodka).
Maybe I'll just have one of these bad boys tonight…
More Long Vodka recipes to try:
More delicious vodka cocktails:
Printable Long Vodka Cocktail Recipe
This just might be your new favorite vodka cocktail that you've never heard of.
Ingredients
1 1/2 oz. Vodka
3 oz. Lemonade, I like Simply Lemonade as I think it tastes the closest to homemade
1/2 oz. lime juice
2 dashes bitters
Instructions
Fill a tall glass with ice and top with vodka.
Add lemonade, lime juice and stir with a bar spoon.
Top with bitters and enjoy.
Garnish with lemon slices.
Nutrition Information
Yield
1
Serving Size
1 Servings
Amount Per Serving
Calories

240
Total Fat

0g
Saturated Fat

0g
Trans Fat

0g
Unsaturated Fat

0g
Cholesterol

0mg
Sodium

14mg
Carbohydrates

37g
Fiber

0g
Sugar

34g
Protein

0g
Nutrition information isn't always accurate.
Pin this Long Vodka Cocktail for Later
Does this Long Vodka sound like something you would try? Leave a comment and let me know if you've ever heard of this or decide to make it!