Easy Bacon Wrapped Dates with Goat Cheese are sweet and salty and a delicious finger food idea for a family dinner or party that can be ready in less than 15 minutes! With just 3 ingredients, this appetizer is quick and absolutely craveable.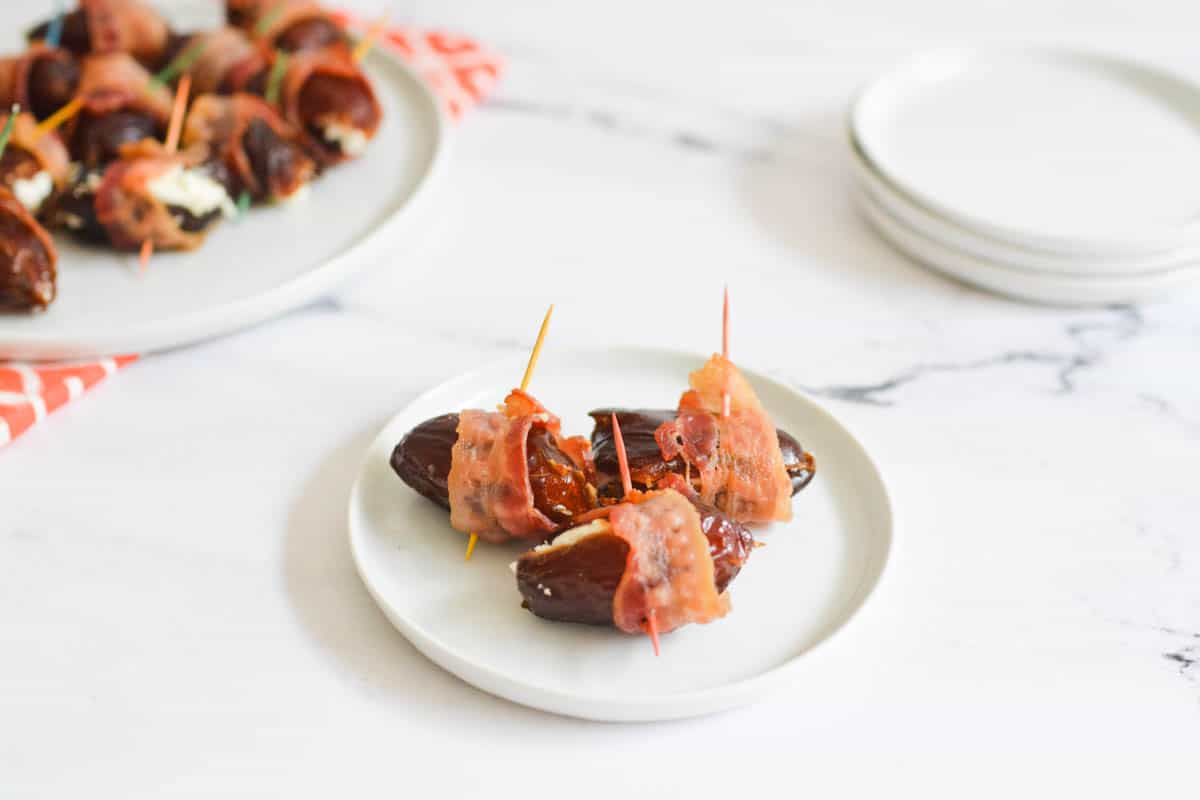 These bacon dates with goat cheese have been sponsored by Schwan's Food Delivery™. All thoughts and opinions are my own.
Jump to:
Bacon Wrapped Dates are Insanely Good
Dates are full of natural sugars so when they are heated, they get a little bit caramelized. Paired with creamy goat cheese and salty bacon, you've got a full-on treat.
Bacon Wrapped Dates, using Schwan's Fully Cooked Bacon, do not need to be cooked, just heated through. This means, besides some assembly, you can enjoy time with your family and not be stuck in the kitchen.
Related: Hot Bacon Dip
The flavor is sweet, savory and salty all at once. They are SO SO good.
This easy appetizer idea is quick to make and helps make dinner time feel a little bit more special. Pair these date bites with Truffle Honey Chicken or a Sheet Pan Dinner for a tasty meal!
Ingredient notes
Scroll down to the end of the post for a printable recipe card with full measurements and more detailed instructions.
For family date night, I like to make an appetizer—something super simple that I know the family will love. Who doesn't love a bacon-wrapped appetizer, amIright?
Pitted Medjool Dates, are easy to find in most produce sections or near the dried fruits and nuts. I usually have dates on hand because I like to use them as a natural sweetener for our smoothies.
Goat Cheese is in the fancier cheese section of the grocery store, but there are many affordable options. It's tangy and creamy and pairs perfectly with the sweet dates.
Fully Cooked Bacon from Schwan's makes this recipe easy!
You will also need toothpicks to hold these together for baking.
These goat cheese stuffed bacon wrapped dates couldn't be easier. The measurements don't make or break the recipe, so you can quickly make these sweet and salty appetizers without any measuring.
On their own, dates are a nice sweet treat, but when paired with goat cheese and salty bacon, they are pure magic.
How to Make Bacon Wrapped Dates with Goat Cheese
NOTE: If using Schwan's Fully Cooked Bacon from the freezer, remove it so it can begin to thaw.
Step 1
Slice dates down one side and make sure the pit is removed (if you buy the pitted dates, they will most likely already be cut for you at least partially).
Dates can sometimes have thick "hairs" in the packaging with them. Just pick them off and throw them out. It's part of the plant but you wouldn't want it in your appetizer.
Step 2
Using a butter knife or other spreader, add goat cheese to the center of the dates. This doesn't have to be perfect and it can spill out.
One 4 oz. log of goat cheese was enough to fill about 16 dates with a little bit left over.
Step 3
Cut or tear each piece of bacon in half.
Step 4
Wrap a half piece of bacon around each date and secure with a toothpick.
Step 5
Place on an aluminum foil-covered baking sheet prepared with a little bit of cooking spray.
Step 6
Bake in a 350-degree oven for about 6 minutes. They are already cooked, you just want the bacon to crisp up and for the goat cheese to be warmed through.
Step 7
Remove to a plate covered with a few layers of paper towels to absorb some of the grease.
These goat cheese-filled dates can be served warm or at room temperature. These. Are. So. Delicious.
This appetizer is totally nostalgic for me. I used to work in catering at a hotel, and these were always the favorite appetizer served at every event.
Adding an appetizer to dinner at home feels different. It's a super simple way to keep things from feeling run-of-the-mill.
But, of course, it's also just a great appetizer to serve when you're having any kind of party. Because, yum.
Tips and Tricks
One of my favorite kitchen hacks is fully cooked bacon so when I saw this package from Schwan's, I knew I needed it.
It's kept in the freezer and the quality is outstanding. It makes it easy to grab and make for breakfast or use in recipes like these goat cheese stuffed dates.
Using fully cooked bacon saves a lot of time and ensures that there are no overly fatty pieces and that the bacon gets fully cooked everywhere. I hate when that happens.
If you're looking for a wine pairing, try chardonnay or viognier. They complement the sweet/savory/salty combo well! Or try Sauvignon Blanc. It's always my favorite.
Swap out for blue cheese, cream cheese or other creamy cheese if goat cheese isn't your favorite.
Want these to be even sweeter and candy-like? Brush the outsides of the bacon with some honey before baking.
Frequently Asked Questions
What cheeses pair well with dates?
Dates are delicious when stuffed with soft cheeses like goat cheese, cream cheese, feta, or ricotta.
All I can find are dried dates. Do I need to rehydrate them?
No! Just stuff them with your favorite filling and wrap them with bacon as usual.
Can bacon wrapped dates be frozen?
Yes, just make sure they're in an air-tight container lined with parchment paper. Place parchment in between layers of dates. This is great when preparing these ahead of time for a party.
Did Schwan's change their name?
After 70 years, Schwan's is changing their name to Yelloh. The fresh new branding and identity are aimed to draw in new customers. As far as we can tell the offerings will remain but the products will have new packaging.
This quick and easy appetizer recipe is full of sweet and salty flavors that your family will love!
Plan a Family Date Night
Their Chicken Florentine Skillet Meal and Cookies and Cream Ice Cream sundaes make a great menu for family date night or any night!
We spend time together during the normal hustle and bustle of the week. But it's rushed time. It's moments between items on a to-do list.
I find that dinnertime can be a great way to slow things down and enjoy time together.
While most busy weeknights might not feel like the perfect time to have a family date night, I'm here to tell you that you can do it with ease!
A family date night doesn't have to be fancy. But dinner should just feel a little bit extra special and out of the ordinary.
Just put on some music, maybe light a candle, and change up the atmosphere.
Schwan's.com offers a wide variety of frozen-fresh meals, made with real ingredients that you cook at home. Most meals can be made in under 30 minutes and the delivery is so convenient.
Head over to Schwans.com to see what easy meals you could be making! But as you may have heard, by the beginning of 2023, Schwan's will be called Yelloh! With the new name will come a new look.
Ice cream sundaes (or make them Ice Cream Nachos!) are the perfect way to finish off family date night. Just a few easy toppings make it feel special without taking any real effort.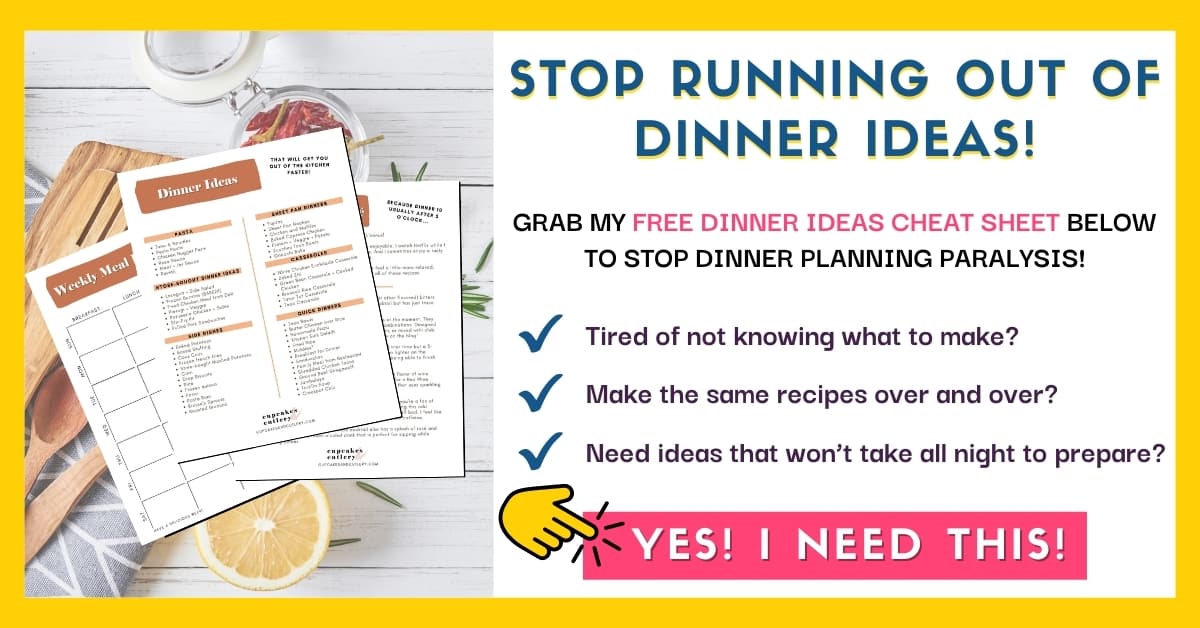 More goat cheese recipes
More easy appetizer recipes
Bacon Wrapped Dates with Goat Cheese
This sweet and salty appetizer recipe takes just a few minutes to make and will leave you not wanting to share! With just 3 ingredients, these Bacon Wrapped Dates with Goat Cheese are creamy and delicious.
Print
Pin
Rate
Save
Saved!
Equipment
Knife

Spoon

Baking sheet

Toothpicks
Instructions
Remove bacon from freezer to thaw if frozen.

Preheat the oven to 350 degrees.

Prepare a cookie sheet with a piece of aluminum foil sprayed lightly with cooking spray.

Make sure each date has the pit removed and is cut down one side so you can open it up (but is not in two pieces)

Using a butter knife or spreader, add a small amount of goat cheese (about 1 tsp) to each date.

Cut or tear each piece of bacon in half.

Wrap a half piece of bacon around the date stuffed with goat cheese.

Use a toothpick to keep the bacon wrapped.

Bake in the oven for about 6 minutes.

Remove to a plate covered with a few layers of paper towels to catch the grease.
Notes
Can be eaten warm or at room temperature. I'm not even mad at the cold ones. It's all good.
If you don't mind a little gristle, you can use uncooked bacon. The flavor is a bit stronger, but sometimes you end up with fatty parts that feel a bit rubbery. I prefer to use pre-cooked bacon.
Nutrition
Serving:
12
Servings
|
Calories:
84
kcal
|
Carbohydrates:
14
g
|
Protein:
1
g
|
Fat:
3
g
|
Saturated Fat:
1
g
|
Polyunsaturated Fat:
1
g
|
Monounsaturated Fat:
1
g
|
Trans Fat:
1
g
|
Cholesterol:
5
mg
|
Sodium:
55
mg
|
Potassium:
142
mg
|
Fiber:
1
g
|
Sugar:
12
g
|
Vitamin A:
31
IU
|
Calcium:
12
mg
|
Iron:
1
mg