This Summer Music Playlist is my go-to when I want chilled-out, easygoing songs that are cool and a little dance-y.
This mellow indie playlist is 10.5 hours of music. While I'm not often at the beach at sunset, this playlist gives off those vibes and brings them to my patio for a party, in the kitchen, or wherever I happen to be.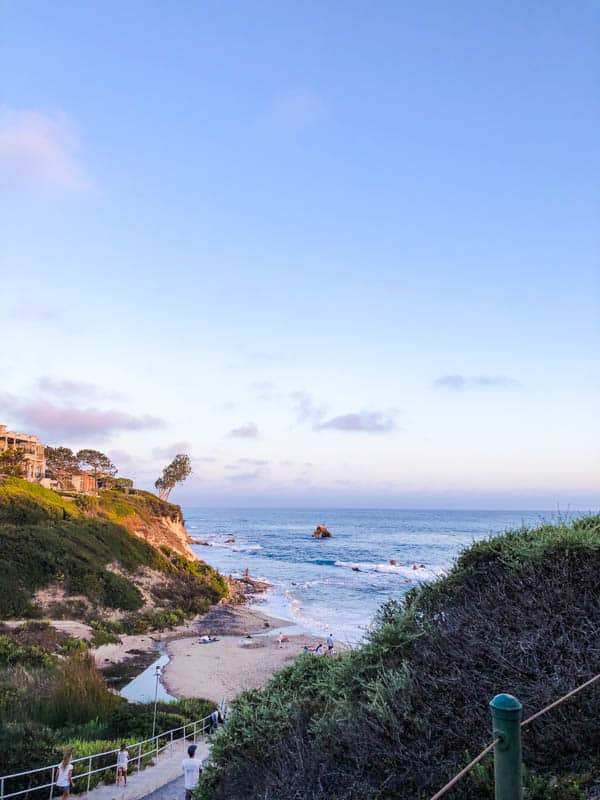 Jump to:
The perfect playlist for summer
I literally can't get enough of this sunset playlist. I started it a few years ago and add songs to it whenever they fit the vibe (that make me feel like I'm relaxing with an ocean view right as the sun goes down).
This Beach at Sunset Summer Music playlist is my FAVORITE! It features both new and old songs and the overall feel is cool but will cause some minor chair dancing.
I'm a huge music lover and a good playlist can make or break an activity for me. I also hate when a playlist is short and you have to keep figuring out what to listen to instead of just relaxing and enjoying yourself.
I do sometimes listen to this during the day but mostly I start it when I'm cooking dinner. This summer playlist also pairs perfectly with a nice crisp white wine.
This is also our go-to playlist for when we sneak away for a beach getaway. We put it on our portable speaker the last time we stayed in Laguna Beach (even though Hotel Joaquin has record players in every room I couldn't skip this playlist.)
This music gives beach at sunset vibes
Another thing that I love about this summer music is that it's pretty appropriate for families. We got over kids' music when our kids were still pretty young and just encouraged the kids to find the sounds that they enjoyed.
Words are just words and I don't fret over an "f" word in a song.
So, just know, that there are probably a few bad words in these 10 hours of music. Make it a teachable moment. :)
I also love to listen to this playlist in the car when I know I'll be driving for a while. My 13-year-old son recently commented, unprovoked, that it was a great playlist. So there. Totally validated.
A great summer party playlist!
This is always the playlist I put on as background music when we have company over. It's just a nice vibe. A vibe is so hard to explain isn't it??
Most of my playlists are created with a certain vibe in mind so often the title will try to convey what feeling you should have while listening. The Beach at Sunset, at least to me, is relaxed, casual, beautiful, and melodic, the perfect way to end the day.
It's music that is great in the background but by no means background music. It makes you feel like your toes are dug into the cool sand and that the ocean is gently crashing in front of you. Yes, this playlist does all that.
Song list of great summer music
LINK TO SUMMER PLAYLIST: LISTEN TO 'BEACH AT SUNSET' ON SPOTIFY
Listed above are just a few of the good summer songs on the playlist. Most of the songs would probably be considered indie rock, but since I love all kinds of music, you'll find some other genres sprinkled throughout too. I like to keep things interesting.
Frank Ocean and Theophilus London give you some more rap/R&B vibes. I think of Mayer Hawthorne at modern-day Yacht Rock (you should also check out my Yacht Rock Playlist. That's more of my summer afternoon playlist.). And Day Wave is the epitome of summer sunset vibes.
If you don't know who some of these artists are, think of this as your chance to try them out and see if you like them. If you do, you can explore the rest of their music. You might find someone you really like! I love when that happens.
How to Listen to this Summer Playlist
You can listen to this 10.5 hours of music with my Spotify playlist.
The best way to listen to this summer playlist is to put it on shuffle. One of the reasons it is so long is that some of my favorite bands create the perfect music for chilling out so there are several songs by those people or groups.
Also, when you shuffle, you mix up the songs so you don't too familiar with the playlist. I love all of these songs, but I like variety and not listening to them all in the same order.
I also encourage you to get a good portable speaker (or go charge the one you have) so you can always have this with you!
If you hear a song you like that you think would be a great addition, Shazam it and let me know!
Shazam is such a great way to find out who sings a song that you have fallen in love while it's playing. I Shazam songs all the time, when I find a vibe I like, and then add them to my playlists when I get home.
More playlists you'll love for summer
This extra-long Beach at Sunset Summer Music playlist is just what you need to help you ease into a relaxing summer evening. Put this on in the background and just enjoy the vibes that this indie music list of songs will provide. You can almost feel the sand under your feet.
Save and pin this playlist for later!
Save this playlist for later by pinning it or clicking the teal heart at the bottom right of the page. Make sure you're following me on Pinterest, Instagram and like my page on Facebook. If you love this playlist, be sure to leave a comment or share it with friends!