A few simple hacks can really speed up your nightly meal prep. These dinner shortcuts will help you get your meal made faster so you can get back to more of what you love. You'll feed your family well and not get stuck in the kitchen for longer than you have to be.
Jump to:
Easy Dinner Shortcuts Can Cut Cooking Time in Half
If you're struggling to get dinner on the table on busy weeknights, I feel you! It can be so hard to come up with dinner ideas night after night.
But instead of throwing in the towel and ordering take-out, why not give some of these easy shortcuts a try? You'll be happy you did when you see how simple it can be to prepare a delicious dinner for your family in a fraction of the time.
Related post: Get Dinner on the Table Fast
After a busy day, the last thing you want to do is spend an hour or more in the kitchen making dinner.
Who wants to waste time in the kitchen prepping and cooking when they could be having fun instead? With these simple dinner shortcuts, you'll be able to cut your cooking time in half – and spend more time relaxing or enjoying a favorite cocktail.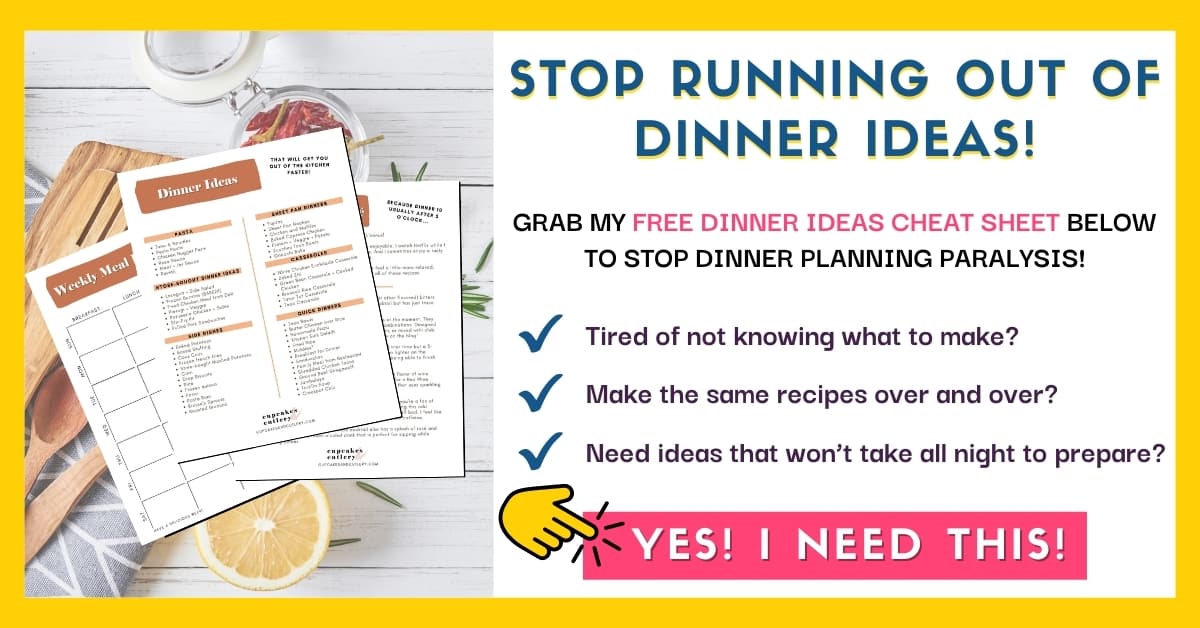 Shortcuts are Perfect for Weeknights
I love cooking. But I don't love wasting time in the kitchen. So, whenever I can find a quick and easy way to cut down on prep work and clean-up, I make a note of it.
If you are looking to get dinner on the table fast so you can get out of the kitchen and on with life, these tips are for you! And you'll also want to check out these super fast dinner ideas that barely require cooking.
These simple dinner shortcuts (plus a few must-have kitchen gadgets) will help make weeknight cooking faster and easier. From using pre-prepped ingredients to planning simple dump-and-go recipes, you're going to love all these easy cooking hacks!
Whether you're using a last-minute dinner idea or putting together more elaborate meals on the weekends, these tips are helpful for you, too!
Just because you're putting a little more time and effort into your meals doesn't mean you can't use some help prepping and cleaning!
My Favorite Dinner Shortcuts
This post is a little bit different than my Last Minute Dinner Ideas post. That is more about what to make rather than how to make it faster. But it's still full of tons of great tips and inspiration.
With the help of these kitchen hacks, you can whip up a delicious dinner that everyone in your family will love - even on a hectic weeknight. The next time you're in the kitchen prepping dinner, try one of these easy shortcuts.
1. Read the Recipe
Read the recipe all the way through. Taking a few minutes to read the recipe before you start cooking will help you stay organized and get the prep work out of the way first.
I can't tell you how often I start to make dinner and then find out I don't have a certain ingredient or haven't given myself enough time. I read the recipe on the day I do my menu planning and again before I gather the ingredients. Trust me! This helps.
Nothing adds more time in the kitchen than having to pivot, last second, to come up with something else to make on the fly.
2. Buy Pre-Prepped Items
Buying pre-prepped items really saves on time. I always have frozen onions on hand. And if I'm making zoodles, I buy the pre-zoodled zucchini whenever possible.
You can find these types of products in the fresh or frozen sections. Look for these at discount stores since these can typically cost a little bit more because of the convenience factor.
If your budget won't allow you to buy everything pre-prepped, think about what activities you have on each day to know which day you will have a little bit more time.
You can adjust your meal according to your busiest days or know specifically what ingredients to buy, pre-prepped, that will save you the most time.
3. Pick One Day to Prep
I try to chop and prepare any ingredients that need hands-on time on Sunday afternoon. It makes cooking on the weeknights faster and I try to make that time more leisurely and fun by turning on music and pouring a glass of sauvignon blanc.
By doing this on a day with less stress, it feels less like a chore but really does put you ahead for the week.
If I can't get it done on the weekend, I look at my schedule and on a night that isn't too busy, I'll try to prep for as many meals as possible. Or sometimes, I'll just get the meat prepped.
4. Mix Up the Meal Plan Using Easy Meals
Plan one "dump dinner" a week (or more!). Just open cans, dump them in a pan and stir while they heat. They are usually really quick and are a great break for mom. Plus, if you want to get the kids involved, these are almost fool-proof.
My Tortilla Soup Recipe is a perfect example of a dump dinner! And it's delicious too.
5. Rotisserie Chicken is a Hero
Rotisserie chicken is your friend. Grab a precooked one from the deli or roast a whole chicken at home. Serve it as the main course or use it in any recipe that calls for cooked chicken.
It's a great, simple way to get protein for your meal. You can use it as is, jazz up a store-bought chicken or use it in another recipe that calls for cooked chicken.
6. Don't Forget the Freezer
Frozen is your friend. I always have frozen rice and quinoa on hand. I also always have frozen, chopped onion as well as garlic and ginger cubes.
These items are a great way to add another layer of flavor that makes a dish feel more homemade even if you are using other shortcuts.
And if you are a batch cooker, you can always grab a meal you've prepped (or maybe even pre-cooked) to save you tons of time when you need it.
7. Look for Sanity Savers
Sometimes getting out a cutting board or kitchen tool just feels like too much work. I like to keep garlic paste in the fridge at all times. While fresh crushed garlic tastes best, this is a super quick way to add flavor to whatever you are cooking.
No extra tools are needed. I also add a squeeze of this to my farro salad when I'm eating it warm.
Kitchen sheers are another sanity saver. I use them ALL the time! You just hold the chicken and cut it up how you need to. It's so quick and easy.
8. Save Homemade for Weekends
Jarred sauces are legit. You can use them as-is or jazz them up by adding a few extra spices. You can even combine a few sauces (like with Rosa Sauce) to create a new sauce.
Adding red wine to marinara is a win and makes it feel more like homemade.
But don't just stay in the pasta aisle! Jarred Butter Chicken sauce saves tons of time from making it from scratch and has so much flavor.
Browse the aisles on the days you have extra time and look for things that you can keep on hand for those busy nights where you need a shortcut!
9. Don't Skip Set it and Forget it Meals
Walk away. Not only do I have a dump dinner night, but I look for recipes that let me walk away once I've done the initial assembly. A baked fajita, enchilada casserole, sheet pan dinner, etc., let me feel like I'm not spending tons of time on dinner even though it may need to cook for a while.
I also look for things to make in the crockpot. Moving the dinner prep to a less stressful time (usually the morning) is a great way to get dinner started and then I just ignore it until it's ready!
10. Salad Mixes Aren't Just for Salads
Bagged salad mixes let you create a hearty salad bar with ease or save you from cleaning and chopping lettuce for your recipe. I don't know why I hate lettuce so much but it feels like too much work for not a lot of payoff in the flavor department.
Like in my fish stick tacos, you can use bagged salad to replace just about any recipe that calls for lettuce. Same with coleslaw mix.
11. Rachel Ray is Right About a Garbage Bowl
A garbage bowl saves time during prep. Instead of having to reach for your garbage can, you can keep your workspace confined to the area directly in front of you. It also keeps me from dripping all over the floor which I then have to clean.
Thank you Rachael Ray for this brilliant tip. I seriously ALWAYS use a garbage bowl.
12. Gather Everything
Get it together. Before you start cooking anything, gather everything in one spot. This keeps you focused and ensures you have everything you need when you start instead of finding that out halfway through the recipe. (See, a recurring problem for me.).
You can also use your clean garbage bowl to help you gather everything and take it to the counter.
Cutting down on the trips you have to take to the refrigerator or pantry is a super quick shortcut that cuts down on the time it takes to make the recipe.
13. Don't Be Afraid of the Microwave
I embrace the microwave! We don't do a lot of reheating but I use it all the time to cook my frozen rice, thaw frozen protein or pre-cook certain things.
By cooking things partially in the microwave you can speed up the cook time needed for the final recipe. You can do this for meats, potatoes and anything else that usually take a longer time to cook.
14. Look for Other Cooking Methods
My kitchen is small so I try not to buy all the gadgets BUT there are a few that just make sense!
An Instant Pot is a great way to speed up a recipe. I always just do a quick Google search to find the recipe and give me the exact timing to set my machine for.
And I'm just getting started with the air-fryer! It also helps to speed up the cooking and I love how it makes my vegetables crisp up.
Of course, the oven is a classic but there are ways to get done quicker with another appliance.
15. Shop Your Pantry
Allow yourself to get super creative and shop your own pantry! This list of easy pantry dinner ideas will inspire you to use what you already have to get dinner on the table fast!
It may challenge you, but if you set your expectations low and use whatever cooking skills you have, it might be kind of fun!
Keep These Shortcuts in Mind When You Entertain
These dinner shortcuts aren't just for weeknight meals during the witching hour, you should also keep them in mind when you plan to entertain! No one wants to be stuck in the kitchen while the party is underway. These shortcuts will keep you in the mix and make sure your guests are fed.
Save and pin these dinner shortcuts for later!
Save these shortcuts for later by pinning them or clicking the teal heart at the bottom right of the page. For more recipes and easy ideas, make sure you're following me on Pinterest, Instagram, and like my page on Facebook.
Do you have a favorite dinner shortcut?? Leave it in the comments!
More Easy Dinner Ideas