Yes. This is pretty weird. It's a Cheetos and Rosemary Crusted Goat Cheese Appetizer. I've been wanting to make this for a long time. So instead of just thinking about doing it. I did it. You're welcome. Like with fashion, I love the mix of high and low. This is a similar concept. Goat cheese is sometimes put on foofy salads or a high-end pizza. And Cheetos, well, those are what you shovel into your face by the handful while you may or may not be sitting on the couch watching TV in your underwear. And really, you just can't go wrong putting anything on a crostini so this appetizer really can't fail.
I will say that I was surprised at how subtle the Cheeto flavor was when you grind them up. You would think that with a snack food that leaves your fingers orange for days, it would have a stronger flavor. And while I wanted the final photo to look cleaner and more pretty, I decided to keep it the way I eat it. I hate the ratio of crust to a goat cheese in most log appetizers. I always want more crust. So instead of doing this for the photos, like I guess a good blogger should, I kept it real. Because you know I did eat this for lunch that day.
All you need is a party size bag of Cheetos. Sure, you only use a cup for this recipe but you know you want to dive face first in to that bag when no one is looking. Pick up some fresh rosemary (you need a strong flavor to balance the chemcheese) and a log of the goat cheese (Trader Joe's has these small ones for a great price but Costco has a two pack of the larger logs that would be perfect for your holiday entertaining). I feel like I need to stop saying log.
It just takes a cup. You could probably even use less because it made a lot. Like, so much extra that you could eat it with a spoon if you wanted to. Not that I did. Or maybe I did. MYSTERY! (said with dramatic hand flourishes). This cheese dust would probably be enough for two of the small logs. Is anyone else as excited about this appetizer as I am? Gosh, I love Cheetos. By the way, this is not sponsored. I bought my own bag of Cheetos. This appetizer is straight from my heart and muffin top to yours.
Then you grind the Cheetos up in the food processor.
Chop up your rosemary and add in your salt and pepper. Mix well. I think I am going to start wearing fresh rosemary as a perfume. It's so fall-like.
Toast up your baguette from the bakery section of your store.
Roll your pretty white goat cheese log in the Cheetos dust mixture. Plate it and go to town.
Feel free to fiddle with the spices until you come up with what is perfect for you. I think this tasted yummy with extra salt, it brought out the cheese flavor of the Cheetos a little bit. The amount of sodium in this recipe is probably off the charts…just saying. This may even benefit from some garlic powder. I'm going to give that a try next time. And there will be a next time. This will surely get your guests talking.
I like to do things out of the ordinary to delight my guests. And again, its cheese on some toast. It's always going to be good. This is also super simple to make and can be made ahead of time for your party. So you'll have extra time to take the rest of the bag of Cheetos to the couch and chow down.
I hope you try this out! Let me know if you do! If you decide to share it on instagram, tag me @cupcakescutlery! I'd love to see it!  And if you haven't tried this gorgeous rose goat cheese appetizer yet, you need to. It's what made me like goat cheese. And eating roses. And sumac (it's a spice).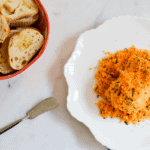 Cheeto and Rosemary Goat Cheese Appetizer
If you're a junk food lover like me you'll want to try this fun appetizer recipe crusted with goat cheese.
Ingredients
1

cup

crushed Cheetos

2

TBSP

fresh rosemary

finely chopped

1/2

tsp

fresh ground black pepper

1/2

tsp

or more salt

1

large log Goat Cheese or 2 small logs

1

French baguette

2

TBSP

olive oil for brushing on baguette slices
Instructions
Add 1 cup Cheetos to a food processor.

Pulse until finely ground

Add chopped rosemary, salt and pepper.

Mix until well combined.

Roll goat cheese log in Cheeto mixture until fully covered.

I like a lot of Cheetos dust so I placed a bed on the plate and then set the crusted goat cheese log on top.

Serve with oven-toasted crostini
To make crostini:
Slice baguttte and lay out on a sheet pan.

Drizzle or brush with olive oil.

Bake at 325 for about 12 minutes watching to make sure they turn golden brown and do not burn.