This Beet and Goat Cheese Arugula Salad is one of my favorite simple lunch recipes! While I often make this 4-ingredient salad for myself, I also love to share this with my mom friends.
It can be hard to meet up with my best friends, especially during the week. Hosting them for lunch means we get to chat and catch up and then everyone goes on about their day!
This arugula salad makes the perfect lunch date recipe!
Some links in this post may be affiliate links. As an Amazon Associate in the Amazon Services LLC Associates Program, I earn from qualifying purchases by linking to Amazon.com and affiliated sites. I also participate in affiliate programs for other retailers. Originally posted April 28, 2017.
This shop has been compensated by Collective Bias, Inc. and its advertiser. All opinions are mine alone. #AquafinaSparkling #CollectiveBias
What to Make for Lunch with Friends
It may seem counterintuitive to invite people into your home so you can keep things easy. But for me, it's the best way to work in time with my friends.
It's easy because I don't have to scurry around and clean up the house before they arrive or make sure my clean (or dirty) laundry is hidden. These are the gals that don't judge if my house isn't vacuumed. I don't need to break out the fine china for them.
We just crave time together to laugh and break bread. (Note: you should always have carbs for your best friends).
This arugula salad with beets, goat cheese and candied pecans couldn't be easier and is SO delicious!
And it goes perfectly with Aquafina Sparkling (it's unsweetened which is my fave!).
How to Make a Beet and Goat Cheese Arugula Salad
If you serve this combo to your friends, they'll probably ask you to host it weekly…
Ingredients:
Arugula – the perfect peppery base for this simple beet salad.
Goat Cheese – the cheese is so creamy!
Beets – roast your own or buy pre-cooked beets from the store to keep this salad extra easy.
Candied Pecans – a sprinkle of the candied pecans adds the best crunch and sweetness!
Simple Balsamic Vinaigrette – olive oil, balsamic vinegar and salt and pepper create the perfect dressing to drizzle on.
The trick to this salad is the beets. Beets are a PAIN to roast. But they are so tasty in this salad with tangy goat cheese.
I never would have made this salad a few years ago. WAY too much work. But now you can find pre-cooked beats in most stores! I always have them on hand for this salad in particular.
And all the other ingredients in this recipe are pretty much ready to go. That means that I don't have to take much time out of my workday to prep for the meal.
The simple balsamic vinaigrette adds just the right amount of sweetness and tang and goes so perfectly with the peppery arugula.
Make sure you grab good quality olive oil and balsamic vinegar since their flavors really shine through!

To make the beet and goat cheese salad, just add all your ingredients (except the goat cheese) to a large bowl, drizzle with some dressing and toss well!
I like to plate the salad for my friends and have them ready at the table when they arrive.
We all have such busy lives that I want to make sure lunch doesn't drag on and on. Of course, we want it to but we know that if we keep these lunches in check, we can do them often.
I put whatever salad that doesn't fit on the plate into a smaller bowl to set on the table.
Because second helpings of salad are always acceptable.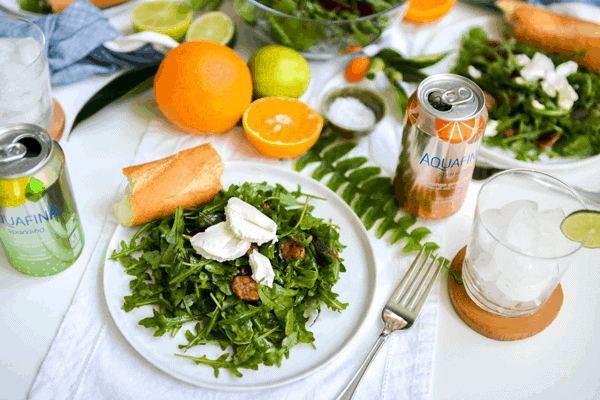 The finishing touch is the goat cheese! SO good! Place a bit of baguette on the plate and the meal is ready! Like, literally took 5 minutes to make the whole thing.
Talk to any woman our age and we're always on some kind of diet or at the very least watching what we are eating and trying to focus on our health.
I love to have these Aquafina Sparkling beverages on hand because they don't have any sugar, calories or artificial flavors. Aside from wine, I prefer to eat my calories.
So I love that these are the perfect way to add some excitement to the day without making me feel guilty! We have enough mom guilt, what we are drinking shouldn't add to it!
Set Your Table for a Gorgeous Spring Lunch with Friends
Your girlfriends aren't coming over and expecting some big shindig. But it is fun to surprise them with a nice table.
The fresh fruit is such a great way to bring color and scent to the table (I made sure the fruit matched my favorite Aquafina flavors – Lemon Lime and Orange Grapefruit, but they recently released also Black Cherry Dragonfruit and Mango Pineapple too!).
I always pick up a few of the 8 pack boxes when I'm at Target so I have these to offer my mom friends when they come over. We are all big water drinkers, but these are a great way to take it up a notch and drink something slightly fizzy and fun.

I always make sure to set out the extra candied pecans that didn't get tossed in the salad. They are perfect to munch on while waiting for all my friends to arrive or at the end of the meal in place of a big old dessert (which we usually save for girl's night). OMG! SO GOOD!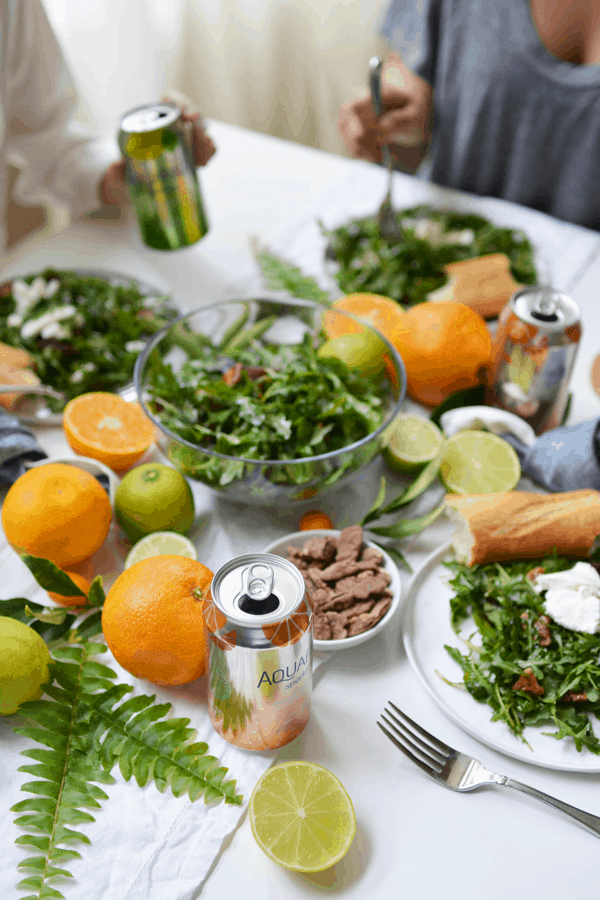 What I learned from this lunch, as I photographed my friends enjoying it, is that some people don't love beets. Others don't love goat cheese. But everyone loves candied pecans.
I only started to enjoy goat cheese this past year so I totally get that it isn't for everyone.
Most of us know what our friends will probably like but just as a precaution, you might want to let them in on the menu, beforehand, to make sure they don't hate all the things.
But now we have another bonding moment to share and we can all look back and laugh, someday, about that time I made them eat things they don't like…
Busy moms need to stop and eat too. Just think of how excited your friends will be when you invite them to lunch at your place. They don't have to know how easy it was, they just need to know that you want to spend time with them.
And if you're lucky, they might even ask you for the Beet and Goat Cheese Salad Recipe.
Beet and Goat Cheese Salad
This is one of my favorite salads to make for lunch at home! It's perfect for a mom date with your girlfriends.
Print
Pin
Rate
Ingredients
Instructions
Remove beets from package and slice.

In a large bowl, add arugula, beets and candied pecans.

Mix 1/2 cup olive oil with 4 TBSP balsamic vinegar and 1/4 tsp salt in a mason jar and shake well to mix.

Pour dressing over salad and toss well.

Plate the salad and top with goat cheese slices.

Serve any remaining salad and candied pecans on the table.
Nutrition
Serving:
4
Servings
|
Calories:
427
kcal
|
Carbohydrates:
14
g
|
Protein:
5
g
|
Fat:
41
g
|
Saturated Fat:
6
g
|
Polyunsaturated Fat:
33
g
|
Cholesterol:
3
mg
|
Sodium:
280
mg
|
Fiber:
3
g
|
Sugar:
10
g
Aquafina Sparkling can be found at your local Target store. It's the perfect balance of a little bit of fun and flavor in a convenient can at the right price!
They truly are the perfect unsweetened sparkling water to serve your busy mom friends. Visit the Social Hub to find out even more ways to add excitement to your day with Aquafina Sparkling!
More Salad Recipes:
More Lunch Recipe Ideas:
5 Quick Lunch Ideas for Mom
Pin This Arugula Salad for Later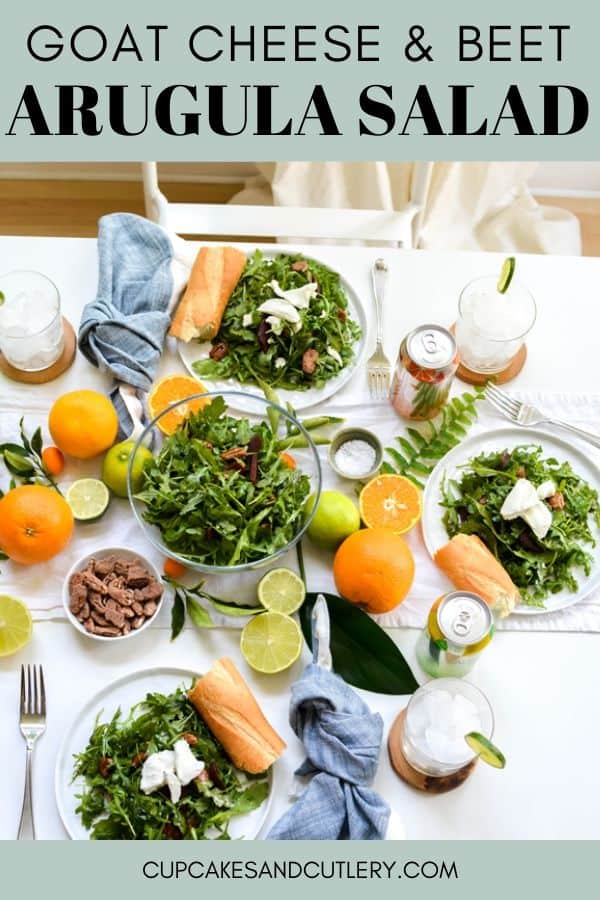 I think you're going to love my go-to lunch idea that is this yummy Beet and Goat Cheese Arugula Salad!