This non-alcoholic Pina Colada Slush is the perfect summer mocktail for your kids. With coconut and pineapple flavors, this frozen drink is tasty and refreshing. Make it for all your parties and barbecues. It's great for a crowd!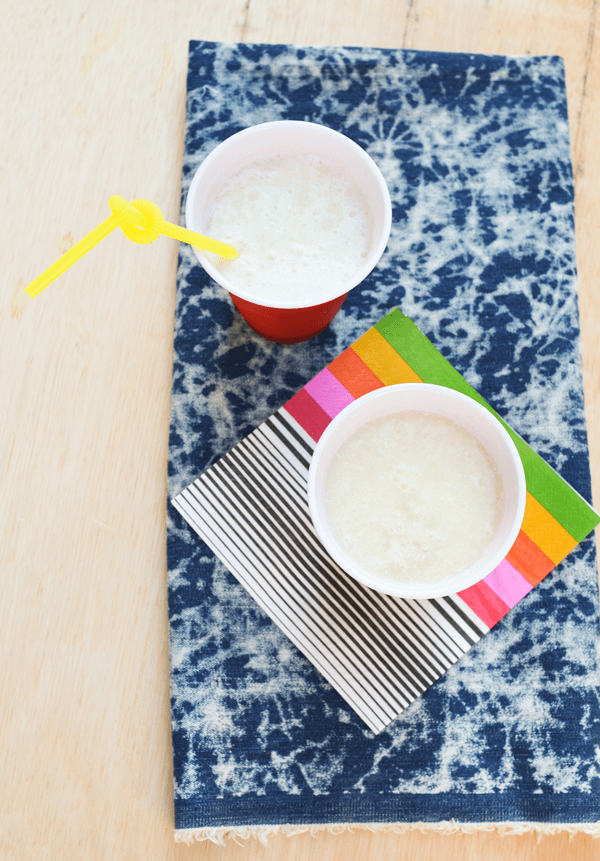 When you have kids there are so many things you can't wait to share with them. For me, it's the stuff that makes me super happy. Things like a beloved family vacation spot, music, TV and movies from my youth, and delicious goodies my mom used to make for me and my sister.
I was flipping through my "family cookbook," which is a binder of recipes my mom put together for me when I moved out of her house. I came across this crazy delicious Pina Colada Slush recipe and knew I had to make it for my kids (and you guys!)
I remember my mom making this for us in summer. It's sweet, frosty, and a total vacation in a glass. It's easy to make and is the perfect summer recipe. If you have space in the freezer, you can make several batches and have them ready to go ahead of time.
I knew my kids would love it the way I did when I was little. And I have no idea why I haven't made this drink for them before!
Jump to:
Why this recipe works
This recipe uses just 4 ingredients to create a flavorful frozen Pina Colada Slush that the whole family will love.
Pineapple and coconut are made for each other. Plus the club soda gives it just the right amount of fizz.
Prep is quick and easy and then the freezer does the rest of the work for you. All you have to do is sit back and enjoy!
Kids can help make this drink and it makes a lot so it's great for summer parties and playdates.
This drink is sweet, fizzy and totally refreshing. Just know you need to plan ahead (make it at least the day before you want to serve it) to allow for freezing time.
Also, check out this sweet Cherry Fun Dip Drink recipe and how to make non-alcoholic mimosas!
Ingredients
The ingredients are basically what you would find in an adult version of a pina colada. Only this one is non-alcoholic and fizzy.
Pineapple juice and pineapple tidbits bring some texture and sweetness. The original recipe says to use crushed pineapple but since you are blending it up anyway, tidbits work too. (As long as you have a powerful blender like a Ninja).
The cream of coconut is essential for the creamy, bold and sweet coconut flavor. You will not get the same flavor from coconut milk, coconut cream or water. You can find it in the liquor area of your grocery store (but it does not have any alcohol in it).
Club soda adds the perfect fizziness without adding flavor, but if you wanted to drive up the pineapple intensity, you could see if you could find a pineapple-flavored sparkling water. Although once you taste this recipe as is, you'll see you won't need to.
Directions
Starting the day before, blend the canned pineapple and the cream of coconut together in a blender so it's pretty smooth.
I totally pulled a Sharon and got pineapple tidbits even though my list said to get crushed...I don't think it really matters, although there might be a little more liquid in the tidbits. Long story short, I didn't ruin it. It still turned out delicious.
Once that is blended up really well, you add the pineapple juice and give it a stir.
Place the punch in a storage bag. I doubled the bag to make it a little stronger. It was REALLY full so I didn't feel good about laying it flat in the freezer.
Although I could have laid it on a cookie sheet, I guess...I just had visions of it leaking ALL over everywhere...and I'm totally mess averse.
I froze it in the bag set in a tall bowl. It's supposed to freeze for 24 hours. Mine was not frozen all the way through, probably because of the thickness. It was the consistency of a sorbet that was slightly softened, so it was actually perfect.
Per my mother's instructions, you should let the frozen part sit out for about an hour before adding the club soda. But I waited about 5 minutes. If yours is frozen all the way, you may have to leave it out longer.
As this is called a slush, I wanted to make sure it remained slushy and it was a pretty hot day. In any event, you want to add the club soda just before serving.
For this part, I transferred the concoction to a large pitcher to make it more manageable. And then I let my son pour in the club soda. The kids could hardly wait to try it.
He gave the slush a little stir and then I checked the consistency. While there is a lot of liquid, there are also several pockets of extra slushy deliciousness.
I could barely get the photos taken before the boys stole their cups from me!
It makes a ton! I almost walked around my neighborhood so I could share it with everyone...but I'm lazy and I didn't. And because I knew we would want more.
This Pina Colada Slush is like stepping back into my childhood when I drink it. I remember eating this in the backyard with our feet in the pool on warm summer evenings.
Frequently Asked Questions
Can you store leftovers in the fridge?
As long as you haven't added the club soda step of the recipe, you can keep any leftovers in the fridge.

There will be a separation of ingredients so mix before re-serving. It won't stay slushy but the flavors should still be there. You can serve over ice and top with club soda. I wouldn't keep leftovers longer than overnight.
Can I substitute the cream of coconut?
I wouldn't. The cream of coconut has a sweetness and bold coconut flavor. If you substitute with another coconut product, you will need to account for the missing sweetness and need to try to rebalance flavors.
Can I add rum?
Of course, if you're just serving this to adults a splash of rum will easily transform this from a mocktail into a cocktail!
Is there a way I can make it melt faster?
Adding club soda to the frozen pina colada will help it to melt faster so keep that in mind when trying to figure out how much time to let it soften once taken out of the freezer.
Can I jazz things up with a fancy garnish?
Yes! Garnish with chunks of pineapple and paper umbrellas for an even more tropical feel!

Sometimes I also turn it into a lava flow which looks so pretty in the glass by blending up some sweetened frozen strawberries with a little bit of water then adding to the top or bottom of the glass you will serve your pina colada in.
A few more easy recipes you might also enjoy!
Save this and Pin it for later!
If you want to save this recipe make sure you Pin it for later! You can also follow me on Pinterest, as well as keep up with me on Facebook, Instagram and YouTube. If you make this recipe make sure to tag me in your photos and leave a star rating below!
Pina Colada Slush
This refreshing, tropical Pina Colada Slush is the perfect summer punch. With just 4 ingredients, it's a fun frozen mocktail to serve all summer long.
Print
Pin
Rate
Save
Saved!
Instructions
Combine crushed pineapple and cream of coconut in a blender jar.

Blend until smooth.

Add pineapple juice and give it a quick stir.

Pour in to a gallon freezer bag and place in freezer, at least overnight but up to 24 hours.

Depending on how frozen your drink mixture is, you may need to let it stand for 5 minutes up to an hour, checking often to find the desired consistency.

Add club soda just before serving.

Give it a little stir then pour in to serving cups.
Notes
You can use pineapple tidbits instead of crushed pineapple as long as you have a powerful blender.
You can lay the bag of slush in the freezer to freeze to take up less space, just ensure your zipper bags are quality and will not leak.
Add club soda to the frozen pina colada will help it to melt faster so keep that in mind when trying to figure out how much time to let is soften once taken out of the freezer.
For a party you can make several batches ahead of time and pull them from the freezer as needed.
Easily turn it into a lava flow by blending up some sweetened frozen strawberries with a little bit of water then adding to the top or bottom of the glass you will serve your pina colada in.
Nutrition
Serving:
6
Servings
|
Calories:
786
kcal
|
Carbohydrates:
142
g
|
Protein:
1
g
|
Fat:
24
g
|
Saturated Fat:
21
g
|
Sodium:
108
mg
|
Potassium:
403
mg
|
Fiber:
6
g
|
Sugar:
130
g
|
Vitamin A:
58
IU
|
Vitamin C:
31
mg
|
Calcium:
51
mg
|
Iron:
1
mg
This post was originally published on June 22, 2015, and has now been updated with updated links, and more information and instructions!