This list of easy last-minute dinner ideas will help you get a delicious dinner on the table with little to no prep. Find creative ways to use pantry staples, canned food, eggs, rotisserie chicken and more to make delicious and satisfying last-minute meals.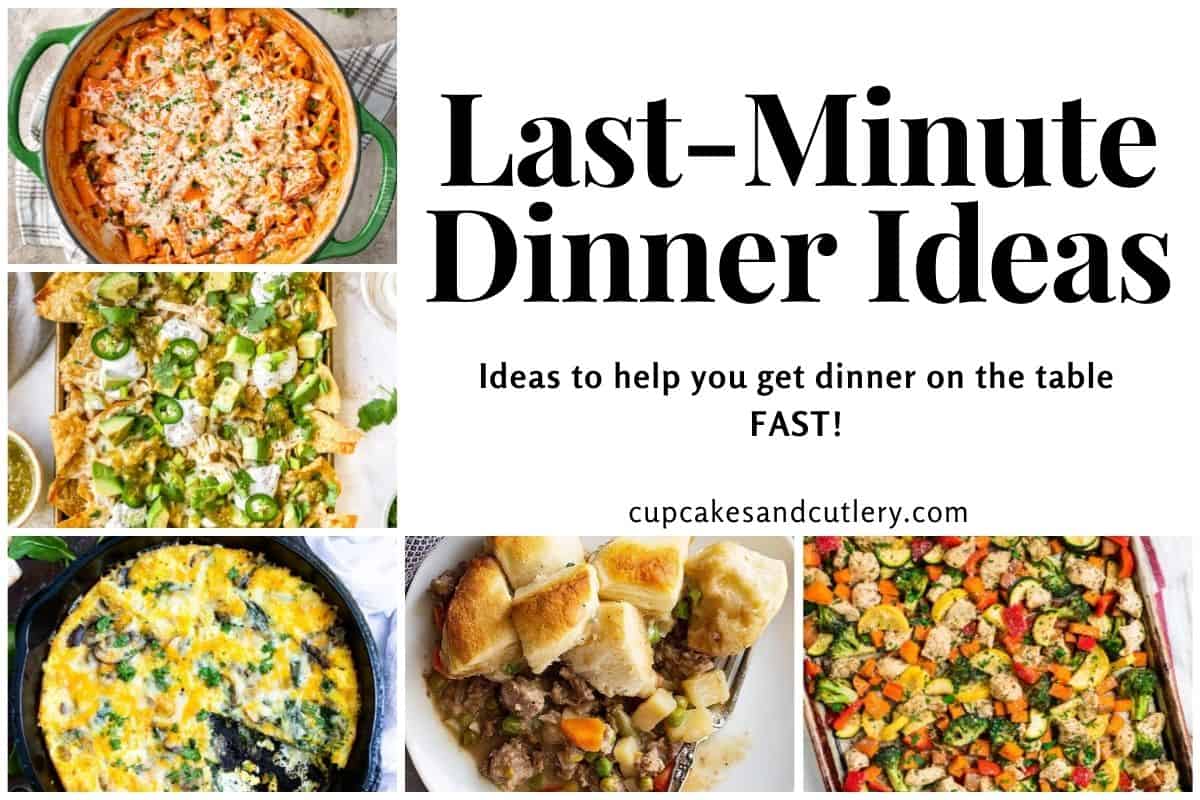 Jump to:
Simple Last Minute Dinner Ideas to Feed Your Family
These quick dinner ideas will give you inspiration for fuss-free ways to make fast meals that your family will gobble up.
With a few of my favorite recipes and a variety of ways to use items that are easy to keep on your shelves, you'll find tons of ways to get dinner on the table with little to no advanced planning.
If you are looking for recipes that are quick and easy, check out this post on dinners that barely require cooking. They require a little more advanced planning but are still fast.
The purpose of this post is to give you fast ideas to get dinner on the table at the last minute. Meaning, gathering what you have and making it work.
Once you finish reading, you can make a plan to pick up specific pantry or frozen items on your next shopping trip which will set you up with a backup plan.
Then you can meal plan as you normally do, knowing that you'll have several last minute meal ideas for those nights when things just don't go as planned.
While a slow cooker is always a great easy dinner solution, these ideas are perfect for those "oh sh*t I forgot the main ingredient for the recipe I was planning and now I need to get something ready in the next 20 minutes..."
I can't be the only one who has those moments. Regularly.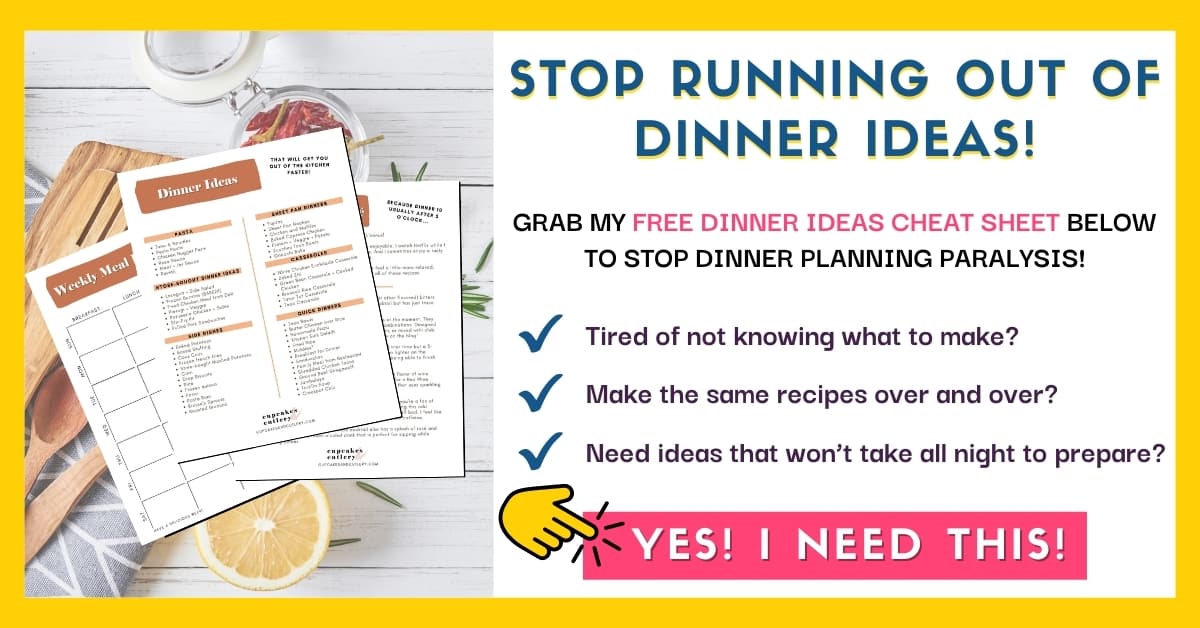 Easy Last-Minute Meal Ideas
These are truly last-minute dinner ideas when you need to make something FAST. I've tried my best to organize this post in a way that makes sense but some of these fast dinner ideas fall into multiple categories.
Pasta
Pasta is always a quick and easy meal idea. Here are some ways to use this pantry staple in new ways. You might even find them delicious enough to include in your weekly meal plan.
It cooks up pretty quickly on the stove, but I recently grabbed this cool microwavable pasta dish that cooks it a little bit faster! Plus it's great for the kids to use.
1. Spaghetti with Marinara Sauce
Spaghetti is always a go-to for a fast dinner but you can use any noodle for even more variety. It's easy to keep a few types on hand especially if you have a favorite recipe that uses a specific type of noodle.
2. Gnocchi
Gnocchi (not totally pasta but fits perfectly in this category) is great for a heartier meal that is extra filling but just as fast. Try this Sheet Pan Gnocchi. You can find these refrigerated, frozen or shelf-stable.
3. Try a New Sauce
Skip the red sauce and use store-bought alfredo, pesto or a combo of sauces like, rosa sauce (see how easy it is to make rosa sauce) instead. These are easy to keep on hand in the pantry and are great for making last-minute dinners.
4. Ravioli
Ravioli are super quick but a great way to make it feel more special than regular old spaghetti nights. There are all different types of filling to choose from. Keep fresh ravioli on hand in the fridge or buy shelf-stable so they can remain in the pantry even longer.
Have prosciutto on hand for that next charcuterie board? It makes a great addition to Butternut Squash Ravioli or you can make my Picatta Style Raviloi.
5. Simple Classic Dishes
Look to classic Italian recipes for simple dishes that come together quickly. A classic cacio e pepe or the traditional flavor combination of basil, tomatoes and garlic (I always keep frozen garlic on hand) can make noodles feel like a whole new meal.
6. Tuna and Noodles
Tuna and Noodles is something my mom made when I was little and something I make when I need something super last-minute. A can of tuna, some mayo and elbow noodles are all you need! (Top it with crunchy corn chips for the perfect amount of salt and texture). See my Tuna and Noodles recipe.
7. Chicken Nuggets
Chicken nuggets don't have to be served as just finger food. When added to your spaghetti, it mimics a fast chicken parmesan without the work. Just top some noodles with jarred red sauce, some crispy nuggets and some shredded mozzarella if you have it.
8. Make a Ragu
A ragu is a meat-based sauce. It's flavorful and super easy to hack in just minutes. Brown some ground meat (if you have the time), then add a jar of red sauce. Add some extra Italian Seasoning and ½ cup red wine to make it taste a little more like homemade.
You can also easily sneak in some veggies in a ragu. My favorite recipe uses carrots and onion and blends them up in a food processor before adding to the pan to saute.
9. Grab Some Grains
You can top farro, quinoa and many other grains the same way you top pasta but it will feel new and exciting to your family. Keep a variety in your cupboard or freezer to make the perfect base for a last-minute dinner idea.
10. Sandwiches
Sandwiches are a great way to get a quick and easy meal on the table. They are also a great way to use up leftovers. You can make them as basic or as creative as you want.
Keep it Simple
For a basic sandwich, all you need is the bread and something to put inside the sandwich. You can use deli meat, cheese, roasted vegetables, or anything else you might have on hand. And ain't no shame in a classic PB&J.
Gourmet Spreads
If you want to get a little more creative, you can make a sandwich with a spread to really amp up the flavor. Flavored aioli, pesto, marinara sauce, etc can add a gourmet flavor and can hang out on your pantry shelf until needed.
You can also add in some salad greens, fresh herbs or tomatoes for added flavor and crunch although you may not have those on hand at the last minute.
Make It Hot
You can instantly make a sandwich feel different by making it hot! You can do this by toasting the bread then microwaving for a 20 seconds. Or you can use a panini press if you have one. And, of course, you can grill it on the stove. If you've never had a grilled Peanut Butter sandwich you're missing out!! Do it! It might become a new dinner tradition.
Or make a hot sandwich like my favorite Salami Sandwiches. It's super simple and if you have salami and cheese on hand for lunches, you can put this together quickly.
Get Creative
If you have more time and ingredients, you can make a more elaborate sandwich with multiple types of meat and cheese or frozen meatballs (which I try to always keep on hand).
Grilled Cheese
A grilled cheese is a classic warm sandwich to make that would be a filling dinner idea. Serve it alone, with chips or even a cup of soup. Add cold cuts or additional flavors to elevate it from comfort food to extraordinary.
Sliced apples are a great pairing with cheese. With a little creativity, you can use flavor combinations of your favorite meals to turn an easy grilled sandwich into something extra special.
Quesadilla
Grab a tortilla and make a quesadilla instead. It's the same basic idea as a sandwich with a little twist. Grilled on the stove in butter makes the tortilla golden and delicious. Dip it in salsa for a quick, filling meal that can be made in minutes.
11. Soup
We aren't big soup people so this is not our go-to category. But if you're family likes it, this can be ideal for you. I don't find soup filling enough for a full meal but you could make it as a side dish and pair with a sandwich or salad.
Canned Soup
Having a few cans of hearty chicken noodle soup in the cupboard during colder months is sometimes just what the doctor ordered and just needs to be heated up.
Serve it with some crackers, some drop biscuits, or cornbread (it's easy to keep boxed mixes in the cupboard).
Pour and Stir Recipes
A pour and stir style soup (like my Tortilla Soup) is super quick and easy and not your run-of-the-mill dinner. I love this type of soup because there is very little prep and cooking time required. You just need to gather a few pantry staples and you can have a delicious meal on the table in no time.
Soup Starters
Many companies make soup starters that can sit on the shelf for quite some time and don't require a ton of fresh ingredients to make. With a soup kit and some chicken stock, you can make something tasty fast. Savory Spice taco soup is also a good option.
12. Salad Mix
Salads are a great idea for a last-minute dinner because they are quick and easy to make. You can use any ingredients that you have on hand, so they are versatile. They are also a healthy option, and can be made in a variety of ways.
Entree Salad
Serving salads is a great way to use up what is left in the fridge. I always have bags of salad mix on hand for my lunches plus any cheese, meat or veggies in the fridge (cooked or not - use whatever cooking method you have that is fast!) can be used to top them.
Use a store-bought salad dressing or make a quick vinaigrette with the ingredients you have.
Use canned beans to add more protein if you don't have any meat. This White Bean Salad is one of my favorites as is this White Bean Caprese.
As Part of a Recipe
You can also use salad mix in place of lettuce in recipes as I do in my Fish Stick Tacos recipe. Fresh lettuce adds a great crunch to wraps and sandwiches.
Use them as part of a bowl. Pairing a bagged salad kit with grains is a delicious way to make a meal that is fast and easy. Look at my Meditteranean Bowl for inspiration.
What to Keep In the Freezer
Having things in the freezer can really help you in a pinch. But if you're like me, you don't have a ton of space in there. I try to make sure I have one or two of these things on hand so that I can grab them at the last minute when needed.
I'm working on a post of all my fave freezer helpers that help me get dinner done fast. But in the meantime, here are the entrees I keep on hand.
13. Potstickers
Potstickers are a fun and easy meal to make and they are perfect for a quick and easy dinner. You can find potstickers in the frozen section of most grocery stores. I love the Trader Joe's version but use what you can find.
You can serve them on their own, over rice, as part of a stir fry, or in a soup. They are so versatile! They are quick to cook so they can take care of dinner fast.
The hardest part is making sure to have some in the freezer!
14. Frozen Lasagna
Frozen lasagna is a great way to get a quick and easy meal on the table. Stouffers alone has several different varieties from a meat lovers (my fave) to something more basic.
They also sell it in a variety of sizes making it great for when you have company (like a family birthday celebration mid-week) or individual sizes if you need food for a family member at a time other than dinner time.
Pair it with a side salad, garlic bread. Or not!
15. Frozen Meatballs
Frozen meatballs are great in so many ways! You can add them to pasta, make them into a sandwich or just eat them as finger food (because sometimes finger foods are the best dinner option).
They come in several flavors (try a chicken and pineapple meatball over rice - YUM!) and are ready in about half and hour.
16. Chicken Nuggets
I mentioned above that I like to serve frozen chicken nuggets on top of spaghetti.
You can also dip them in truffle honey, chop them up and add to salad, use them for quick chicken tacos. And while I haven't tried it, you can probably toss them into a casserole if you needed cooked chicken.
Tyson Popcorn Chicken is my favorite. And they cook up easily in the oven or an air fryer.
Ideas with Meat
Often I plan my meals and accidentally forget a key component of a recipe. This leaves me scrambling to use what I have in a new way. If you have meat sitting around, here are some quick ideas to turn it into a meal.
17. Ground Turkey or Beef
Ground meat is a staple and cooks up fast. Ground beef is classic and ground turkey is a great alternative to ground beef especially if you are looking for a lower fat option.
You can use them in tacos, burritos, chili, casseroles, and more. You can even eat it plain.
Add some taco seasoning, brown it and add it to a bowl of rice and some topping for an easy taco bowl.
Hollow out some zucchini and use the seasoned meat in a taco boat. Or make Sheet Pan Nachos.
Ground beef stroganoff is a quick meal that my family LOVES. Aside from the mushrooms (which you can probably find canned) you use pantry and fridge staples.
Spice 'N Easy dinner starters (this Jerk Sloppy Joe mix is the BEST!) makes a super tasty meal in no time at all. Don't have buns? Just use white bread or serve it over frozen fries or a baked potato.
18. Chicken Sausage
Chicken sausage is a great ingredient to have on hand for fast dinners. It is quick and easy to cook and comes in a variety of flavors. You can find chicken sausage in the refrigerated section of most grocery stores and they have a long shelf life.
It is super versatile and you can serve it all kinds of ways. You can serve it on its own, with a side of vegetables, or slice it up in a bowl with peppers. It is also great on pasta. You seriously can't go wrong.
And give my Sausage and Brussels Sprouts pizza try!
19. Chicken
Chicken is a great last-minute dinner idea because it can be quick and easy to make and works with tons of different flavors.
I always try to have some frozen shredded chicken in the freezer that I can thaw in a pinch. But I often have chicken in the fridge, uncooked, that I purchase for my lunches.
If I have the time, I'll just add a few seasonings and bake it in the oven. But you can cook it even faster in an Instant Pot or Air Fryer.
To cook it fast on the stove, just cut it into small pieces.
I'm obessed with Spice 'N Easy Meal Starters (as I mentioned above) which you do need to add a few ingredients to. I plan one of these dinners into my meal plan every other week. The Huli Huli Chicken is delish and only needs water, honey and soy sauce along with chicken (the package calls for thighs but I use whatever I have).
But they are also easy to grab if another recipe doesn't pan out.
Some more quick dinner ideas with chicken are:
Bake off some breasts and turn them into chicken sandwiches.
Top with a simple sauce to give it fast flavor. Try BBQ, pesto, marinara, etc.
Make a Pan Sauce for a tasty meal that is super quick!
Turn shredded cooked chicken and salsa into Walking Tacos the kids will love.
Mayo and tortilla chips add the perfect crust to baked chicken.
More Options
20. Stir Fry
A stir fry is a great way to use up any unused chicken and veggies that you have in your fridge. You can also use frozen veggies or canned depending on what you have on hand. Or you can use rotisserie chicken, or skip the meat altogether and add some eggs like in fried rice.
In a large pan or wok, heat some oil over high heat. Add the chicken and vegetables and stir fry until everything is cooked through. If you have bottled teriyaki sauce, you can use that to flavor everything. But garlic, powdered ginger and soy sauce works just as well.
I like to serve a quick stir fry over microwaved rice (it's frozen and ready in 5 minutes), but you could also use brown rice or quinoa. And if you have spaghetti you can cook that and toss them with teriyaki or soy sauce and add then for a chow mein-esque meal (an idea I got from 4 Hats and Frugal).
Related post: My Teriyaki Turkey Stir Fry recipe.
21. Eggs
While my hubby doesn't like breakfast for dinner, it's something I like to serve when he's out of town. Eggs are full of protein which will help keep stomachs filled.
Eggs are a great thing to serve for dinner because they are filling and provide protein. They are also a relatively cheap protein source. You can make all kinds of things with eggs for dinner, including breakfast for dinner recipes!
Some of my favorite recipes include breakfast burritos with bacon and eggs, egg tacos, a quick omelet or a simple frittata. These are some of my favorite last minute meal ideas for dinner.
22. From a Box
Near the bottom of the "last resort" list is making something from a box. Mac and Cheese or Hamburger Helper is obviously a great way to make dinner fast. But they are not my go-to and I usually don't even have these in my cupboard.
But they are an option! And they are nostalgic.
23. Cereal
Sometimes you need to serve cereal. No one is judging. Well, I hope they aren't. Your family will not revolt if you strongly suggest they grab themselves a bowl of cereal one night. I always forget this.
I am really hard on myself and if I don't have dinner planned I feel like I've failed. But it's OK! The world will keep on spinning!
---
Tips and Tricks
Always shop your pantry when you are in a bind. See what you have and try to get creative with putting things together. Use this list of pantry meal ideas for inspiration.
To make a meal keep in mind you want a protein, starch and veggie. This may help you wrap your head around getting a balanced meal on the table with ease. Tackle one segment at a time until you have your dinner figured out.
No matter how many kids you have at home, there's something here for everyone! The best part? You can enjoy these meals without feeling like you've sacrificed quality just because it was made in a hurry.
Your family deserves better than mealtime stress...so go ahead and take advantage of one of these great last-minute dinner ideas tonight!
More dinner ideas