Grab your favorite pan and get ready to whip up one of these delicious Chicken Skillet Recipes.
Whether you follow the recipes word for word or use them as inspiration, they will help you get a tasty family dinner on the table with ease.
Are you in a chicken rut? While I love to cook Chicken Eden Isle and make Chicken Tacos, my family is over them. So I gathered up 20 chicken dishes made in a skillet to inspire myself to try some new dishes.
Similar to casseroles (my Manwich Enchilada Casserole is a favorite!), these Chicken skillet recipes won't dirty every dish in the kitchen.
Jump to:
Why These Recipes Work
Chicken is a go-to ingredient for most families. And this collection of Chicken Skillet Recipes is full of dinner inspiration.
It's always handy to be able to make an entire meal in one pan and a skillet is a perfect vehicle to make that happen.
NOTE: A few of these recipes use a second pan to make pasta or something to serve the meal with. But you still, hopefully, won't be doing dishes all night.
Chicken pairs easily with all kinds of things like pasta, rice and vegetables. And they can all share space in a single skillet while cooking.
From cheesy chicken and noodles to chicken in rich and creamy sauces, there's no shortage of savory flavors that your whole family will enjoy.
And with a little meal prep, you can make sure that these Chicken Skillet Recipes can be made as quickly as possible. Even on busy weeknights.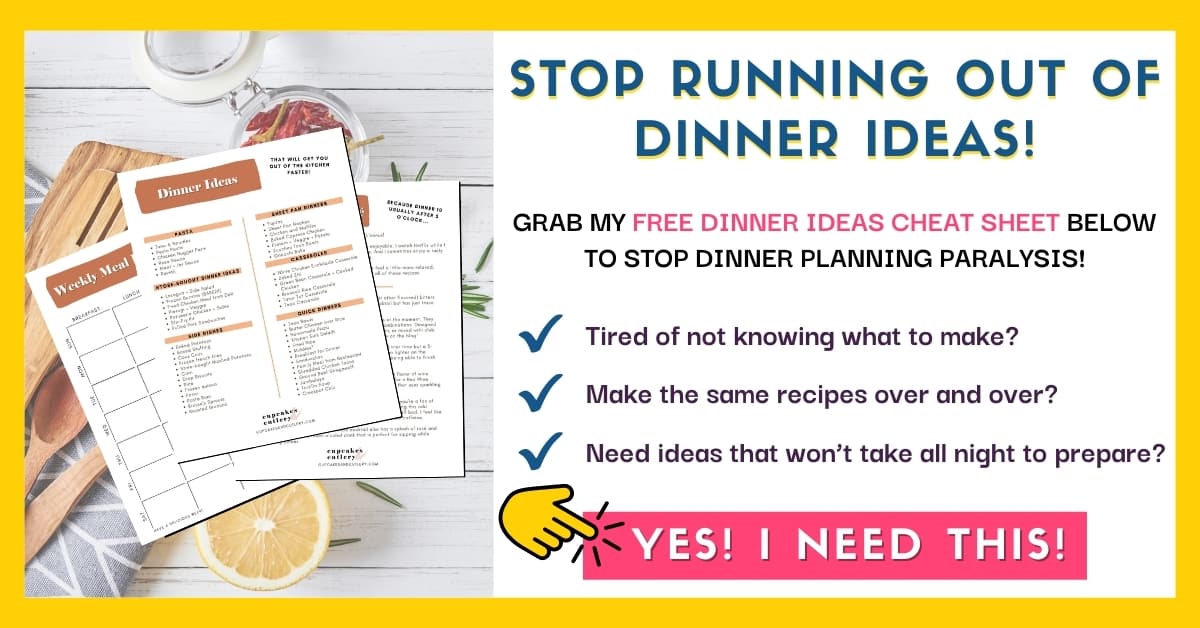 Need more easy dinner ideas? Check out my list of Sheet Pan Dinners, Healthy Dinner Ideas, and Quick Dinner Ideas That Are Barely Cooking.
Skillet Chicken Recipes
This list of easy Chicken Skillet Recipes will help you get dinner on the table with less stress. And your family will LOVE them!
Equipment
Top tips
These Chicken Skillet Recipes can be delicious inspiration to help you come up with your own recipes. Look at how what they include in their recipes along with the chicken (like veggies, starch, etc) to see how they built their meal.
Dredging chicken pieces lightly in flour can really help create a delicious crust when sauteeing.
Some of these recipes are served over something else, like pasta or mashed potatoes. This is when I look for a short-cut like store-bought mashed potatoes or frozen rice to save some time and ensure this is a skillet meal.
Some of these recipes start on the stove and move to the oven so make sure whatever skillet you are using is oven-safe (if needed).
When making any new recipe for the first time, it can often take a little longer than it should. These Chicken Skillet Recipes have a variety of cook times so make sure to browse through and pick one you know you have time for.
Frequently Asked Questions
How do you store leftover skillet meals?
Store leftover skillet meal in an air-tight container in the refrigerator. With the size of my family, leftovers are usually gone for lunch the next day but they will last up to 3 days.
What size skillet should I use?
Each Chicken Skillet Recipe may call out a skillet size that they used. If not, I would use a 12" skillet.
Can I change the cut of chicken?
Yes. You can choose a different cut of chicken for these recipes. Many call for chicken thighs which tend to be moister. But you can use a chicken breast if you prefer. Just try to monitor cooking so you don't overcook them.
Related Recipes