Sometimes birthdays fall in the middle of the week. And while you want to celebrate, you don't have the time or effort to throw a huge shindig.
These large family dinner ideas are great for a celebratory dinner party that you can host on a weeknight.
These tricks and large family dinner ideas that will help you celebrate with ease has been compensated by Collective Bias, Inc. and its advertiser. All opinions are mine alone. #STOUFFERSGOODNESS #CollectiveBias
Jump to:
Weeknight celebrations don't have to be stressfull
While we typically do our entertaining on a weekend, we still like to celebrate on the kid's actual birthday, even if it falls on a school night. We always invite the extended family and, if they are free, they come for dinner.
I can feed my family of 4 just fine. But add our extended family and I get really stressed out!
Instead of not wanting to have them over, I took it upon myself to figure out how to put together an easy dinner party that is perfect for a weeknight.
These large family dinner ideas will keep me from getting stuck in the kitchen and will still make the night feel celebratory for the guest of honor with simple decorations.
These celebration dinner ideas are perfect for hosting a fun gathering and feeding your family well without spending hours on the meal! STOUFFER'S® products can help you throw a fast, fabulous family dinner party!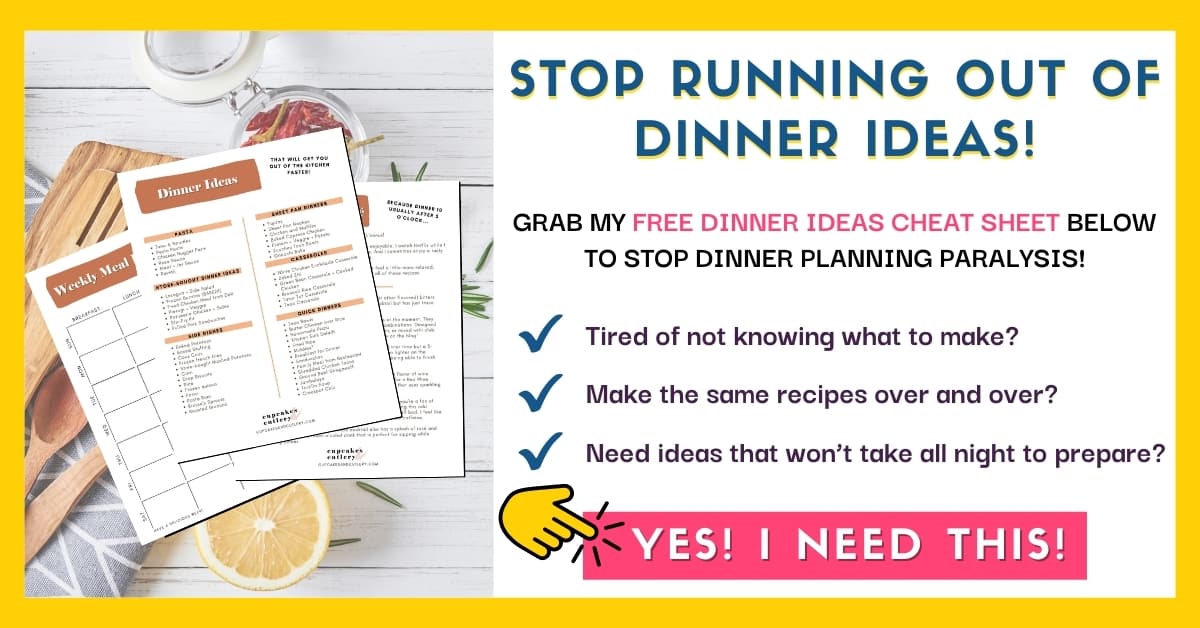 Celebration Dinner Ideas
When choosing what to serve I try to think about how much time I'll have to prepare and how many people I'll need to feed.
Save the gourmet dishes and elaborate recipes for another time. Plan an easy dinner party menu that is delicious and starts with a few store-bought items that you can pair with a few super easy side dishes.
Main Course
Why would I spend all that time in the kitchen making a lasagna from scratch when STOUFFER'S® nailed those recipes!? What's even better is that our favorite STOUFFER'S® dishes come in family size!
If you're looking for large family dinner ideas, STOUFFER'S® options are great! This frees me up to bake a cake, and make a yummy side dish.
The Meat Lovers Lasagna, shown here in family size, serves about 8, STOUFFER'S® Lasagna with Meat and Sauce also in family size, serves about 7, and STOUFFER'S® Mac & Cheese shown in family size, serves about 5. But it is also sold in party size for more servings.
Lasagna is a great way to feed a crowd. It's filling and super easy to bake and be totally hands-off. Mac and Cheese is a great option for kids. Or makes a great side dish for anything else you are serving.
We've always loved STOUFFER'S® Lasagna with Meat and Sauce thanks to the real mozzarella and no preservatives. But I have to say, I think my new favorite is STOUFFER'S® Meat Lover's Lasagna.
It has three types of meat; Italian sausage, ground beef, and pepperoni. YUM!
Slow cooker meals are also a life-saver when you're short on time, and nothing could be easier than these crockpot carnitas. Set up a burrito bar with shredded cheese, tortillas, salsa, and sour cream and tell everyone to help themselves.
Another delicious and easy meal for large family gatherings is slow cooker chili. Just throw it together in the morning, and it's ready to go when you need it. You can snag a few bags of corn chips at the store to add a Frito pie option to the menu.
Still need more ideas? Browse more Birthday Dinner Ideas here.
Side Dishes
To go along with the lasagna and mac and cheese, I made a tasty Roasted Mushroom and Tomato Polenta. It's totally easy but is a great way to add a homemade element when you are serving frozen entrees.
A bag or two of store-bought salad adds something fresh without any of the work.
A cheese bread or other garlic bread is filling and delicious and always a great option to serve with pasta dishes.
Of course, any of these celebration dinner ideas can be homemade but serving store-bought items is perfect for those nights where you are short on time and energy.
Browse more side dish recipes here.
Drinks
Set up a Beverage Station
Set up a simple drink station so the family can serve themselves. If your family is like ours, you'll never find a moment to sit down thanks to the kids needing help doing this or that.
A beverage station ensures that most of the kids can get their own drinks. The older kids can help the smaller ones or other adults will jump in when they feel like the situation might be going awry.
I am not one of those gals who says no to plastic cups. They make tons of sense for an easy dinner party where you don't want there to be a lot of clean-up.
And they come in tons of pretty patterns to add to the party decor, however elaborate you want to get with it.
I always like to set out letter stickers by the beverage station so the kids (and adults too) can find their initials and mark their cups. This helps to not waste so many cups.
It's amazing to me how random cups get left all over the house when people come over. Stickers are inexpensive and don't take much space to store. There is always the marker method too.
I don't know about you, but kids and markers frighten me...I'll stick with stickers...get it?
Drink Ideas
For a weeknight family party, you probably don't need much in terms of beer and wine. You'll want to offer non-alcoholic drinks that are delicious and great for a crowd.
And fine. If you have to have regular sangria choose one of these:
It's me who wants the sangria, by the way...
Easy Decorations
We save the crazy decorating for the themed parties but we still like to make a little fuss. But this fuss doesn't have to become fussy or complicated.
Fresh Flowers
Nothing brightens up a table and makes it feel more special, quickly than fresh flowers. Flowers can be on the expensive side but places like Walmart and Trader Joe's carry bouquets for a very reasonable price.
I buy one bunch and then break them up into smaller arrangements. I use empty glass food jars, in different sizes, as easy and inexpensive vases.
Or you can have your kids help with this by looking around your yard to see if you have any flowers blooming or pretty greenery.
You can send these little arrangements home with your family members or place them around the house when everyone has gone. I love having fresh flowers in my home. It feels so decadent.
Simple Balloon Decoration DIY
Nothing is quite as celebratory as balloons. This simple balloon DIY takes just a few balloons and string to create a fun, colorful look for your wall.
Simply blow up some colorful balloons, tie them to string or yarn then tape them to the wall so they hang behind the main food table.
Browse more balloon decoration ideas.
Customizable banners are perfect because you can use them repeatedly for many different celebration scenarios. I like the aesthetic appeal of a chalkboard banner, but there are countless other inexpensive options out there.
Add even more pizzaz with some simple ruffled streamers made from plastic tablecloths. These can be made ahead and even hung the day before. It will make the room feel decorated and special without tons of work.
Logistics
Set the meal up buffet style. It allows for people to serve themselves meaning you won't be tied to a serving spoon. It lets people take what they want and leave what they don't (which means you may even end up with leftovers for the next night!).
I prefer to use paper plates (for family get-togethers, if we're having new friends over, I always start with the real deal, and once I find out if they are judgey or not, I switch to paper...).
Paper plates make clean up a breeze and because they come in all kinds of patterns and colors.
If I have used paper plates and plastic cups, I like to get crazy and use fabric napkins. It's an unexpected touch and a great way to add color. And you just toss them into the washing machine after dinner.
When serving hot items take care to not ruin your table surface. I had my dad make me these simple wood rounds to use as trivets. I love how rustic they are and, surprisingly, they work into all kinds of decor.
Yum on a plate.
Consider these celebration dinner ideas next time you are planning a weeknight family dinner party!
Holding a celebration on a weeknight doesn't have to be stressful, and you can pull it off like a pro with these large family dinner ideas and simple decorating tips and tricks.
So here's to your next memorable, low-stress family gathering!
More easy entertaining ideas