Quick meals are a necessity in our household. Not only are we running to and from activities, but my work hours don't often fall when the kids are in school. This Easy Teriyaki Ground Turkey Stir Fry Recipe is one of our favorite go-to meals. It's pretty darn healthy and the kids love it! I'm partnering with Foster Farms to share this fast, easy recipe for you to make for your family too.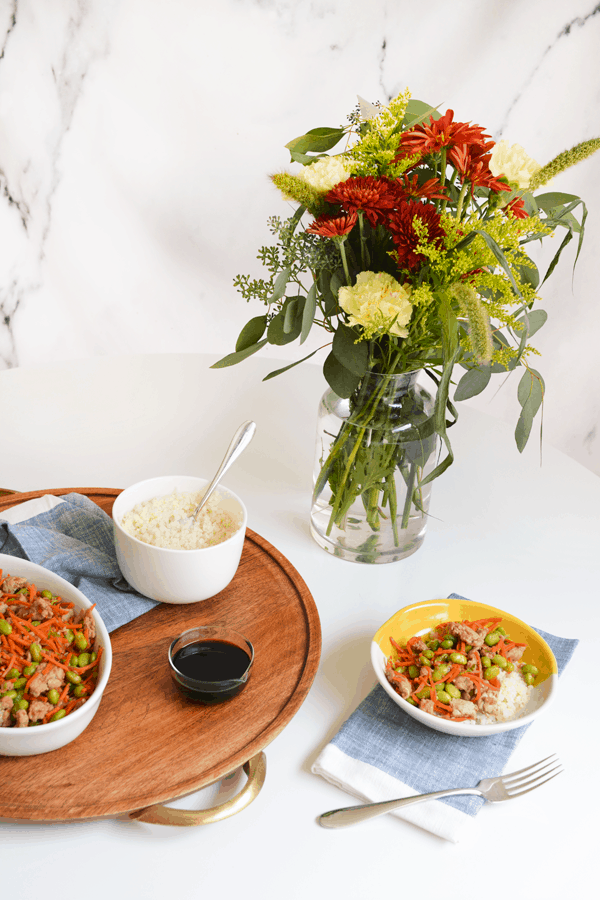 Easy weeknight dinners usually mean popping something premade in the oven and ignoring it. While that is helpful because I don't have to be so hands on, I know those types of meals are full of preservatives and sodium. Instead I look for or create recipes that utilize items that are fresh but versatile (or forgiving, which means they stand up to overcooking if I get distracted…) and are come pre cut. This Teriyaki Ground Turkey Stir Fry Recipe is SO easy and, luckily, the kids love it.  

This easy recipe for this turkey stirfry uses just a few ingredients, most of them fresh, and can be made even more "clean" by making your own teriyaki sauce. For the days when I'm extra pressed for time, I use a bottled version. This is one of those awesome recipes that you can tailor make to your families preferences. You can really load it up with a bunch of types of veggies or use family favorites like I've done here.
The base for this recipe is the ground turkey. Foster Farms Organic Ground Turkey is nutritious and a lean source of protein. It's 100 % natural with no added hormones or steroids. Which is awesome! As busy moms, we have so many different things to focus on. It's nice to know that Foster Farms is making sure that I can serve my family a healthy meal, fast. I plan on adding many more easy ground turkey recipes to my menu plan.
One of the ways that this meal is able to come together so quickly is the veggies I choose. While I always try to use local, fresh ingredients when I can, frozen edamame are a favorite of the kids, cook up quickly and are also full of protein. I also keep frozen, chopped onions on hand, that help me to layer flavors. Keeping those two things in the freezer means that I can have a flavorful, healthy meal on the table faster.
For this ground turkey stir fry recipe, I also used fresh, shredded carrots (who has time to chop?) and shaved Brussels Sprouts (precut because shaving Brussels sprouts sounds like the worst kitchen task ever). I recently found out that Brussels Sprouts, with a little soy sauce, taste a lot like bok choy or cabbage which are flavors my kids like. So I decided to add them to this recipe. It's a great way to include another veggie and I'm hoping it will help both kids learn to like the flavor more so I can serve Brussels Sprouts more ways (so far they only like them roasted with bacon and maple syrup – not so healthy). 
Because the veggies are prepped for me, I can quickly brown the onions and ground turkey to get this recipe going. Once the turkey is cooked, I add all the veggies, a bit of water and cover so they can steam. It takes just a few minutes for the vegetables to get to crisp tender. I uncover and let the excess water cook off and then add the teriyaki sauce. Once the sauce is warmed through and everything is mixed well, the turkey stir fry is ready! Boom. I love quick meals!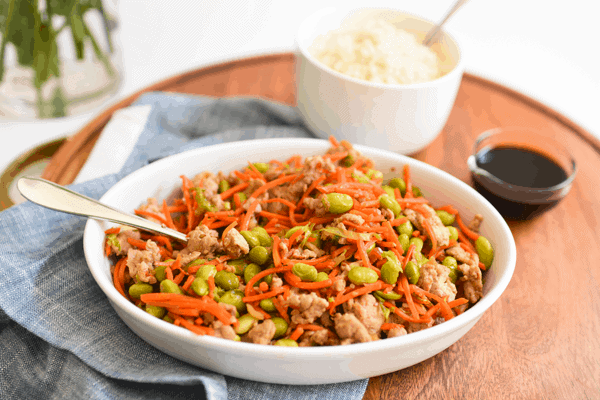 This ground turkey teriyaki stir fry recipe can be made in under 30 minutes! We make this so often I don't need to look at a recipe any more. To keep things interesting for the kids I swap out veggies form time to time.

We eat this turkey stir fry in a variety of ways. Often we eat it over rice (or brown rice if I can sneak it in) and sometimes we try riced cauliflower. That isn't a favorite for the kids yet but I love it that way. Riced cauliflower is a great way to add in another veggie! The teriyaki ground turkey makes this super kid friendly! I haven't met a kid yet that doesn't love teriyaki! 
I love this dinner idea because it makes plenty to feed our family and we end up with leftovers too. Since my kids don't love sandwiches, they often take this in their school lunches. While it's delicious hot as a quick, easy dinner recipe, this ground turkey stir fry is also really great cold for lunch! So versatile! 

Once in a while, we really shake things up and turn this teriyaki ground turkey stir fry recipe in to filling for lettuce wraps. We grab some lettuce leaves and water chestnuts (they add the most amazing crunch) and wrap away. Even my youngest, who doesn't love lettuce, likes these. This is usually how I eat the leftovers, because, yum.

Feeding your family can be hard. Coming up with a meal plan each week, that they'll enjoy and is also healthy, is a daunting task. I always want to make good food choices and serve my family something healthy but sometimes I feel like my schedule makes that extra difficult. I've been really taking a look at our diet over the last month and know that making small changes is the best way (at least for me) to create new habits. Enter #TurkeyTuesday. I'm making an effort to include Foster Farms Organic Ground Turkey in our dinners every Tuesday. 
Locally grown in California's Central Valley, Foster Farms Organic Ground turkey is raised free-range, on organic land, and fed an organic, vegetarian diet. And no antibiotics. Ever. I know that if my #TurkeyTuesday meal starts off with this lean protein, at least one meal that week will be something I feel really good about and push me to feed my family better the rest of the week. Head to the Foster Farms website to learn even more about the only California grown organic turkey. And give this ground turkey stir fry recipe a try this week!
Easy Teriyaki Turkey Stirfry Recipe
Teriyaki Ground Turkey Stir Fry
This is one of our go-to weeknight dinner recipes! It's fast and easy and the kids love it!
Ingredients
1

tsp

Olive Oil

1

TBSP

frozen chopped onion (or 1/4 - 1/2 small fresh white onion, chopped)

1

package

1 lb Foster Farms Organic Ground Turkey

1

package

10 oz bag shredded carrots

1

package

12 oz bag frozen shelled edamame

1

cup

shaved Brussels sprouts

1/2

cup

water

3/4

cup

teriyaki sauce
Instructions
In a large non-stick skillet, add the oil and frozen onions and saute until translucent.

Add ground turkey and brown, cooking thoroughly.

Add carrots, edamame, Brussels sprouts and water.

Cover and let veggies steam until crisp tender, about 5 minutes.

Remove lid and let the excess water cook off.

Add teriyaki sauce and mix well.

Cook for 2 minutes to let the sauce warm through and marry with the turkey and vegetables.

Serve over rice, riced cauliflower or as lettuce wraps (don't forget the water chestnuts!)
What ground turkey recipes do you make?
This post was sponsored by Foster Farms. Thank you for supporting the brands that allow me to run a small business and help make life a little easier for you and yours. 
Pin it!
Looking for more easy recipes? Check out these great easy dinner ideas:
Easy Rotisseries Chicken with Alexia Side Dishes
Slow Cooker Chicken Fajita Soup