Birthdays are a big deal. We celebrate them with friends and family to show how much they mean to us. But what do serve for dinner when you want to celebrate at home?
These easy birthday dinner ideas feel celebratory and will help you create a memorable meal for the guest of honor. There is a tasty recipe on this list for every skill level.
I can't say I enjoy cooking. But I do enjoy making people feel loved. While I typically look for super easy recipes to make so I can get right back out of the kitchen, sometimes for special occasions, I will put more effort in.
This list was inspired by an older post I wrote about a happy birthday gathering for the family on a weeknight. In that post, I share tips to make the birthday party feel special with easy decorations, a beverage station idea and more.
So for this post, I wanted it to be all about the food! These birthday dinner ideas vary from super simple to more complex and will help inspire your menu.
Jump to:
Why These Recipes Work
There's no better way to celebrate a special person than with a good birthday dinner!
It's not always easy to find the time or the money for a full-on party, but there are ways to make the occasion feel special at home.
With these delicious birthday dinners you don't need to make a reservation (did you know they give you a user rating on Open Table!? Yikes).
Have you noticed how loud restaurants are?? No? Just me? (Insert "old lady" emoji here...)
From candles to music, you control the celebratory vibes. So once you've picked your birthday dinner idea, you can create a vibe that your guest of honor will love.
Keep things casual with a sheet-pan dish or look for different ways to make an indulgent chicken recipe. A great meal is made by pairing great company with a delicious dish.
You can choose a recipe from this list that fits into your budget and cooking skills perfectly. From pasta dishes to crusted salmon, there are tons of options.
You are in control of dietary restrictions and can browse this collection of recipes to find something to appeal to your whole crowd. Save the healthy recipes for another night though. A celebratory dinner is no time for cutting calories.
This list isn't necessarily for cooking for large crowds. These are basic recipes that have a variety of servings. You can always double or triple a recipe if you are needing to cook for a group.
Taking the time to cook for someone can sometimes be the best gift to them you care. And whether you pick a recipe that is ready in 30 minutes or takes hours to prepare your love will shine through.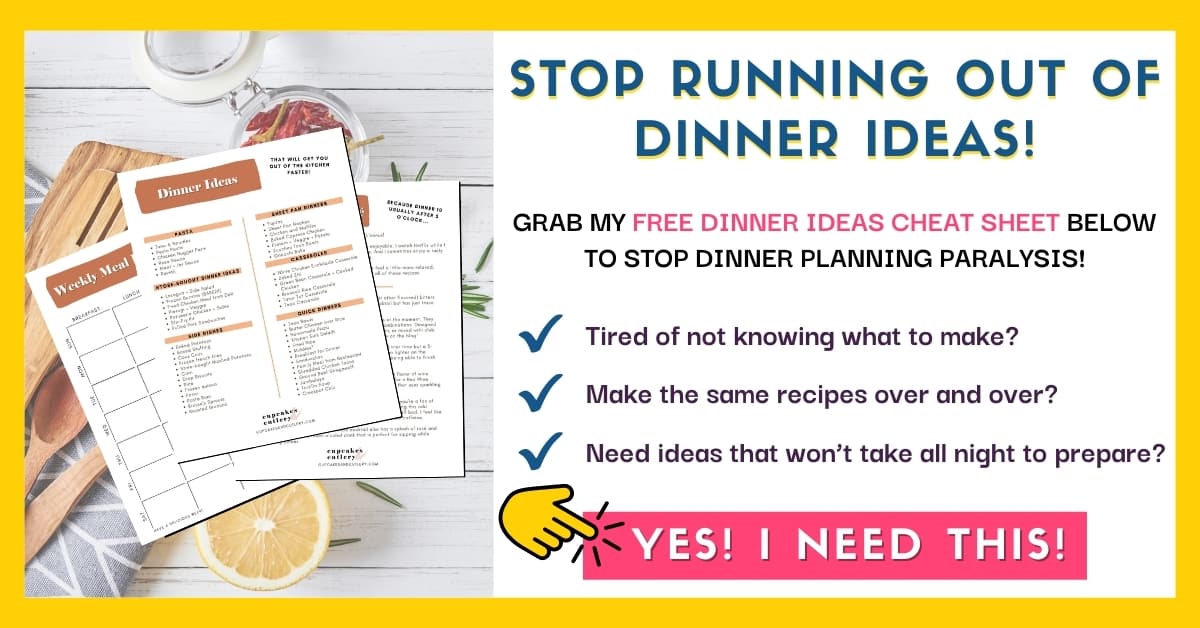 Don't forget to check out some of my own recipes that are fantastic for birthdays:
Chicken Eden Isle was always my birthday choice when I was growing up. It takes minimal time to prep, juicy chicken breasts and is just right for company.
For my kids, I make Homemade Chicken Tenders with Truffle Honey. It's the perfect extravagant touch that you might find in a fancy restaurant.
My husband's choice is Manwich Enchilada Casserole. I stole this recipe from my mother-in-law and it has grown on my over the years. It's also great for Father's Day.
This Brushcetta Chicken is full of flavor and super simple to make.
While all of these recipes will help you plan your birthday dinner party, you may even find some that you want to add to your weekly meal plans too.
Birthday Dinner Ideas
The best part about a good birthday dinner is that it's a time to spoil the guest of honor. These delicious dinner recipes are full of flavor and do not require advanced cooking skills.
Hint: The simple act of hosting friends and family shows that you want to love on them for their special day. Don't hesitate to order a pizza or a family meal from an Italian restaurant if that is all you can tackle.
Or make a homemade pizza, several finger foods or a whole roast chicken. No one says the best birthday dinners have to be difficult!
Finish off the meal with some sweet treats, a birthday cake topped with Macarons, or vanilla ice cream.
If you're looking to cook from the heart and create an evening that's memorable without breaking your budget, these easy dinner ideas will help anyone feel loved on their big day.
Let me know which of these dishes is your favorite recipe in the comment section below! Be sure to pin these special meals so you can refer back to them for the next birthdays.
Top Tips
Remember, no one knows what you had planned in your head so if you can't get to everything, you haven't failed!
Mix in homemade birthday dinner recipes with store-bought items (like rolls and salad mixes) to help save you time in the kitchen.
If you are watching your budget, first figure out how many people you need to feed and then jot down a few ideas from this list. Save the higher priced entrees, like salmon, for when you only need to feed a few people. Things like pasta are a much more efficient way to feed a lot of mouths.
Look for little ways to add personal details to your dinner that your guest of honor would like. A favorite white wine or a photo balloon will really create lasting memories.
Related Recipes