If you were finding it hard to make time for a designated date night before the stay at home orders, I imagine you're struggling even more now.
We're not dining out at all so getting away for an evening is off the table. Which means a date night in is super important.
It is possible to create a romantic evening, at home, even with the kids around. And this list of Date Night Dinner Ideas will help make it delicious!
Some links in this post may be affiliate links. As an Amazon Associate in the Amazon Services LLC Associates Program, I earn from qualifying purchases by linking to Amazon.com and affiliated sites. I also participate in affiliate programs for other retailers.
You'll love these Date Night Dinner Ideas
For the most part, my husband and I have been staying home. We went out to eat one night and it didn't feel right.
And we did a quick romantic weekend getaway to Palm Springs because we knew the hotel would ensure we didn't come in contact with hardly anyone.
But we're really missing date nights. We've done a few with some of the ideas from my Date Nights for Homebodies post but we really wanted to do something that was even less stressful but still felt special.
Sometimes just planning a themed date night feels like too much work. So even just making time to share a meal between just the 2 of you is all you really need.
You've got to eat dinner anyway, and it can totally feel like a date night.
I gathered up a list of date night in dinner ideas to make at home.
These recipes aren't difficult, but feel special. With options like lobster tail and grilled salmon, there is something for everyone.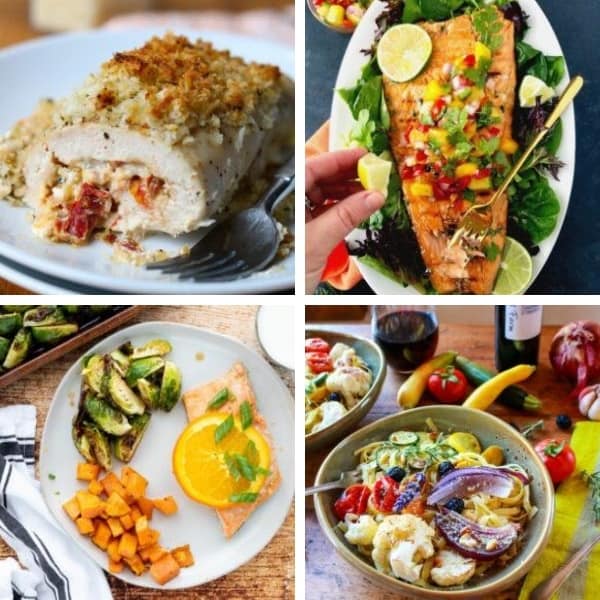 What's a good date night dinner?
In my opinion, a good date night dinner is a recipe that is new to both of you.
Cooking together can be part of the date experience and learning something new together is always fun.
Date night dinner ideas at home should be delicious and allow you to linger over the conversation. And it doesn't hurt if you create a romantic ambiance also.
Create a Romantic Table
The big thing here is that you don't want it to feel like every other dinner. Find easy ways to make it feel special.
These romantic table ideas don't need to break the bank or take tons of time, but make dinner in feel out of the ordinary.
Quick ideas to make dinner feel romantic
Use a tablecloth and linen napkins
Put fresh flowers on the table
Dim the lights and eat by candlelight
Create a romantic playlist
Pour a little wine
Use different dishware
Just get creative. If the kids are old enough, maybe you can even enlist them to serve you! Which could totally add stress…
And while you can't probably do anything too wild with the kids at home, you can absolutely get to know each other better with a love language card game.
Plan a night for the kids
While you don't want to shut your kids up in their bedrooms, you absolutely can set them up for a fun night of their own, so you can enjoy time together.
Serve them dinner early. Whether you make it or order something in, no biggie.
Suggest they build a fort and watch a movie. Set them up with some movie candy or popcorn.
They may not stay in their rooms the whole night, but it is ok for the kids to know that time alone with your partner is important.
Try to preplan for their needs so your attention doesn't get pulled away from your date night.
And then just roll with it! Don't let anything stress you out. We're all in the same boat. Just let yourself find moments of enjoyment where you can.
Dinner Ideas for Date Night
These easy dinner ideas for date night in will help you create a delicious evening to share with your partner. Set a romantic table and enjoy one of these over 40 recipes to cook and share together.
I bet you can't just pick one of these great date night dinner ideas! But that just means you'll have to plan another one.
Even easier dinner ideas for date night
Looking for a few even easier dinner ideas for date night?
It's more about spending that much needed time together than what you are eating really!
Have you been making time for date nights? Leave a comment and let me know what you have been doing!
Shop for Date Night
Pin to save these dinner ideas for later
These date night dinner ideas will keep you both happy and allow you to spend a delicious, stress-free evening together at home.