These Countdown Bags for New Year's Eve are the perfect activity for a family night at home!
Surprise the kids with a new bag each hour to keep them engaged and excited until midnight!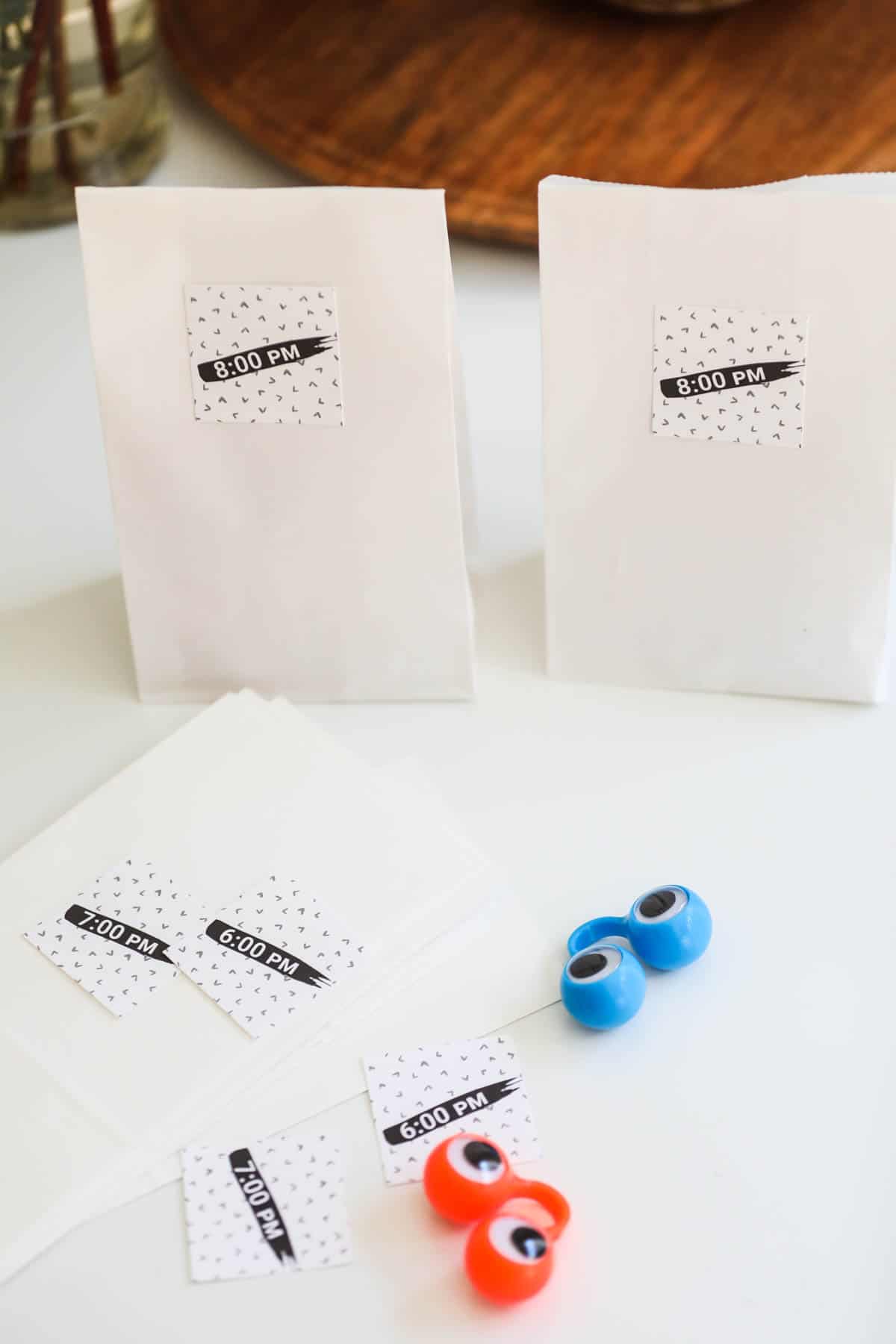 Hourly Countdown Bags Are Awesome
New Year's Eve is one of our favorite holidays! It's the one that my immediate family and I have gotten to create our own traditions for and we have a blast!
While we used to enjoy a good New Year's Eve party, now we chill with the family.
In the afternoon we head to our local Dave and Buster's to play some games. Then we head home for a low-key fancy night in.
But the one thing my kids look forward to, more than anything, is these New Year's Eve Countdown Activity bags.
My kids don't have any trouble staying up until midnight but they do get bored and need activities to keep them entertained (and not on electronics).
These surprise bags are quick and easy to put together and are a simple activity to help celebrate the new year.
I make sure these bags are put together early in the day (or even the day before) so they are ready to go at 6 pm when the kids get their first bags.
Both kids get a new bag every hour all the way through 11 pm. I put in a mix of small activities or candies to keep them busy for a little while.
For example, with the fun finger eyes above, I might also include a little note that would encourage them to create a movie with the iPhone using the googly eyes as the characters.
The best things for these bags are stocking stuffer type items. I usually always have extra that won't fit in the stockings anyway, so I set those aside for these activity bags.
I try to plan out the night with an easy timeline. I might do a small game for 6 pm since we will have just finished dinner.
I'll do a treat when it would naturally fall during dessert time.
I'll try to pair hot chocolate with a card game a little later on that they can enjoy them together.
There are no hard and fast rules, just do what feels right.
Some bags are a bust and they quickly move them aside. More than anything it's the excitement of what's next.
I keep the costs as low as possible since this has the potential to get really expensive really quickly. And that's not what this is about.
How to make New Year's Eve Countdown Bags
While these New Year's Eve countdown bags create a lot of excitement, they take very few supplies to make.
Supplies
Plain paper lunch bags are a great size and pretty much hold everything that you could be sharing in your countdown. If something ends up being too large, I'll include a note or a clue in the bag about where to find the item instead.
I got fancy and printed out times on a printer paper and then stuck them to the front of the bags. You can easily just use a Sharpie and write on the times. You can make these as easy or elaborate as your crafty little heart desires!
And since my kids are nosey, a stapler to keep them shut.
These are the supplies I use, but you could easily reuse gift bags that were given at Christmas. You could even use plastic grocery bags. Feel free to make this your own!
What to include in the hour bags
Then you'll need small trinkets, games, candies, activities, puzzles, etc. to fill up the bags. Since I have 2 kids, I typically buy 2 of everything unless it's a card game that they'll play together.
You can check out the types of things I like to fill the bags with on this Stocking Stuffer Pinterest Board I created. Party City is also a great place to pick up fun little doodads. And anywhere that has a party favor section.
Treat Ideas
I try not to include so many things they there ends up being things they save for later. I try to figure out what they'll enjoy on New Year's Eve. I spread out the treats and only do a few of them throughout the night.
Sometimes I'll pair a small piece of candy with a game or activity, etc.
I typically stick to just having the time they'll open the surprise bag on the outside. But if the items need to be kept in the fridge or somewhere special, then I'll write something fun like "Waiting for midnight sucks!" and then we would drink root beer floats. Get it.
And I'd put some straws inside the bag so there was something for them to open.
Totally unclassy use of the word suck. But it's a play on words. But you can totally use another word if your family doesn't say suck.
Activities Ideas
This year I did go big and found a game that was $14.99 that I bought as one of the activities. It's something I think they will have so much fun playing so I splurged.
I also know they will spend a little more time with that so it will keep them extra busy. It's too large for the bag, so I'll include a note or small piece of the game.
Stick on mustaches with a card that tells them to get dressed up like a businessman and create a character. Then have them pretend to finish up one last job before the clock strikes midnight.
I don't know about your kids but mine are great with impressions and accents. They will use their imagination and put on a fun little show for the whole family.
Include some "party animals" (plastic animal toys with some metallic garland around their neck) and a cd (or Spotify playlist) of our favorite dance songs. It would tell them to get their dance on.
Then we would try to guess if animals danced, which animal would be the best dancer. Come on, this is good for at least 10 minutes, right?
Any minute to win it game is a good idea. Just include any supplies needed in the bag.
And we've even played Soda Pong (like beer pong but with soda instead, because children.)
The activities are a mix of things the kids can do together and a few for us to do with them.
There are things for them to do by themselves, like a small puzzle and for them to be imaginative together.
And literally, you can't go wrong with glow sticks.
When they are full, close them up (I staple mine to keep prying eyes out) and hide them in your closet so the little vultures can't try to shake them and hold them up to the light to see what is inside...
Your kids will LOVE these New Year's Eve Countdown Activity bags!
They are a quick and easy way to keep your family entertained on New Year's Eve and a fun way for them to count down to midnight.
If you are coming over from Pinterest you may not find the image that you clicked on, but you're in the right spot! Those photos were just not great!
Images by Bleudog Fotography.
More family activities