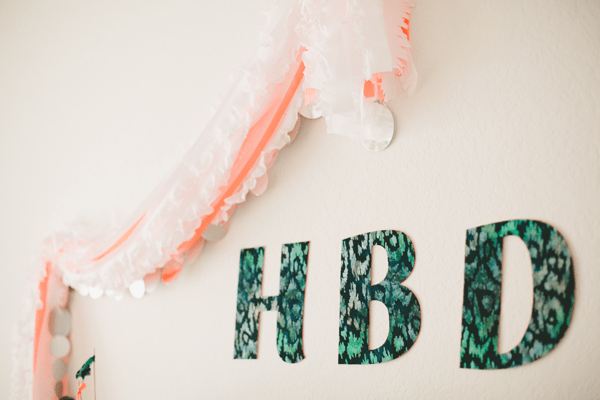 Every party needs streamers, am I right?! As this tutorial is YEARS old and the photography is not super great, I thought I should add a newer photo of the ruffled streamers from plastic tablecloths. I just used them for a party I styled and they looked so cute! FIY, you can also cut strips of the tablecloth and then fringe one side. Photo above by Dez and Tam. See original tutorial below! I love simple (but cute!) party decor ideas! 
How cute are these streamer! I'm not even sure how this idea came to me but I started thinking about how sometimes when you stretch plastic it warps it and creates a sort of lettuce edge. I gave it a try and they turned out super cute. So with just using a cheap plastic tablecloth you can create bunches of darling ruffled streamers.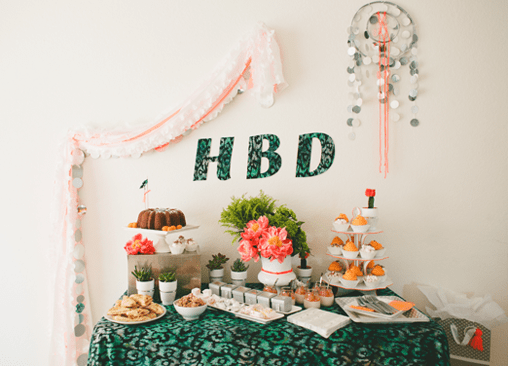 This streamer above was the white version I tried a few weeks ago. What I love about these is that they don't show flaws! If you tear one a little too much, no one can see it! Unless they were inspecting each inch of each streamer. Which would be odd. And you should probably ask them to leave your party.
Do not unfold the tablecloth once you take it out of the package.  You will want to find the side with the end of the tablecloth, not the fold, so when you cut you will get a strip. And thanks to that last sentence I could quite possibly be the worlds worst tutorialist. Cut as many strips as you want. Basically you will hold the edge of the plastic in one hand, between your thumb and pointer finger, as if you are pinching the plastic, with your fingers pointing away from you. The rest of the width of the streamer should hang past your fingers. Hold the plastic the same way in the other hand right next to the first hand with the thumbs from both your hands almost touching. Next, pull your thumbs away from each other. Give it a test so you can figure out how much strength you should use  and how far you should stretch it. The good thing about these is that they are never going to come out exactly the same as the last stretch so variety is fine. Also, you will tear the plastic once in a while. As long as you haven't torn it clear through to the other side, it is also fine. The tears kind of look like ruffles too so they blend in easily. I wouldn't point the tears out to my party guests but I would totally use the garland.
*UPDATED TO ADD these actually warp easier and faster if you fold the strip so there are several layers to pull at once. It is less likely to rip and goes SO much faster. I will warn you, I have given myself blisters from making these. But they go away pretty quickly. And what is a little pain for the cutest party streamers ever? ;)
Stretch down one length of the plastic strip and then flip the strip over and do the other side.
I did this when my husband was out of the house. When he got home he thought they were really cool but swears it must be too time consuming. Uh, hullo!  I did it! It's totally not time consuming. And this is one of those party projects you could easily do while watching TV. I even tried putting two strips of the plastic on top of each other to stretch two at once. It worked great!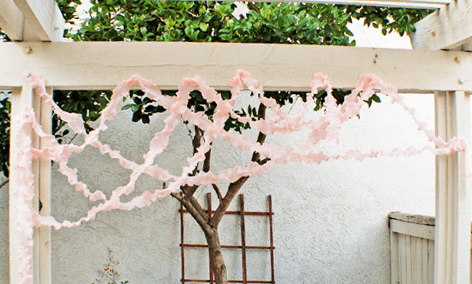 I'm not sure if you all have heard but California had some "weather" this weekend. It was freezing outside the day I did this (you guys, it was like 54).  So I literally stapled these babies up, took as many pictures as I could and ran back inside. I could have hung them up cuter but quite frankly my fingers were beginning to get frost bite (yes, I'm a baby). But here is the amazing thing. They are still up in my backyard as we speak. They have been outside through rain, hail, wind and sun. They look exactly the same as when I first put them up. These would be so great for anywhere that is windy or has lots of moisture in the air.
They are also SUPER lightweight. Although I used my staple gun I am pretty sure that depending on what type of surface you are trying to attach to, most kinds of tape should be able to hold them.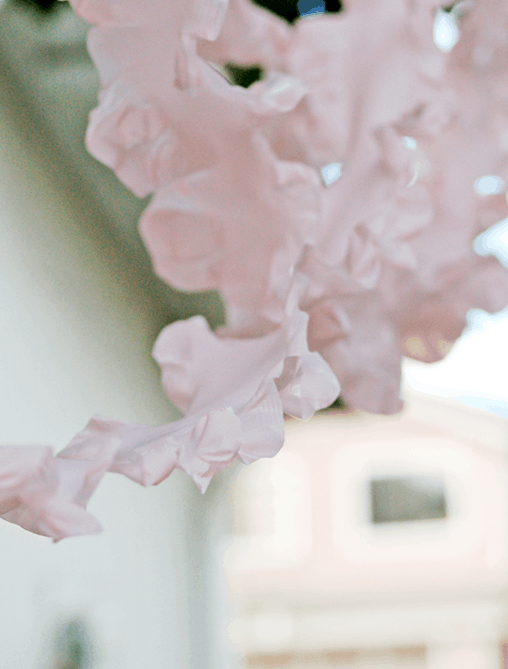 I think what I like most about the idea of using a plastic tablecloth to make really cheap, really cute streamers is that you can make a ton for next to nothing.  I can see using a ton of them, all different colors for a crazy photobooth back drop. Which would cost you around $5. While it does take some of your time to make them, you could make a huge impact with these around your party.
I also wondered if you could do it around the edge of the tablecloth to get a super girly ruffly look. You totally can! Don't judge my composition.  I was working against the clock here people.
Wait, what's that you say, Sharon. It was freezing outside the day you did this tutorial? Oh and there is your son barefoot out on the freezing concrete with no jacket. And to you I say, yes. You're right. I think this shall secure the sarcastic mother of the year award for me. But I just needed one quick picture of these streamers. These are made from a black utility trash bag! I just needed to see if it would work. It did! And they look really cool!
I'm sure you'll love these other simple party diys from Cupcakes and Cutlery!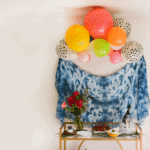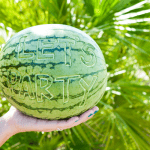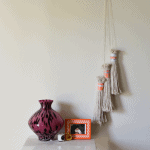 • Use a Watermelon as a Party Sign!