I'm not a clean freak. But I am the daughter to one. Growing up, we (my sis and I) did a lot of cleaning. I didn't love it. I felt like we missed out on things because we had to make sure the house was spotless. I remember in high school having friends over after school on a Friday and they would literally sit on the couch and wait for us to finish cleaning. That sounds sounds like torture for everyone involved, right? It wasn't. We always turned up the radio and tried to make it fun. I'm sure my friends still suffered the most out of that equation, but I'm sure it wasn't the worst thing they ever had to endure. When I go to my mom's house now, I see why she was on top of the house cleaning. Her house is immaculate. I wish I could say that I inherited her gene for wanting a spotless house, but I didn't. The minute I moved out I the rigid cleaning schedule flew out the window. But there are a few things that I hang on to about our routine. Namely turning the music up and dance/cleaning. I partnered with Lemi Shine to put together some songs to clean to, a playlist, to help you make cleaning your house more fun.
PART ONE: INCLUDE THE KIDS (a little)
Cleaning the house is done in phases. First, the kids have to straighten the house. Our dining table ends up buried under life – drawing pages, Legos, random computer mouses, etc. They have to clean it up before dinner each night but that usually means they move things over to my bar cart. So the night before I plan to really clean the house, they have to make sure it gets put away where it goes. That idea can be really overwhelming to kids so I try to help them break it down a little more. My kids are 7 and 10 so they are perfectly capable of helping around the house but I do know their limits. In each room, I have them gather all the loose items that are laying around and group them in to piles depending on whose item it is. From there, they make piles of where the items go. Helmets go in the garage. Shoes and hats need to go to their rooms and the toys go in our hall closet. My youngest has to go through his art and decide what he want to keep and what to get rid of. Of course I'd love to keep all his original drawings but he just draws too dang much!

PART TWO: THE RIGHT SUPPLIES
Before I start to clean, I like to get out everything that I'll need so I don't have to dig around when I'm in the groove. While I might not love clean, I absolutely want quality products that would be up to my mom's standards. Lemi Shine products are non-toxic and made with 100% natural citrus extracts. They're also biodegradable and septic system friendly. Lemi Shine is a Texas-based, family-oriented company that has been dedicated to bringing Clean Freaks products to keep their homes Clean Freak Clean for over 20 years!
PART THREE: CLEAN ALONE
While my kids help with housework, and I will include them more as they get older, I prefer to clean the house when I am the only one alone. This way, I just blare the music that I want to listen to and get to work. I start at one end of the house and work my way through, ending up in the kitchen last. When other people are in the house, I often have to stop and give directions or stop an argument. Cleaning alone means you can focus, you can work fast and get through your housework quickly. I save the kitchen for last because if I don't get to it before the kids get home from school, it's a low traffic area in our house and I can continue to clean without obstacles.
This Lemi Shine Glass + Surface Cleaner creates an invisible barrier that helps surfaces resist dust, tiny fingerprints and water spots! That makes things easier to clean next time. That's genius. I really like that feature.
I don't have tips on how to clean your house to get it Clean Freak Clean. All I can do is encourage you to make it more fun and appealing so that you'll actually clean. I could do dishes all day long thanks to this Lemi Shine Concentrated Dish Soap. It's a great cleaner. It cuts through grease with ease. It also has a flip cap that is super easy to use, even if you only have one hand, and makes it so you can get the last drip, with no waiting. But my favorite part is the smell! It's like the most amazing fresh Meyer lemon smell. Like, I seriously would wear this as a perfume if I could. The lemon scent is bright and clean and there is a touch of a floral note that makes me SO happier than dish soap should.

I was introduced to Lemi Shine through my mom, the real Clean Freak. I used to have to buy the Lemi Shine Detergent Booster for her because the store she shopped at didn't carry it. You know how some glasses look all cloudy and awful, even after just being washed in the dish washer? The Lemi Shine Booster, combined with dishwasher detergent, removes these hard water spots and film! For a while I was having a hard time shooting my cocktail posts because my glasses looked terrible in photographs. But then I used Lemi Shine Detergent Booster and they were sparkly clean! I know that sounds like a total commercial but it's the truth!
The Lemi Shine Shower and Tile Cleaner works in a similar way. The citric extracts help dissolve soap scum and hard water buildup. This product too creates an invisible barrier that helps prevent new build up. YES!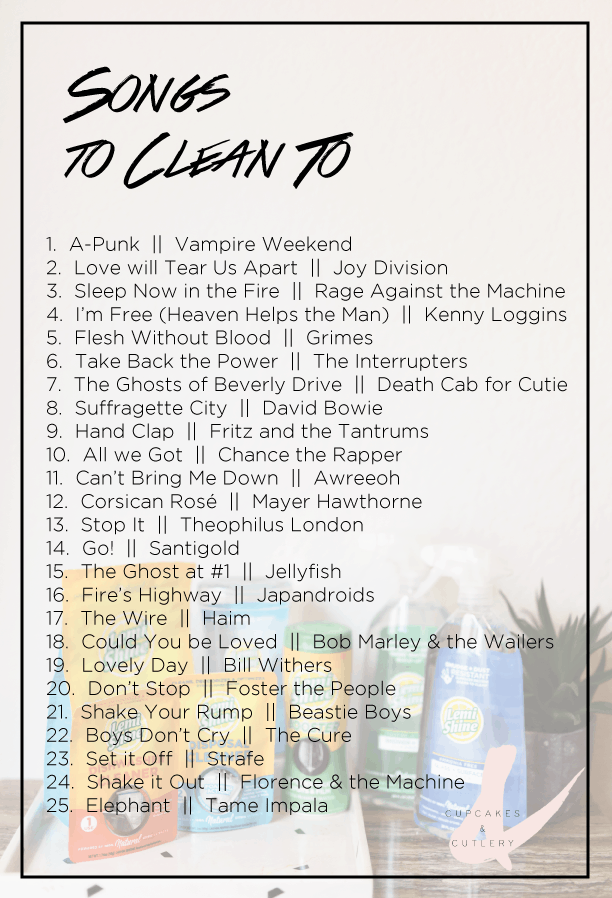 But if all that talk about cleaning products doesn't get you excited to clean your house, this playlist should! Play it loud. And get to work! It will make you dance. These are the perfect songs to clean to.
Get your home #CleanFreakClean with Lemi Shine! Find the products at
a store in your area
and try these
awesome coupons
!
Facebook . Twitter . Pinterest
This post is sponsored by Lemi Shine. All opinions and song choices are mine. Thank you for supporting the brands that let me keep this blog going!
Images by Dez and Tam Photography
If you liked this post, you may also like:
15 Ways to Take 15 Minutes for Yourself
Printable Grocery List and Meal Planner