With notes of vanilla and cinnamon, this easy and moist Rum Bundt Cake recipe is totally delicious! Made with a boxed cake mix, a touch of cinnamon and some spiced rum, this cake works perfectly as a dessert or a brunch cake. It's fantastic at the holidays, but we eat this all year long!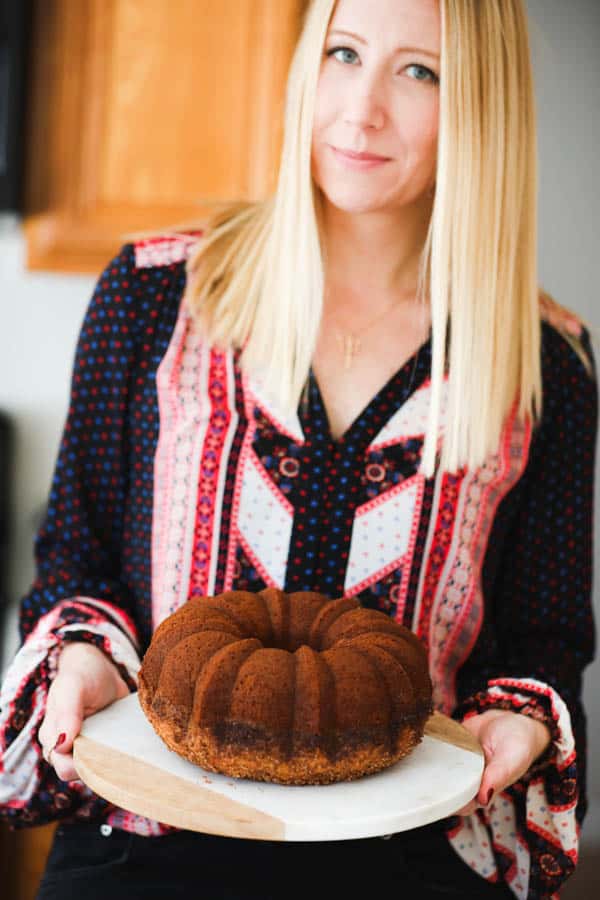 This spiced rum cake is a sponsored post written by me on behalf of Don Q rum. All opinions are 100% mine.
I love a good bundt cake, don't you? No icing is required and they still look pretty great. This Spiced Rum Bundt Cake is similar to the wine cake that I make but I wanted to switch around the flavors and use rum instead.
I'm always looking for different cake ideas for the holidays. But with all the other chaos and stress, it has to be simple.
Jump to:
Why This Recipe Works
This Rum Bundt Cake is super easy to make and so tasty. It's a great cake for breakfast or holiday parties or a snack or a hostess gift. Really!
I love to start with a boxed cake mix when baking. I always look for time savers and that really does help cut out some measuring, etc. They've also done the work for you so you know what to expect each time.
Boxed cake mixes are also a great base that can be easily modified to become something extraordinary. I've used them to create a bunch of quick and easy desserts with cake mix.
Related post: Easy Nutmeg Bundt Cake
This easy Cinnamon Rum Bundt Cake Recipe is perfect. Plus, when you're done baking, the rum is perfect for sipping!
The notes of vanilla and dark caramel in the spiced rum really come through and complement all the other flavors so well.
I skipped the traditional rum glaze you usually find on a cake in favor of a cinnamon crumb. A crumb is a perfect way to add more flavor and texture to a cake and is the perfect thing to push this Cinnamon Rum Cake over the top.
Ingredients
This quick and easy Rum Cake with cake mix is a delicious breakfast or dessert idea that you'll love!
I love to gather all the ingredients before I start to keep things quick.
And if you don't want to use real rum, you can use rum extract. For this recipe, you would substitute the spiced rum with about 4 tablespoon of rum extract.
Directions
1. Add wet ingredients to mixer bowl and mix
To make your holiday rum cake, use a stand mixer and add the oil, eggs, and water.
Add the spiced rum then beat until combined.
2. Add dry ingredients and mix
Add the pudding (unmade, just the powder straight out of the box) and the boxed cake mix and beat for approximately 5 minutes on a medium speed.
The depth of flavors from this aged rum is so perfect for holiday baking.
3. Make the cinnamon crumb
To make the cinnamon crumb, add the sugars and spices to a small bowl and mix. Set aside for just a second.
I sprinkled it on the top (or bottom, when inverted) of the cake. But the cinnamon crumb was so crazy good, I decided that this cake will be even better with more crumb!
So while my finished pictures show it just on the top/bottom, trust me, you want more layers!
4. Add batter and crumb to the bundt pan
Pour the first half of the rum cake batter in to your prepared bundt pan.
"Prepared" just means I spray it with cooking spray. A legit baker would probably butter the pan and coat it in flour, but I'm lazy and willing to take my chances with spray.
Add a layer of the cinnamon crumb, then add the rest of the batter. Finish it off with more crumb.
5. Bake
Pop it in the oven. And bake the spiced rum cake.
Let it cool for a few minutes and then invert it onto a plate. You can see the cinnamon crumb crumbling off.
This is not the cake you'll enter into a beautiful cake contest. But in a taste test? WINNER! This cake tastes like the holidays.
Want to make it even more festive? Dust the top with a little bit of powdered sugar!
Frequently Asked Questions
What type of rum should I use?
You can use any rum for this, but with its notes of molasses, and dark caramel plus hints of vanilla, cinnamon and honey, I knew the Don Q Gran Añejo would be perfect in a holiday cake. It's a spiced rum that is full of flavor! You can use white rum or dark rum, but it will have a little bit of a different flavor.
Can you get drunk off rum cake?
Yes, you can get drunk off rum cake. Especially if you make a rum glaze where the alcohol won't be burned off. This recipe does not use a glaze so it's less likely. This one is not soaked in rum either, it just has some baked in. It would take a lot of servings to make you drunk off the recipe as written.
How do you eat rum cake?
I like to eat my rum cake slightly warmed. I love the cinnamon crumb flavor so I don't cover it with anything else. You can also add whipped cream, vanilla ice cream, or powdered sugar.
A few more easy recipes you might also enjoy!
Save this and Pin it for later!
If you want to save this recipe make sure you Pin it for later! If you are not already you can follow me on Pinterest, as well as keep up with me on Facebook, Instagram and YouTube. If you make this recipe make sure to tag me in your photos and leave a star rating below!
Rum Bundt Cake
This moist and delicious Cinnamon Spiced Rum Bundt Cake is perfect for all your holiday celebrating but I love to serve it for brunch all year long! With vanilla and seasonal spice notes, this cake is full of flavor and is super easy!
Print
Pin
Rate
Save
Saved!
Instructions
Grease a bundt pan and preheat the oven to 350 degrees.

In the bowl of a stand mixer, beat eggs, oil, water and rum until just combined.

Add dry pudding powder and dry cake mix and beat until smooth, approximately 5 minutes on medium.

In a small bowl, mix the brown sugar, white sugar, cinnamon, nutmeg and ginger.

Pour half the batter into your oiled bundt pan.

Top with a bit of cinnamon crumb (amount to your liking but remember to reserve at least half to finish it off)

Add the remaining batter.

Finish with the cinnamon crumb.

Let cool for 10 minutes then invert cake on to a plate to remove from the bundt pan.
Notes
If you don't have spiced rum, you can use 4 tablespoon of rum extract.
Nutrition
Serving:
12
Servings
|
Calories:
388
kcal
|
Carbohydrates:
57
g
|
Protein:
4
g
|
Fat:
13
g
|
Saturated Fat:
2
g
|
Polyunsaturated Fat:
10
g
|
Cholesterol:
62
mg
|
Sodium:
359
mg
|
Fiber:
1
g
|
Sugar:
39
g