This is a sponsored post written by me on behalf of Don Q rum. All opinions are 100% mine.
I'm always looking for different cake ideas for the holidays. But with all the other chaos and stress, it has to be simple.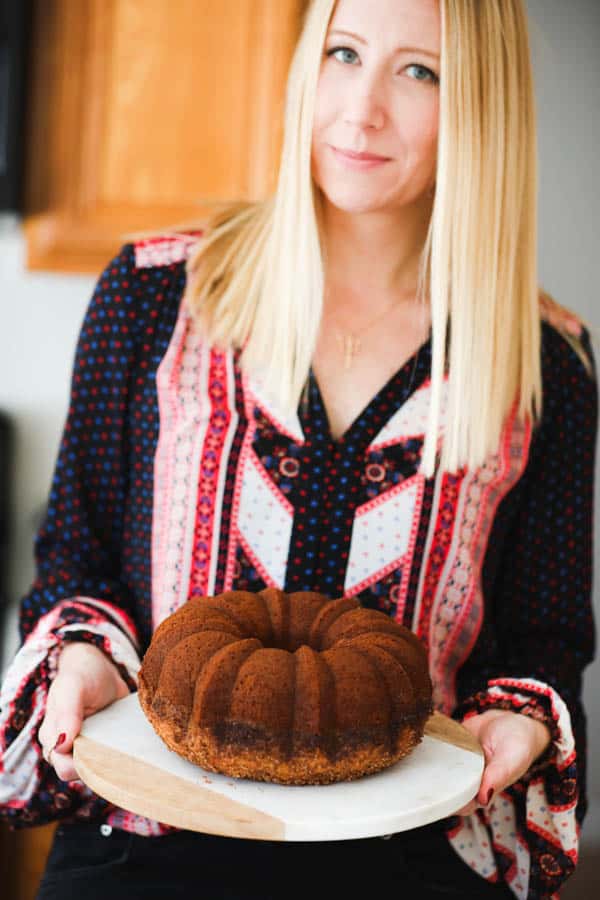 This easy Cinnamon Rum Cake Recipe is perfect. Plus, when you're done baking, the rum is perfect for sipping!I love a good bundt cake, don't you?
No icing required and they still look pretty great. This cake is super easy to make and so tasty.
It's similar to the wine cake that I make but I wanted to switch around the flavors and use rum instead.
It's a great cake for breakfast or holiday parties or a snack or a hostess gift. Really!
A few years ago, my husband and I started diving into the world of whiskey and bourbon. I generally drink it mixed in a cocktail, but lately have started to sip it over ice.
I never thought to sip rum before. Then I found this Don Q Gran Añejo rum. It's a super premium Puerto Rican rum that is perfect for sipping!
I think it's the perfect winter drink idea!
But since I love desserts, I wanted to use the rum in a cake.
You can use any rum for this, but with its notes of molasses, and dark caramel plus hints of vanilla, cinnamon and honey, I knew the Don Q Gran Añejo would be perfect in a holiday cake.
I skipped the traditional rum glaze you usually find on a cake in favor of a cinnamon crumb. A crumb is a perfect way to add more flavor and texture to a cake.
Just add your ingredients to a stand mixer, and you're well on your way to making you Cinnamon Rum Cake.
This cake comes together really fast thanks, in part, to the cake mix! I love baking shortcuts!
Puerto Rico is known for its exceptional rum. And Destilería Serrallés is one of the oldest family-owned businesses that started in 1865.
Only natural flavorings are used in all their rum products and they never contain additives, artificial sugars or artificial coloring. Cocktail purists will probably hate that I am using this fine rum in a cake.
But the depth of flavors from this aged rum is too perfect for holiday baking.
I mixed the cinnamon crumb and sprinkled it on the top (or bottom, when inverted) of the cake. But the cinnamon crumb was so crazy good, I decided that this cake will be even better with more crumb!
So while my finished pictures show it just on the top/bottom, trust me, you want more layers!
Pour the first half in to your bundt pan.
Then add a layer of the cinnamon crumb, add the rest of the batter in the middle and then finish it off with more crumb.
Pop it in the oven.
Let cool for a few minutes and then invert on to a plate. You can see the cinnamon crumb crumbling off.
This is not the cake you'll enter into a beautiful cake contest. But in a taste test? WINNER! This cake tastes like the holidays.
Want to make it even more festive? Dust the top with a little bit of powdered sugar!
Don Q Gran Añejo is carefully aged in Spanish sherry casks using the Solera aging system.
The notes of vanilla and dark caramel happen due to the prolonged contact between the rum with the barrel.
This is a masterful blend of rums aged 9 to 12 years in American White Oak barrels and Solera aged rums aged up to 50 years!
Destilería Serrallés is one of the most environmentally responsible in the spirits industry and sees the benefits of real energy return and a water reclamation program which allows them to recycle wastewater instead of disposing it in the ocean.
You can find Don Q rums, and their Gran Añejo by using their product locator.
Try sipping some Gran Añejo this holiday season. It is the ideal substitute for whiskeys in any cocktail! And the perfect thing to sip while enjoying your Don Q Cinnamon Rum Cake!
Printable Cinnamon Rum Cake Recipe
Yield: 12
Cinnamon Rum Cake
This moist and delicious Cinnamon Rum Cake is perfect for all your holiday celebrating but I love to serve it for brunch all year long!
Total Time
1 hour
5 minutes
Ingredients
For the Rum Cake
4 eggs
1/2 cup water
1/2 cup vegetable oil
1/2 cup Don Q Gran Añejo Rum
1 box Yellow Cake Mix
1 small box Instant Vanilla Pudding
For the Cinnamon Crumb
1 cup brown sugar
1/4 cup white sugar
2 tsp cinnamon
1/4 tsp nutmeg
1/4 tsp ginger
Instructions
Grease a bundt pan and preheat the oven to 350 degrees.
In the bowl of a stand mixer, beat eggs, oil, water and rum until just combined.
Add pudding and cake mix and beat until smooth, approximately 5 minutes on medium.
In a small bowl, mix the brown sugar, white sugar, cinnamon, nutmeg and ginger.
Pour half the batter into your bundt pan.
Top with cinnamon crumb (amount to your liking but remember to reserve at least half to finish it off)
Add the remaining batter.
Finish with the cinnamon crumb.
Bake 40-45 minutes
Let cool for 10 minutes then invert cake on to a plate to remove from the bundt pan.
Nutrition Information
Yield
12
Serving Size
12 Servings
Amount Per Serving
Calories

388
Total Fat

13g
Saturated Fat

2g
Trans Fat

0g
Unsaturated Fat

10g
Cholesterol

62mg
Sodium

359mg
Carbohydrates

57g
Fiber

1g
Sugar

39g
Protein

4g
Nutrition information isn't always accurate.
Pin to save this Rum Cake for later
This quick and easy Cinnamon Rum Cake is a delicious breakfast or dessert idea that you'll love!