All the MarthaCelebrations at JC Penney products featured in this post were provided by the Editors at Martha Stewart Living, a team that loves a good party and deeply admires the bloggers who throw them.
HBD. It is a much cooler way to say Happy Birthday, don't you think?
With two little boys, I get to throw several fun kid parties a year. But there is way less opportunity to throw a killer adult birthday. I designed this fun dessert and cocktail party with several of my friend's in mind. But why would you need to throw a party, you ask?
One day an email arrived to my inbox and I thought I had died and gone to heaven. The editors of Martha Stewart Living had put together a fun opportunity and they wanted me to be a part of it. Wait, what?! Me! And it gets better! Each blogger they chose would receive a box of some MarthaCelebrations goodies, you know, the new line of party products at JC Penney to design a party with. This is totally right up my alley. I said yes (duh) and then waited rather impatiently for the box to arrive to see what I would get to work with! I was SUPER excited when my box showed up. It was full of silver and white party supply items in a wood grain and star pattern. There was a bit of sparkle, it was a bit cool and I knew I could put my spin on it.
I focused the party decor on the dessert table and cocktail "cart" area and cleared out the rest of my dining room to create an open dance floor area.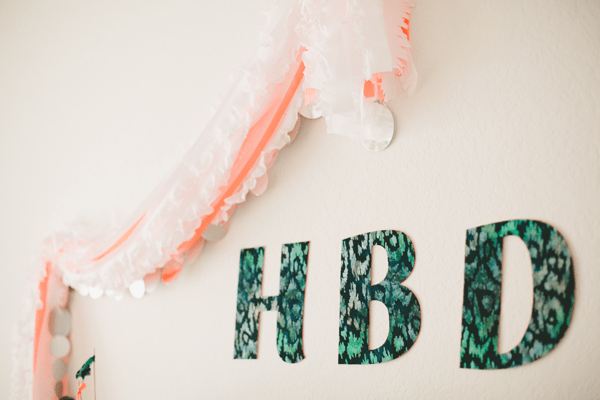 I have been wanting to do an HBD party for some time so this was the perfect opportunity. In this age of hashtags and text language, it just seemed right. Since I can't quit neon, I knew that neon orange had to be a part of the design. And an old tapestry (not quite vintage, thank you very much) from my high school days inspired the use of the batik fabric. (Using fabric can be tough but I found this great product at the craft store called Phoomph, that helps to keep it stiff and able to better hold shapes.) I also knew that I wanted to use my plastic table-cloth ruffles (and some fringed ones too) to add texture to the walls. I think they added a subtle, feminine touch. I wanted the sweets to be spiced without being spicy so I kept a loose international influence throughout with hints of cardamom and nutmeg as well as citrus and nuts.
One of my favorite products is this cardboard cupcake stand. The tiers are actually reversible so you can choose which pattern you want showing! What a cool idea. I used a neon orange paint pen to edge the stand for a fun pop of color. And as I was going through the box I was thrilled to see the pricing on each item. The cupcake stand is only $12! Totally affordable. I wanted to keep the party focused on sweets (have you heard about my sweet tooth???) so I filled the stand with delicious vanilla cupcakes by Meringue Bake Shop and pistachio rose popcorn balls that I made, wrapped in the silver wood grain cupcake wrappers from part of a MarthaCelebrations kit.
To get the party started right, I asked my friends at Carta Society to create a custom invitation for me using the printable invitation/menu card set. I love how they were able to capture the fun yet classy feeling I was going for and incorporate the patterned fabric.
The prints that are available for all the paper products (not just the set I got) in the MarthaCelebrations line are the best I have ever seen. I don't know why it has taken so long to get good prints on disposable products but I am so happy it has finally happened. I think they really elevate the look of a casual get together. I added in some of my Philippe Starck designed plastic cutlery with my favorite disposable heart fork/knife/scoops.
My dining room has very high ceilings and are not conducive to hanging chandeliers. Kristin suggested I hang it on the wall somehow which led me to what I think is very dream catcher-esque wall hanging. I added a small macrame touch to the center, which like neon, I can't stop. I really like to knot things. Is there a 12 step program for those things? Can someone please stage a friendtervention?
These gray favor boxes were super easy to put together and the perfect thing for the spiced donut truffles Kristin, of Meringue Bake Shop, created. I added a little bit of sparkle with this amazing silver ribbon.
Since Martha knows how OCD we party ladies can be about our matching colors, she even has color coordinated candies available to go along with her collections, like these silver wrapped chocolate hearts. She thought of everything. Duh. She's Martha.
I added a touch more silver to the wall decor with the silver metallic circle dot garland. The hint of orange mixed in with the white tablecloth ruffles was flagging tape I found at Home Depot. The flowers were a simple way to add more color to the table and I added a second "favor" item in the potted succulents. I wrapped the pots in the wood grain cupcake sleeves.
I fell in love with the sparkly, spiky, silver gift toppers and knew it was the perfect thing to add to my spiced bundt cake.
I felt like we needed a custardy type item to round out all the baked goods so Kristin suggested a panna cotta. I candied some kumquats to add to the top and they were the perfect addition to the table. The vanilla bean panna cotta she created was velvety with a touch of sweetness and paired perfectly with the tart but sweet citrus. AMAZING. I wish you all could have tasted them!
I really love how the table came together. I love the color combo and felt like I was able to personalize the MarthaCelebrations items to fit my style.
For the other focal point of the party, I created a Gin and Tonic bar and provided fresh fruit to muddle and custom syrups to try out.
I tied in the decor to the main party table by once again using the plastic tablecloth ruffles and silver garland. I used some leftover invitation/menu cards to print out the specialty gin and tonic recipes and used macrame knots to create a way to display them on the wall.
I used the tags that came with the favor boxes to make labels for the bar syrups. I love using fresh herbs and produce in a bar set up. Not only does it bring the fresh flavor but is another way to add vibrant color.
The star patterned cocktail napkins paired really well with the glass and silver elements on the bar table.
I used the silver picks from the cupcake kit for the cocktail garnish which I made using flavors from the specialty recipes I printed.
The gin and tonic recipes are delicious!!!!!
Not only does MarthaCelebrations do party decor but they also do gift bags and wrap. It is hard to tell from this shot but the white paper is embossed and absolutely stunning!
I am beyond thrilled that the Martha Stewart Living editors asked me to be part of this fun project!
And you have a chance to win your very own MarthaCelebrations party-in-a-box!! From now (June 7th) until June 14th, just head to the #LetsCelebrate Pin Party Board and repin your favorite party images. Use the hashtag #LetsCelebrate on each pin to be entered to win. The blogger with the most repins will win a feature on MarthaStewart.com!!! and win a JC Penney gift card. So for the love of Pete, repin my party! :) I'll be your best friend.
Huge thank you to Dez and Tam for the GORGEOUS photos (and syrup label lettering). Thank you times one million to Kristin of Meringue Bake Shop for providing beautiful and delicious treats. And special thanks to Carta Society for working with me on the invitation. I could not have done it with out you guys!
I can't wait to check out all the other parties!