This easy adult birthday party idea with a dessert bar and make-your-own Gin and Tonic station is perfect for any celebration. This theme feels elegant but is low-stress and fun to host.
This party idea for adults was made possible with product provided by the editors of Martha Stewart Living and features Martha Celebrations products.
Let's plan an adult birthday party
With two little boys, I get to throw several fun kid parties a year. But there is way less opportunity to throw a killer adult birthday.
A dessert and cocktail party is a great idea, especially when hosting at home. It means you don't have to worry about cooking a full meal and you can get away with ordering store-bought desserts instead of making everything yourself.
Related post: Neon and Neutral So Glad You Were Born Party Idea
And setting up any kind of DIY cocktail bar means you don't have to have a full bar set up and can keep things simplified.
These ideas will not only help you host birthday parties but would work for any adult celebration like a graduation or retirement party.
The invitation
To get the party started right, I asked my friends at Carta Society to create a custom invitation for me using the printable invitation/menu card set in Martha's line.
I love how they were able to capture the fun yet classy feeling I was going for and incorporate the patterned fabric. Matching your invitation to the party is a great way to give the guests a hint of what is to come, even though they won't totally know that until they get there.
Adult Birthday Party Decorations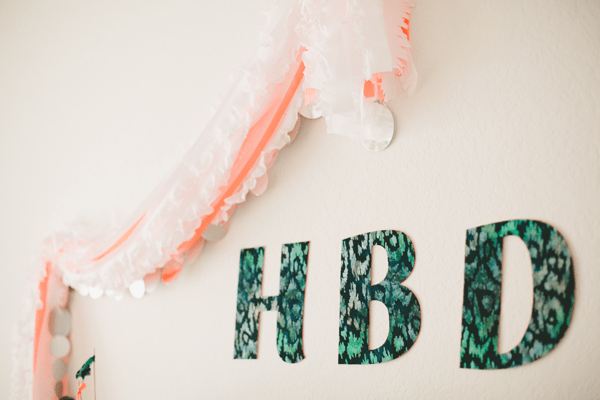 HBD is a much cooler way to say Happy Birthday, don't you think? Cut out fabric letters are a more mature way to do a birthday sign. Although a photo banner could work too.
Ruffled streamers from plastic tablecloths in a variety of colors are easy to DIY yourself and are inexpensive.
Most adult parties don't really have a full-on theme. So when I'm planning one, I like to plan out the colors I'll use and figure out different ways to add them throughout.
In this case, the batik fabric is full of pretty blues and greens and the peach in the streamers adds a little pop of color.
If you want a little bit more in the way of decorations, here are my favorite places online to buy party supplies.
I focused the party decor on the dessert table and cocktail "cart" area and cleared out the rest of my dining room to create an open dance floor area.
I added more of my fave DIY garlands by the bar to make the two spaces feel cohesive.
I added a touch more silver to the wall decor with the silver metallic circle dot garland. The hint of orange mixed in with the white tablecloth ruffles was flagging tape I found at Home Depot.
Fresh flowers are always a simple way to add more color to the table. I also added small potted succulents wrapped in wood grain cupcake sleeves to start as decoration but would be sent home with the guests as a favor (you can see them in the photo below).
The Dessert Bar
I used a mix of store-bought and homemade desserts for this party to keep things easy and delicious.
I wanted the sweets to be spiced without being spicy so I kept a loose international influence throughout with hints of cardamom and nutmeg as well as citrus and nuts.
One of my favorite products is this cardboard cupcake stand. I used a neon orange paint pen to edge the stand for a fun pop of color.
I filled the stand with delicious vanilla cupcakes by Meringue Bake Shop and pistachio rose popcorn balls that I made, wrapped in the silver wood grain cupcake wrappers from part of a MarthaCelebrations kit.
I used my Wine Cake recipe as the base for this spiced bundt cake. I just added a few more spices like cinnamon and cardamom and some fresh orange zest to give it even more flavor.
Kumquats were another easy way to give a pop of color to the table.
I felt like we needed a custardy type item to round out all the baked goods so Kristin suggested a panna cotta. I candied some kumquats to add to the top and they were the perfect addition to the table.
The vanilla bean panna cotta she created was velvety with a touch of sweetness and paired perfectly with the tart but sweet citrus. AMAZING. wish you all could have tasted them!
Use Disposable Serveware
Using disposable tableware like plates, cutlery and napkins keeps things super simple. There are no dishes to wash, nothing will get broken and you can reuse any lefotvers for other parties at home.
I think they really elevate the look of a casual get-together. I added in some of my Philippe Starck-designed plastic cutlery with my favorite disposable heart fork/knife/scoops.
Make-Your-Own Gin and Tonic Bar
For the other focal point of the party, I created a Gin and Tonic bar and provided fresh fruit to muddle and custom syrups so everyone could make their own mixed drinks.
I tied in the decor to the main party table by once again using the plastic tablecloth ruffles and silver garland.
I used some leftover invitation/menu cards to print out the specialty gin and tonic recipes and used macrame knots to create a way to display them on the wall.
Gin and Tonic Recipes to Use
I used the tags that came with the favor boxes to make labels for the bar syrups. I love using fresh herbs and produce in a bar set up. Not only does it bring the fresh flavor but is another way to add vibrant color.
The star patterned cocktail napkins paired really well with the glass and silver elements on the bar table.
I used the silver picks from the cupcake kit for the cocktail garnish which I made using flavors from the specialty recipes I printed.
Party Favors
These gray favor boxes were super easy to put together and the perfect thing for the spiced donut truffles Kristin, of Meringue Bake Shop, created. I added a little bit of sparkle with this amazing silver ribbon.
While this adult birthday party idea may look like a lot of work, you can make it even easier! Serve less options for desserts and keep the Gin and Tonic bar even more simple.
Huge thank you to Dez and Tam for the GORGEOUS photos (and syrup label lettering). Thank you times one million to Kristin of Meringue Bake Shop for providing beautiful and delicious treats. And special thanks to Carta Society for working with me on the invitation. I could not have done it with out you guys!
While these Martha Stewart products are no longer available, you can find some products at Walmart.
More easy party ideas