These Lemonade Cocktail Recipes are tart and sweet and the perfect mixed drink recipes to sip when the weather warm-ups. Made with vodka, tequila, and other liquor, these delectable recipes with lemonade are sure to be a hit at your next party.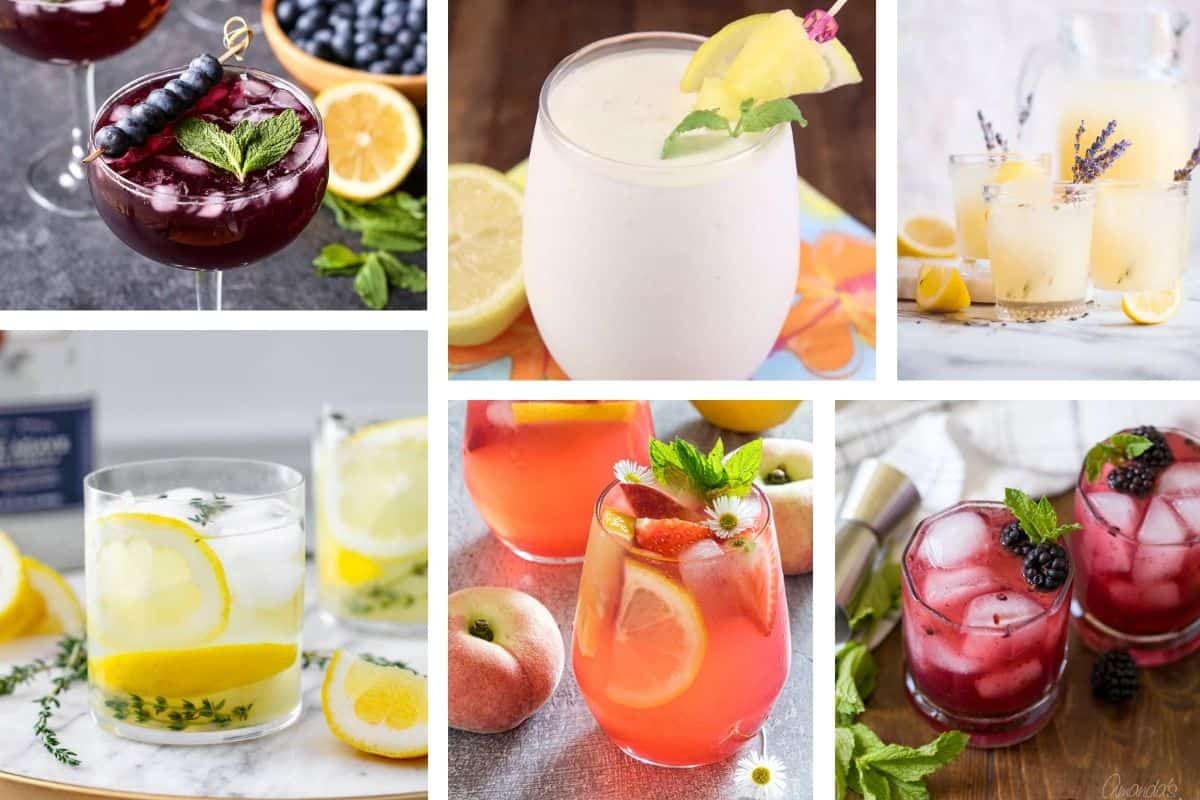 Jump to:
This collection of lemonade mixed drinks includes seasonal ingredients such as berries, melons, citrus, and herbs for crowd-pleasing flavor combinations that pair perfectly with tart lemon.
You'll love these lemony summer cocktail recipes
These lemonade based cocktails are not only slurp-worthy, but they're fun to make.
The refreshing scent and flavor of lemonade are on full display in these delicious cocktail recipes that are perfect for summer.
Here, you'll find ideas such as a party punch that includes blue curaçao for beachy themes as well as fruit and champagne-spiked lemonade that turns into an effervescent mimosa cocktail.
Whether you use store-bought or make your own homemade lemonade, you can find something tasty to try when the weather warms up.
Related: Summer Vodka Drinks
Backyard celebrations are perfect for serving a lemonade shandy, complete with your favorite beer in the mix.
And you'll also find plenty of ways to elevate lemonade with vodka, whisky, gin, bourbon, tequila, and more in these delectable recipes that are sure to be a hit at your next party.
Lemonade Cocktail Recipes to Make at Home
If you're looking for the perfect drink to make at home, make one of these lemonade mixed drinks! From simple recipes with a splash of vodka to a more fruity raspberry lemonade with some edible flowers, this list has plenty of drinks with an adult twist on a favorite summer drink.
A simple garnish of a lemon slice or lemon wheel is the perfect way to finish off any of these homemade lemonade cocktails to serve at your next happy hour in summer or any time of year.
The best cocktail has a little bit of citrus flavor from tart lemons and has a few additional flavors to make it more complex.
Tips
If making homemade lemonade cocktails, it's best to use fresh lemon juice for best results.
I find the best lemonade for cocktails is homemade, but a high-quality store-bought version like Simply Lemonade is also delicious.
For any recipe that calls for store-bought lemonade, you can substitute lemonade with pink lemonade.
Browse my Bar Tools Essentials post to see what tools will help you mix amazing drinks at home.
It's easy to use simple syrup to sweeten up any of these mixed drinks made with lemonade.
If you're worried about dilution from melting ice cubes on a hot summer day, you can freeze lemonade in ice cube trays and use those instead.
Lemonade recipes to get you started
Make a spiked lemonade recipe by adding your favorite liquor to one of these recipes for a simple cocktail or lemonade mixed drink.
More easy summer cocktails