You guys! I've got my finger on the pulse of tween life! Just kidding. I'm just winging it like all of you. But I always like to share any info that I do learn to help make your mom life a little bit easier. These gift ideas for tween boys are pretty cool! It's hardly a DIY, not super expensive and let's them be creative. I love it! Plus I'm sharing a few other presents for boys that might help you with shopping for your kid's next birthday.
This post contains affiliate links which means I make a commission off of any sale you place through them.
My tween is really in to streetwear. If you aren't familiar, it's a laid back, casual style with roots in California surf and skate culture (although New York is also a big player and influence). Of course, this is not out of left field since my husband has spent almost his whole career in the action sports industry in So Cal.
Starting last year, my son started to really get in to these streetwear brands and creating his personal style. I started hearing my husband and son talk about buying plain white Vans to customize. Then I realized that it was because of a cool new trend my son was seeing in streetwear.

Joshua Vides, a streetwear vet and artist had started creating comic book inspired art around town and on clothing, which you can see more of here). My son came across a pair of his outlined Vans on Instagram and was like, "I can do that!" This would make a great gift idea for other tween boys. It's just a pair of sneakers, a Sharpie and a whole lot of style!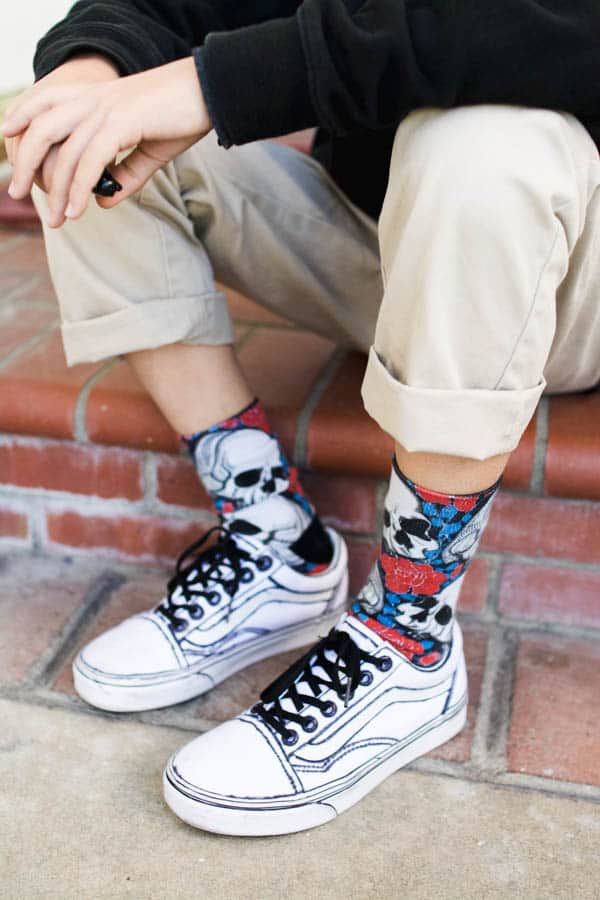 Streetwear can be exclusive and expensive and I love that these custom Vans sneakers don't break the bank and can be done by anyone. This DIY was also a great way to talk about art and copying, etc. I'm truly loving this tween stage! My son is so open to everything and we have such great conversations.
They really do look cool too. Even though my son's pair didn't turn out quite the same as the original artist, they still look awesome! You can do it with other shoes too, but Vans are a great reasonable price point and easy to buy in person or online. Have you seen this trend?

Shop this DIY gift right now!
Vans | Sharpies
Cool Gift Ideas for Tween Boys
Streetwear often overlaps with sneaker obsessions and that is totally true for my kid. Thankfully, he's not in to collecting the shoes because we don't have the room or money for that. I knew he would like this Sneakerhead Coloring Book I picked up. Not only could he continue the same Sharpie outlining that he did on the sneakers, but then he could design his own sneaker designs too.
Tween boys can be so hard to shop for! I think these presents for boys are a great place to start if you need to shop for a boy age 9-13. What do you buy for boys that age?! Leave a comment and let me know! With his birthday coming up, I can use all the help I can get!
And don't forget to check out another post I did of the best gift ideas for boys who are a little bit younger and some fun items I put on my 2017 Holiday Gift Guide for Kids.
More Presents for Boys age 9-13

Some thoughts:
One of the things I'm finding out is that when my son goes out to ride the neighborhood with his friends, he's not sure where to keep his keys or phone. This lanyard keychain takes care of that. And, luckily (and surprisingly) fanny packs are totally in. This means he can always carry his things with him easily.
And socks! Tween boys like cool socks. Active Ride Shop has a great selection – of boys and men's sizes (including Stance)!
And a note about the sticker packs! It is impossible to ensure that this sticker pack does not include inappropriate stickers. If you order this, go through them first and pull out the ones that you don't want your son to have.
Pin this post!
You may also like these cool gift ideas:
Birthday Ideas for Kids and Netflix On Demand
DIY Candy Necklace Gift Idea for Little Girls
Sort of DIY Gift Idea for Your Girlfriends