These must-have kitchen gadgets make preparing dinner a little less stressful and get me out of the kitchen faster.
Making dinner every night doesn't have to be a dreaded chore. In fact, with a little help from some useful tools, dinner prep can be quick and painless.
Why I Chose These
When it comes to finding the best kitchen tools, I look for gadgets that serve multiple purposes to ensure I get the most bang for my buck.
These aren't the sexiest tools (or funny like my favorite kitchen White Elephant gift ideas that are still super useful btw). These aren't flashy or trendy. These are tried and true essential kitchen tools that help me feel like I don't live to cook.
Each of these tools is designed to help you to prepare dinner faster so you can get back to more of what you love (which for me, is a somewhat unhealthy relationship with Netflix) or find 15 minutes for yourself.
When pairing these must-have kitchen gadgets with quick dinner ideas, you'll be able to feed your family well and not be stuck in the kitchen for hours. I consider that a mom win!
And I think it's ok to figure out how to make those everyday mom chores a little more fun. While I adore my family, I also want to love what I'm doing.
On top of being inexpensive, you can easily order each one of these helpful gadgets online and have them shipped to your home.
You'll see that most of these links are to Macy's. They have a great home section and have sales pretty regularly so be patient. I buy most of my kitchen tools, pans and pots here (and also my fave makeup).
Hint* Always look to see if there is an additional coupon code you can use before you complete your order!
Whether you're making a sheet pan dinner or a White Chicken Enchilada Casserole, these tools will help you do it faster!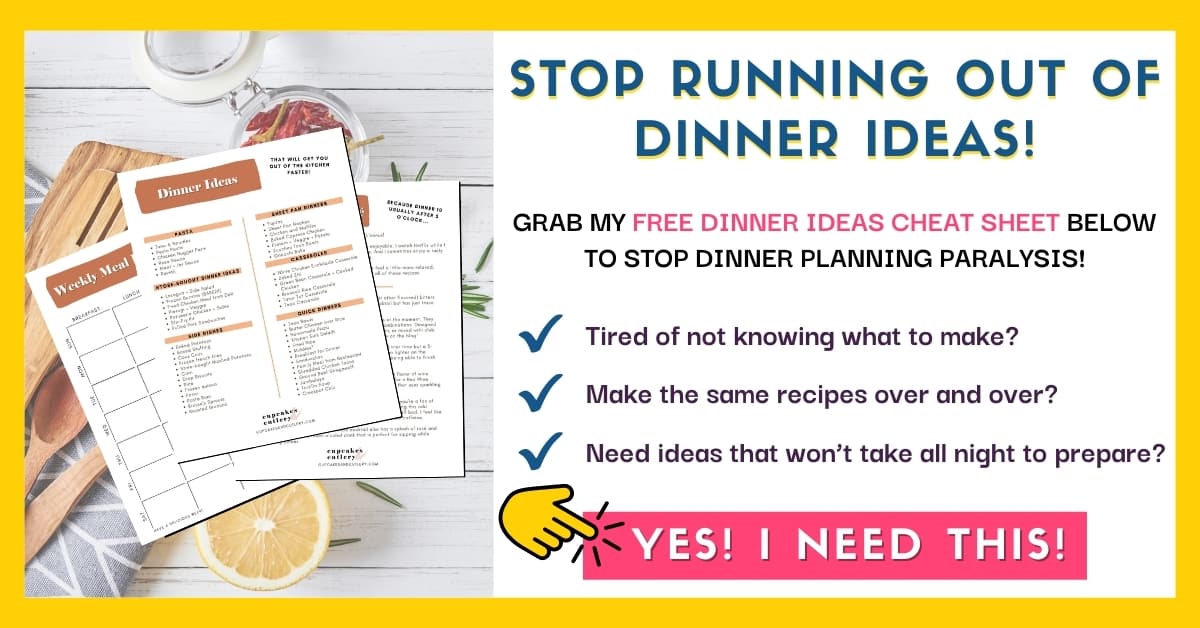 Must-Have Kitchen Gadgets
Just like my home bar setup, I keep things pretty streamlined. These are the things that make my life easier that I think you should know about too.
Angled Measuring Cups
Thanks to the unique design of these Oxo Angled Measuring Cups, there's no need to bend over to read the measurements on the side. The angled design lets you read the measurements from above, allowing you to pour the exact amount of liquid you need for your recipe without any guesswork.
Using this type of measuring cup means you just need one tool instead of a few different individual measuring cups.
With an easy-to-use handle and a pour spout, this makes measuring so easy. They are dishwasher safe and come in 3 sizes that are perfect for baking or cooking.
I even use the smaller size for making cocktails at home.
Plus they nest inside each other for easy storage!
Magnetic Measuring Spoons
These sleek double-ended measuring spoons not only make measuring your ingredients quick and easy. But they also reduce the amount of storage space you need in your kitchen.
Each spoon includes the same measurement on each side, but in a different shape.
This not only makes it easier to fit into your spice container, no matter the shape, but allows you to easily use the same spoon for liquid and spice measuring without having to wash it.
And the unique magnetic design allows you to easily stack and nest the spoons together when they're not in use. No more searching the drawer for the right size.
I have multiple sets of measuring spoons and this set is by far, my favorite.
Buy: Magnetic Measuring Spoons
Mixing Bowls
Having a variety of mixing bowls on hand is a must when you're busy in the kitchen. And with the help of this pastel nested bowl set, you can easily store all your mixing bowls together without taking up a ton of space in your cabinet.
I love to use this set when I'm working on dinner prep (either the night of or before - the lids on these bowls make it especially awesome!). I use one to keep my chopped fresh veggies and use other sizes for the trash bowl.
Using multiple bowls helps to streamline the prep and keep you organized. While I also have a nesting set of glass bowls (it has 10 sizes and is super heavy), I much prefer this lightweight set with just 4 sizes. It's plenty.
These are also great for baking, and look nice enough to serve from right on the dinner table.
Buy: Mixing Bowls
Batter Bowl
While mixing bowls are great for stirring up dinner, having a batter bowl on hand is one of the best kitchen tools for baking dessert. The spout on the side makes transferring your batter from the bowl to a pan quick and mess-free.
Since I mostly make easy cake-mix desserts, they can usually be made right in one batter bowl.
But I also love this size bowl when making a casserole. It's large enough to hold all the ingredients and stir with a spatula before dumping them into the dish.
Buy: Batter Bowl
Kitchen Sheers
Although having a good knife set in your kitchen is a must, when it comes to making speedy dinners, kitchen shears are one of the best kitchen gadgets to have.
From quickly slicing pizza to finely chopping fresh herbs, there are so many ways you can use a great pair of scissors in your kitchen.
My mother-in-law uses shears and I think it's such a genius hack! I use them to cut my chicken for stir-frys, to chop cooked chicken for casseroles and even for my lunch salads.
I love that you don't need to get out the cutting board.
They are dishwasher safe and I make sure I always have multiple pairs in my knife area.
Buy: Kitchen Shears
Oil Dispenser
With the help of this must-have kitchen gadget, you can quickly and easily add oil to any dish or pan. Skip the mess that comes with pouring oil directly from the bottle and use an oil dispenser to make a precise pour every time.
This one looks sleek and can be kept right on the counter so it's easy to grab for cooking or even to dress salads.
It's drip-free so it won't cause a mess like some others that I've tried. And it has a 2-speed spout so you can do a controlled drizzle or a heavier pour for larger quantities.
Buy: Oil Dispenser
Ninja Foodie
When it comes to making speedy dinners, two of the best appliances you can have in your kitchen are a pressure cooker and an air fryer.
The Ninja Foodie combines those two handy appliances with 11 programmable cooking functions, allowing you to air fry, pressure cook, slow cook, steam, and roast all in one useful gadget.
I hate to have multiple appliances in my kitchen. It's just too small. So I love that this one lets you do all the things.
I love to use the pressure cooker feature to make shredded salsa chicken for taco cups. But there really are so many things you can make. This is a must-have kitchen gadget for sure!
Buy: Ninja Foodie
Crockpot
There's nothing better than coming home to a fully cooked meal after a long day. With the help of a slow cooker, you can prep dinner in the morning and enjoy a hot, delicious meal when you get home.
If you don't want to worry about all the other functions of the Ninja Foodie, the programmable slow cooker is for you!
I try to make a crockpot meal once a week. It allows me to take a few minutes to prep dinner in the morning and then not really think about it again.
It's perfect for busy weekdays when we have appointments, or I know I'm not going to be in the cooking mood at dinner time. Plus it works for crockpot dump cakes too!
Buy: Crockpot
---
If you love to cook at home but are looking for ways to speed up the process, these must-have kitchen gadgets are the key!
Related Posts