Learn how to roast a whole chicken without getting grossed out. Roasted chicken is not only delicious to serve as a dinner but a great way to help you meal prep and make other meals easier. Once you get over the whole raw chicken part, it's so simple!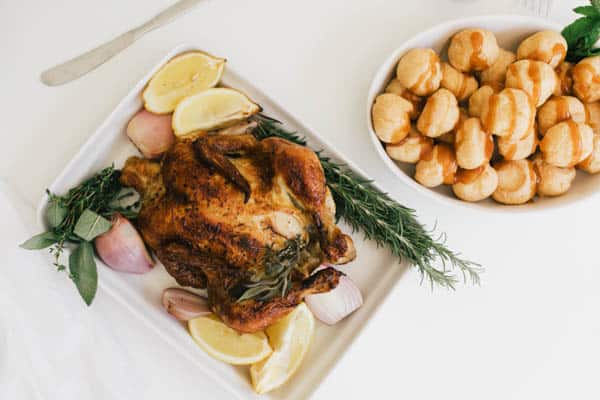 Jump to:
Whole Roasted Chicken is great for families
When I finally learned to cook a whole chicken in the oven, my meal planning really leveled up and yours will too!
I resisted the idea of cleaning a whole chicken for years because it sounded super grody due to the fact that you basically have to get to 3rd base with a chicken.
Related: How to Jazz up a Store-Bought Rotisserie Chicken
The roast chicken meat is tender and delicious, plus you end up with enough chicken for about 3 meals!
My mom always told me that I should bake a whole chicken for an easy dinner idea. But it felt too grown up/soccer mom. I'm so glad I finally learned how to cook a whole chicken.
I can't believe it took me so long to learn to make this! You really need to do this.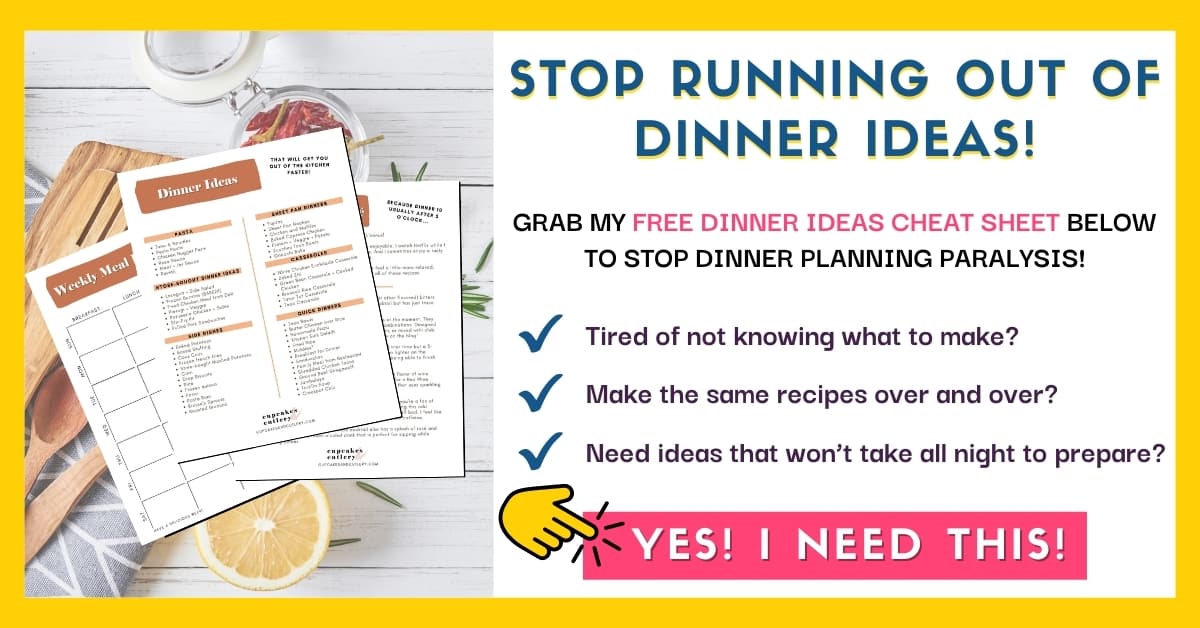 Why Cook a Whole Chicken in the Oven
It can be inexpensive
If you wait until they're on sale, roasting a whole chicken can be a super inexpensive dinner idea.
I know when I see the ads and a whole bird is $0.80 cents a pound, that is a great sale and you want to pick up a few of them.
You can see from the package the one on the right says the total cost is $3.25. Just think of how much you pay for a package of chicken breast fillets!
Make a lot at once
And I say pick up a few of them because since you are going to be roasting something in the oven for an entire afternoon, it makes sense to make more than one at a time and make twice as much meat without hardly any extra work.
I always do at least two at once so I'm left with enough chicken for 3 meals!
Use it to speed up other meals
It's a great thing to add to your quick dinner recipes so that you can cut out some of the cooking at least one night.
It's delicious
Plus the meat is super moist and delicious. It's a pretty forgiving recipe so it's hard to do it wrong (thank goodness).
You can buy whole chickens year-round in your meat department at your local grocery.
How to Clean a Whole Chicken
So yes. It is gross. And the very first time my mom had me clean a whole chicken I was super squeamish.
But it does get easier.
Clean the chickens, focusing on one at a time.
Step 1: Prep your sink
I'm a super stickler for germs and such (I'm all about risk management, people) so I probably go a little overboard with my process.
Make sure you have any dishes and sponges out of both sides of the sink and clean the sink before you begin (you'll do it again when you're done).
Put one plastic grocery bag inside another one and put it in one side of the sink. This is where you will discard grody bird parts.
Use kitchen shears to cut open one the packaging of the whole chickens.
NOTE: I swear by my kitchen shears and use them for everything from opening food packages to cutting pizza and bacon. I even use them to cut Brussels sprouts smaller before I roast them.
Shears can easily go right into the dishwasher to ensure that they get cleaned and sanitized.
I guess you could wear gloves, but you will still feel squishy things through them...
Step 2: remove the guts
Ok, so here we go.
To stick your hand all up in the cavity feels a little bit like jumping into a pool that you know is going to be ice-cold.
You know you are going to do it, but it isn't going to be entirely pleasant, but then it will get better and then you will be done.
Take a big deep breath and stick your hand in the cavity.
Grab a handful and immediately stop thinking about it. Don't think. Sing a song. Really loud.
Create an out-of-body experience and go watch some Real Housewives in your head. Do anything but think about what you are touching.
This is how you won't get grossed out.
Take that handful and throw it in the grocery bag you have in your sink. And don't look at it again.
Repeat until you have everything out of the bird.
It really isn't that bad. But trust me, I was right there with you a few years ago.
After you think you have all the big stuff out, take your hand and sort of sweep it around the inside to see if you come across smaller stuff that you think needs to come out.
Step 3: Rinse
Once you think you have most of the "stuff" out, give the cavity a rinse.
There is stuff that comes streaming out that isn't gorgeous. Continue your deep breaths and non-thinking.
So after about five minutes of mild discomfort, you are finished cleaning.
Yeah!!!! Whole chickens are fun!
NOTE: And don't forget to clean your sink! Use a spray with bleach just to be sure you got all that raw chicken juice out.
How to cook a whole chicken in the oven with beer
This is my normal, untrained person's way of preparing and making roasted chicken. Because that is what I am.
Just a gal who cooks for her family. No special training is needed.
Well, I mean, probably a little bit more training would help but who's got time for that?
Ingredients
The basic recipe for roasting a whole chicken, at least according to my mom, is chicken stock, maybe some lemon, and maybe some cut-up onions.
At the very least, you need a few cans of chicken broth with the other things just being flavor agents.
But I came across this recipe for using a Mexican beer and lime (one for you, one for the bird) that I modified a little bit.
YOU GUYS!
The house smelled freaking ridiculous while these chickens were roasting.
And while the meat was flavorful, it didn't make it taste so much that you would be unable to use the chicken in other kinds of dishes that were not of the Mexican variety.
Because that is the point of cooking whole chickens.
You get a meal the night you cook them, but then with the leftovers, you can eat the chicken plain or work it into other recipes.
So versatile.
How to Roast a Whole Chicken
Preheat
Preheat your oven to 325°F.
Put chicken in pan
You want to put the chicken, breasts down, in a roasting pan. I used to have the hardest time knowing which side had the breasts.
But you can tell from the picture above that if you look at them more like a person than a bird, you understand where things are. See their elbows?
I mean, their wings look just like arms. And their legs look just like, well, legs. So butts up, breasts down.
Add the liquid
While I mixed beer and chicken stock when I photographed this, the included recipe is just the basic chicken stock version since that is what I make the most.
Season
Add whatever spices you are using, salt and pepper, paprika, or whatever feels good.
If using lemons and onions, just place them in, on, and around the bird.
I like to squeeze out the juice on the bird and leave the rest to give off whatever flavor it still might have.
Baste the chickens while baking
You will want to baste the chickens every half an hour or so throughout the cooking process to keep them moist.
It is not as tedious as it sounds. I am a super lazy cook and I was even ok with this step.
How Long to Roast a Chicken
Roast the whole chicken in a 325-degree oven for about 3 ½ - 4 hours. What? Are you crazy? No. Do it.
I try to do these on a Sunday afternoon when we are being lazy at home. But you could easily put them in right after you get home from school pick up.
The slow cooking at a low-ish temperature helps them to stay really moist (and I've never had a problem with the leftovers being dry either).
If the birds start to get a little too brown for your taste, just tent them with foil. I'm not a chicken skin fan so I kind of just ignore it since I'm just going to remove it anyway.
Remove the meat
Once they have cooled a bit, remove as much of the meat as possible. I discard the rest.
And then you have all this tasty chicken. Best. Thing. Ever.
I know others keep the bones to create their own homemade chicken stock. But I just don't think I would use it that often. And then I'd have to store it. It's a whole thing.
Pack up the extra servings
I grab whatever chicken I'm serving for dinner and then portion the rest of the chicken into freezer bags in meal-sized portions.
It makes it super easy to grab one to thaw out the night before I need it.
Now you know how to roast a whole chicken and get enough meat to use for multiple meals!
I really feel like I was missing out by not knowing how to roast a whole chicken.
I promise you the chicken cleaning part is not as bad as you think it is and will be done super fast.
How do you like to roast a chicken at home? I'd love to hear your recipe in the comments below.
More easy chicken recipes
How to Roast a Whole Chicken in the Oven
Once you learn how to roast a whole chicken you will wonder why it took you so long to try it! The flavor is delicious and you can make 2 at once and end up with meat to use for future easy dinners!
Print
Pin
Rate
Save
Saved!
Instructions
Preheat your oven to 325°F.

Place the cleaned chicken breast side down in a roasting pan. (Spraying with oil isn't a bad idea).

Add a cup or so of chicken stock to the pan.

Season your bird with whatever spices you want, at the very least consider salt and pepper.

If using, cut up lemons and onions and place in pan around the bird in the pan.

Repeat with more stock every half hour or so, basting the top of the bird with a little liquid each time.

Place in the oven and roast at 325°F. total roasting time should be about 3.5-4 hours. A meat thermometer should read 180°F.

Tent the outside with foil if the chicken is getting a little bit too brown.

I like to remove the meat from the bird as soon as it is cool enough to handle.

If eating a portion that night, I serve it as is with a veggie and starch.

Whatever is leftover, I will portion into freezer bags and freeze so I can have cooked chicken ready for future meals.
Notes
I always wait for whole chicken to be on sale for around .80 cents a pound before buying. And I always buy at least 2 to make at once since you are going to be cooking for hours.
I noted the servings as 4 since one bird can more than adequately feed my family of 4. If I make 2 chickens, I can usually get enough chicken for at least 3 meals for my family.
If you want to bake the chicken with the beer, just use about half the amount of chicken stock and make up the difference with the beer.
Nutrition
Serving:
1
g
|
Calories:
873
kcal
|
Carbohydrates:
27
g
|
Protein:
86
g
|
Fat:
45
g
|
Saturated Fat:
13
g
|
Polyunsaturated Fat:
27
g
|
Cholesterol:
275
mg
|
Sodium:
486
mg
|
Fiber:
2
g
|
Sugar:
21
g