I've never met a chip I didn't like and when paired with this Cold Bacon Cream Cheese Dip, I crave this snack all the time!
This creamy dip is quick, easy and the addition of sage makes it perfect for fall.
Whether you serve it as a party appetizer or save it for yourself, this easy recipe is full of flavor and ideal for dip lovers everywhere.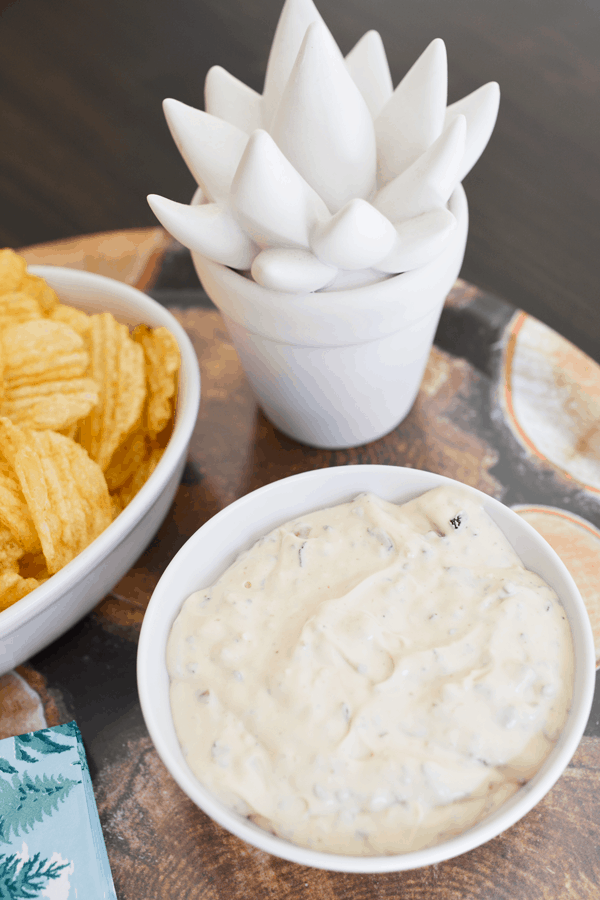 Some links in this post may be affiliate links. As an Amazon Associate in the Amazon Services LLC Associates Program, I earn from qualifying purchases by linking to Amazon.com and affiliated sites. I also participate in affiliate programs for other retailers.
So I have a favorite dip recipe that I stole from an old roommate. And I love it. We no longer speak but I still eat that dip.
I love it so much that I decided to add bacon and sage to it and make it even better. Because why not. The dip is super easy to make and delightfully tasty.
To eat this the right way, you must eat it with Ruffles. (Not sponsored.) Ruffles are the perfect saltiness and the perfect crunch.
I didn't have them on the day I shot this and I was super disappointed. The chips I had on hand were too crunchy and hard which does not provide optimum enjoyment for the dip experience.
But I am sure that even with just a spoon to shovel it in your pie hole you will love this Bacon Dip Recipe.
This is the perfect dip for inhaling while watching Hallmark Movies on a cool fall weekend afternoon.
It's faster to make than my favorite Warm Bacon Cheese Dip and it's you're going to love it.
How to make Cold Bacon Dip
Mayo. Gross.
While I won't eat it on its own, like in a sandwich, I still use it in recipes. As soon as the other ingredients mask the smell I'm totally fine. Mayo Cookies, wonderful! Chocolate-Mayonnaise Cupcakes, even better!
When you have fresh sage and bacon bits around, well, that's all you smell. Thank goodness. There is something about it that makes it a must-have ingredient in cold dips.
The cream cheese also helps to make it super creamy and the one clove of garlic adds so much flavor without being overpowering.
Worcestershire Sauce always adds a meaty richness that adds a nice depth of flavor.
Bacon bits are great on just about anything and are the lazy way to use bacon in a recipe without having to turn your kitchen into a splattered mess.
Fresh sage makes it feel like the perfect for holiday entertaining recipe.
This cream cheese and bacon dip is super easy to make. You just use a hand mixer and beat all the ingredients together. Once everything is mixed smooth, the sage and bacon are added to really give it that wow factor.
Tips
I always forget this part but you really do want to make sure your cream cheese is at room temperature before mixing. It will help to make the dip as creamy and smooth as possible.
If you forget to set it out ahead of time, just unwrap the block of cream cheese and put it on a microwavable plate. Soften in the microwave for 15 to 20 seconds. Stir to make sure the whole thing is creamy. Add 10 seconds at a time if it isn't soft enough. Do not overheat!
And then eat it. Eat it all up. And then play around with it. Add in other ingredients. Make it your own.
A basic chip dip recipe can be changed up to showcase tons of different flavor combinations.
I love this bacon and sage combo but you could also add green chiles and chili powder for a tasty treat. Or even chopped salami and pepperoncini. (Have you tried my Salami Pepperoncini Pizza yet??)
See. These chips are all kinds of wrong. That is not the color of Ruffles. But I'm not a quitter. I'm not going to let good dip go to waste just because I don't have my favorite chips.
What is your favorite dip recipe? For me, it's a toss-up between savory recipes and dessert dips.
Looking for even more dip recipes? Try these Tailgaiting Dips.
And if cold dips aren't your thing, check out this Jalapeno Popper Dip which is great when the weather cools down. It's creamy and spicy and it's great for a party.
Bacon Cream Cheese Dip with Sage
This creamy Cold Bacon Dip is full of flavor and great for fall gatherings. With bacon bits, cream cheese and fresh sage, this easy chip dip comes together fast!
Print
Pin
Rate
Ingredients
Instructions
Add cream cheese, mayo, sugar, garlic, season salt, pepper, and Worcestershire to a medium bowl.

Using a hand mixer, beat all ingredients together until smooth.

Add milk, a TBSP at a time, until you reach your desired consistency.

Add bacon and sage and stir into the mixture.

Taste and adjust seasonings per your flavor preferences.

Enjoy with Ruffles.
Notes
If you forget to soften the cream cheese, unwrap it and place on a microwavable plate. Microwave for 15-20 seconds and then stir. Heat for 10 seconds at a time until soft enough to work with. Do not overheat.
Nutrition
Serving:
1
g
|
Calories:
204
kcal
|
Carbohydrates:
7
g
|
Protein:
4
g
|
Fat:
18
g
|
Saturated Fat:
8
g
|
Polyunsaturated Fat:
9
g
|
Cholesterol:
39
mg
|
Sodium:
275
mg
|
Sugar:
2
g
Don't forget to pin to save this recipe for later!